POV Holder:
Kenny
Next POV
?
POV Used
?
POV Ceremony
April 7
HOH Winner:
Heather
Next HOH:
Apr 10
Original Nominations:
Kenny & Allison
Current Nominations:
?
Have Nots
Sarah, Kenny, Rachelle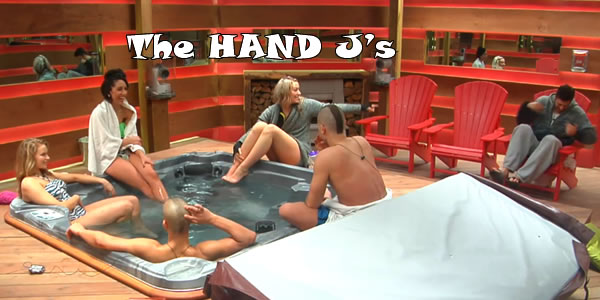 11:05pm Hot Tub Heather, Neda, Allison, Arlie, Jon and Adel
Heather wants them to figure out an alliance name. Arlie thinks they should wait until they are fully exposed. Neda jokes they should call them "the Neda's"
Joking that their alliance is called the Hand J's
Neda says they have a "H" Three A's a "J"
Jon – "Arlie, Adel Allison are the A's Heather is the H and theres N,D.. that's Hand and I'm the J"
(So perfect they call themselves the hand j's now that Allison is in the alliance. )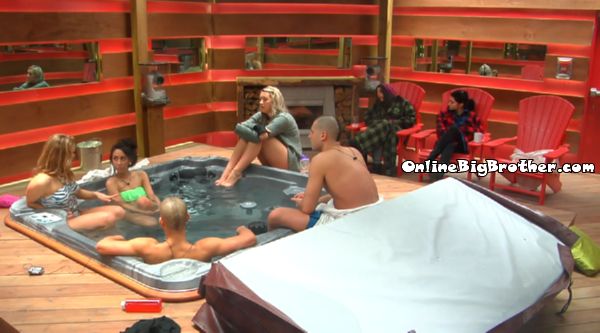 The gremlins join the hot tub crew but are left out to the side.
Adel Asks Alison if she made out with Andrew the first day. Allison says second day.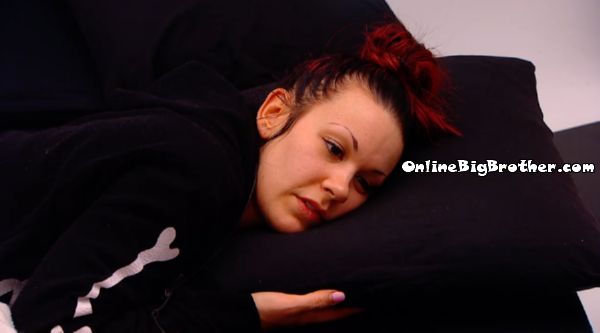 11:16pm Have nots Sarah and Kenny
Sarah tells KEnny about Jon spreading around that Adel has a giant p***s.
Kenny – "What the f*** "
Sarah adds that Sabrina was questioning Jon about it because she thought it just looked big because it was on a small body.
Sarah – "Jon says it would look enormous on Him"
Kenny – "I saw it in his underwear I don't believe it.. I think Jon is full of sh1t in every way and shape"
Kenny and Sarah are hating on Jon right now but they are sure everything will be cool when they get out.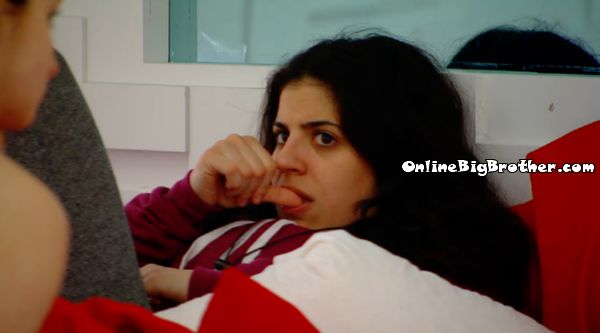 11:30pm Gremlins in the bedroom
Sabrina tells her she thinks Sarah is going up. Rachelle isn't sure she still thinks she's a possibility. Sabrina highly doubts that she thinks It's between her and Sarah probably Sarah. Rachelle knows thinks that Allison getting close with the other side she worried if she goes up against Allison she will go thome. Sabrina against tells her she is not going up..
Rachelle says the other side having power drives her nuts.
11:36pm HOH Neda and Heather
Heather says her boyfriend William makes fun of her all the time because she likes lotions and shiny things.. LOL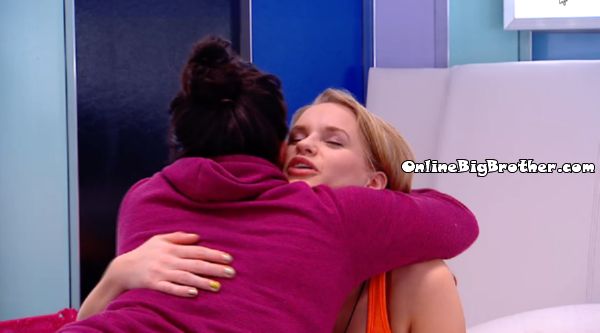 12:08Am Sabrina and Heather
Sabrina says she cannot sleep she's too stressed out, "I'm getting super anxiety.. I just want ot know if it's me or someone else"
Heather really wants to tell her but she's already told everyone she's keeping it a secret and she doesn't want to go back on that.
Sabrain swears that she won't tell anyone. Heather mentions that Rachelle never told her when she was being nominated. Sabrina swears she never knew Rachelle didn't tell her that.
Heather says there is a third person she is now considering other than Sabrina and Sarah.
Sabrina – A third person.. am I higher up
Heather says Right now Sabrina and Sarah are 50/50 but there is another person to who is coming up on her list. She doesn't know what to do right now and doesn't want to say anything until she's sure. Sabrina says her and Heater started off on the wrong foot over a "TifF"
Heather says she is trusting Sabrian right now. Sabrina swears if she doesn't go up Heather will not go up not as a pawn not as a target.
Sabrian – "Should I worry this much"
Heather – "No"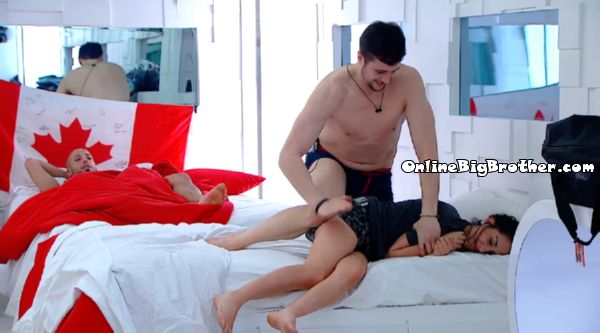 12:20AM Bedroom Arlie, Jon, Neda, Adel, Allison playing around.
Man child Jon wrestles Neda
(Video Coming)

12:20AM Kenny, Sarah and Rachelle Have nots
Rachelle mentions that Heather just told Sabrina she doesn't know who is going up yet. Sarah says as long as Allison satya up on the block they have a chance.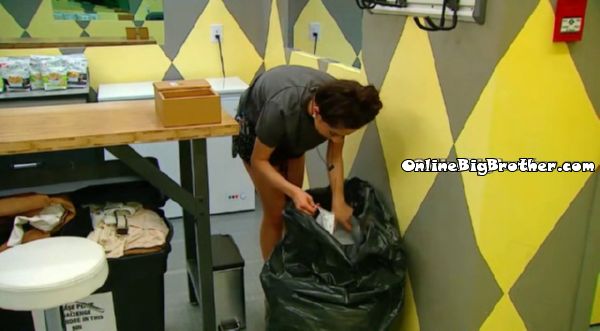 12:45AM
Neda squeezes out a bunch mustard, maple syrup, and Ketchup.
She does this so the have nots have no condiments. They are only allowed to eat slop and condiments. Losing the condiments Sucks for have nots.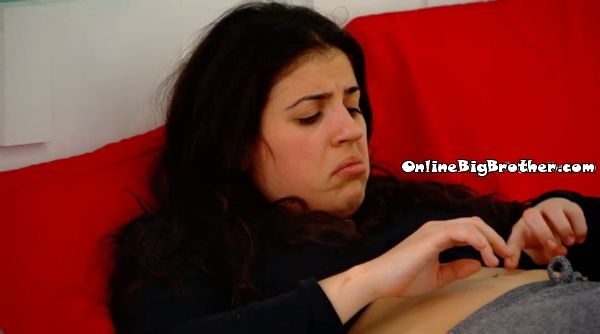 1:09AM Cams 1-2 showing Sabrina cleaning out her belly button. From her face I don't think she likes what she found.
[polldaddy poll=7935497]