POV Holder:
?
Next POV
July 12th
POV Used
YES
POV Ceremony
July 14th
HOH Winner 1:
 Nicole
HOH Winner 2:
 Derrick
Battle of the Block Winner
Donny/Amber
Next HOH/ Next BOB
July 17/July 18
Original Nominations:
Derrick's Noms (Caleb & Jocasta) Nicole's Noms (Donny & Amber)
Final Nominations:
Have Nots
POV Players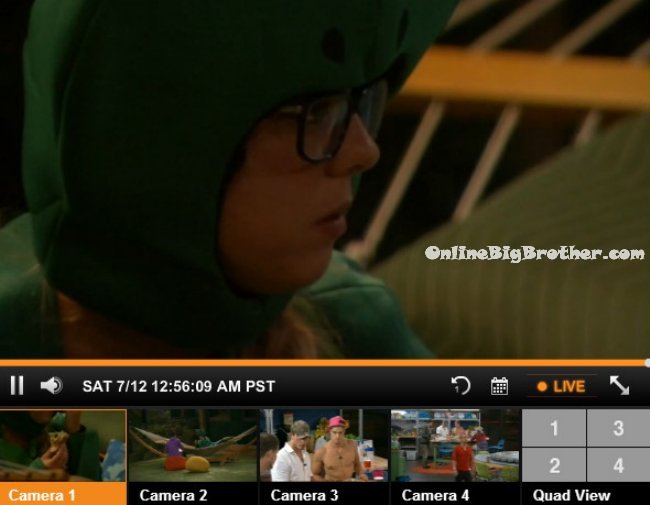 WATCH the next 48 hours for FREE – Big Brother 16 Live Feed TRIAL!
12:50am Nicole and Victoria are laying out in the hammock. I am so glad I didn't put you up because we're going to need each other. Nicole says maybe Donny was right about the 8? I am trying to stay out of it, I feel like that's bad but they're going to say what they're going to say. Hayden comes out and Nicole says he needs to go spy. Nicole asks him what that was about then calling each other. Hayden doesn't know what shes talking about. Devin comes out and Nicole says nevermind. Nicole asks I don't know why Hayden but I am so attracted to you. Hayden says that's the best thing I've heard in here! Nicole says the frog suit comes off Thursday I'll start then. Nicole tells Victoria I don't know who to trust … I'm in a frog suit. Brittany comes out and brings Nicole a sandwich. Victoria heads inside. Nicole asks Brittany what's Frankie up to? Brittany says they went and woke him up. I don't know any more. Nicole says its so sketchy. Brittany says I don't think they're really going to back door Devin. Devin comments that he is glad its almost over. Brittany says shut up its not over. Devin says unless you know something I don't know. Brittany says I don't know anything, I just have a feeling. Devin says that part of him wants to go home. The only way is if I get the POV. Brittandy asks can you go home for me? Deivn says I'm so tired, I'll go home for you and check on the three. I'll send a banner over and let you know they're OKAY!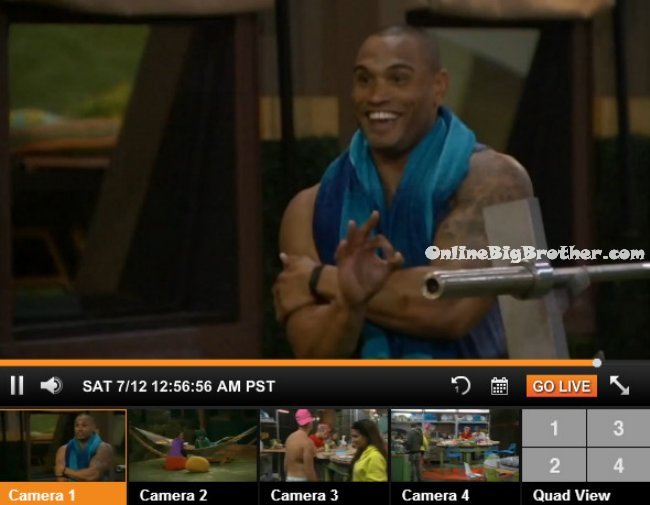 1am Nicole heads inside to the kitchen. In the kitchen – Hayden, Cody, Brittany, Frankie, Derrick and Victoria are hanging out eating and chatting. Hayden says Hey Nicole you know how Frog show their mates they like them? They hop and swim. I would hop and swim for you all day long. Hayden says hey Nicole you know how frogs catch their food right?! With their tongue .. I wish I as a fly that could get caught by your tongue. Derrick comments on how there haven't been any showmances this year but there have been plenty of Bromances. Hayden comes over to Frankie and says yeah they're going to show me humping you. Derrick comments on how fitting Nicole's costume was for the Battle of the Block competition.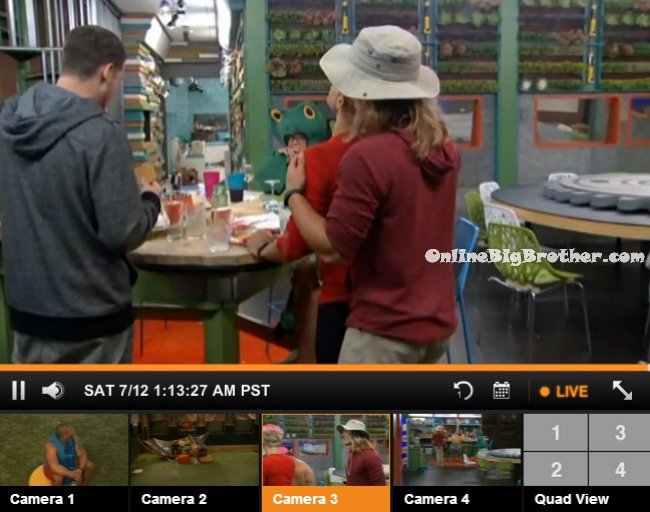 In the bathroom – Frankie and Derrick are whispering. Frankie says for the team america mission Donny will tell Nicole, I (Frankie) will tell Zach. And you (Derrick) will tell Victoria. Frankie says I will tell Zach theres a rumor about him being related to Amanda Zuckerman and let him spread his own rumor. Frankie says Zach might even tell the whole house …and then we're done! Derrick looks at the cameras and tells the live feeders Frankie is a genius! Derrick says he is going to go ask about it in the diary room. Derrick goes and tells Donny about the plan. Donny tells Derrick that won't work because 3 separate people have to spread the rumor.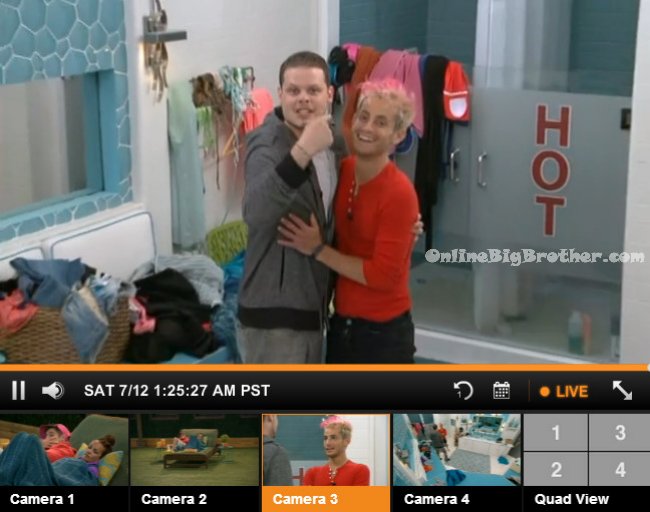 In the living room – Derrick tells Caleb that he shouldn't come up to sleep in the HOH room because people are already talking and thinking that we're conspiring. Derrick tells Amber that he was just telling Caleb not to come up because people are talking about you, me and him after what happened today. Amber says they're going to say what they're going to say. Derrick says yeah, I just don't want to feed the fire. Amber agrees.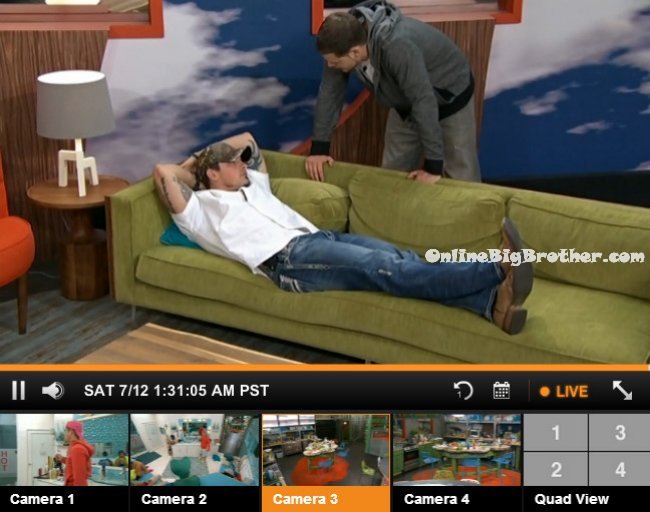 1:35am Derrick heads out to Cody in the hammock. Cody comments on how Devin is trying to be the nice guy. Derrick says yeah he's been good. He came up to me and said good more, checkmate! And shook my hand. Derrick says I'll be nice but I won't talk game with him. Its not like he f**ked with my family or nothing. Cody says but he literally f**k with everyone's game. The house guests have been hearing a police helicopter over head for a while now and Derrick comments on how he just heard gun shots. Amber joins them. Amber asks Derrick what Victoria is thinking. Derrick says she's good she doesn't talk much game. Amber says that Donny asked her before the competition if Caleb was going to throw it. Derrick says he doesn't think Caleb threw it .. he had no control over it. It was all Jocasta. Amber says she talked to Caleb 45 minutes before and told him not to throw it. I think he wanted to go up more to be able to play in the POV. Derrick says I think he did it more for you. Big Brother calls for an indoor lock down due to the Police drama going on around the studio.
Watch the ENTIRE SEASON of Big Brother 16 for ONLY $26.99 – TRY it For FREE!
1:45am In the hive room – Amber is talking to Brittany. Brittany says people are going around saying things about me. I just don't know where the lies are coming from. I was told that you were giving my name a lot for who should go up. Amber says I don't know where that was coming from because that never happened. When you watch it you will see I've been doing a lot to help you. Brittany says all these lies are killing me. Brittany says I don't know, some times I wonder if I should be playing a dirtier game. Amber says to be honest I let Devin control my game and I was done with it. I don't even talk game with him any more. Amber says I don't want to ruin friendships in this house.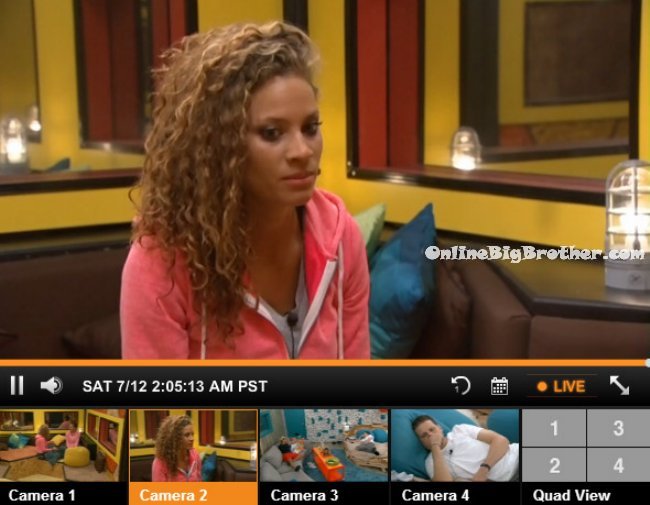 1:50am – 2:40am Up in the HOH room – Derrick is talking to Cody. Derrick says he is worried about Brittany because I think if something was presented to her she would drop us at the drop of a hat. Cody talks about how Brittany didn't trust him either. He says we didn't stick out necks out on the line just to try and send you home the next week. Derrick talks about the events leading up to the nominations. He says that Brittany wasn't even a consideration for either of us. Then Nicole asked me this morning if I was sure about Brittany. She told me I heard Brittany can't be trusted, I've heard she's working with other people. Derrick says I questioned he and she got all teary eyed. I am definitely buying it but whenever I ask her a question she gets all worked up. This is big brother, you have to question everything. I don't even know if Brittany is your real name at this point! Cody says I don't believe that Brittany has never talked game with Donny. I know she was in the room. Guilty by association. Derrick comments on how Caleb is lost ever since he fell for Amber. He isn't going to make it because he is mentally sabotaging himself. Derrick says I don't think he Caleb threw the competition today. Cody says he told us he was going to throw it. Derrick says I don't know if he just got out there forgot to throw it. Cody says I think he looked at it and didn't know how to throw it. Derrick talks to Cody about Nicole and how Nicole is a beast. Derrick says how he called her out on how she's playing a Dan Gheesling game.
Derrick says the only person I trust in entirety the max being 95% is you. Cody asks you don't trust me 100%? Derrick say well you want to beat me in this game don't you?! Cody says I trust you 100%. Derrick says I am with you to the end. Derrick then changes his answer and says I trust you 100%. Derrick says Zach I love Zach but I don't trust his game play because he talks too much. I think he is loyal. Derrick says I like Christine but she tells people things to get them to trust them. Derrick says I trust Victoria about 70%. The conversation turns to talking about how Caleb doesn't realize Amber doesn't like him and doesn't want anything to do with him. Cody brings up how Hayden wants to use information to break that up. They talk about how much they trust Hayden. Derrick says he will pick Cody for house guest choice since Caleb is picking Hayden. Derrick tells Cody if we are ever on the block together, I won't campaign against you.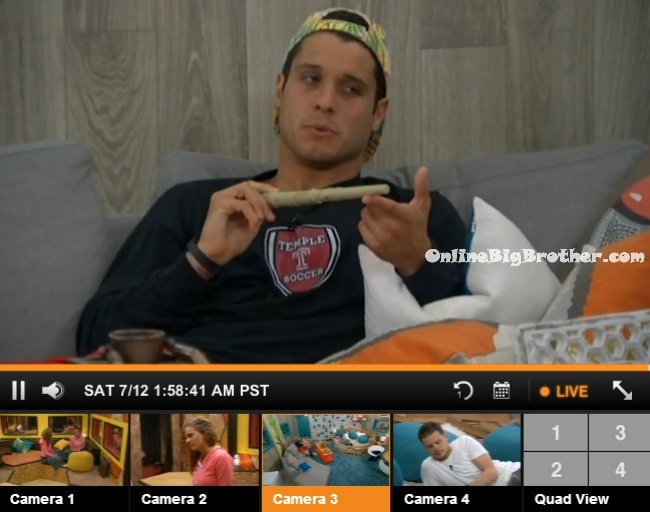 2:25am Out on the backyard couch – Hayden and Nicole are talking. Nicole comments on how its good that everyone trusts him. Nicole says I can't win any more HOH's. Hayden says I don't want to win any HOH until its a regular HOH. Hayden tells Nicole not to worry. Hayden says both Caleb and Derrick said if they get House Guest choice they will pick me to play in the veto. Which is really good because if I win it, I will back door him. Hayden says after this week we could form a big group to pick off the bomb squad. Nicole asks with who? Hayden comments all of the outsiders. He says Donny. Nicole says I feel like I ruined that. I don't know if I should approach him again or not. I tried to pull a Dan move. Hayden laughs. Hayden tells her not to talk to Donny again yet. Nicole says I don't even want to win the veto. Hayden says I want to win it to use it .. I mean not use it. Nicole says I feel like it would put huge targets on my back and your back. Hayden says yeah but it would be awesome. AND plus it might not because you have all the outsiders.. everyone would agree with it because everyone wants Caleb out. AND then all I have to do is convince the bomb squad this is what the house wants so if we want to convince everyone that the bomb squad doesn't exist… so everyone would be with it. Nicole says she what? I wasn't listening. Nicole says I do want to make big moves otherwise it's boring! Hayden says wouldn't it be funny if Caleb chooses me to be house guest choice and then I don't use the veto if I win it. Hayden jokes I am going to start flirting with Amber. Nicole says that's not funny. Hayden says deuces. Nicole says deuces.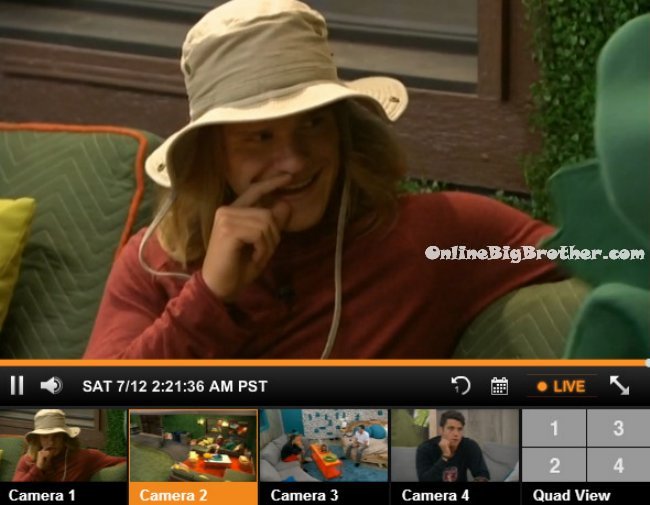 2:45am In the kitchen Devin is talking to himself while looking at himself in the mirror. He is asking himself if he wants to eat cereal. You're a gluttonous pig! You don't need it! Do I want it!? Do I need it!? Amber comments on how she's never seen this before. HE then decided to eat a bowl.
2:50am – 3:10am Hayden joins Derrick and Cody in the HOH room. Derrick and Cody talk about how they were just comparing stories to see if anyone is lying to them. Hayden says that it doesn't matter who Amber is with at the moment she will float to which ever side is the best opportunity for her. Hayden says think about if Caleb got out .. it would cut off Amber and Devin. Derrick says I would like to get Caleb out because he is extremely close to the boys. Derrick says but Caleb won't vote you out. IF Devin wins POV I will have to think about something else. Hayden says think of it this way one all of the house wants him out and two it diminishes the rumor of the bomb squad. Derrick says but keeping Devin here is bad for us. Hayden says you could make a deal with Devin if we keep you .. you don't come after us and you go after the others. Cody says getting out Caleb this week is one vote for us that I know he wouldn't vote against us. Hayden says no one is going to trust Devin again. Cody says my problem with keeping Devin is that he knows who in the bomb squad to target. Derrick says if Devin plays in the veto and wins it .. I would have to put up Victoria or Brittany. Derrick says that if Caleb wanted to strike at us who would he have .. no one ..he doesn't even have Amber on his side. Frankie joins them.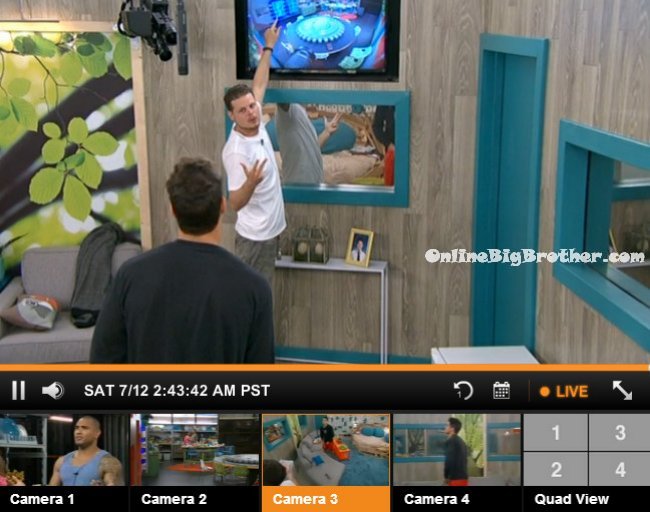 3:15am Up in the HOH room – Cody, Hayden, Frankie and Devin are talking. Devin comments on how he's eating because he knows he's going to be a havenot tomorrow. Hayden comments on how he doesn't know if he can even get a boner any more. Is it true if you don't use it, you lose it? Devin says yeah! They comment on how all of the girls are on their period. Devin says ALL of them! Derrick comes back and tells Amber to come up if she wants we're not talking any game tonight. Amber says love it. Devin says if I could bang any celebrity it would have been Natalie Portman but she just had a baby so Emma Watson.