POV Holder:
?
Next POV
July 12th
POV Used
YES
POV Ceremony
July 14th
HOH Winner 1:
 Nicole
HOH Winner 2:
 Derrick
Battle of the Block Winner
Donny/Amber
Next HOH/ Next BOB
July 17/July 18
Original Nominations:
Derrick's Noms (Caleb & Jocasta) Nicole's Noms (Donny & Amber)
Final Nominations:
Have Nots
POV Players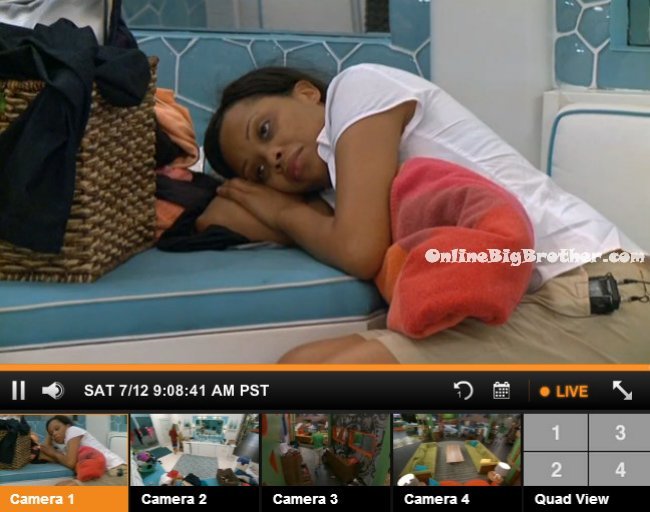 WATCH the next 48 hours for FREE – Big Brother 16 Live Feed TRIAL!
8:40am – 9:45am In the bathroom – Big Brother wakes up the house guests. When the live feeds return – Christine, Nicole, Hayden and Jocasta are getting ready for the day. Nicole asks If Hayden heard the first song this morning? She says that's her favorite song. And did you hear to the other one "It ain easy being green". (Because she has to wear the frog suit.) Christine asks Jocasta if she feels better? Jocasta says better than yesterday. Hayden says what's up Jocasta! How you feeling? Jocasta says okay. Hayden says you slept for 33 hours! It's actually day 36 right now. Hayden asks Hoppy (Nicole) what she's going to do today. Hayden starts snapping at her wanting her to "catch flies". After he snaps at her a bunch of times she sticks out her tongue.
In the kitchen – Donny asks Hayden have you talked to Cody or Zach? Hadyen says not really. Donny asks have you talked to Nicole? Hayden says yeah. Donny says things aren't looking good. Hayden says things aren't that bad. Donny says for me. They decide to go into the hive room to talk. In the Hive Room – Hayden says the only thing was that there were the 8 and then I joined.. it has since formed back together under new operation. Donny asks how do you think the head is? Derrick says D. Hayden says its hard to tell if everyone is still in it or if its just a couple people. Donny says but he's got everybody. Big Brother blocks the feeds. Hayden says that Derrick and Cody are like this. Donny says that's my boy. Hayden says it might not be bad him being so close to him. Donny agrees. Hayden says I've been able get information. Hayden says we just need to lay low and can take them down when the time comes. Donny tells Hayden I trust you 100%. Hayden tells him he trusts him to. Just don't talk game with any one. Donny says If any one asks me anything I will say hey man last time I opened my mouth, I got put up on the block.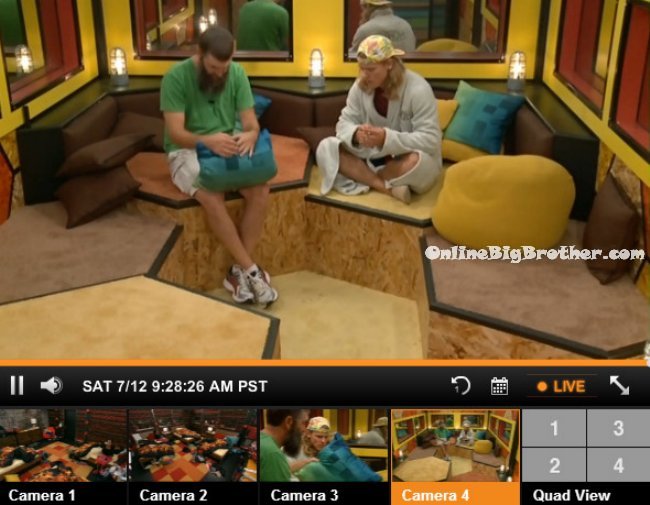 10:10am – 10:20am In the earth room – Caleb says I don't want to talk to anyone. I don't even want tot talk to Amber! I am in beast mode. If I win it I am going to look like a god damn G! A f**king stud! Devin comes in and jumps on Caleb. Caleb calls him a fat kid! Devin asks Caleb if he is still going to be a havenot?! Caleb says yeah. Devin asks who else is Frankie? Caleb says no because they won't give him anything for his hands. Devin asks what about the mittens? Cody had mittens. The camera switch to the kitchen. Nicole tells Victoria this isn't a good game for me because I don't listen. I just hope I'm not sitting with Julie in this thing. Victoria says there's no way.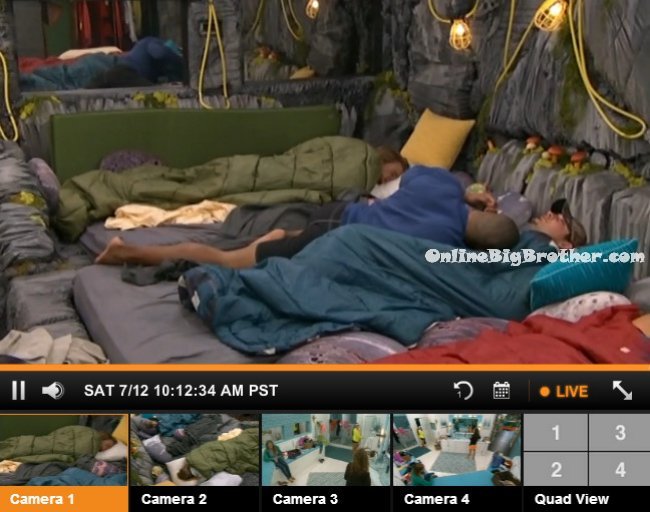 10:30am – 10:50am Big Brother tells the house guests to put on their activity bracelets. Devin says what if the person that burns the most or moves the most get a prize per week. Christine says yeah we were thinking that. Donny says I would think if it was a prize they would tell you. Devin says yeah right Donny this is Big Brother, they tell you nothing! Jocasta comes out of the diary room and they help her to bed. She starts to heave. Donny asks her what the doctors said it was. JOcasta says its a combination of dehydration and heat stroke. Jocasta says she is just nauseated with cramps everywhere. In the living room – Devin says that he wonders what they will do for the Power of Veto competition.. Will they let someone compete for her?! Amber says or house guest choice, I don't know. Devin asks Frankie if he is going to volunteer to be a havenot. Frankie says that he asked medical if he can have a sleeping bag. He says that its his core that gets cold due to his circulatory problem. Frankie says I would rather not volunteer and it make me sick when I might have to do it in the future.
See what they can't show you on TV! -Try the Big Brother 16 live feeds for FREE!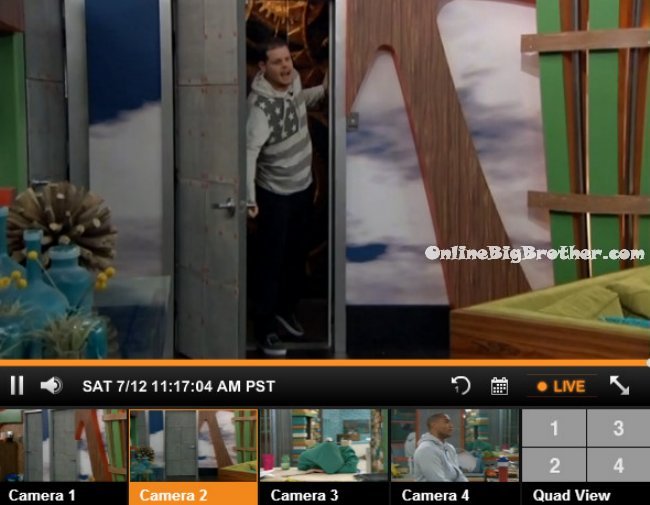 11:15pm Derrick comes out of the diary room and says "Hey guys its time to pick players for the VETO competition!" The house guests start gathering in the living room. Devin asks Frankie if Jocasta is coming? Frankie says she's probably not going to make it. Derrick says it's okay I will explain all that, we've got it covered. Big Brother blocks the live feeds.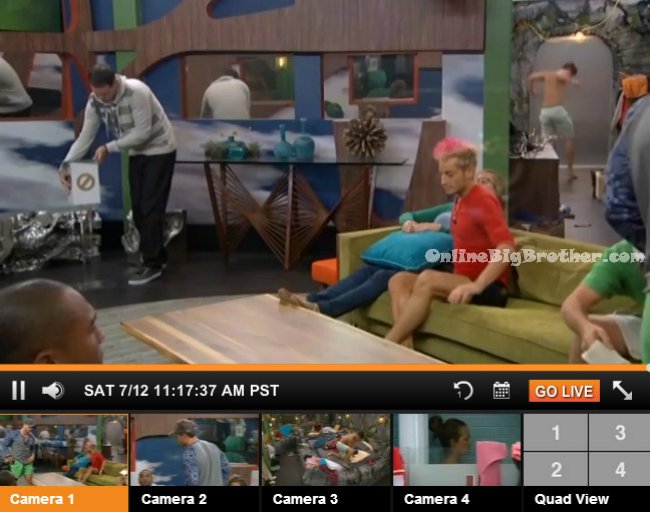 [polldaddy poll=8179403]