POV Holder:
Devin
Next POV
July 12th
POV Used
YES
POV Ceremony
July 7th
HOH Winner 1:
Amber
HOH Winner 2:
Devin
Battle of the Block Winner
Hayden & Nicole
Next HOH/ Next BOB
July 10/July 11
Original Nominations:
Devin's Noms (Pow Pow & Brittany) Amber's Noms (Hayden & Nicole)
Final Nominations:
POW POW & ZACH
Have Nots
Victoria Brittany, Zach and Derrick
POV Players
Host Donny, Players Devin, Brittany, POWPOW, Derrick, Zach, Amber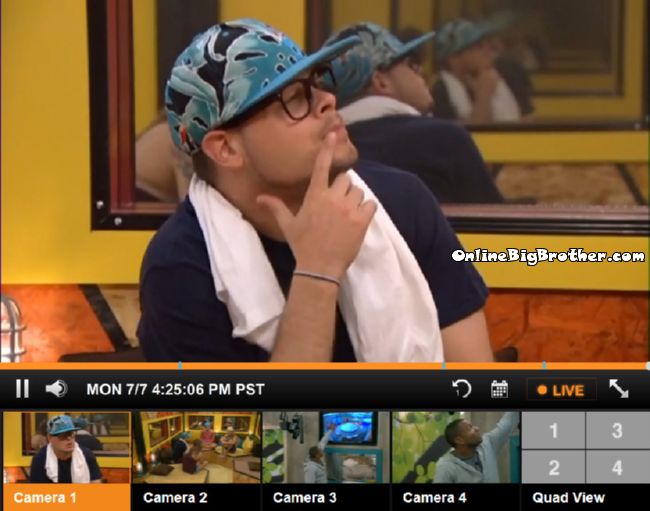 4:18pm BEEHIVE Frankie, Derrick and Hayden
Before Derrick comes in Hayden and Frankie are talking about how uncomfortable Devin had made it. Hayden has no intentions to join Devin's part of the bombsquad he felt like he had no option in the meeting. Frankie hugs him.
Derrick rolls in, they fill him in on what is going on. Derrick asks them what their guts are telling them.
Hayden – "My gut is to keep zach"
Frankie – "My gut tells me since everyone wants to pull to a side I feel whatever i do will piss someone off." he wants to play a neutral game"
Hayden – "It will be smart to take POW out
Frankie – "I agree she's a mess I can't even look at her"
Hayden leaves to get Christine
Frankie says this is a blessing in disguise. they do their Team America symbols to the Camera.
Christine and Hayden come back they tell Christine that Devin and Caleb were forcing Hayden to join the alliance.
Hayden – "If Frankie wasn't there I would have started crying'
Hayden says Devin was doing what he's done since day one forcing Hayden and Nicole to do what he wants to do.
Derrick tells him he has to win a comp if they are going to move forward next week.
Try the feeds for free.. help out OBB and get them using one of the links on this site. You can go back and watch everything we showed on this site. A live feed subscription comes with access to the Big Brother Archive letting you rewatch from day one. It's a pretty sweet setup!
FREE 2 Day TRIAL! watch the ENTIRE Season of Big Brother 16
4:30pm BEEHIVE Frankie and Christine
Frankie tells Christine Hayden thinks Caleb and Devin are the Devil and Zach is going to take out the devil
Christine says Nicole is fired up to take out Caleb and Devin.
Frankie – Basically we become the swing votes
Christine – "that's scary"
Frankie counts the votes to keep Zach Hayden, Nicole, Derrick, Cody, and Brittany to vote out POWPOW
Donny, Caleb, Amber, Frankie, Jocasta, Amber and Victoria to vote out Zach .
Frankie – "We still have the numbers to get Zach out if we wanted to.. he's such a HUGE target.. the only person that will be mad is Cody.. but if we keep Zach we have to deal with Devin and Caleb"
Frankie says Zach is a big target on the block they have to capitalize on it but Hayden and Nicole are too stupid to see that.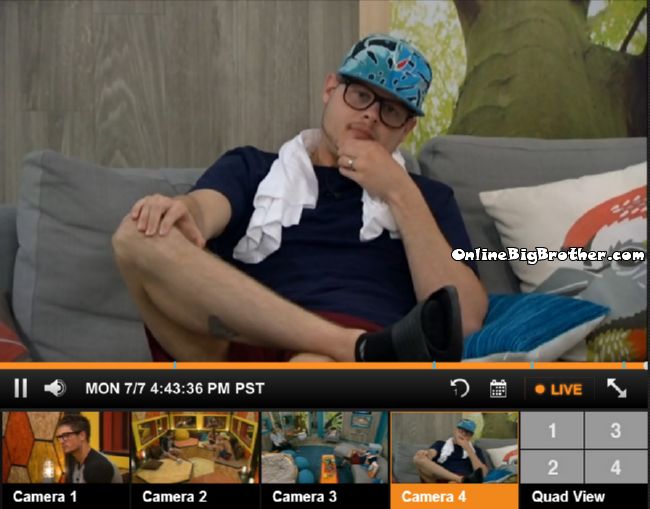 4:35pm HOH Derrick and Devin
Derrick says Brittany freaked out on POW because he told her that POW threw the BOB to keep her and Brit on the block.
Derrick – Zach is probably going home and the alliance is still intact.. there was a leak in the boat and we filled it with hayden.
Devin thanks Zach is a cool dude he wants to hang out with him after the show.
Derrick says the reason he applied on the show was because he was turning 30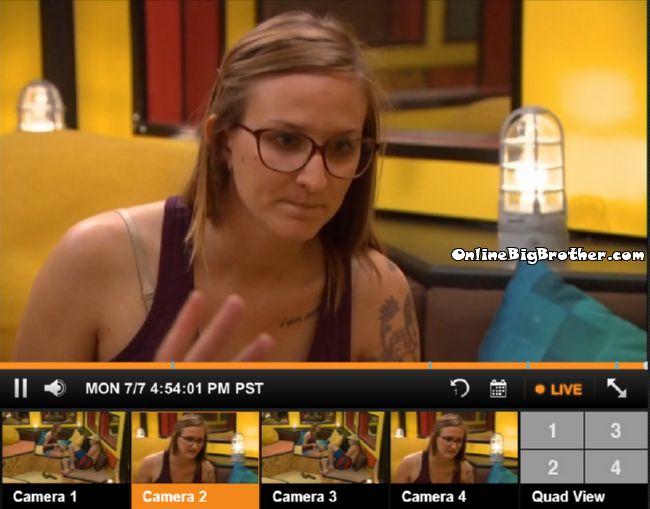 4:54pm Christine and Hayden
Christine says if she wins next week she's backd**ring Devin. Hayden is planning the same thing.
They have had enough of Devin trying to force people to join his alliance. Christine says the way Hayden was approached was the same way they approached her. Hayden mentions how much he hates Amber, Devin and Caleb "With a passion" . Christine says Nicole knows everything she filled her in but told her to keep it a secret. Hayden knew there was something up because he saw Devin and Caleb doing the BOMB with their hands during the first BOB  competition. after that he knew There was an alliance going one.. Hayden laughs at Devin asking him to be at the bottom of a 8 person alliance. An alliance that they are trying to evict a member from. Christine tells him the only reason she is so close to frankie is because he's the only one in the Bombsquad that tells her anything. Hayden says Caleb is like a 13 year old schoolgirl with Amber, 'Dude she sucks get over her". Christine tells him that Caleb threw her under the bus to the bombsquad alliance.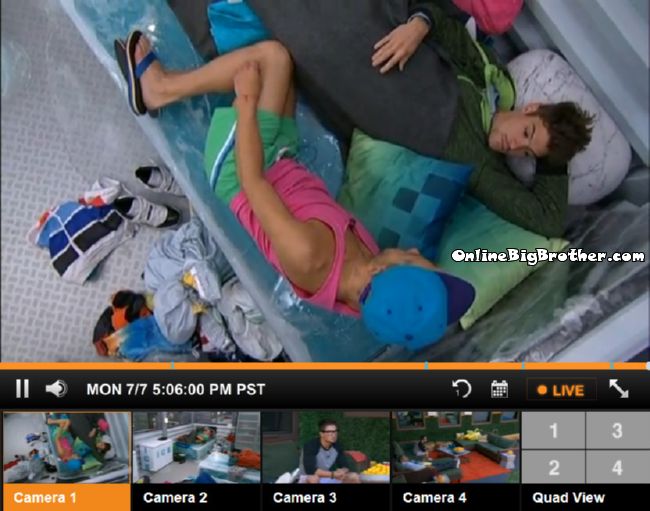 5:06pm Have nots Zach and Frankie
Frankie telling him a good start is to repair the damage he did to the bomb squad.
Frankie says the entire house doesn't trust each other now, "You hit the reset button in the house"
Zach thinks he has the votes to stay. Says Jocasta and Donny both told him he has their vote. Frankie tells him he's fine this week. Frankie doesn't trust Donny he's a rogue player and he has no clue about Jocasta. Zach says he likes Caleb so he's going to try and repair their relationship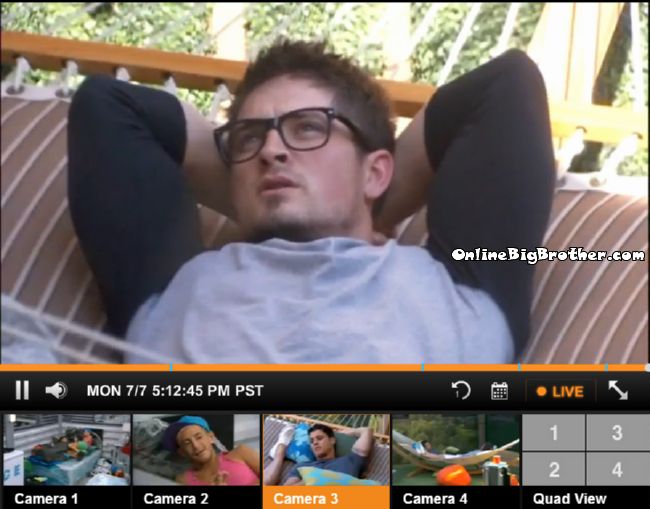 5:15pm Hammock Cody and Caleb
They agree Zach and Devin both turned against their alliance. Caleb says he's still planning on staying true to his originally alliance regardless. He has no intentions to EVER put anyone up from the Bombsquad until they get to jury .
Caleb – At the end of the day remember who your allies are and no one is planning on putting up another alliance member.. you don't have to worry about that with anyone else" Caleb says if they have the numbers and Cody thinks outside the box and decides to keep Zach fingers will be pointed. Cody tells Caleb he was planning on voting to keep Zach.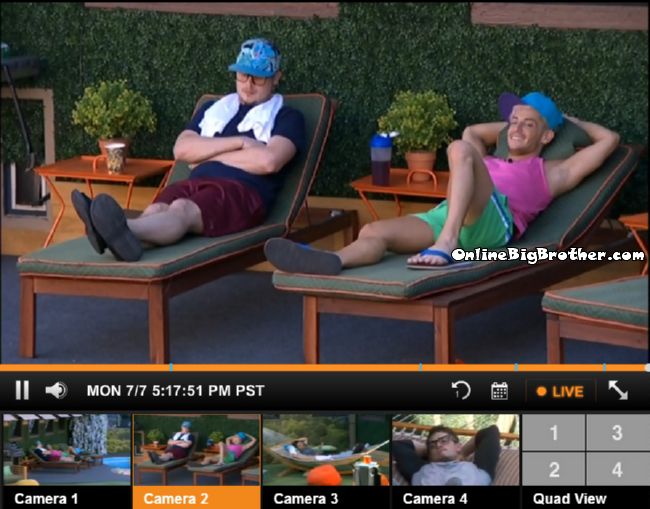 5:17pm Poolside Frankie and Derrick
Frankie says maybe the best thing is Zach stay POW goes home and Devin and Zach are left in the house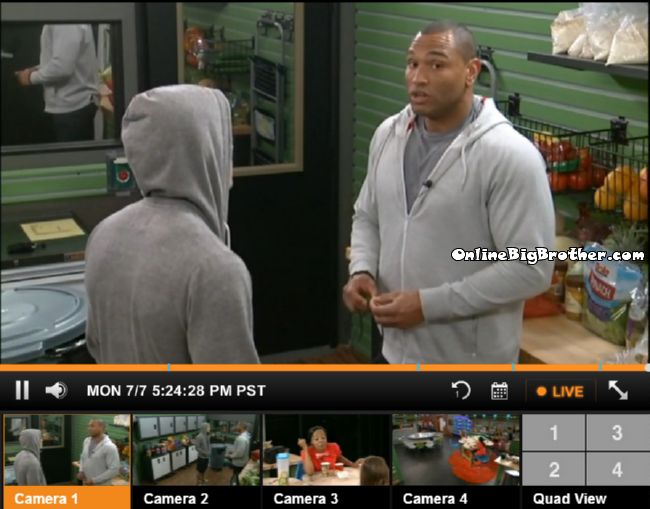 5:25pm Devin and Cody Storage room
Devin's saying he respects that Cody wants to give Zach a vote to stay "We have enough votes already". Devin nows Zach is going home. Devin brings up Caleb telling him in the HOH that Cody was going around saying he's voting to keep Zach. Devin knows this but doesn't think it's good for Cody to say out in public because people will start pointing their fingers a him.
Devin says they now have Hayden as their 8th member so they are all good. Christine comes in Devin tells them at first Hayden said no to the Bombsquad but after he showed him the numbers Hayden joined up.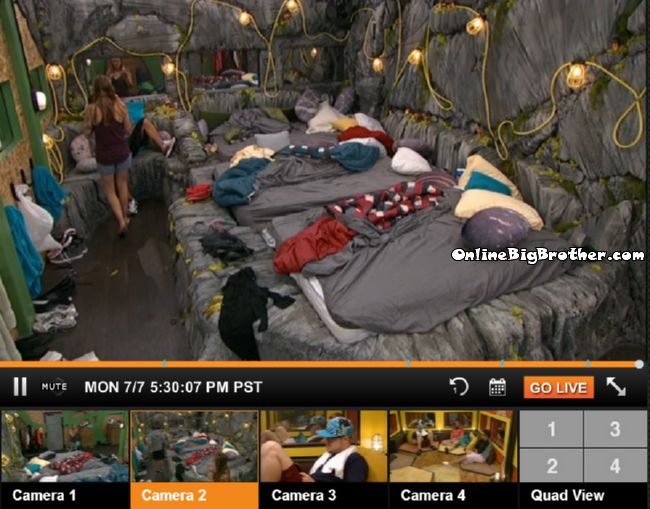 5:31pm Cody and Christine Rock Room
Cody says he hates Caleb ":He's such a little sneak.. a f** rat"
Christine believes Caleb is more dangerous than devin
Cody – He flip flops more than Devin does."
Amber joins them she thinks what she told Caleb to tell HAyden worked.. Amber is glad they never told Nicole but sooner or later they will need to say something. (Christine already told Nicole)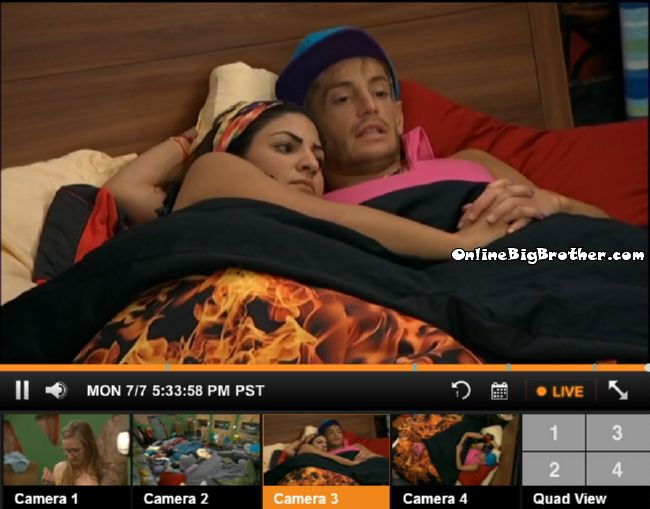 5:34pm Fire room Victoria and Frankie
Frankie says they have the votes either way to keep or evict Zach
He thinks Cody and Hayden will vote out POW, Amber and caleb will vote out Zach. Frankie is sure Jocasta will vote out Zach after what he did in the ceremony and they are both unsure about Donny.
Frankie – "Anyone that votes Zach to stay Devin and Caleb are going after"
Frankie says if Zach stays he's going to continue to be a jerk.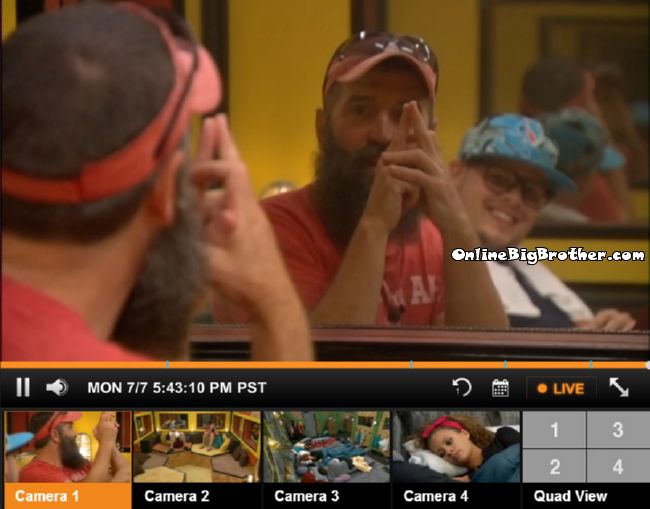 5:43pm Derrick and Donny
Derrick goes on and on about team America, "* million people are watching this show and they are telling me you are trustworthy" Donny says if he gets evicted doing what America wants them to do he will go home a hero but if her goes home doing what America doesn't want him to do he doesn't want to have to deal with it.

[polldaddy poll=8164185]