POV Holder:
Devin
Next POV
July 12th
POV Used
YES
POV Ceremony
July 7th
HOH Winner 1:
Amber
HOH Winner 2:
Devin
Battle of the Block Winner
Hayden & Nicole
Next HOH/ Next BOB
July 10/July 11
Original Nominations:
Devin's Noms (Pow Pow & Brittany) Amber's Noms (Hayden & Nicole)
Final Nominations:
POW POW & ZACH
Have Nots
Victoria Brittany, Zach and Derrick
POV Players
Host Donny, Players Devin, Brittany, POWPOW, Derrick, Zach, Amber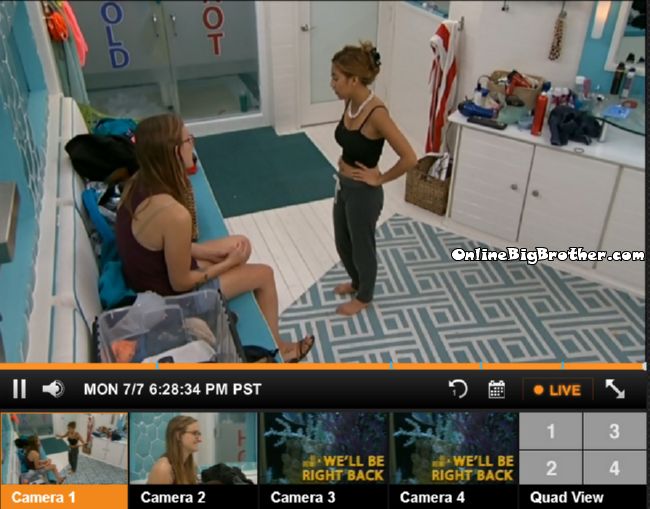 6:28pm bathroom Christine and POWPOW
POW is saying she never threw the competition when they watch the show they will know that. POW doesn't want to say anything bad about Zach but still wants to campaign.
Christine says Zach is a idiot she is not going to vote to keep him. POW brings up if Zach wins HOH they have no idea what he will do but Pow i'll never win the HOH so they don't have to worry. (POW is joking when she said the part about not winning the comp)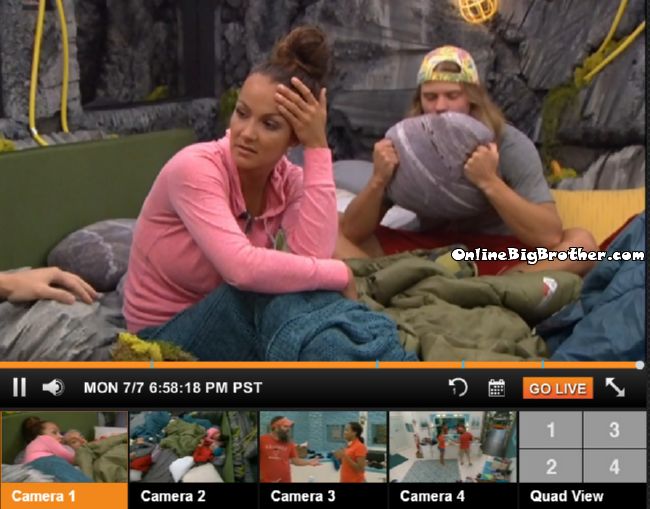 6:35pm Rock Room Brittany, Hayden and Nicole (Cody is sleeping)
Hayden says it's pretty obvious to them all who is working together. They don't name names but say theres 2 guys a 1 girl that they can't trust.
Hayden gets called into the Diary room
Nicole leaves Frankie comes in. Brittany doesn't know what to do she can't really be an a$$hole to the person that saved her. Frankie says Devin has made amends to a lot of people in the house. Derrick rolls in. Brittany says her eyes are bloodshot. Derrick sasy that is what happens with sleep deprivation. Frankie and Brittnay say they will be going to be early tonight. Derick says they have 2 night left to sleep in the have nots, "I can tell you I will never volunteer again unless obviously no one has ever done it"
Frankie leaves.
Brittany asks about his vote. Derrick says he's going with the house so right. If Zach asts like he was today he's probably going home but if he collects himself he could stay.
Derrick – "I would rather see POW go.. for you because clearly the line has be drawn between you to"
Derrick and Brittany agree Zach is a good guy.
Brittany goes over her conversation with Devin she brought up her kids, ex husband and the turmoil. She has no money in the bank and her kids are with her ex, if her ex doesn't pay the rent she will have lost her house. Brittany says she's been separated for a year but has not divorced yet. She worried there will be a battle, they don't own their house they are renting it. Brittany says she gave up her career and everything to start a family at 17 now that she's left her husband she's starting at ground zero. Brittany has no opportunity to take her kids on a trip and she wants to at least get something out of this experience. Brittnay – "If that is what got me the veto by being honest "
Try the feeds for free.. help out OBB and get them using one of the links on this site. You can go back and watch everything we showed on this site. A live feed subscription comes with access to the Big Brother Archive letting you rewatch from day one. It's a pretty sweet setup!
FREE 2 Day TRIAL! watch the ENTIRE Season of Big Brother 16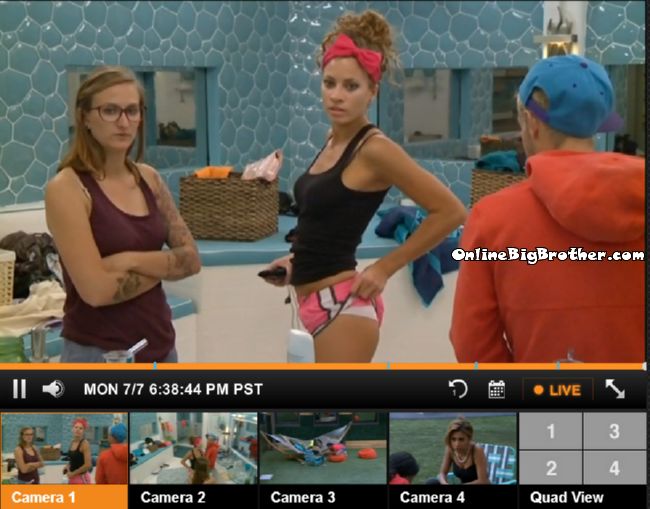 6:38pm Bathroom Frankie, Amber and Christine
Frankie says he's thinking Hayden is lost. Amber says he seems fine.
Frankie doesn't think Hayden will vote out Zach. Christine brings up Cody will vote to keep Zach.
Frankie says Nicole and Hayden will both vote for Zach to stay. Amber says her butt is getting big (See image)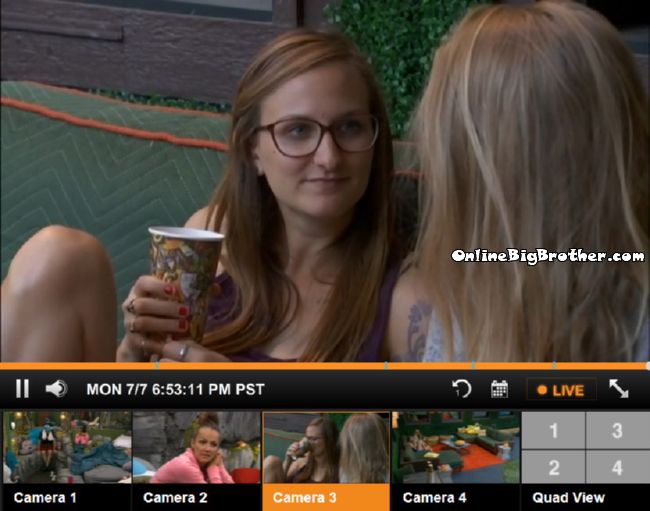 7:00pm Backyard Christine and Nicole
Talking about who they would take out next week if they win the HOH. Sounds like Amber is a big target. They are calling her clingy and irritating. Nicole says Amber lied so bad today. Amber joins them.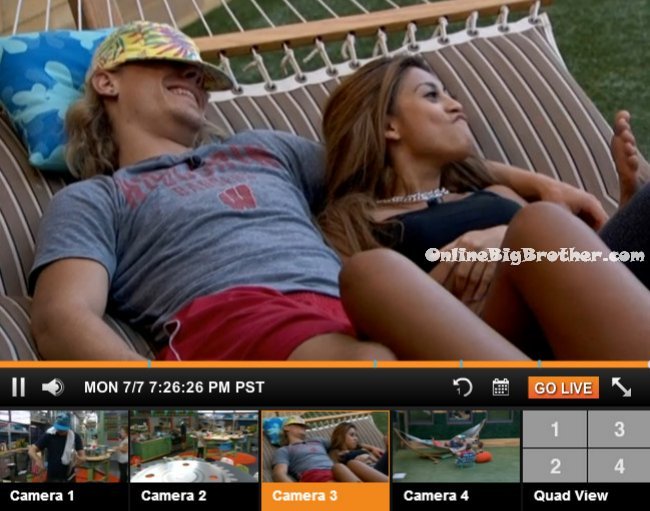 7:20pm Hayden, Pow Pow, Donny and Jocasta are laying out in the hammock. Amber joins them. Amber comment on how she's already licked Hayden's hand. Pow Pow asks for what?! Amber says it was a dare! Hayden says its how it had to go down! Amber says it was just salty. Amber says that Pow Pow is Hayden's type. Pow Pow says give me a vote and maybe you'll get a showmance. I'll give you the Pow Pow hump!! Amber says Hayden hasn't had his ears licked yet! They ask Pow Pow to do it. Pow Pow says give me a vote and we'll see! Victoria joins them and then she and Amber start running laps back and forth with Caleb. Pow Pow comments on how she wants a bigger butt.
Meanwhile in the kitchen – Derrick, Caleb and Brittany. Brittany bets that she'll be on slop again next week again and on the block. Derrick tells her to go out and win it. She says she's tried. Derrick tells Brittany he is 90% positive that she won't be a havenot next week. Whoever wins HOH won't make you have not 3 weeks in a row. Derrick finishes making his Bok Choy and tomato paste dinner and shows the camera.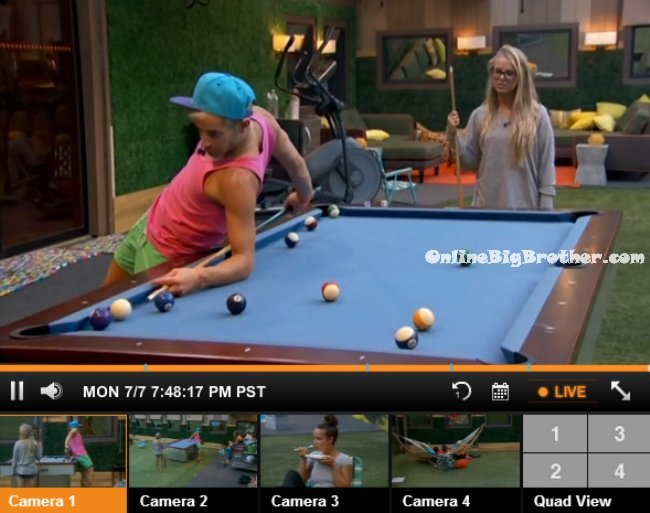 7:40pm Nicole and Frankie start playing a game of pool. Frankie asks Donny what his favorite episode of big brother is? Frankie then whispers today. Nicole says I can't believe that happened today. They talk about how the blow out today will go down in history a one of the best moments.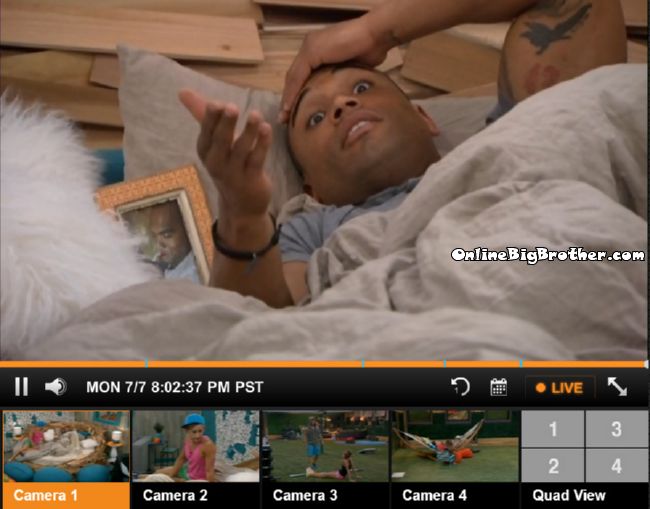 7:55pm Frankie runs up to the HOH room and says so far so good. Brittany is going around saying that she is so appreciative. I think what he did showed a different side of him and I see that he has a heart. So maybe later in the week you talk to her and see where her vote is. Devin says I'm just going to let her do her thing. I already have someone else. Frankie says we have Me, You, Derrick, Caleb Amber Victoria Donny. Frankie says maybe we can even get Jocasta. Nicole and Hayden are up in the air.
Frankie says they need Brittany's vote. Frankie mentions that apparently Brittany is saying she's good with POWPOW again.
Devin – "I like this girl now I like like this girl.. I don't even want to talk game now just get to know her"
Frankie – "I'm telling Zack i'm 100% on his side but i'm 0% on his side"
Devin – "I'm losing my mind.. I legitimately like her" Frankie leaves Devin tells him to tell Brittany he likes her.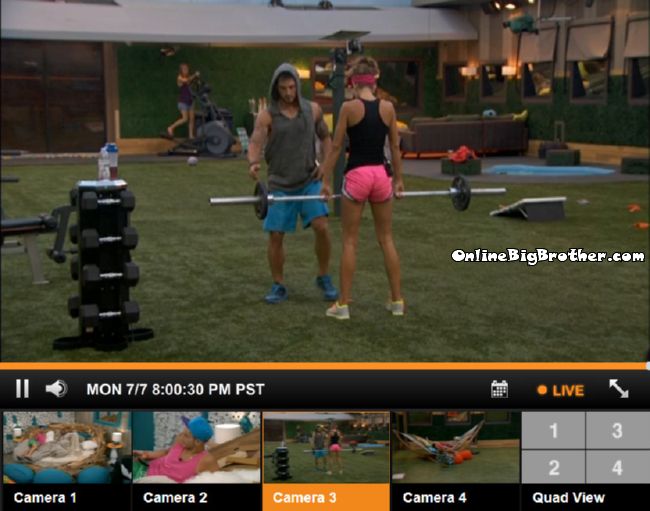 8:05pm Caleb and Amber working out 
Caleb says back home he works for 2 to 3 hours 7 days a week.

[polldaddy poll=8164185]