POV Holder:
Donny
Next POV
?
POV Used
YES
POV Ceremony
June 29th
HOH Winner Team 1:
Frankie
HOH Winner Team 2:
Caleb (current HOH)
Battle of the Block Winner
Brittany, Victoria
Next HOH/ Next BOB
?
Original Nominations:
Caleb noms (Donny, Paola) Frankie noms (Brittany, Victoria)
Current Nominations:
Joey, Paola
Have Nots
Cody, Hayden, Joey, Brittany
POV Players
Donny, Paola, Cody, Zach, Caleb, Victoria (HOST = Jocasta)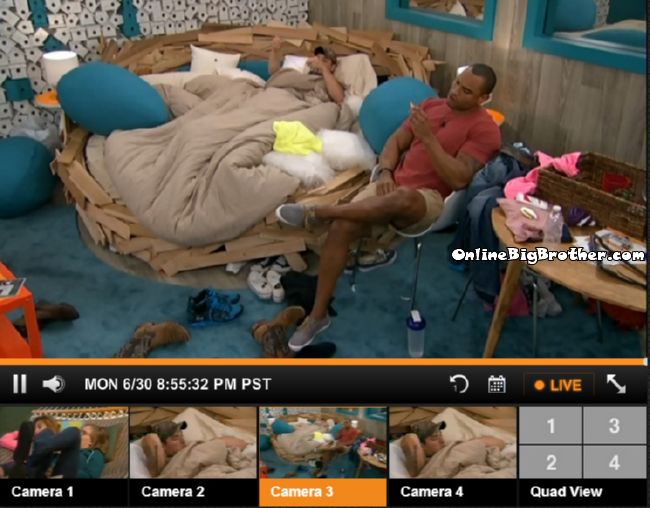 8:55pm Devin and Caleb Devin asks him if he's worried Caleb isn't he's just tired and keeping to himself.
Caleb – "What time is it"
Devin – "9 something"
Caleb- "I'll probably stay up here for the rest of the night"
Nicole joins them for awhile chit chat
9:14pm Devin and Caleb 
Caleb is down he says theres a lot going on in his head right now. Devin tries to help him feel better.
Devin saying he has a new found respect for Donny, If he wins HOH he's not going to put him up.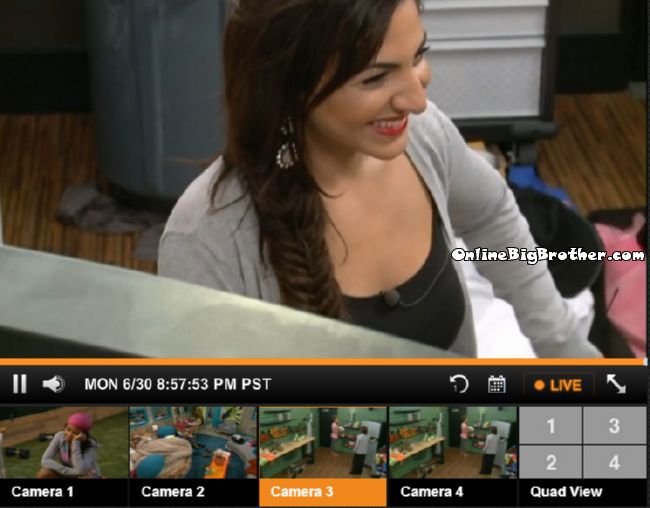 8:58pm Victoria and Amber Storage Room
Victoria brings up a conversation she had with Caleb where he told her Amber's not interested in him.
Amber saying she told Caleb him that in the nicest way she could. Victoria adds that Caleb was saying who his ideal woman is and it's not Amber..
Victoria – "He wants a showmance. maybe not with him he wants the season to have one"
Amber says she told him "I'm not trying to have any of that.. "
(The feeds cut in on this conversation late.. don't fully get the gist of it)
Big Brother 16 Live Feeds Subscriptions, Free 2 day trial. $26.99 for the season pass or $9.99 for the monthly pass Try It Free! Subscribe now to the official BB16 Live Feeds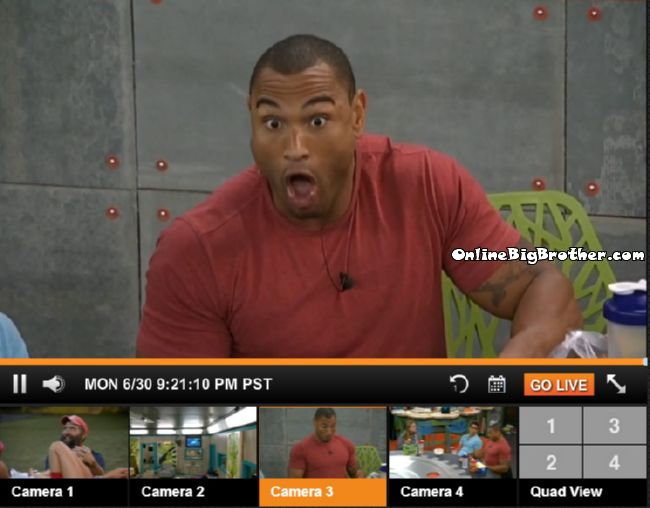 9:24pm Christine, Hayden, Cody, Devin Devin explaining GinaMArie last year during the Froyo competition. Her stomach was "bloated" it looked like she "gained 20lbs".
Devin says he has a Justin Bieber on his Iphone "I'm not going to lie I like his voice" They start talking about things they could get to help with the boredom. Someone mentions darts. hayden says when he was a kid his friends would throw darts in the air on their feet for fun, "We had all these holes in our feet"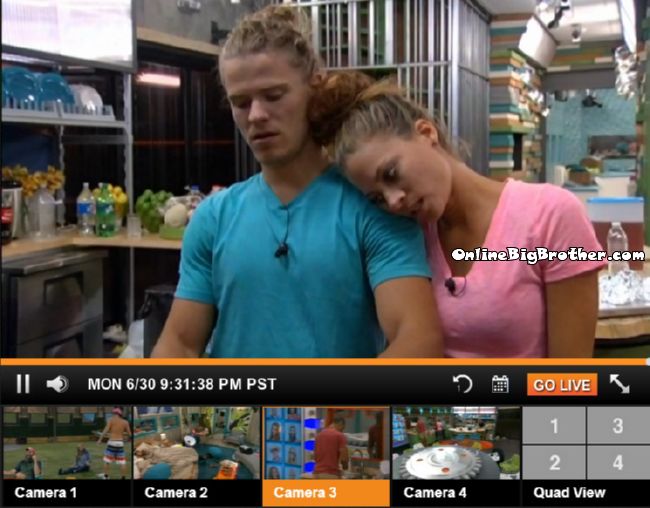 9:31pm Pretty uneventful in the house right now.. but wait lookie here. (Caleb may have seen this I think he's starting to get the message)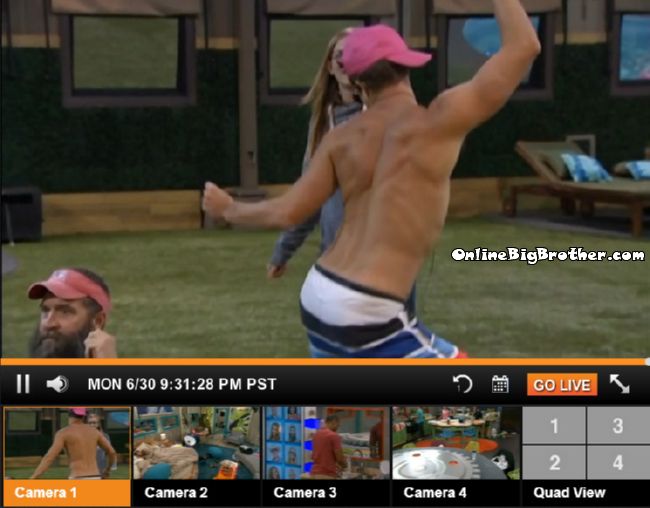 9:31Pm Zach showing off his moves to Christine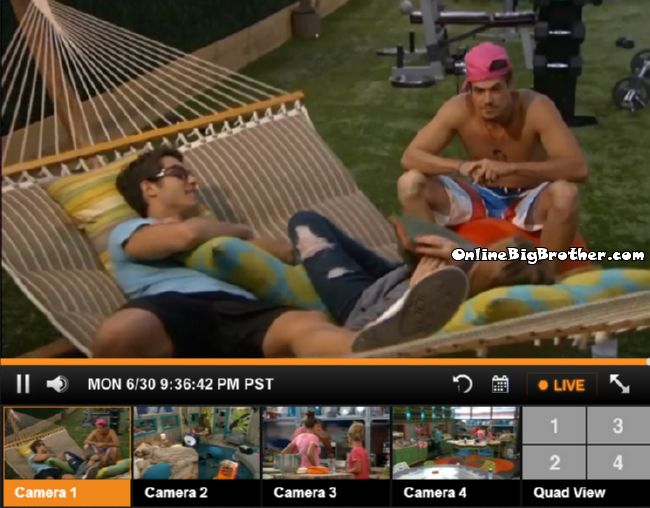 9:39pm Hammock Cody, Christine and Zach
They agree Joey is going home this week. They don;t think there is anything left to talk discuss. Talk drifts to tanning. Cody says when he tans he gets dark like "dark Chocolate.. no like Milk Chocolate"
Zach starts stresses that Cody HAS TO WIN HOH. Cody wants to. Christine – "Zach wants to sleep all day"
Zach wants Brittany, Donny and POW
Cody says he won't put up Brittany it'll be Donny and POW
Zach – Whoever you want home put them up against POW.. she's the Spencer of this year"
They all claim none of the final 3 last year deserved to be there. Christine says Amanda should have gotten to the final 3. Zach says Helen was good but it went to her head. Christine – "Oh Helen was so good"
Zach – You know what blows my mind.. we're in a 8 person alliance.. is that allowed
Cody – Thats great especially for us
They start talking about Amber and how she's been digging for information. Cody – "I told her nothing" they mention how she's saying she doesn't like Caleb "Like that"
Cody – "She was all like I don't like him like that.. I was like Stop trying to play that game i'm not f***ing stupid.. don't play that game.. Like what are you doing don't play that.. She was like I don't like him like that I was like shut up shut the f** up "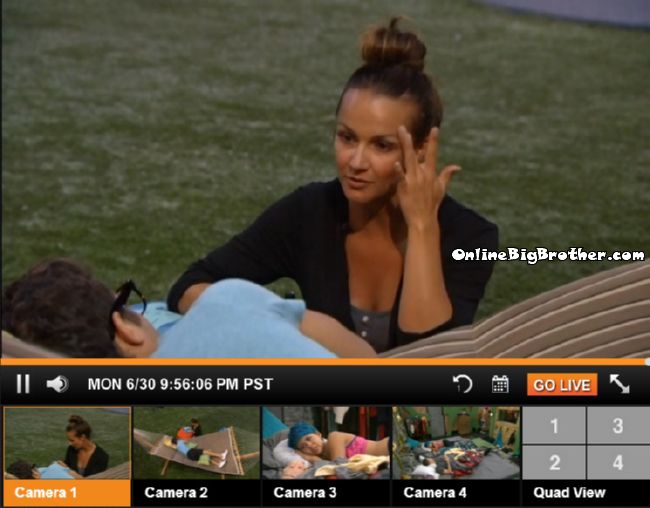 9:55pm Brittany and Cody Hammock
Brittany says a lot of people won't tell her their vote because they are scared she will run and tell that to joey.
Cody well would you do that
Britinay – no
Cody tells her the majority of people he talked to is voting out Joey. Brittany thanks him for telling her. Cody tells her to make sure that it doesn't come back to get him.
Brittany is scared that the house is going to set her up everyone is gong to vote out Joey and she would vote out POWPOW. Brittany doesn't want to be singled out she wants to vote with the house, "I can't change everyone's mind so if 12 people vote her out it's not going to matter.
Zach and Frankie join them chit chat.. Brittany tells them she was in teh ying yang twins video whisper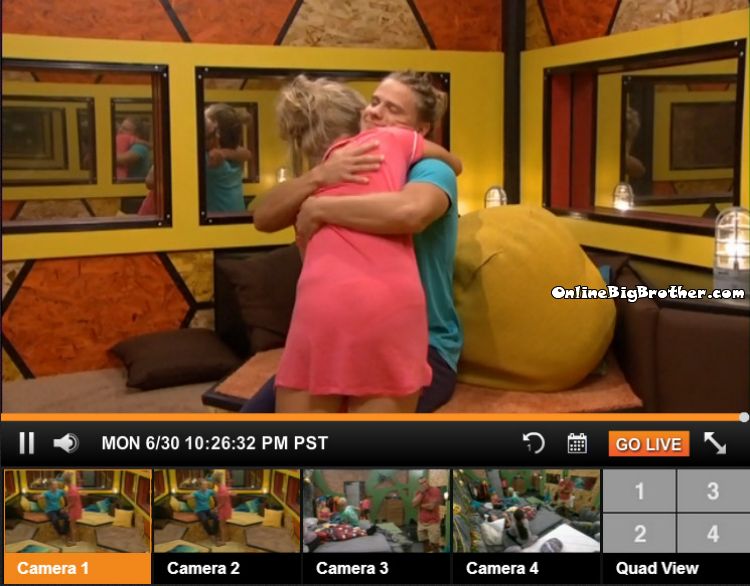 10:13pm Hayden and Nicole
Hayden he says nothing against religion he feels like everyone else in there is religious in the house, 'I've never even met anyone who reads the bible
Nicole – "I don't know anyone either that carries it and reads it"
Nicole adds that usually theres a couple people each year but this year it's everyone. .
They head in the the honeycomb room
Nicole says she was talking to Christine and the plan is to have Christine talk to hayden so Nicole doesn't. this way it doesn't arouse suspicions because if Christine is talking to him people won't think anything of it.
They agree Caleb is in love with Amber, Hayden – 'It's kinda weird"
She tells him people are starting to talk more game. Cody has been talking game to her more. They both confirm they will be voting out Joey.
Nicole – "People do not think I have any game" Nicole says Amber is going around telling Victoria that Nicole has no game she's in "LALA land"
Hayden says Joey has lost it. Nicole whispers "Do you think she's going through Alcohol withdrawal" Hayden reminds her they are on camera.
Nicole – "Oh my god.. I'm just kidding.. I'm just kidding.. I hope they don't clip that out now.. I'm freaking out I'm going to cry"
Hayden tell her not to worry she's not going to get a bad cut she's the sweetheart
Hayden – you know what I think we should do
Nicole – Play up a fight
Hayden says he doesn't' think they should talk anymore from here on in. It's too dangerous for their games.
Nicole – But you don't mean it.. you secretly do.. you just want an excuse
Hayden – It's over.. I'm not taking you to prom
Nicole – I know I'm going stag.. I dont' want a prom
Hayden – I don't either.
Nicole still worried about bringing up Joey and Alcohol withdrawal she says Frankie said the same thing in front of a group
Nicole doesn't like this idea of them not talking anymore. She says she knows they are here to play a game for 500 thousands but she still want them to be nice
Hayden – "I do like you a lot you are awesome but this will be good .. i'm not going to be mean to you "
Hayden – don't worry about it I will protect you I won't be mean to you
Hayden – "I'll take you on a date after the show"
Nicole – OK
Nicole – "Are we still working together than.. obviously I'm not going to put you up do I have to worry if you win HOH you'll put me up
Hayden – "no never"
They hug and she leaves.. on her way out he waves goodbye.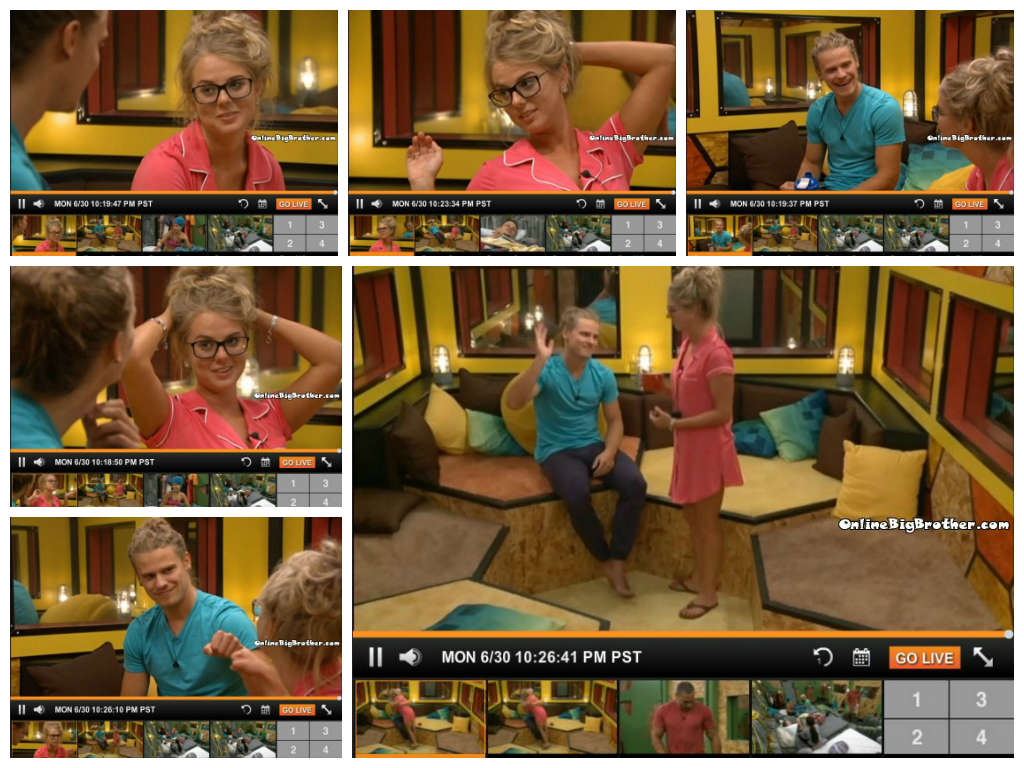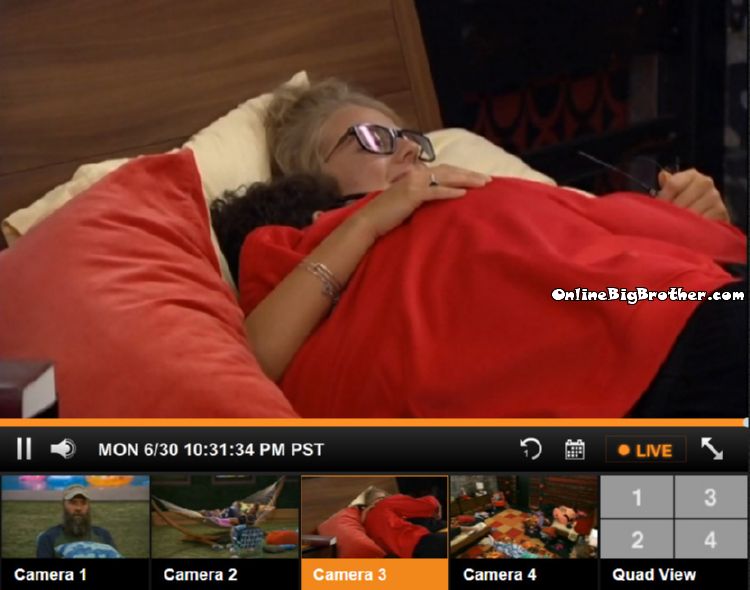 10:30pm Nicole says she's missing her family. Cody moves in to give her a hug.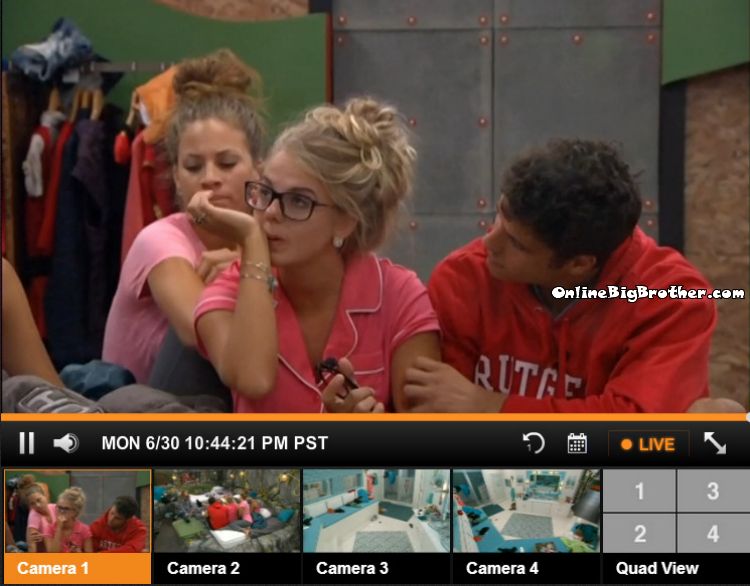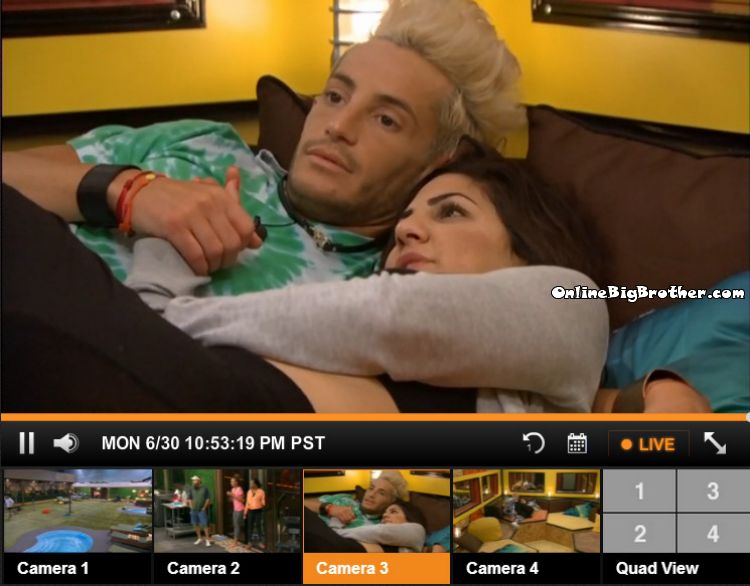 10:52pm Honeycomb Victoria and Frankie
Frankie and Victoria think Joey is leaving. Frankie asks her how close she is to POW. Victoria calls POW a sweetie says they are closer.
They agree POWPOW is a super weak player.
Victoria – "I want to create a showmance between people"
Frankie does to says Nicole is now a mess, Caleb and Amber aren't together, "Jocasta is screaming"
they go out to find out why.