POV Holder:
Donny
Next POV
?
POV Used
YES
POV Ceremony
June 29th
HOH Winner Team 1:
Frankie
HOH Winner Team 2:
Caleb (current HOH)
Battle of the Block Winner
Brittany, Victoria
Next HOH/ Next BOB
?
Original Nominations:
Caleb noms (Donny, Paola) Frankie noms (Brittany, Victoria)
Current Nominations:
Joey, Paola
Have Nots
Cody, Hayden, Joey, Brittany
POV Players
Donny, Paola, Cody, Zach, Caleb, Victoria (HOST = Jocasta)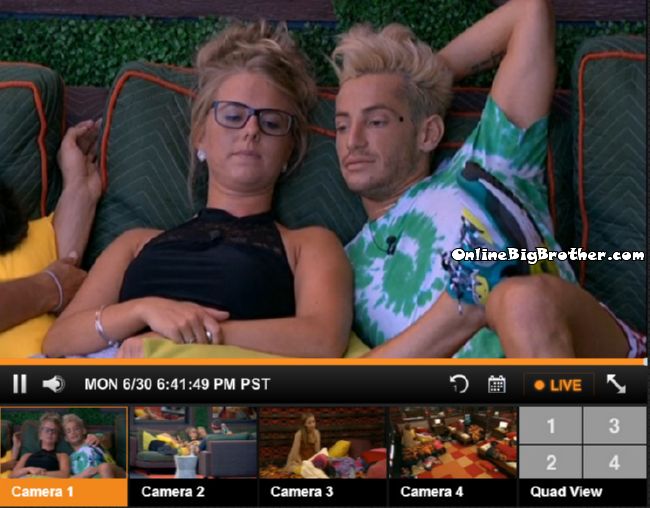 6:48pm Backyard couch Christine, Donny
Donny swears the duck in the pool quacks.
Donny "Quacks like a frog"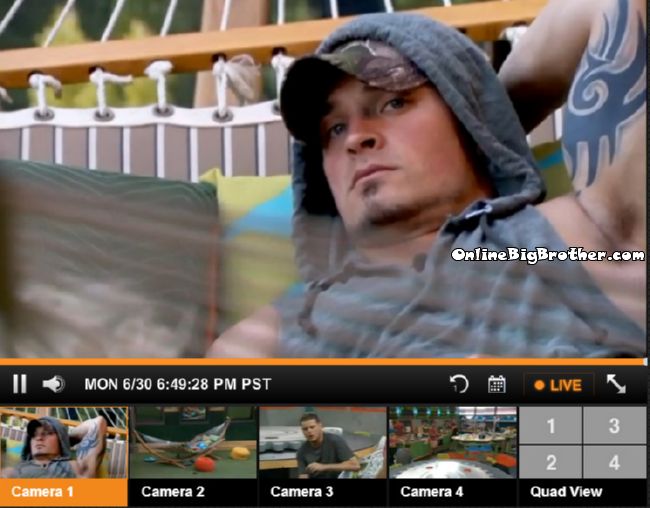 6:50pm Caleb and Frankie
Frankie tells him they are going to have another week where they are in control. Frankie asks him if he was out on the hunt if he was home. Calen says if he's in texas he would be in kentucky we would go coyote hunting. He usually hunts for three months, Deer season, Turkey, Duck, coon, squirrel, rabbit..
Frankie asks him if he goes to Texas much. He use to go to Texas 2 or 3 times a year but hasn't been going much. Caleb says he lives in Hopkinsville Kentucky with his mom. He had a roommate but he got married and right after Caleb got cast on Big Brother so he decided to not screw around a lease and just stay with his mom. When he gets home he'll be looking for an apartment.
Caleb – "It's cheap to live in Kentucky man"
Nicole joins them they ask her what guy she likes the most. Nicole says there's no potential showmance in the house.. Feeds cut
Caleb talking about amber says he's going to stay around LA for a extra week to take Amber out, "I'm going to try the hardest to stay here an extra week or two.. only if she wants me to.. sometimes I think she does sometimes I think she won't"
Frankie leaves Caleb and Nicole start talking about who is going home. Caleb says the majority of the people he's talked to say Joey is going home. Caleb – "Keeping POWPOW here she's not really dangerous.. Joey could potentially win competitions and throw you under the bus"
Caleb asks her about her home town. Nicole starts to describe where she's from doesn't take Caleb long to bring up Amber.
Caleb says he was hoping she will be the reason to move to LA.
When Nicole First saw Amber she thought she was going to be from LA but after she heard her talk.
Caleb – "When she started talking awww I melted.. theres a country girl thru and thru..I walked into the house.. was like thank you jesus this is my time.. I expressed myself yesterday how I felt.. she laughed and kinda smiled"
Caleb says she's telling people around "Hey caleb is an attractive guy he's super sweet.. but she'll never tell me that because she's all 'miked up'.. I definitely wish I could get some type of confirmation from her"
Hayden joins them says that Amber told him she will probably go on a date with Caleb, 'Who knows if she was serious but she sounded it" Caleb goes over last night when he told Amber he liked her and wanted to stay a couple weeks after the show and take her out on a date.
Caleb – "I think she's keeping it all in because she's all Mic'ed up and she's on TV.. maybe maybe not she may not into me" Caleb says the way Amber is around him he thinks she's into him. He wants them to know it's not just in his head a lot of people come to him and say she likes him.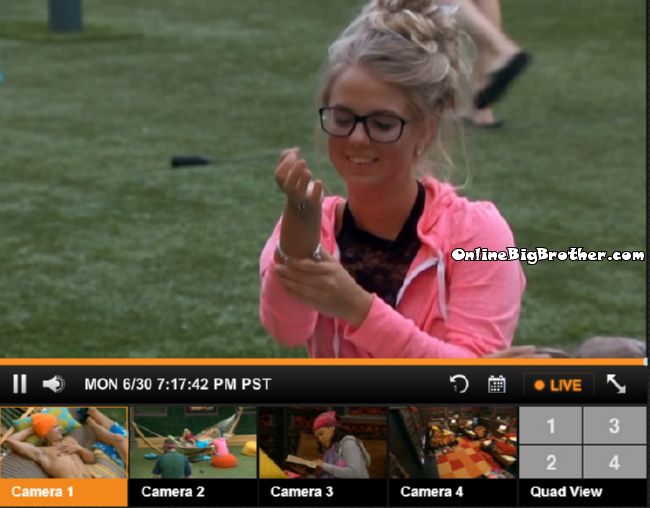 Nicole offers Hayden/Caleb a mushroom with bacon on it. Clabe declines says maybe Amber would want one, 'She may be taking a nap" hayden says he loves mushrooms.
Nicole – "Ohh you found something we have in common we both love mushrooms"
Caleb – "It's creepy how much mena dnaambe honestly have in common.. She's an Army brat I was an Army brat, She was raised by a single mom I was raised by a single mom"
Feeds cut
When they come back Hayden to talking about Amber.. (Groan)
Hayden – "Nicole can we cuddle one night.. Please nicole PLEASE"
Nicole – "Maybe"
Caleb says if he would ask Amber that she would say no..
Big Brother 16 Live Feeds Subscriptions, Free 2 day trial. $26.99 for the season pass or $9.99 for the monthly pass Try It Free! Subscribe now to the official BB16 Live Feeds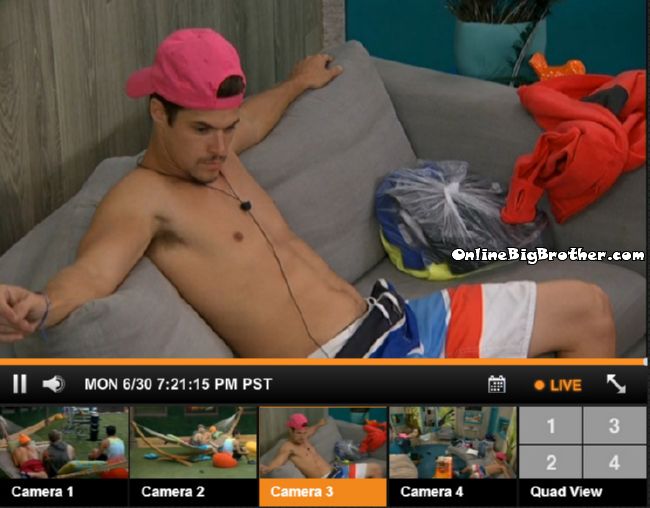 7:22pm HOH Zach and Frankie
Zach telling Frankie to keep it up they are in a great position. Zach – "I'm going to keep sleeping and dancing.. people like that right'
Frankie – "that was great"
Zach tells him to be rhinestone silversmith all summer because everyone likes that.
Zach has trouble reading Devin
Frankie says Devin told him he was self destructing he's losing it and not liking the person he's become.
Frankie – "I'm watching him and i'm like OK"
Zach – "Thats not a facade that's real"
Zach says Amber and Christine are the bombs and they are the squad
Zach – "the Cheque is signed Joey is going home"
Zach doesn't think POWPOW has any friends, Frankie calls her the classic floater if she wins HOH whoever has her ear will control it.
Zach – "I'm going to throw every single competition all year"
Frankie – You can't you have to win"
Zach explains if it's needed he will win.
They question if Devin is really going to be good in competitions because he might be too big.
Zach – "Caleb.. so obsessed with Amber and not afraid to hide it "
Frankie- "he's ridiculously obsessed that trigger is going to detonate.. it's totally not going to go good"
Zach thinks there's a chance it will go good for Caleb but either way it's good for them
They agree Caleb needs to be kept close in the palm of their hands that's mission number one. .
Zach – "You and I are in such a good spot right in the beginning it's going to make this game so easy on us"
Zach – "Final 4 was handed to us"
Frankie – "Yup pretty much"
Frankie tells him the biggest downfall in this house is being too cocky and it's still a really early. (LOL) Frankie tells him it wouldn't be bad if Zach won HOH this coming week.
Zach – What's the upside"
Frankie – solidify your position in the alliance
Zach – makes me look like the bigger threat I would rather Cody win it
Frankie – ya ya
Zach – if it comes down to Nicole, Amber and Hayden up there I have to have it (The HOH)
Zach says Amber is up to no good.
Frankie – "I don't think she's ever going to hook up with Caleb never never never not going to happen…She's a user .. she will not put out at all"
Zach – "ya and she's great at it"
Frankie – "I don't know she has him wrapped around her little finger maybe she's smart.. but I don't know how long she can keep it up.. she might slip up like he'll go give her a kiss and she'll slap him"
Zach wonders if there is another alliance in the house. he wondered if maybe Nicole and Christine are in something.
They will both put up "Brittany and POW"
Frankie – "I want Brittnay gone she's a thorn she's smart and stupid.. she sees whats going on but doesn't know what to do.. Once Brittany goes it's donny"
Zach – 'Hayden is a joke"
Zach calls them memphis and Dan.
Zach goes on and on for a solid 30 minutes how he's going to make it to final 2 because everyone is so stupid in the game.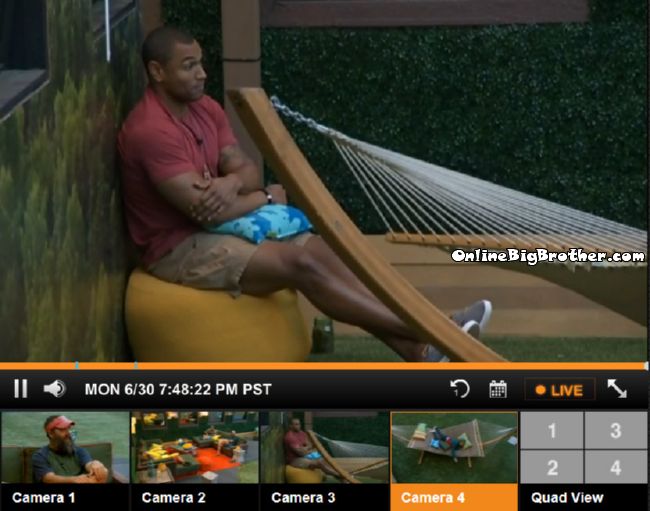 7:45pm Hammock Christine and Devin
Christine says she's worried about Caleb going up next week. Devin – "Doesn't matter we have the votes" Devin doesn't want there to be a showmance in their alliance because the showmance always goes up. Devin says if he gets the chance he'll put Brittany up against POW and try to get Brittany out.
Amber joins them says Nicole talked game to her today. Amber goes over the conversation says Nicole wants Joey gone.
Devine says the vote is going to be 13-0. Amber was talking to POWPOW and apparently Brittany made her feel very uncomfortable so she's not sure what is going on.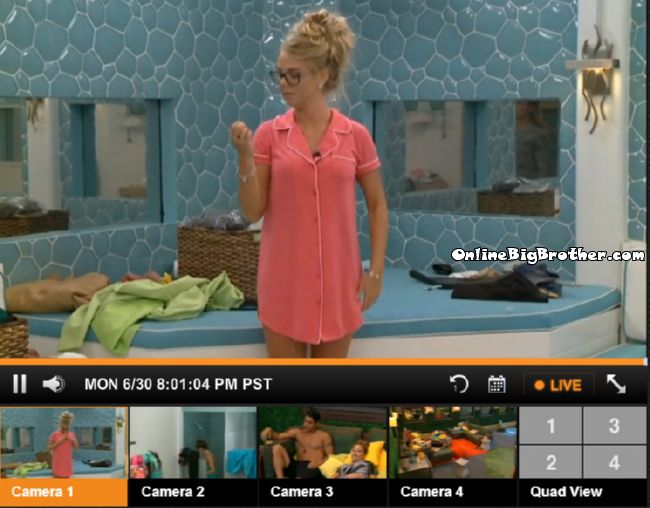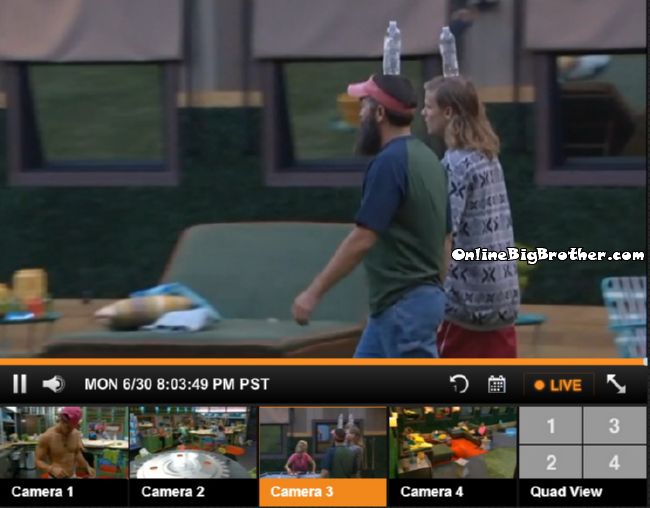 Hayden "Donny you are walking like it's a regular day" (hayden isn't bad either)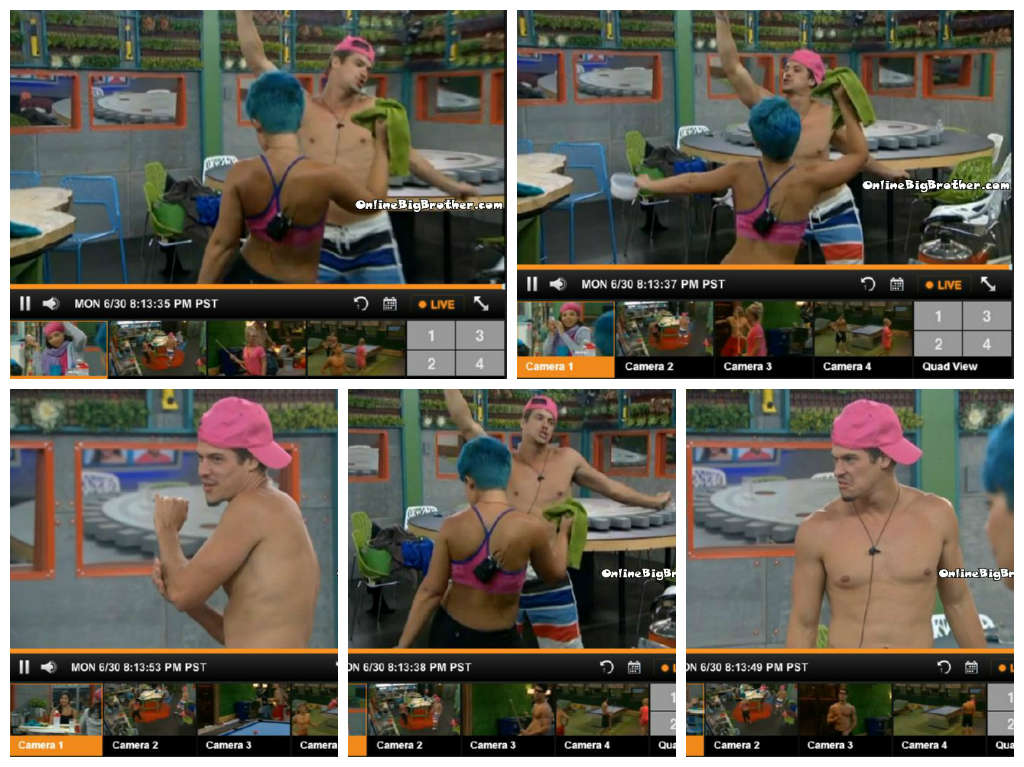 Showing off his moves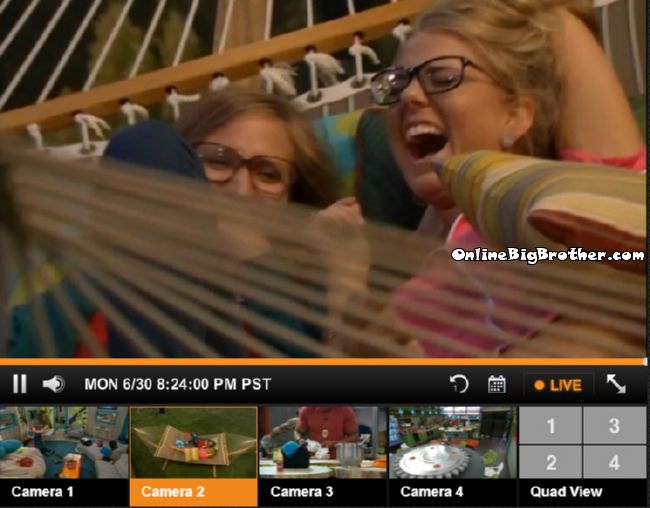 8:24pm Hammock Christine and Nicole
Christine says Cody and Brittany have been flirting a lot Caleb calls them 'Brody'. Sounds like Victoria is pissed because she likes Cody. Christine impersonates Victoria "She's 29 with kids he should not be talking to her"
Nicole – "Are you voting out Joey"
Christine – "Ya"
Nicole and Christine laugh at the house thinking Nicole is clueless in the game.
Nicole warns her Derrick is saying that Christine is really smart.
Christine – "That scares me.. I need to dumb it down though"
Caleb joins them…
Brittany joins them with a giant coffee, She says she's gained 10lbs while on slope so she's drinking coffee instead "I need to get back on track with my workouts"
They start talking about potential Have Nots Competitions.
Alliances 
Bomb Squad = Frankie, Caleb, Devin, Cody, Derrick, Zach, Amber, Christine
Fragment of bomb squad no name  = Christine, Frankie, Cody, Derrick Zach
Double Ds = Devin, Donny
Bed buddies = Nicole, Christine
Final 2 Deal Zankie= Frankie, Zach
Old defunct alliances
TheCrazy8s = Frankie, Donny, Joey, Paola, Devin, Amber, Nicole, Cody
El Cuatro = Paola, Amber, Joey, Nicole
Where the vote is 
As of now Joey is going home.. (Still early)
[polldaddy poll=8154372]
Share it YO!
Tweet