Feed subscription lets you go back and re-watch everything we post here CBS All Access Live Feeds with a FREE 7 DAY trial.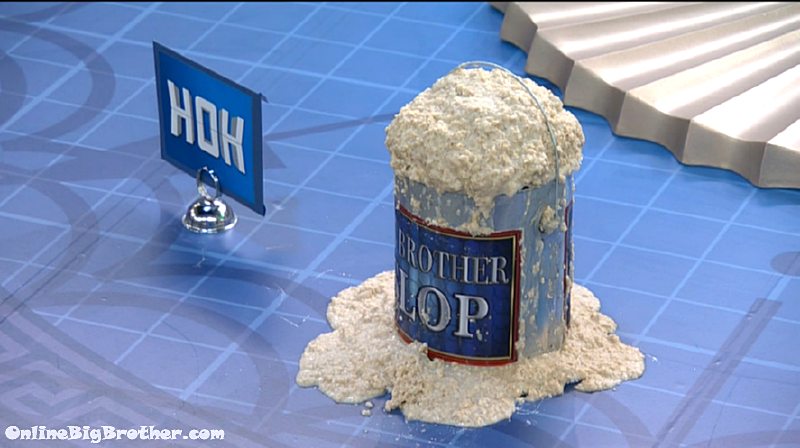 10:17am Have nots picked
Havenots = Alex, Christmas and Elena
Mark is also a have not as he went for the have not temptation and picked the wrong door cursing him a Have not for 2 weeks
Paul – as head of household I must choose 3 have nots for the week
Paul – which three haven't been havenots yet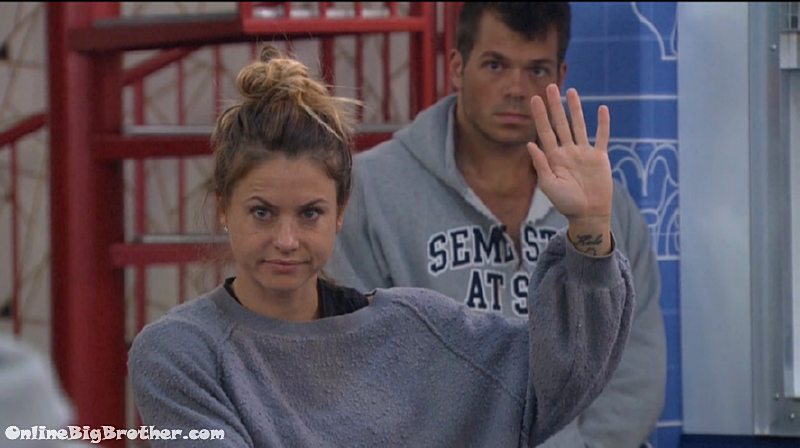 zmas – me.. f*face
Paul – you three beautiful ladies are now have nots
Paul adds that mark is also a Have not having gone for the have not temptation but picking the wrong door.
Paul – the have not temptation is back in play only the first persons to claim the key in the Diary room can accept the temptation Mark because you received the have not temptation last week you are not eligible this week
Paul – ladies who wants to run in there? (usually there's a sprint to the DR to get the Key but since 3 in a row have gotten the penalty people are becoming less enthusiastic about it)
Xmas – NOPE
Elena – what colour is it..
Paul – Purple..
Elena – ok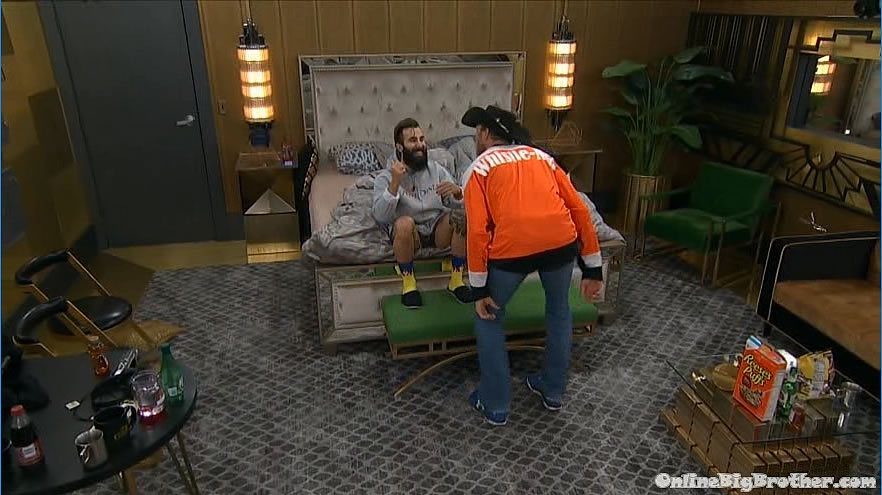 10:27am Paul and Jason HOH Studying
Paul tells him to not pick Elena if he gets Houseguest Choice. Paul says Elena really knows her Storm Watch and he would rather the two of them win it.
Paul – if she (Elena) does get picked I'm going to ask her to throw it, I want to pull you off.
Jason – I think Elena and Christmas would vote me off If I stayed up there
Paul – doesn't matter it's only 2 votes
Paul – Dude she (xmas) was getting on my f*ing nerves last night
Jason – it was driving me f*ing nuts
Paul – I was like you might not even play so shut the f* up
Paul – at least Elena was actively helping
Jason – and she's (xmas) telling everyone to shut the f* up .. just bossing.. I was like HEY you shut the F* up
Jason – she's been rubbing me wrong since day one, I can't say nothin and then I break her f*ing leg it's been a slippery slop
Paul – she has a very assertive personalty. It's always about her.. she always brings it about her foot..
Paul – I was like f* my back hurts and she's like "ewww is your foot broken'
Paul – B1tch
They bring up how she talks to you about irrelevant tangents and commands the conversation and when you try and walk away she gets mad.
Paul – you're going off on a tangent nobody cares
Jason – she's like you know you have to rub me (her foot)
Jason – I'm like KEVIN if you don't step up every time I have to rub that b1tch
Jason – She blackmails the f* outta me
Jason – Kevin just laughs his a$$ off..
Jason wanted to like Cody but he just couldn't
Paul- he's a c**k
Jason – he's a dumb prick
Paul – he's a dumb prick and a f*ing pu$$y
Paul – he talks sh1t, says what are you going to do and then walks away. (Surprised Paul is retelling it like this. I got the impression that after Cody left the room Paul jumped all over him showboating in front of the house)
Paul now claims that Cody ran into his room and cried after the confrontation with him.
Paul – what a dumb pr1ck
Jason starts impersonating Cody..
Jason impersonating Cody #BB19 @DawgsBigBrother pic.twitter.com/YOl8E3HvKC

— OnlineBigBrother.com (@bigbspoilers) July 29, 2017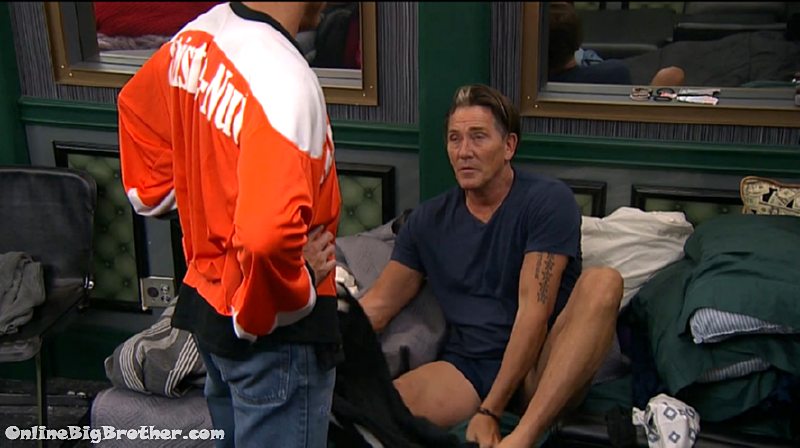 11:13am Kevin and Jason Studying
Lost size in Tijuana where she went to the orchard and picked a poison apple..
Microbiologist.. all other experts disagree.. precipitation hasn't been that this low since hurricane Glen..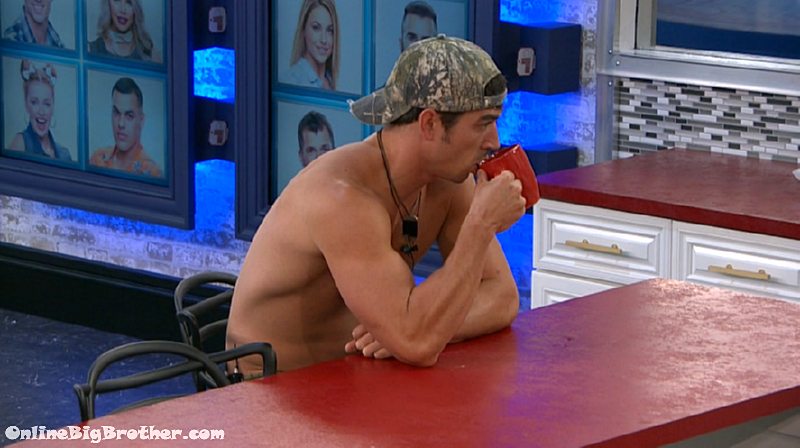 No studying..
Pov Players have been picked
Cody, Jessica, Paul, Jason, Kevin, Raven
Host = Christmas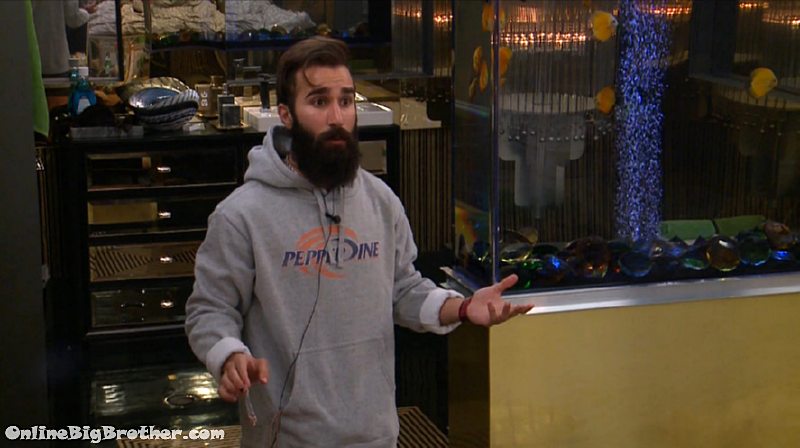 10:57am HOH Paul and Kevin
Paul going off about Cody getting booed this season because they never studied for the Veto.
Kevin says once Jessica and Cody are out he'll throw the Veto to Paul.
Paul – that pr1ck is done.. dead in the water.. that's the second time I get his a$$ out of this game.. They're sucking face.. that f*er is 32 years old what a absolute child.. F*ing disgusting..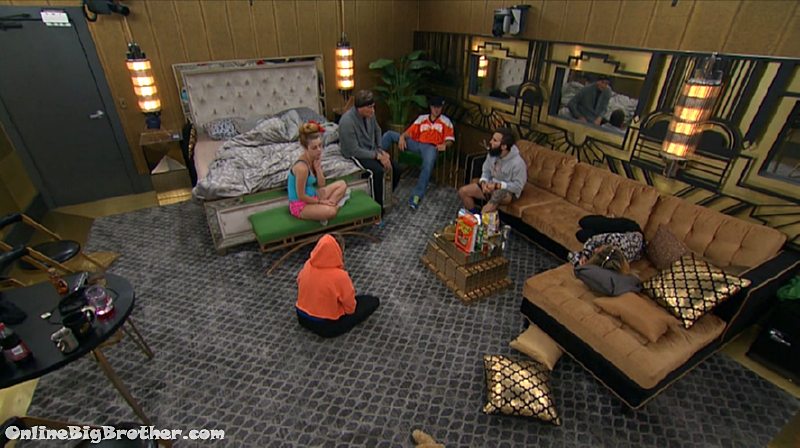 11:05am Paul, Kevin, raven, Elena and Jason
Paul telling them he wants to use the veto on Jason so they can get another vote to get Cody out.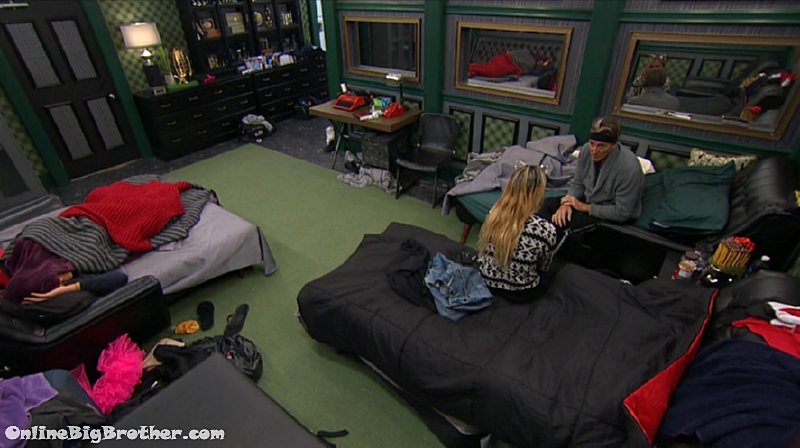 11:31am Kevin and Alex
Kevin is mentioning how Christmas in the game isn't fair to the other players..
Kevin pointing out that they are being portrayed like peons, Maybe not Alex because she's winning stuff.
Kevin saying if they can get Cody out they should put up Mark and Matt.
Kevin – say it's me, PAul and Jason.. Alex i'm just going to go.. (throw the POV)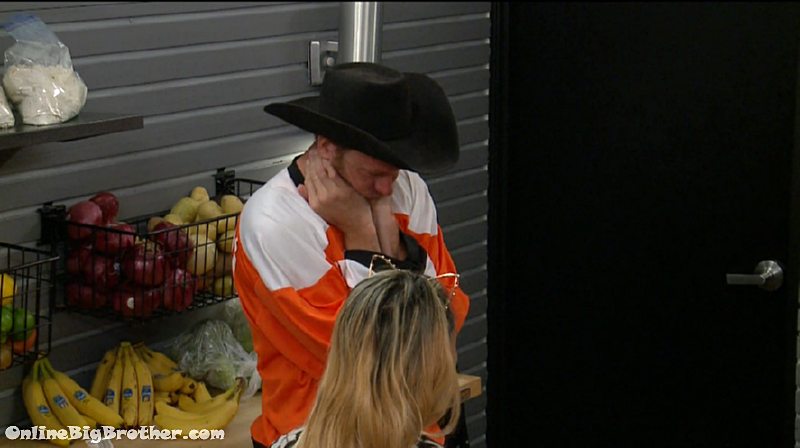 11:37am Alex and Jason
Alex telling him Jessica did not get safety for 4 weeks that is a lie.
Alex tells him if she wins HOH Jessica and Christmas are going up.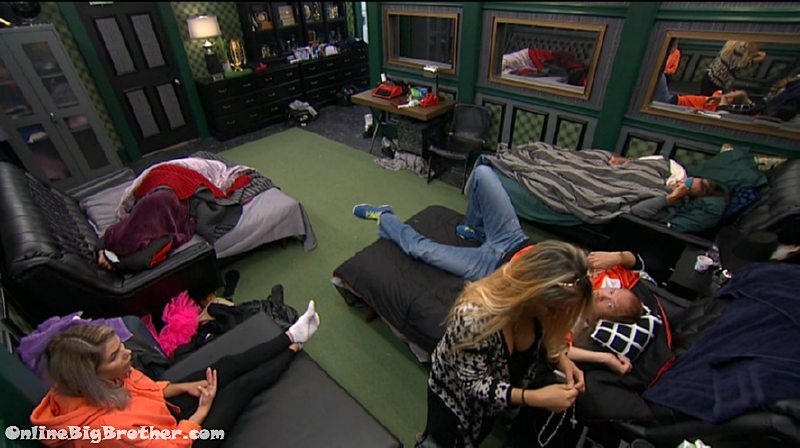 12:13pm Elena helping Jason prepare.
Elena – if I don't get super skinny this week i'm gonna be pissed.. if I lose my curves I'm going to be pissed.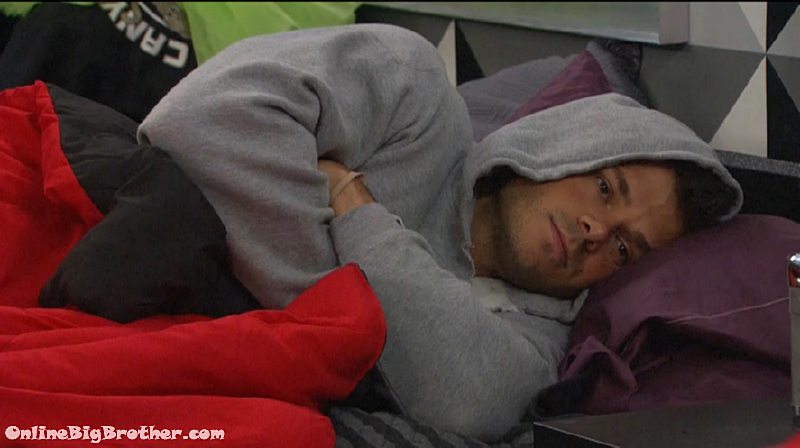 12:18pm Elena and Mark HAve nots
Elena – if I act a particular way around you, in front of people, not that I am goin gto be hateful, malicious and mean or anything like that.
Elena – it's just because People need to perceive the separation. do you understand what I am saying
Mark – mmmmmhmmm … I got it
Elena – you're turning away from me right now because you are upset..
Elena kisses him.. Mark starts crying.
Elena – are you crying about me.. that's a yes huh..
Mark – mmmmhmmm
Elena leaves..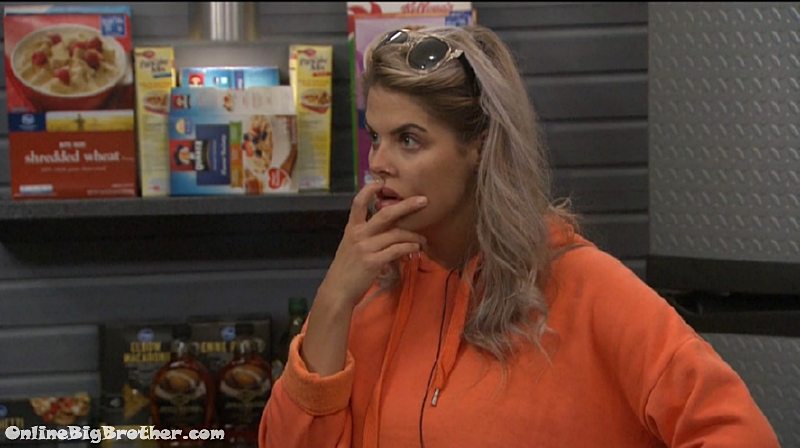 12:41pm Elena and Cody Storage room
Cody says Jessica won't let him jump on the grenade this week. He imagines she will be using teh Hex.
Elena doesn't know if she's throwing her game away from someone she just met.
Elena – Am I a ice queen or am I a dickhead.. I can't be a little bit of both
Elena – Mark is so passionate.. A lot of me this whole time was like DUDE.. I'm just the best option in the house for you to point your dick at, LIke you don't really like me.. llike it's just a intrigue. I'm your best option .. I dunno maybe he genuinely does like me and if I hurt him that will kill me.. it's rock and a hard place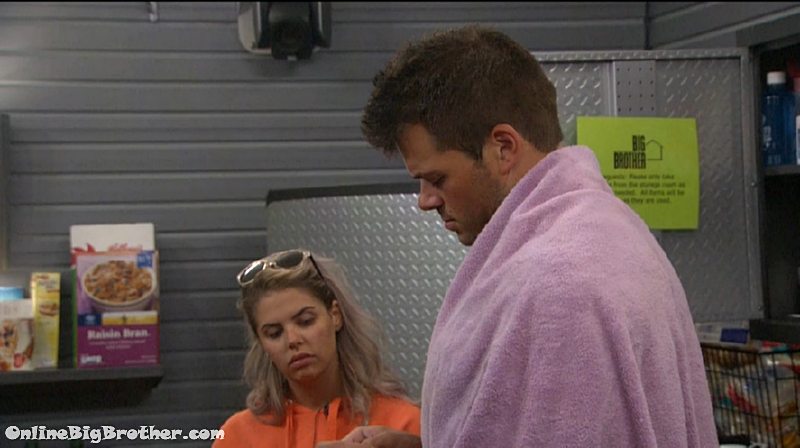 Mark comes in to grab some razers…
Cody – he's so bummed out
Elena – I'm a floater now
Cody – no you're not you're a outsider
Elena – I'm a outsider now..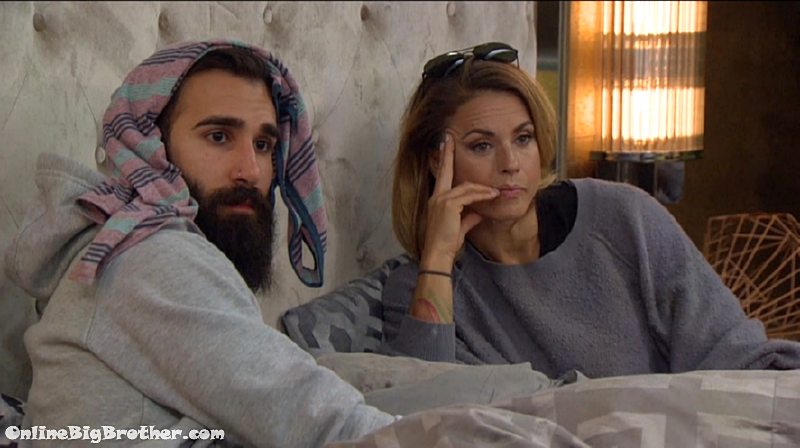 1:01pm HOH Paul, Christmas, BOYz2men, Alex, raven
Paul is going to tell Jessica that Cody is the target and he's got clarification of her power.
Paul – I know once yo use it you can't use it again.
Boys2men – there's still 10 people in the house that won't be happy with you
Christmas please go to the Diary room
Paul – we're going to compete
Christmas – someone pour a pot of coffee down my throat
Paul if you don't give the house what they want this week it will seek out revenge the following week.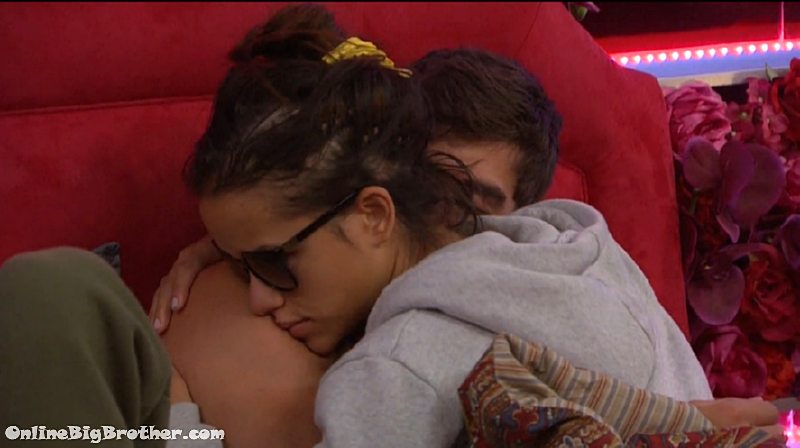 1:20pm Jessica and Cody
Jessica – Cody I don't want to be separated from you before Jury
Cody – I'm sorry… If we don't win HOH we're going out next week ..
Jessica – they already told me if I don't win safety they'll take me out
Cody – as far as next week if it's you or me I'm jumping on that grenade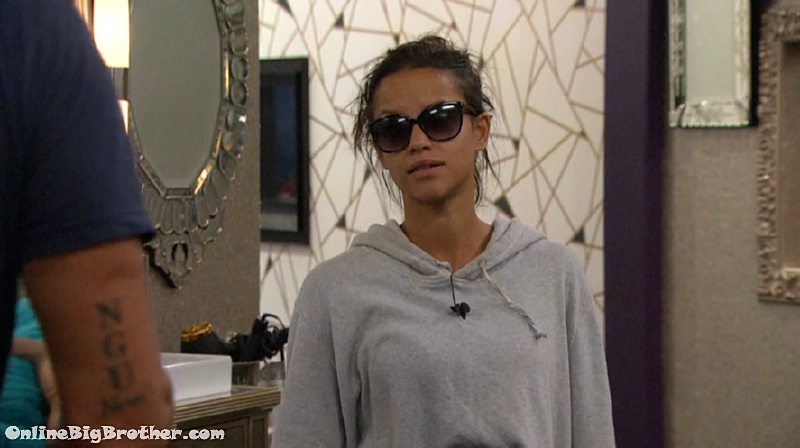 1:27pm Kevin and Jessica
Kevin is encouraging her to consider leaving the hex for herself she might need it in a week or two. Points out that the house will be gunning for Cody every week.
Summary of Matt's Game #BB19 @DawgsBigBrother pic.twitter.com/W5DQDsysdB

— OnlineBigBrother.com (@bigbspoilers) July 29, 2017
If you plan on buying anything from Amazon. Use this link Amazon home
Doesn't cost you anything and we get a small cut.
Links to the ranking system
Rank your house guests here
For those of you that like Statistics here are some expanded reports.