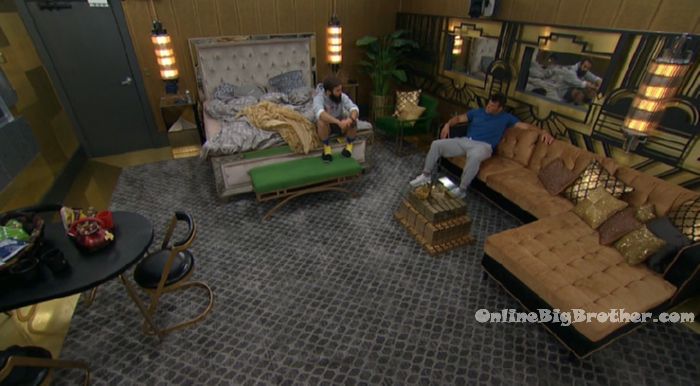 Check out our BB19 Ranking Grid. . rank your houseguests here
2pm HOH room. Matt, Raven, Elena and Mark.
Matt – Mark tried to smash Josh with a frying pan because we have testosterone and you (Elena) have estrogen. Mark – I don't like to raise my voice like that. Raven – I hope someone takes that clip of you in the too-too and says HULK SMASH! HULK SMASH! Mark – I especially thank Kevin. Kevin was very nice. Man and I don't like getting to that point. I don't even remember seeing him. I just heard his voice. Elena – what did he say? Raven – give me the f**king pans. Mark – I lost control and that's why I wanted to apologize to everybody.. that's not me. Regardless of how I feel about him in this game, he is not good for me or for the house. I made a mistake but I am not going to isolate myself. Raven – you apologized like a man. Mark – and Cody doesn't even want to attempt to. Matt – we're not making anything up here… he f**ked Jess's game twice! Like that is truth! That's not us having an agenda. The embarrassment thing is big, that girl (Jess) does not want to be embarrassed again on national television. Paul – Cody wants to leave and Jess is convincing him to stay. I'm going to make him want to leave. We'll just have to be like look use your hex but we're coming after you not Cody and you don't make it to jury. Mark – I don't know why she would. I feel like he is just over this. Elena – I would drop the bomb in the veto speech If you use the hex, you're the next one out. Paul – its better for everyone's game to have him out of this house. I am going to get a perfect score and make them look like idiots. They start studying tbe BB storm info.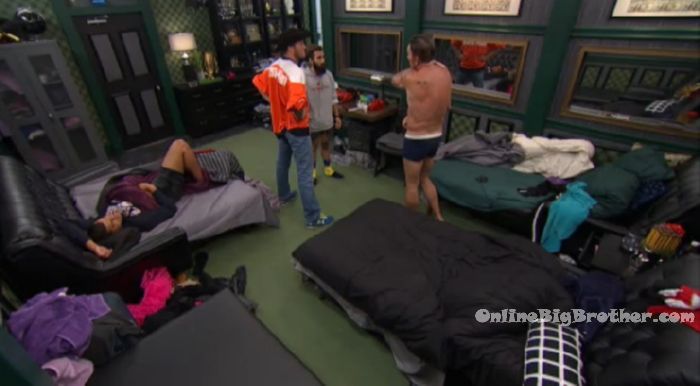 2:05pm Bedroom – Paul, Jason Alex, Josh and Kevin.
Kevin – She said they didn't even study. She said we're just going to put blank answers down. She knows the competition. They know no answers to nothing. They didn't study a minute. Paul – after we win the veto I am going to go look around, no one wants you out, they want Cody. Jessica, the clear target is Cody and look around.. no one has beef with you. The only reason people have beef with you is because you're associated with the number 1 target in the house. Once the number one target is gone, congratulations on making it to jury. If not then she can go out before jury. Then once Cody sees that her game is in danger he will convince her not to use it. If Jess uses it she is the target not Cody. If she uses that hex she jumps in front of Cody and we will send her home before Cody and she won't make it to jury. We need to keep egging him on making him want to leave the game.

See what they can't show you on TV Try the live feeds for FREE!

2:20pm Lounge room. Cody and Jessica.
Jessica – well babe, he took a shot at us again and lost again. Technically on his two HOH he has accomplished nothing. He might have won two HOH's but he has evicted zero people from this house. Cody and Jess laugh. Cody – and me I have evicted like 4 people now. technically. Jess – if you want to put him in checkmate you better go for the gold and get HOH. Cody – please let it be a physical comp. Jess – well production hates me now and so it will probably be a mental one. They want me to re-live this like right now. I can't. Cody – they're under tight deadlines. Jess – everyone was trying to convince me to not use the hex. I am done getting into people good graces, they should be getting into mine. one of us is probably going to be in jury and the other isn't going to be and that 1 vote could mean the difference between winning and losing. Cody – not to mention how is it respect for anyone to tell someone to go against their boyfriend / girlfriend? How is that a f**king.. if someone were to come up to me and… never mind. They would leave with a slap mark on their face wondering what just happened. Bunch of dishonorable, disloyal f**ks! You can't tell me they're not like this in their outside lives. Jess – it drives me up the wall that people allow Josh to act that way .. and expect the people who he is targeting not to have a reaction. Cody – I pray that everyone that kept him here is associated with him forever.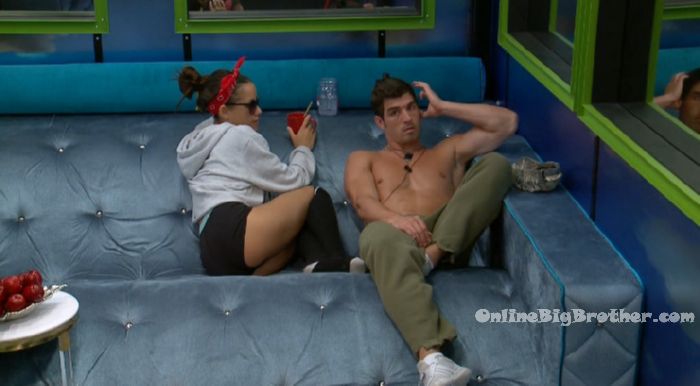 2:35pm BB Storm Watch – Everyone gather in the living room for an important announcement and details. Big Brother blocks the feeds… its time for the POV competition.
5:20pm Still nothing..
6:20pm NO feeds yo!
7:25pm No feeds for you
Links to the ranking system
Rank your house guests here
For those of you that like Statistics here are some expanded reports.