POV Holder:
?
POV Competition
July 16th
POV Used
?
POV Ceremony
July 18th
HOH
Paulie
Next HOH
July 21st
Roadkill Competition Winner:
Tiffany
Original Nominations:
Tiffany, Natalie, Corey
After POV Nominations:
?, ?, ?
Have Nots
James and Natalie
CBS All Access: Live feeds are only $5.99 per month – Try it FREE for 1 WEEK!
POV PLayers are -> Paulie, Tiffany, Natalie, Corey, Paul, DA'Vonne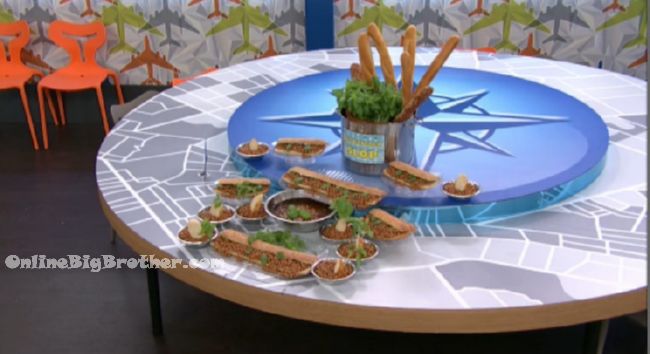 9:13am HAve nots get their food
James – Basil and Beans..
James- I feel sorry for the rest of the houseguests that have to put up with us..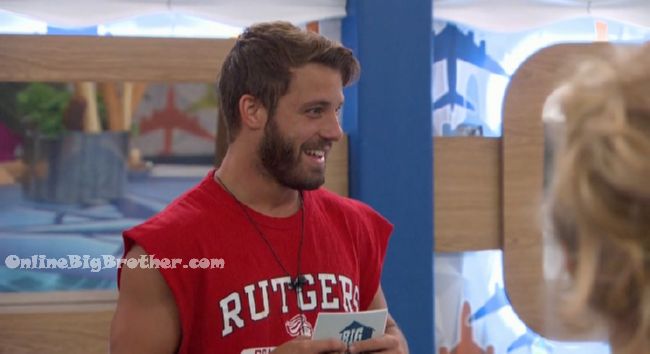 PAulie – This week have nots are the first team completely eliminated from the head of household competitions that means James and Natalie are have nots
British baked beans, french baguettes and Italian basil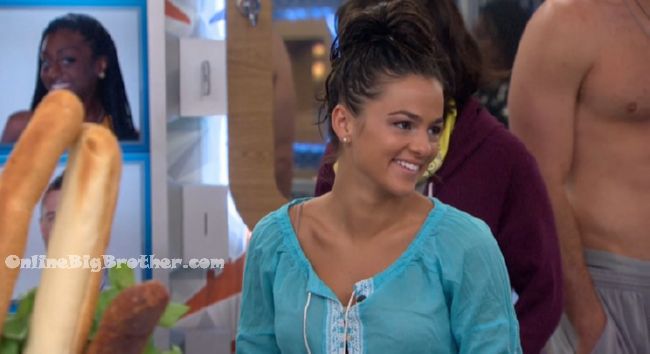 NAtalie – we're going to be shitting our brains out with this.. I'm not mad about it it could be worse
Natalie -we're trying to diet and they gave us bread.. So beams breakfast lunch and dinner..
Sounds like Natalie was looking forward to being on slop so she would lose weight.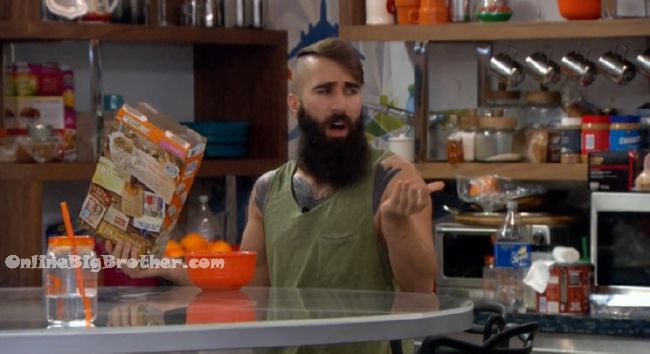 Paul's joking around complaining that the these weeks have nots get Bread and Beans "Two whole meals"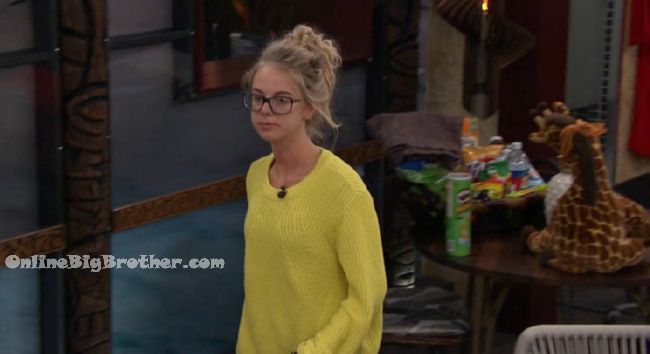 9:19am HOH Nicole and Zakiyah
Nicole – I hope everything goes fine today
Zakiyah – I hope so too ..
Zakiyah says Tiffany was looking at them side eyed..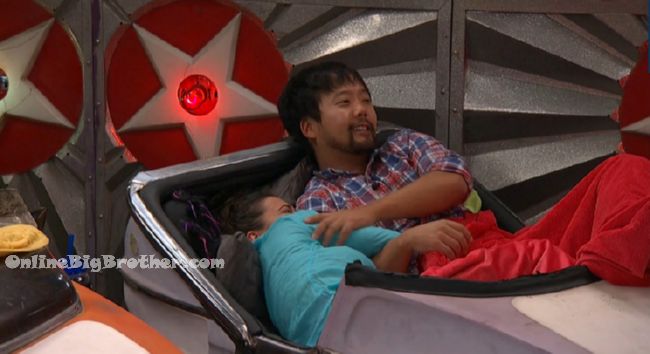 9:26am James and Natalie
James tells her you don't need to win all the competitions. Some of the greatest players won few if any competitions.
Natalie – I'm not going to throw a competition I just suck
James – your social game should get you through 80% of the game..
James shares a story about getting a massage after the show and the masseuse watched him on the show. James is just warning her what's the fame like.
James says when you google his name there's ton of things.. charity work, Big Brother etc.
Natalie – great that you do so much charity work
James- I hope we can do some.. hook up get something going..
James- i'm trying to figure out what to say when you have those tantrums..
Natalie – say something sweet.. I'm sad James I don;'t like this game.. I'm going to be ugly after this show..
James – sorry I threw you out to the wolves
Natalie – thanks.. I'm going to be such a good liar after this
Yesterday I tried to play dumb.. it's so hard.. this game is stressful..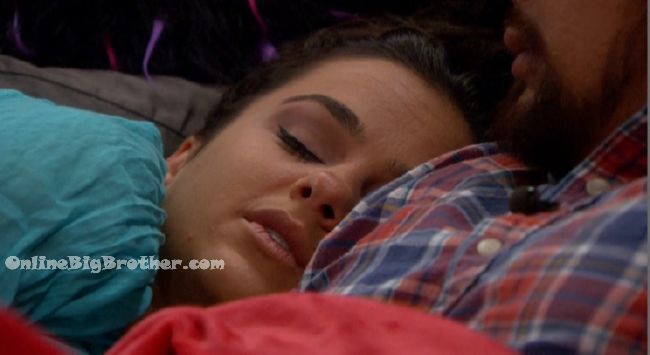 James- I don't trust anybody in here.. except for Natalie
Natalie – I trust you to
James says people are going to try and break them up in a heartbeat, "Like Victor and them did"
Natalie- They did.. they really tried.. You've been nice to me since like forever.. I had fun with you since like the beginning.. they made me feel insecure about my self about my body.
James says Natalie is "Smoking HOT" 97.5 percent of the time you look smoking hot..
Natalie says being in the house is like High school a really bitchy high school
James is glad he's short it makes the bumper cars a lot more bearable.
Natalie says was repulsed by Victor after awhile.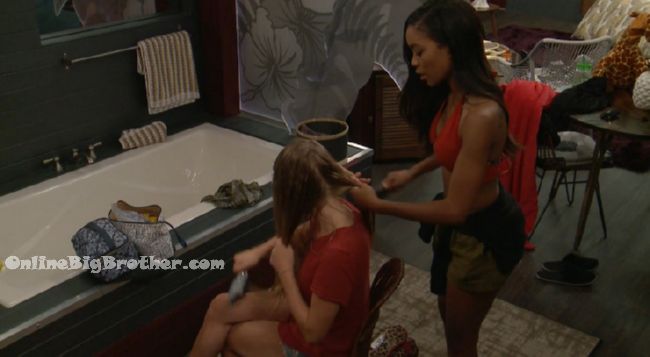 10:08am Zakiyah and Nicole Frantically brushing Nicole's hair they believe the POV players will be picked soon.
Nicole – They're picking POV players this fast
Zakiyah – they said things will be moving fast..
11:21am Nothing going on houseguests waiting for the POV players to be picked.
Paul has been telling them travelling stories.. says he's planning on going to Russia, Siberia and Armenia after the show.
Zakiyah asks him how he affords all that, "I'm broke" .
Paul – My clothing.. I pay for it myself.
Zakiyah tells him everyone likes her style, she use to sketch, "Get me on.. what do your clothes look like I got some ideas.. I'm for really.. I'm bomb.. I'm an artist.. I'm not playing.. I'm serious.. I ain't playing"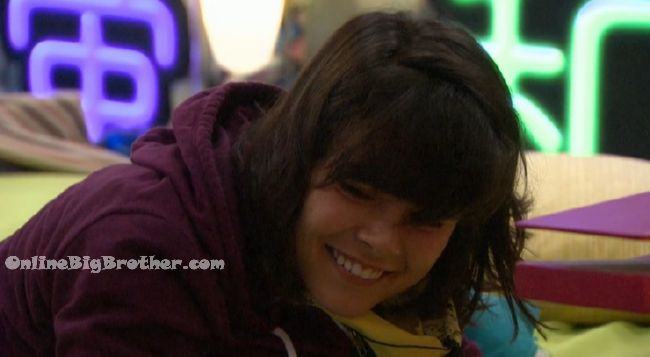 11:53am Bridgette and Frank
BRidgette was kinda hoping they would keep Corey up all night, "Five nights without sleep"
Frank – they didn't get a lot of sleep..
Frank – F***g Nicole and F**** Corey are reminding me for Britney and Shane to
Bridgette – what dod they say to you
Frank – Lied to me..
Frank – who knows maybe they'll vote out Natalie this week…
Frank – "I forgot yesterday was your birthday"
Bridgette – "Mission accomplished"
Frank – "we should have cooked a tofu caked last night."
Bridgette – no one gives a f*** Frank
Frank hates everyone here
Bridgette – I like you, I like Natalie, I like James..
12:02pm Hey Everyone it's time to pick players for the Veto Competition..
Hey Everyone it's time to pick players for the Veto Competition.. #BB18 @DawgsBigBrother pic.twitter.com/7Tyx1cOq6S

— OnlineBigBrother.com (@bigbspoilers) July 16, 2016
12:19pm Feeds back.. Da'Vonne and Paul? were picked
Bridgette and Natalie apparently were both pissed during the pick.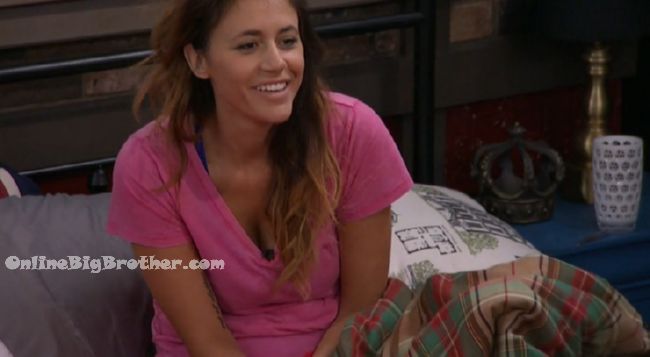 12:24pm Bridgette and Tiffany
James briefly comes in Tiffany tells him James won't be the replacement nominee if Corey comes down.
James says if Corey stays up "BIG TARGET"
Bridgette and Tiffany start studying the dice game. Up in the HOH is Paulie and Natalie studying the dice game. Paul is with them helping.
12:36pm Bridgette and Tiffany studying..
Saying the people in this house are a$$holes..
BRidgette wants to be able to send someone from that side home because they took someone away from her.. Bronte
Bridgette – eye for an eye b1tches..
Frank comes in gives out some encouragement.
Da'Vonne comes in .. Good luck girl i'm going to lose for sure..
James comes in.. ..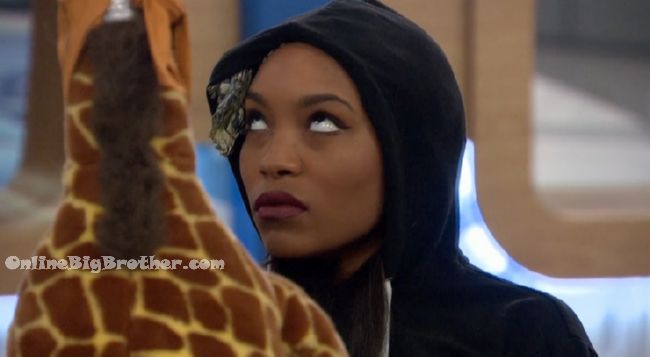 12:46pm Michelle and Zakiyah kitchen
Zakiyah about Bridgette – She's a buzz kill.. I don't like her energy… mind your business..
Zakiyah – I pray and I hope she never gets another HOH
Mihcelle says Bridgette has a dark side, 'She knows the show she lies about it.. "
Zakiyah about Bridgette – B1tch shut up..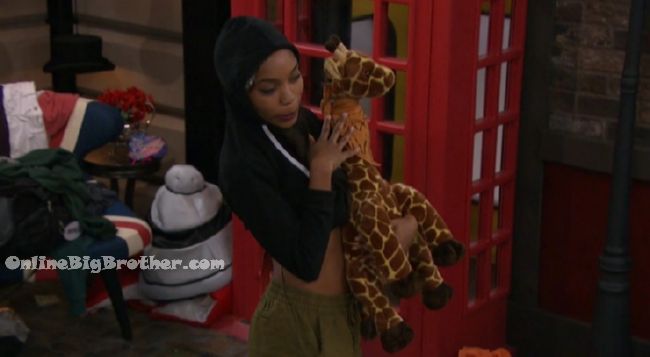 12:53pm Zakiyah , Tiffany and Bridgette
Tiffany tells Zakiyah if Michelle has a problem with her come talk to.
Tiffan t – I'm not against her there's nothing I am doing that is against her in this game
Zakiyah says she'll tells her whats up
Zakiyah – I'm having a birthday party for this kids (Girafe) y'all invited..
Zakiyah leaves..
Tiffany – this is so childish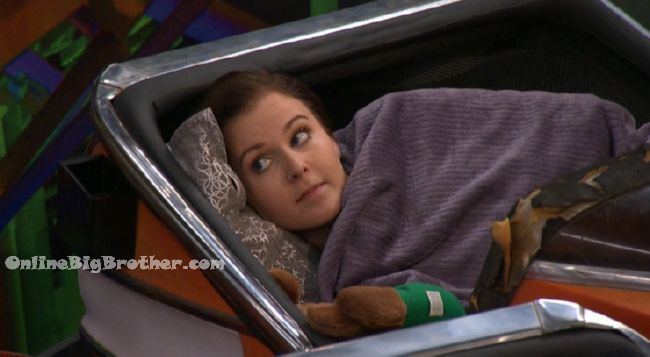 12:56am HAve nots Michelle, James and Zakiyah
Michelle is pissed at Bridgette and Tiffany because they are in her room studying while she wants to sleep. Bridgette is sitting in Michelle's bed and Tiffany is in her bed.
Zakiyah says they are studying. James warns that Bridgette and Vanessa really know the dice game.
Michelle – She's scary I want her gone before frank
James tells them to keep their voices down.
Michelle what a baby.. Knock off version of your sister

The dice game they are practicing
1:08pm James and Michelle HAve nots
JAmes says Frank, Bridgette and Tiffany are a group and they want James and Michelle, "He's trying to get out Frank"
Michelle – you're not going to fall for it right
James- no
Michelle – i'm not going to work with Bridgette
Jaems – you're not going to vote Natalie out .. its sucks..
Michelle – I'm not going to vote Corey out.. that's the plan if Tiffany comes down Natalie..
Michelle thinks once Paul and Bridgette are gone people are going after the showmances they'll be safe.
James disagrees says the single will be taken out first
Zakiyah comes in..
Michelle says Tiffany was complain last week that Zakiyah and Nicole leaves the room after she enters..
Zakiyah says to be honest she gives Tiffany 5 minutes, "I don't want to be guilty by associations"
Zakiyah says Bridgette is like a little pig, or a wild hog.. Continues the analogy that they are trying to grab her.
THey mock Bridgette for saying, "I'm just really good at helping people"
James just listens drops in periodically to remind them Bridgette is smart.
JAmes leaves..
Michelle and Zakiyah talk about if Tiffany wins the Veto Natalie goes home. Michelle says she told that to James and he got upset.
Michelle says she told James..
Zakiyah – Thats why I was saying not to get close to her
Zakiyah wants to keep sh1t the same
Michelle says if Tiffany comes down Paulie's best play is to put James up so Natalie goes for sure.
Michelle – Last week.. Bridgette wanted to put up Nicole and Corey but Frank talked her out of it.
1:45pm Most houseguests are sleeping waiting for the POV competition.
[polldaddy poll=9471428]