POV Holder:
?
POV Competition
July 16th
POV Used
?
POV Ceremony
July 18th
HOH
Paulie
Next HOH
July 21st
Roadkill Competition Winner:
Tiffany
Original Nominations:
Tiffany, Natalie, Corey
After POV Nominations:
?, ?, ?
Have Nots
?, ?, ?
CBS All Access: Live feeds are only $5.99 per month – Try it FREE for 1 WEEK!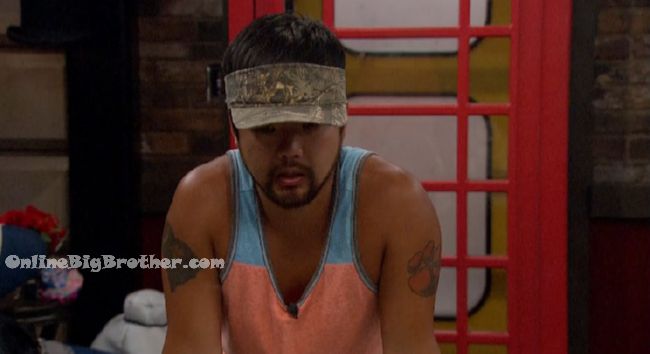 12:45am Da'Vonne and JAmes.
Da saying she doesn't tell Nciole much, "because she's going to rid with Corey 10000%"
James- ya I agree
Da – That's why i'm on board with getting him out of here..
JAmes- you said there's got to be some way to get him on the block.. he's there..
Da – It's another week to deal with Tiffany's crazy ass
james- Tiffany's not coming for us and as long as she's in this house frank and Paulie will be tied up getting her out of here.. but if corey leaves also.. we'll get Nicole back.. Maybe
Da – Bridgette, Frank .. who else in the house
JAmes – Zakiyah PAul, Michelle, You me…
Natalie comes in they stop talking game.
JAmes leaves..
Da'Vonne says she's been hearing that Natalie isn't the target if Corey comes down she's going up the goal is to keep Tiffany on the block.
Da'Vonen – I think Frank won .. the goal is to keep Tiffany on the block.. We haev to fight hard
Natalie – I got your back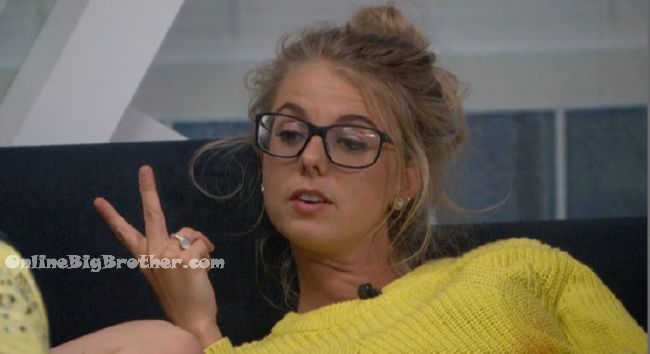 12:55am Zakiyah, Nicole and Michelle
Talking about Da'Vonne flipping the vote.
Michelle wonders if Da flips James will
Nicole – I don't' know.. Iof they both flip it depends on how badly they want Corey out
Michelle – why are they targeting corey
Nicole – I will be livid I will cry. He keeps me sane
Nicole – If da james and natalie all flip.. Bridgette Frank that's four
Zakiyah – we have 3 just us
Nicole – and us Paul will keep corey it'll be 4 to 4 so Paulie..
Nicole says the whole house flipped on her season the night before and she was on the block with her best friend (Hayden) he went home and she stayed in teh house for 3 more weeks.
Michelle – I want to call that girl out so bad…
Michelle Bridgette is telling Da'Vonne lies..
Nicole says Da'Vonne is believing everything Frank says
Nicole – we got to pull out a win..
Michelle – we need to get james we need to keep him close
Nicole – how do we do that.. How do we get James on our side
Michelle – we can try and get Natalie
Nicole – if we get Natalie we get Jaems we got to go to work this week.. We need Natalie
Zakiyah – Natalie get james
Michelle – paule is really annoying me.. He's everywhere
Nicole – we need them.. Paul .. and PAule and PAulie are close..
Nicole doesn't think Frank is playing "Good" at all.
Zakiyah – I'm really aggravated
Zakiyah says coming into the house Da'Vonne was someone she felt she could trust but then she started getting close to them.
Paul and James joins them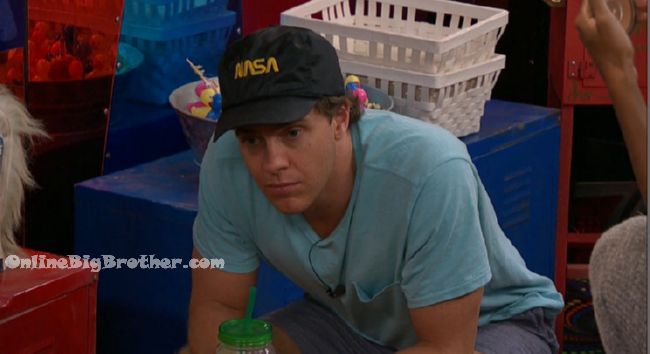 1:57am James, Nicole, Frank Have nots
Frank says says a lot of people have been lying to him. there was 4 votes and 7 people have come up and told him they voted out Tiffany. He doesn't like being lied to especially when he's being lied to by the people he's working with.
Nicole – I've been hearing a lot of crap like usual.. you know how it is
Jame s- what happened to our group man
Frank – people think i'm a dictator and they don't like me
Nicole – the person that thinks you're a dictator is working with you and those words never came out of my mouth
Frank – I know
Nicole – it's hilarious she attacks you then she runs to you.. she's going to do that to every single person her.
Nicole – the reason she ran to you is she's mad because we did talk game and stuff..
Frank – she knew she was safe she was told the morning before supposedly.. Somebody's talking to her.. she won't tell me who
Nicole – she literally won't look at me.. she's pissed at me that's fine..
Nicole adds that Tiffany can look online and see that Nicole voted for her.
They start talking about the break down of the original vet alliance.
James- where did we stray
Nicole – I dunno Frank
Frank says Da told him not Bridgette that Tiffany was coming after him and she hasn't come clean on that. When he had his argument with Tiffany Da'Vonne jumped in
Frank tells Nicole she knows this already
Nicole doesn't want Frank to say she knows because she doesn't
Nicole – That's why I don't get into trouble I just repeat the facts people told me and I get fricking in trouble because I'm throwing people's name out there…
Nicole says she wasn't there during the conversation with Da'Vonne and Frank nore the argument with Tiffany and Frank.. Frank told her Da'Vonne said that 3 weeks ago that's what she's going off of.
Frank doesn't understand he thought everyone was onboard with getting Tiffany out that is what they were all telling him.
Nicole – I don't know what to believe.. I have 1 person telling me 1 thing and 10 minutes another thing is told to me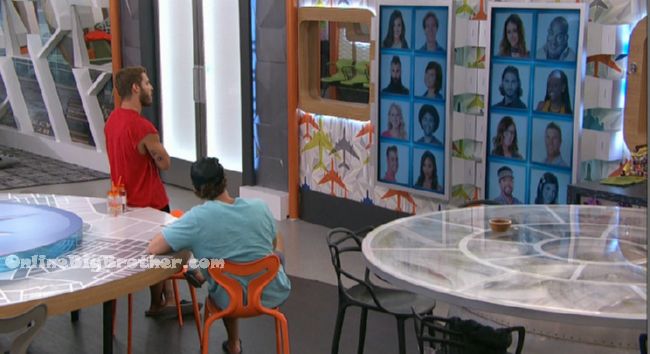 2:06am Paulie and Frank
Paulie – given the speech that she did.. It's just very funny to me how she goes about her ways doing things..
Frank – she's sketchy as hell
Paulie says Tiffany has shown to them she has no loyalty to anyone.. HE's tired of feeling awkward as f*** with Tiffany around, he's sick of the constant paranoia and questions.
Paulie going on about the crying and how it's not real she's just playing on people's emotions..
Bridgette moving in…
Bridgette and Paulie…. #BB18 @DawgsBigBrother pic.twitter.com/PXaVJTpEwL

— OnlineBigBrother.com (@bigbspoilers) July 16, 2016
Paulie telling her he's going to be in every single room and part of every single conversation to make sure nothing funny happens this week.
Paulie – and I'm sure you and Frank will be in every single room where she's in
2:16am Paul heads up to the HOH
Thanks for the cookies.. Thanks for the friendship fists bumps and heads up to the HOH to sleep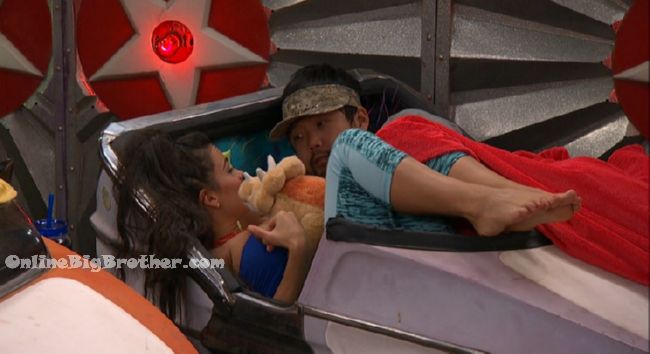 2:07am JAmes and Natalie snuggling have nots
James says he was having tough time today he had to go find refuge in the Diary room. James says Natalie was ignoring her.
Natalie – I Wasn't ignoring you ..
Natalie says she was trying to cope with being on the block she didn't have Bronte anymore and she felt JAmes was 'Throwing shade" at her. She also brings up again everybody was coming up to her talking game.
James mentions she's curling up to him with the 'Shiny Lips"
Natalie says she's going to go into the Diary room soon so she redid her makeup
JAmes – America she's trying to seduce me in this bumper car
Natalie – I'm not America..
Natalie says she's on the block for the first time she's sad. She mentions how he wasn't around all day.
Natalie – I needed you today..
James I needed you too..
Natalie says she hid in the bathroom and cried.. "Everyone was plotting and scheming"
James – I got your back little hommie
James says if he wins the POV he's voting to use it on her.
Natalie – Tiff was trying to take advantage of my weakness today.. Everybody was trying to take advantage..
James says she was trying to seduce him today..
Natalie giggles says she wasn't
James accuses her of being extra flirty, winking flipping her hair.
James says he's joking, "Have you learnt to wink yet"
They apologize for "throwing shade" at each other earlier today

2:47am
Natalie asks who goes up if she's taken off. JAmes says it will be PAul.
Natalie "Honestly it's good that I experience it now I actually see how everything works because beforehand I really had no idea.. I really don't like it it's stresser i'm going to get wrinkles."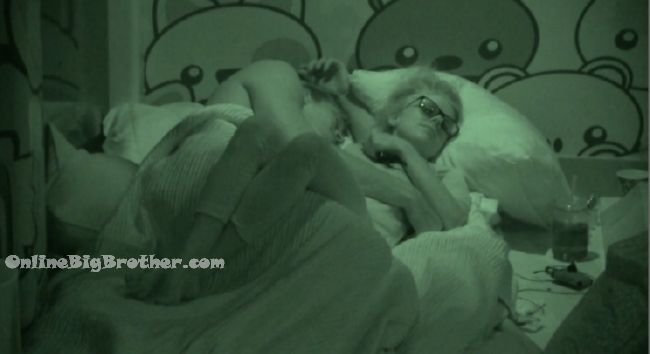 2:24am Nicole and Corey snuggles…
Nicole says Paul is sleeping in the HOH with Zakiyah and Paulie. She's waiting to get called into the Diary Room.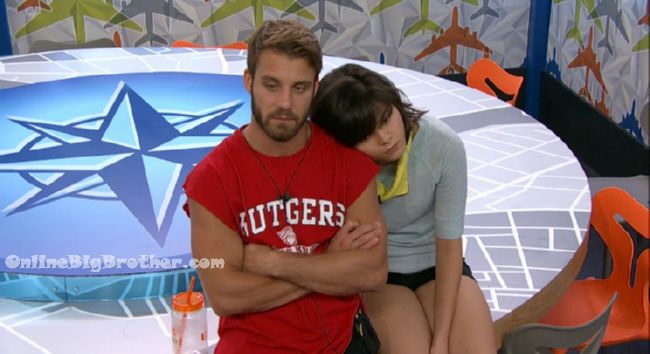 2:25am Paulie and bridgette
Paulie saying he was shocked to see what happened on Thursday.
Paulie is seeing Tiffany do exactly what her sister did and he's going to stop it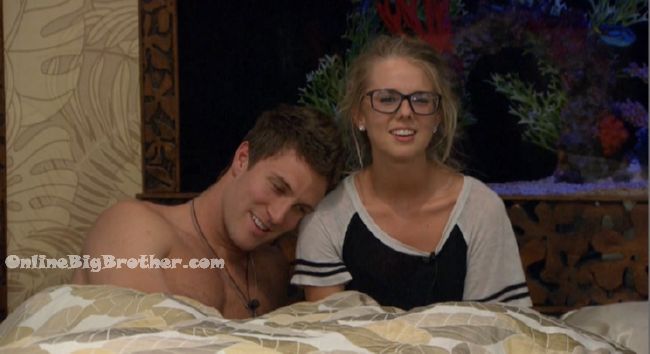 2:30pm HOH Paul, Corey and Nicole with Zakiyah in the shower.
Paul – Paulie is working Bridgette right now.. pick my name for POV..
Nicole says Tiffany hates her.
Paul – especially after last night you were very nice
Corey – she's a brat she needs to be medicated
Nicole tells him to take it back
Corey says it's from a movie, "It's a joke"
Paul jokes about sleeping in Tiffany's bed..
Paul – I'm just going to be like Tiffany.. There's lots of tension.. Let's Bone
Paul – we're needing to get laid your boys willing to take one for the team..
Corey – that's hilarious.. little slumpbuster…
Paul and Corey laugh
Paul – she'll just f***g stab me in my sleep ..
Nicole – Is Michelle sleeping by herself tonight
PAul – no she's sleeping with Natalie
Corey – speaking of slumpbusters … your boy
Nicole – what does that mean
Corey – Nicole might come through 1 time before tomorrow
Nicole – wait what
Corey – I'm just kidding .. I'm just kidding…
Nicole – what does that mean
Corey – it's a joke.. It's a joke… wait do you know what a slumpbuster is..
nicole – no
Corey – so like in baseball.. the Big girls
Nicole – you call me a big girl..
Corey – no i'm not
Nicole – you are i weigh a hundred and 4 pounds
Corey – it's a joke..
"When someone is having trouble getting laid, they're in a slump. When you're in a slump, you need an easy score to get your confidence back up and break the slump – a slumpbuster."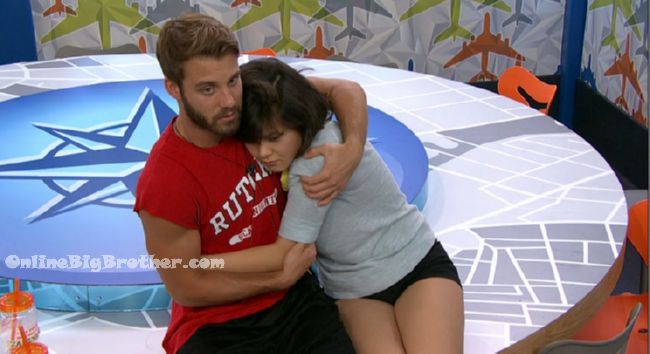 2:44am PAulie and Bridgette
Paulie saying all the girls "F****g hate" tiffany
Bridgette points out that is what she thought last week
Paulie – I go a competition to win tomorrow..
Bridgette says she mentioned to Michelle that Da stirred trouble in her season.It went straight back to Da and then Da ignored her for 2 days, "She's so transparent"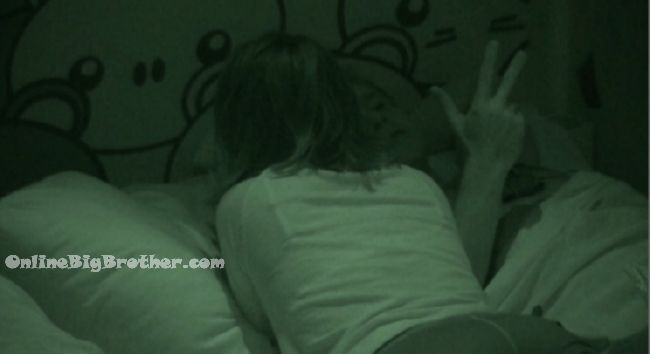 2:49am Frank and Bridgette
Bridgette – Frank you aren't playing me
Frank – you're the only person i'm 100% straight with..
Bridgette – ok
Frank – one thing's for sure I can't trust anybody over there.. If I tell PAulie Tiffany finds out and if I tell Tiffany they find out and ask me about it..
Frank – Da is the one telling tiffany sh1t
Trying to piece together what is going on in the house. Frank is thinking Tiffany and Da want Corey out because they want to pull in Nicole. THey will next want to take out Paulie to free up Zakiyah. Frank names Tiffany, DA'Vonne, Nicole, Zakiyah and Michelle, "THose five"
Frank would rather have JAmes, Paul, Natalie, Bridgette, going into next weeks HOH against those girls.
Frank says Corey isn't as genuine when talking with him than Corey.
Frank – we need to take a shot at Corey
Bridgette – I don't want Natalie caught in the crossfire
Frank – we got to make sure we hit our target and if we don't we're in the HOH next week..
Frank explains Nicole will not stay close to PAulie and Zakiyah once Corey is gone. Paulie will not be able to play in the HOH and that entire group will be in shambles.
Frank thinks they can pull Paulie in and chop the other side down at the knees by taking out Corey.
Frank – Worst case scenario we work with Tiff to get Corey out best case scenario we work with paulie to get Corey out
Frank – really i don't know one is better..
Frank – I would love it if those four were together and we send COrey home and they're only 3 and Nicole on the outs.. I think it's Da, Z, Michelle, COrey, Nicole, and they're pissed .. Were going to f*ck that sh1t up
Frank – "Handing out threats like lollipops at the dentist"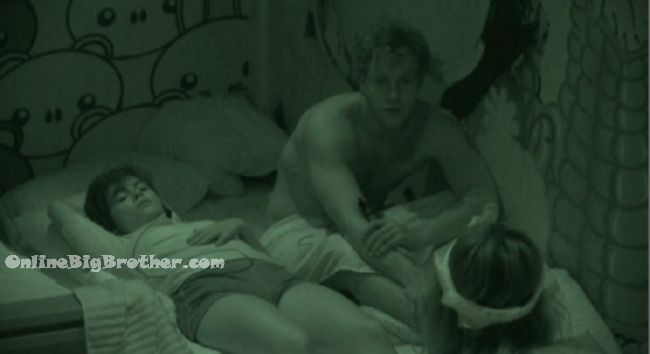 3:14am Tiffany, Frank and Bridgette
Tiff – are they keeping you in the dark or tell you what you want to hear
Frank – I keep people on the spot.. I've been lied to a lot in the last 24 hours i'm trying to scare people i've had 7 people tell me they voted TIffany out ..
Tiffany – you know they wanted me to win HOH to put both you guys up.
Bridgette – whose they
Tiff – everybody in this house other than James, Natalie, Da, and Michelle was in on it she is someone that doesn't have a say really she just goes along with the majority plus she really wanted me to stay.. Apparently according to da.. But who the F*** knows.
Tiff- the whole house wanted you out.. And they thought we would just keep targeting each other.
Tiff explains how the group wanted to split the vote so that they could all cover their a$$es with Frank. They wouldn't tell Tiffany which five were voting for her.
Tiffany – they told me don't worry we all know our roll in this.. So they're was 7 of them..
Frank – you still think you can trust da
Tiffany – this is the thing.. I have nobody right now and so I go with what I know other people's incentives are (lol) and I know that her incentives right now are not aligned with Coreys and COrey want Da out so Da wants Corey out.
Tiffany says they're was the 5 girls that she thought was close but she was left out. It was Da'Vonne, Nicole, Zakiyah and Michelle, "Michelle was kinda on the outside"
Tiff – in the middle is Nicole and Zakiyah because they are tied to Corey and Paulie and Da is on the outside of that.
Feeds go to fish.. when we come back ..
They're wondering why the 8 didn't think Frank and Tiffany would talk "This house is too small"
Tiffany leaves..
Franks says with what Tiffany is telling them they can't trust Paulie, he can't believe Paulie is that good of a liar.
Bridgette – I feel like onlyu 1/2 of what she says is true..
Frank – I want to believe her
Frank – I'm wondering if she was working with those girls and Corey.. she was adamant with me not trusting Corey.. or maybe its because Paulie doesn't like her.
Tiffany comes back..
Tiffany – what is the best campaign against Corey right now
Frank is having a hard time believing some of the things she's saying about Paulie.
Tiffany says PAulie is playing them, "I'm sorry Frank… "
Tiffany says they can get James, the entire house is upstairs right now and they're all not up there. JAmes likes the whole underdog thing they should play on that.
Frank – I think you need to go off (the block)
Tiffany – believe it or not Z might.. She's playing really low and disconnected..
Frank – no she's upstairs .. so is Paul
Tiffany says Paul is taking advantage of this whole thing.
Frank thinks he might be able to get to Paul last minute on thursday if they have to throw a hail mary
Tiffany leaves..
Frank – If I can't flip him the nice way i'll flip him the mean way..
Frank – we need to start spending some time with Michelle.. All three of us.
Frank wants them to explain to Michelle that the showmances are a solid group.
She doesn't want to be in a group of 5 where she's the 5th person and the other 4 are 2 pairs. He thinks Michelle is smart enough to see that.
They laugh that this new group they are trying to cobble together are a collection of "MIsfit toys"
Bridgette – I think PAulie is a really good liar
Frank – I know right.. I figured he might be
Frank – I kinda like the idea of the isle of misfit toys
Bridgette – aww man I hope your name gets picked tomorrow
Frank – can you believe the look on their faces if I win it [POV] pull TIffany down
BRidgette doesn't think PAulie trusts Frank.