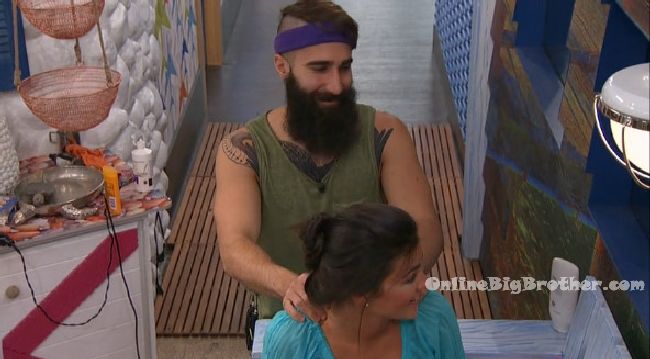 2pm Bathroom –
James says I'm just trying to learn about you, what you like and don't like. Natalie says I want to to feel appreciated and loved. I want to feel special. James asks what if he treats you too good? Is that a bad thing? Natalie says its never too much. Paul joins them. Paul says I'm ready to play this POV! You're going to die if its the dice competition. Or any competition .. I'm just going to mess with her head. James asks you're going to mess with her head. Paul says yes. James asks you're going to intimidate her? Paul says yes! Like if its the dice comp I'm going to be like come on TIFF like we practiced YAHTZEE! Backwards! Upside down! 1264! Natalie says don't do that to me. Paul says I'm going to do that to you too. Natalie tells James if I stay this week… can we win HOH. Natalie says I just have to get into my dancing zone to calm myself down. I really hope she doesn't get herself down. James says yeah me too. If she does I've got a black up plan .. as long as I don't get put up. (Paulie's noms) Nalalie asks who do you think he would put up? James says not Nicole, not Zakiyah …Paul maybe. Natalie says because I know Paul wanted to go up. James says yeah he's crazy! He's out of his mind.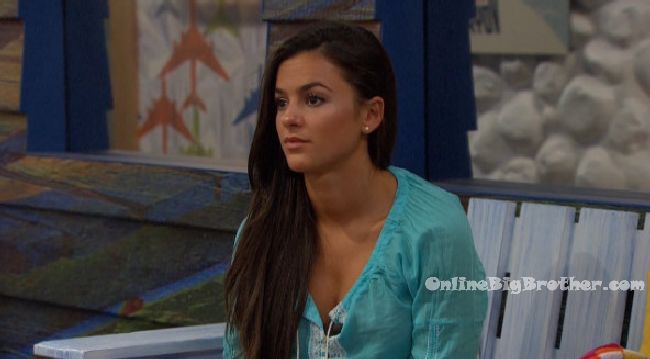 2:30pm Big Brother calls Zakiyah to the diary room. Corey says its about that time .. are you ready?! Corey heads to the bedroom where Nicole is lying in bed. Nicole asks Corey .. does Paulie want her to win? Corey says no. Nicole says I'm trying to be nice to her. I cooked her breakfast this morning. I could see Day pulling down Tiffany. The stuff that comes out of her mouth is so weird. Yesterday, she said Nicole I just want you to know .. Frank has something brewing. I said I literally don't care. Nicole says I'm not worried about going home.
2:45pm Big Brother blocks the live feeds for the power of veto competition…
4pm No feeds for you..
5:15pm You thought there would be feeds… HAHAHa nope!
Share it YO!
Tweet