POV Holder:
Corey
POV Competition
July 16th
POV Used
?
POV Ceremony
July 18th
HOH
Paulie
Next HOH
July 21st
Roadkill Competition Winner:
Tiffany
Original Nominations:
Tiffany, Natalie, Corey
After POV Nominations:
?, ?, ?
Have Nots
James and Natalie
CBS All Access: Live feeds are only $5.99 per month – Try it FREE for 1 WEEK!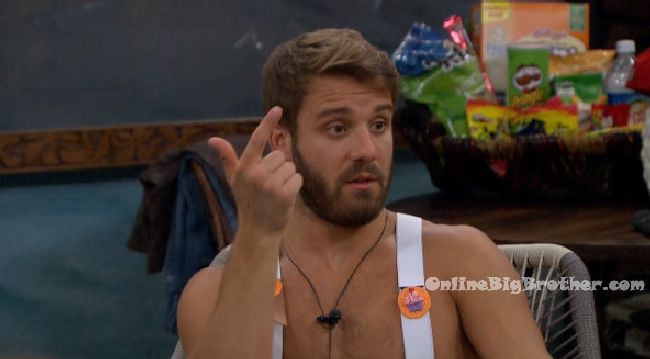 5:20pm The live feeds return from the POV competition.
POV PLayers are -> Paulie, Tiffany, Natalie, Corey, Paul, DA'Vonne
POV WINNER: Corey!

Havenot room – Natalie is talking to James and Tiffany about how she's gained weight in the house. Natalie says she's excited to lose weight. She leaves.
5:20pm – 5:40pm HOH room – Paulie, Michelle, Paul, Nicole and Corey are talking. Paulie says this week is in the bag! Tiffany is going home. I'm the tie breaker. Who would vote for Tiffany? Him and Natalie will vote which ever way James does. We have 6 votes to get her out. All we need is 5 votes or 4 I'm the tie breaker. DaVonne joins them. Lets just relax and focus on next week. Paul asks so are we using it? (Veto) Corey says I'm one of the biggest targets since day one why wouldn't I take myself off. Corey says its obvious Frank won it (roadkill). There's no way Tiffany one it. (She did) We'll see who he puts up. If I pull myself off we'll still get out Tiffany. Paulie says I just want to make suree Z and Da are on board. Michelle says they should be. Michelle says we can't let anyone know that you're using it. Corey asks why does it matter? Michelle says Keep them off their toes. That's what I'm doing for my nominations. Corey says I know Day wants me out. Paulie says I'm confident all of you can win next week. And throw them out. And if Day is with them .. then she gets clipped after Bridgette. Paul says lets say you don't pull yourself off.. you have guaranteed Nicole, me, Michelle and Z. There is no logical way you get voted out of this house. I would rather cut my dick off than vote you out of this house! (lol) Davonne joins them and says if he (Corey) comes off, I am going up if Frank has anything to do with it. I'm just going to stay cute until the veto ceremony. I lost on my own .. I don't want anyone to think I don't trust them .. at this point my life is in my hands. COrey says I trust my team that they wouldn't send me home over Tiffany. DaVonne says when I walked off and was crying it was because I knew I was the next in line to go up. Paulie says we're in power right now and all we need to do is win HOH next week and put up Frank and Bridgette. Get one of them out and tag the next one the week after.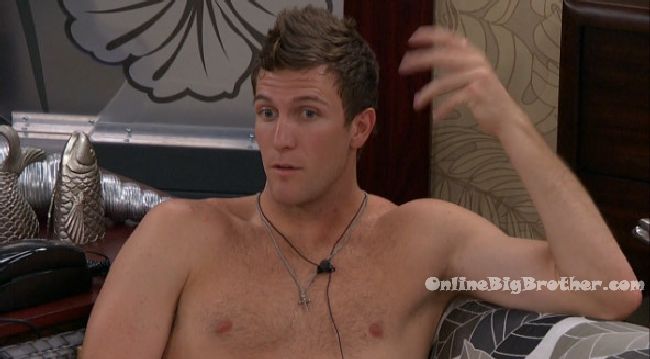 HOH room – Natalie joins Paulie and Paul. Paulie says the Bronte situation was a mistake. Paulie says the plan next week is still to get out Frank. And the way we can do it is if we stay in teams.
Havenot room – James and Tiffany. Tiffany tells James I hope you make it really really far. James says thanks me too. …but this is harder than last season. A lot of players .. a lot of flip floppers. Tiffany tells James that she won the roadkill. James asks if Day knows. Tiffany says no one knows. James asks does Frank know? Tiffany says she knows, I thought you meant does she know I want to put her up. I'm still thinking about it but I'm mad she f**ked me over telling me to put up Corey. Telling me he is targeting me.
In the bathroom – Nicole says that Paul made everything worse. Michelle agrees. Nicole says it worried Corey because people were worried about going up. And he was like why would they be worried if Tiffany is going no matter what. They get Corey and go into the safari room to talk. Nicole tells Corey she is proud of him. Zakiyah says I don't know what Paul said but I am happy for you. Corey says people saying all I need are 4 votes …. I don't want just 4 votes, I want all the votes. Nicole tells Corey I swear to god I wanted you to win.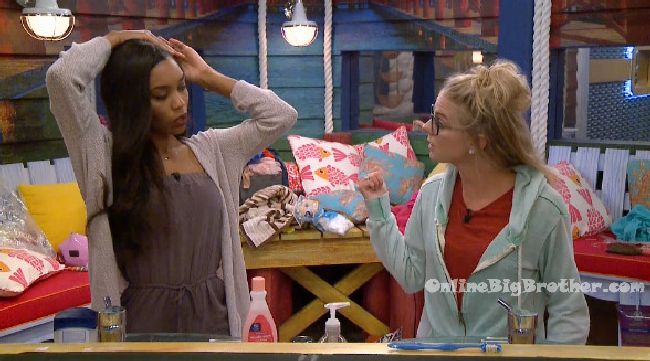 6:05pm Bedroom – Tiffany tells Frank that she barely had any time before coming here that she was going to be on the show. I only had 1 hour to talk to her (Vanessa) and it was only about basic stuff. I'm not as smart as her either. Paul joins them. I'm trying to find out if I'm going up. Frank says I am f**king annoyed that people keep looking at me thinking I won (the roadkill) so don't look at me thinking I'm going to tell you that you're not going up. Paul says I know you didn't win, I know you (Tiff) won it. Paul says at the end of the day last week I was lied to and they played with my safety. Tiffany says it was a last minute decision to send Bronte home. Tiffany says talks about possibly putting up Da as the replacement nom. Paul says so I'm obviously not in with them. Tiffany says you're safe this week … and they'll use you as a number.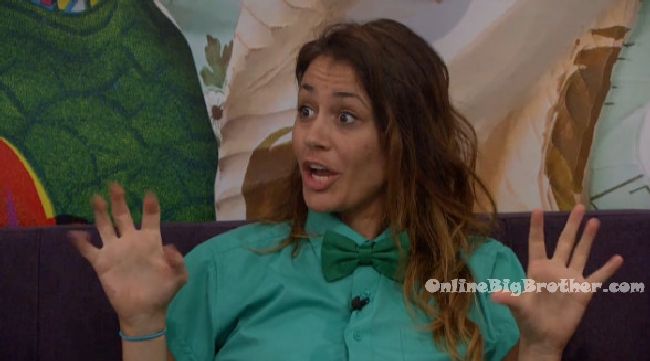 Paul tells Zakiyah… f**King IDIOTS THEY'RE TELLING ME EVERYTHING! EVERYTHING!!! Paul and Corey go in and talk to James. They're telling me everything. I'm in! They're telling me about an eight person alliance and now there's a 5 person alliance. Saying they're just using me. Paul says they don't ahve the numbers. They count me as a number. She (Michelle) thinks you're evil. Michelle laughs. Corey says who ever doesn't vote out Tiffany is crazy. Paul says I'm pretty sure they're going to put up Da. Corey says I think she's going to put up Nicole. Paul says she hates you and Nicole.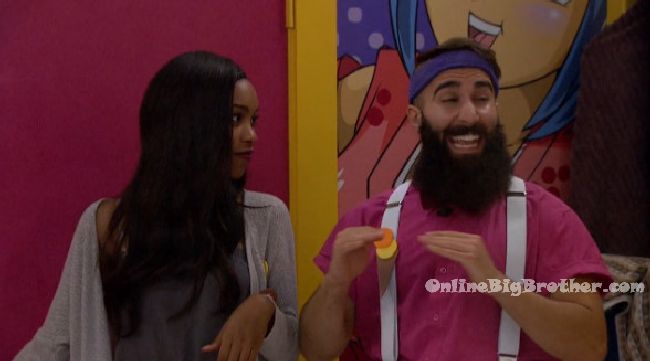 6:30pm – 6:45pm HOH room – Frank, Paulie and Zakiyah. Frank comes up to the HOH room saying he is pissed everyone keeps saying I won the roadkill. Tiffany just told Paul she won it. Frank says some of my alliance voted the other way last week and lied to me about it. If I see an alliance member on the block that I think lied to me I might just vote the other way. At least Tiffany has been honest with me. Z says lately. Frank says well that's because she was lied to in the beginning about me coming after her. I think there might be a bigger threat in the grass and she (Tiff) is alone. Paulie says its only a matter of time before she take a shot .. especially now after I called her out and put her on the block. It would be dumb of me to keep her here this week. Frank says but you if yout hink about it if that lied had never happened we would still be an eight pack and making to past jury. Who is the worst person .. someone who got lied to (Tiff)or the person that made up the lie (DaVonne). Tiff is alone on an island right now. I'm not trying to talk you into it .. I'm just giving you food for thought. Frank says I don't trust anyone right now. Everyone is avoiding me right now. The last time we talked was in the storage room when you accused me. Frank says there is a leak of information .. still to this day information gets to Tiff. Zakiyah asks Day. Paulie says I'm worried about the same person you're worried about. (DaVonne) Frank says what is the biggest threat? What caused the biggest fire? (DaVonne)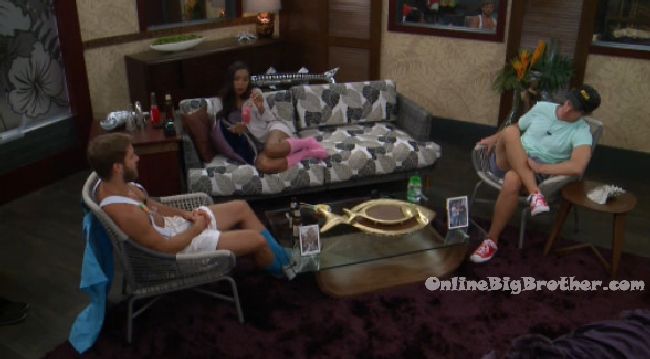 6:55pm Corey and Tiffany are talking. Tiffany is talking about how DaVonne is the problem and needs to go. Tiffany says she tried to f**k my sister over last season too. Corey says I can't believe you won that damn comp. Tiffany says I just want to be able to trust people. Corey says I am glad I won at thing. Tiffany says you would have had the numbers anyway. Frank joins them. Frank says I know you were a big proponent to keeping the 8 pack together and it all started from a lie. Frank talks about the lies Day has told.
7pm HOH room – Paul comes up and tells Z and Paulie .. your boy just put in work. They told me everything. Paulie says if anything came from this I believe Day is more with us. I am all over them I know what Frank is up to and I know what Tiffany is up to. Paulie says you think I am going to keep Tiffany in this house again!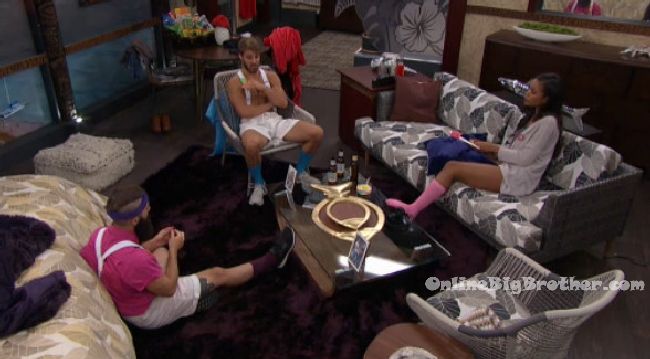 [polldaddy poll=9471428]