POV Holder:
Next POV:
Aug 11 (Saturday)
POV Used
POV Ceremony
Aug 13 (Monday)
HOH Winner:
Frank
Next HOH:
Aug 16 (Thursday)
Original Nominations:
Current Nominations:
Have Nots
?
Last Evicted Houseguest
Janelle
9am – 10am Big Brother wakes up the house guests. Ashley and Wil are the only house guests up, everyone else is still sleeping. Wil and Ashley are in the living room. Wil is stroking Ashley's head. She tells him it feels nice. Frank comes out and jokingly tells Wil to stop leaving her by herself. Wil says hes been here the whole time. Wil asks Ashley where the back spasms are? Ashley tells him down near the butt cheek. Ashley wonders what the have-not competition will be like. She says that it is supposed to be early. Frank comes over to Ashley on the couch and Ashley asks if they said it will be before noon? Frank says yeah. Wil tells Ashley not to be worried about the comp. Big Brother keeps switching back and forth to the we will be right back screen. Frank says he is excited to see what America voted for the have-nots to eat. Wil jokingly says I bet you fu*king are! Mike says like you fu*king care..
10:15am Frank, Wil and Britney are in the kitchen chatting and making breakfast. Dan and Boogie are in the living room talking about movies. Ashley gets called to the diary room. Big Brother cuts the live feeds.
Watch what happens, AS it happens: Big Brother 14 Live Feeds!
FREE for 3 Days, then ONLY $14.99 per month!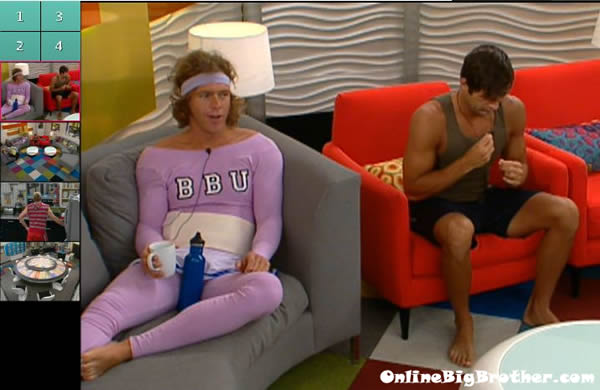 10:45am Frank and Joe are up in the HOH room talking. Joe says that he would rather go home than have to play his (Wil) game. If I win HOH, I would be going after him. If Janelle said some of the things he said she said she did, I don't know. I don't want to play with someone like that. Frank says he knows and that it was just last week that he was lying to him. Frank says that the obvious person to put up on the block is you, because you were aligning with Janelle and so people are going to expect that you will be put up. I just might have to do that and I probably will but that doesn't mean that you are the target this week. Do you understand that? Joe says yeah I do. Big Brother cuts the feeds. Joe says that he has been loyal for the 5 weeks and that the other two people that were a part of his team have flipped every week. Joe says that he is a loner and that I could give you my vote. I am resigned to that fact that I cannot win this and that I just want to get to jury. If it is within my power I will do everything to get him out of here, I am appalled with the way he has played this game. Joe says stab me in the front, not in the back. I don't understand how someone can play the game like this. Joe heads down stairs.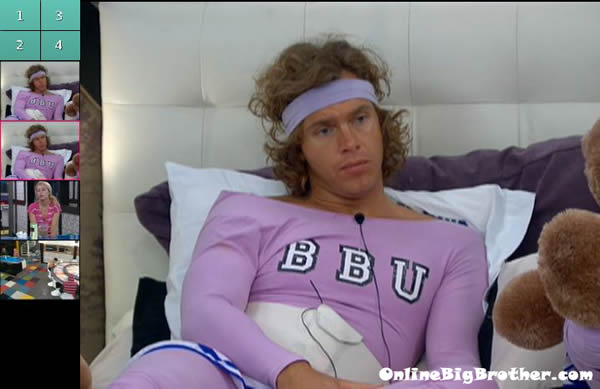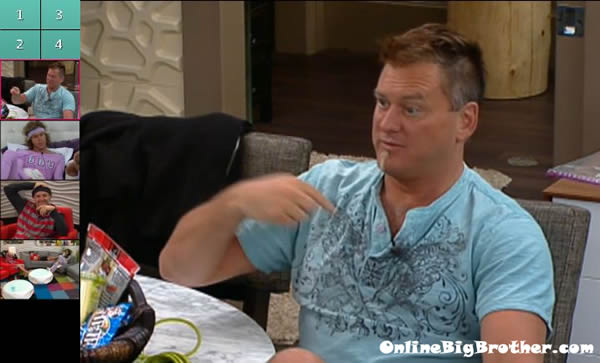 10:55am Ashley is trying to get to the bathroom from the kitchen but can't move because she is having really painful back spasms. Dan and Boogie are at her side asking her if she wants them to carry her. Ashley says no because her back spasms even more if she is lifted up. They tell her to just take it really slow. Everyone is really concerned for her.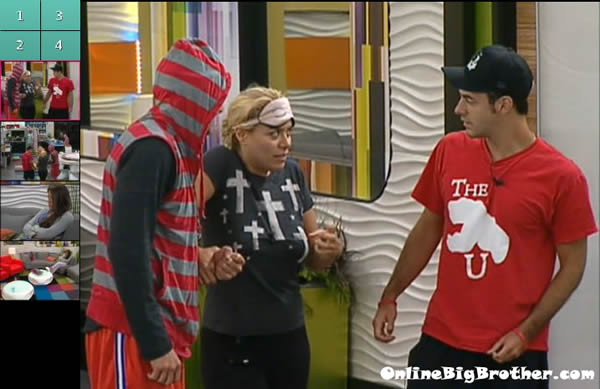 11am Frank, Boogie and Britney are up in the HOH room talking. Frank says that Joe is eating crow now. Frank tells them the conversation he had with Joe. Frank says he told him that Joe is the easiest person to nominate that will rock the boat the least. Frank says that Joe said the word appalled at least a hundred times while he was up here. Boogie explains that they will get Wil out, just after Joe. Britney comments on how intuitive Wil is and is way more dangerous. Boogie asks so you want to get Wil out first. Boogie says yeah he is definitely smart. Britney says that Wil called her out for how he figured she knew about the coaches entering the game.
Watch it ALL on FlashBack: Big Brother 14 Live Feeds – FREE 3 Day Trial!
11:30am Boogie says that Ashley is handy capped and doesn't give a crap about the game right now. Boogie asks are we going to nominate both Wil and Joe and say fu*k it, let them figure out we are all together and just hope he doesn't win HOH. Or we disguise it and nominate one of our own. Danielle joins them. Danielle asks who do you think you will nominate? Frank says Joe and someone else. Frank explains how they are thinking of trying to disguise the alliance. Boogie tells them that it doesn't make sense to put me up there with him, so it will have to be one of the four of you. Or we just say fu*k it and bull dose him out of here. Danielle says that she has the same mentality. Britney says that regardless of whether we hide it or not if Wil wins HOH one of us is going up. If Joe is gone there are no other options. They all agree. Boogies says let's do Wil and Joe and see how it goes. Boogie says if Julie comes on and says we are playing a Fast Forward / Double Eviction then we knock out Wil and then Joe with the second. Danielle says that it doesn't matter what we do, I just don't want to go up. Boogie says yeah everyone was like disguise, disguise and now when it comes down to it no one wants to go up. So let's scrap that plan. Boogie says imagine if all of us get drawn and its 5 on 2 in the POV. They talk about how they think the have-not competition will be the guess the ingredients competition. Boogie says AGHHHH…you know when we filled out the sheet of gross things you don't want to eat, I should have lied and put things that don't bother me. Big Brother cuts the feeds.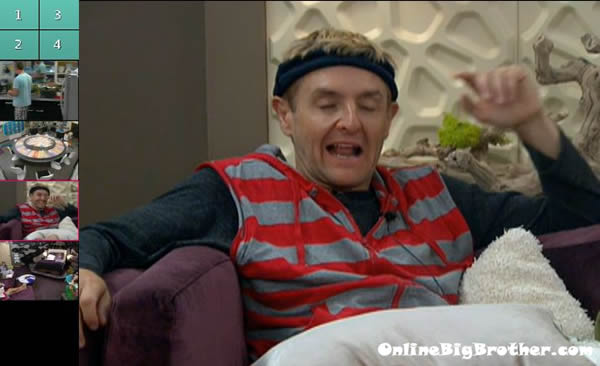 Share it YO!!
Tweet