POV Holder:
Frank
Next POV:
Aug 11 (Saturday)
POV Used
NO
POV Ceremony
Aug 13 (Monday)
HOH Winner:
Frank
Next HOH:
Aug 16 (Thursday)
Original Nominations:
Wil / Joe
Current Nominations:
Wil / Joe
Have Nots Cod fish/Candy Canes
Joe, Shane, Danielle, Britney
Last Evicted Houseguest
Janelle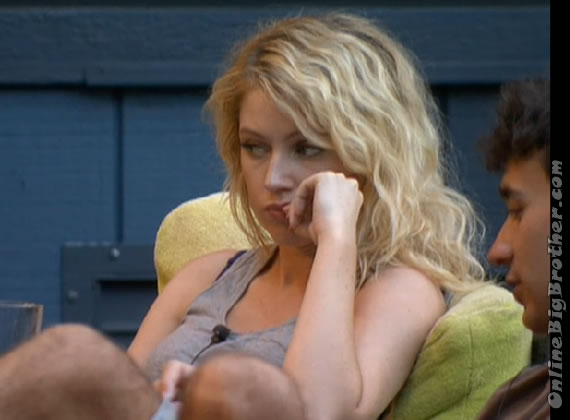 7:16pm cam 1-2 Backyard Britney and Ian Watch with FlashBack FREE TRIAL!
Ian: "Frank is wants the FLoaters out of the house"
Britney brings up to him that they made the deal with Frank a week ago and last night night he was thinking about putting them up. Ian isn't worried about Frank, he thinks Frank will be going after the floaters.
Britney: "Getting rid of Janelle never benefited me"
Ian: "It's benefited the quack pack"
Britney: "Yes You see how unselfish I was? she would eventually put up Dan and Danielle but she would have never put up me"
ian tells her to cool her Jets about Frank he's Good with them right now. Ian says Frank is useful.
Britney seems a bit pissed that Ian has such a man crush on Ian. Dan joins them.
Britney asks him if he's going to try for the HOH.. Ian would rather Dan or Britney win than himself.
Boogie and Joe Join them . Boogie tells them that he got double the Big Brother Stipend when he did the VH1 Show. Boogie really enjoyed doing it he wishes it had been renewed. Dan asks him how he got on it.. did he come up with the concept. Boogie says the studio was calling around looking for a location and they called him. Since they didn't have a host for the show Boogie pitched the idea of having him and his business partner host it at their restaurant.
Joe starts talking about the cooking shows he wants to be on. Britney questions him about how he's going to get on the cooking show because CBS doesn't have any and he signed a Binding agreement that will prevent him from going other networks. Joe isn't worried he's a powerhouse in contract negotiations. Joe also show interest in being on the apprentice.
7:48pm Cam 1-2 Danielle, Dan, Britney, Shane and Joe
Danielle is telling them about the IBS.
Joe: "All major models I know suffer from IBS.. Nicole kidman.. halle Barry.. Alley Beal..It seems associate with skinny models"
Dan: "You mean Ally McBeal.. Calista Flockhart"
Joe: "Ya"
(LOL Powerhouse)
8:01pm T!T$ Kitchen Counter
Painting a bandanna with nail polish
Jenn saying she had a dream that the house won a trip to Disneyland..
Jenn: "the house got to go.. Kara was there.. and some asian dude.. i told him to Shut the F****U* .. God bless man.. I can't even escape this place in my dreams"
Jenn leaves..
They continue to paint (Going to miss Team T!T$)
8:24pm Cam 1-2
They are talking about what they are going to be for Halloween.
Ashley wants to be a vampire
Shane will be wearing a 70's workout.
Boogie wants to pick a costume that works with his son.. he's going to go online.
Danielle wants to either be a egyptian or a genie.
Frank: "Have you seen mad max beyond thunderdome.. There's this guy master blaster and when they pulled that suit off her iw reminded me of that
Frank: "You can be a set of butt cheeks and baby brady can be a little poop"
Joe joins them says he's going to be a kentucky wildcat.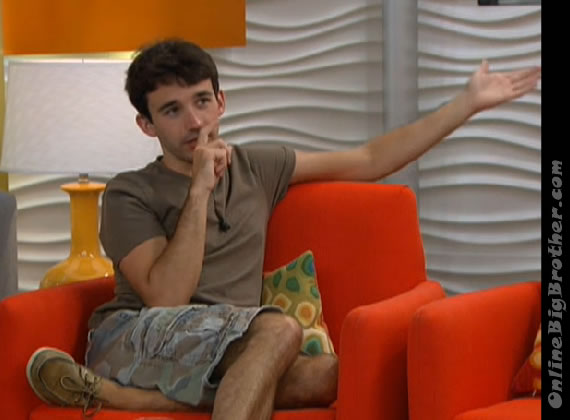 8:28pm Cam 3-4 Dan and Ian Living Room
Ian says that there has been a lot of Great Player who never won HEad of Household. Ian lists Wil, Shelly, Jack, Ragan, Memphis.
Dan: "You consider these all good players?"
Ian: "Ya"
Dan :"What did Ragan do.. Finished 7th"
Ian: "5th"
Dan: "You use the term Great Player very loosely I don't remember ½ those people"
Ian saying that Matt and Enzo were very good.
Dan doesn't think Enzo was any good.. he thought Hayden and Matt were good.
Ian says Enzo never won a Head of Household but he did win a POV when he needed it.
Dan: "He never made any big moves" Dan thinks Enzo was a entertaining character but not a good player.
Boogie joins them.. Dan is giving Ian a hard time for his picks of good players that never won HOH.
Ian says he thinks Shelly and Ragan were good players that never won Head of Household.
Boogie: "How many HOH did Memphis win"
Dan: "None.. But he still was a very good player" ( would you all consider memphis a very good player?)
Boogie leaves.
Dan: "worst player of all time.. in the modern era"
Ian: "Lawon was pretty bad"
Dan tells him he doesn't think you have to win Head of Household to win this game. Ian agrees says it is a stupid reason for people to base their votes.
Danielle joins them they start talking about drugs. Danielle claims to have never done any drugs. Dan thinks Drugs are bad he's never done them before. Dan says he's surprised that Ian smoked pot before being from a science background. Dan now proceeds to give Ian a hard time about it.
Ian Does not believe that marijuana causes any harm to him.. Ian says he's read a lot of literature and it's harmless to the brain.
Dan: "Where did you read that.. Wikipedia"
Ian says no he didn't just read it in Wikipedia
Danielle chimes in that Pot kills brain cells.
Ian disagrees .. "One of the smartest people I know Blazes daily"
Dan: "I geuss we'll agree to disagree"
(dan is turning into a douche.. )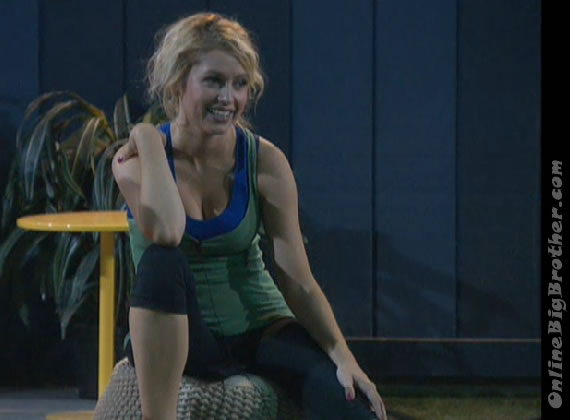 9:14pm Working out Boot camp
Heres a picture of Britney and Frank doing some moves..
10:01pm Cam 3-4 Shane and Danielle Storage Room Danielle tells him that last night Frank and Boogie were really close to putting Dan up on the block. Shane is shocked, He thought it was him going up. they agree to talk later tonight about it. Picture
10:30pm Cam 1-2 Eagle Eye, Britney and Danielle Joe wants to make it clear that last night he had nothing to do with Wil trying to get Dan nominated. Joe: "I'm tops with loyalty and trust.. I'm a lost puppy .. Looking for people to work with"
Joe leaves.. Britney and Danielle both agree that Joe will be much to get rid of they need to show Wil the door. Britney: "I have no problem telling Wil he doesn't have my vote.. I'll just tell him look you went upstairs and told everyone I was in an alliance"
Britney: "Wil's gotta go.. I don't think Joe will put us up"
Danielle: "I can't vote Joe out"
Britney: "If Frank starts wanting to get Joe out.. I'll just tell him that Wil tried to make a deal with me and Shane"
Britney: 'Ian's starting to piss me off"
Danielle: "Why what did he do"
Britney: "He's not going to put up Frank or Boogie.. We're going t have to make the big move"
Brintey: "If we're lucky to get to the 4 with all of us he's gotta go first.. he can't have the best of both worlds.. can't have his cake and eat it to"
Frank joins them.. they give him a rundown of Joe's campaigning.
11:02pm Cam 3-4 Dan and Danielle
Dan is telling her he's not taking her loyalty for granted. Danielle seems a bit Pissed at dan for spending too much time with Ian. Dan: "How much do you think Ian and I talk Game? " Danielle: "I don't know 20-25%"
Danielle says that Wil threw Dan and Wil's name under the bus. Danielle tells Dan she was freaking out last night.
Dan: "Why didn't you get me"
Danielle: "You were sleeping.. "
Danielle goes on to explain how they were trying to get Ian to convince them not to backdoor Shane or Dan.
Danielle: "Ians in the best seat right now.. he'll never put up Frank"
Dan aggres.
Danielle: "Shane can be such a dick sometimes.."
Dan: "Why?"
Danielle goes on to explain that Shane says a lot of harsh things to her and he says he's joking.. Danielle recounts a time when Shane said he was hoping they got to see Danielle Donato because she was hot.
Danielle: "Britney told me if we were not in the house she would of told me long ago not to talk to Shane because he's a giant Douche"
Dan: "This is why I said No showmances"
Danielle thinks Shane is jealous of her and when Wil lifted her up for pictures SHane was acting funny because of it.
Danielle: "Shane and Britney are not close they fight all the time"
Dan: "I don't think Shane feels as confident in Britney as I feel with you.. I think britney gets suspicious of me sometimes"
Danielle starts talking about trey.. how they were almost married. She talks about when she left for sequester he thought she was going to do more modelling with Harley Davidson.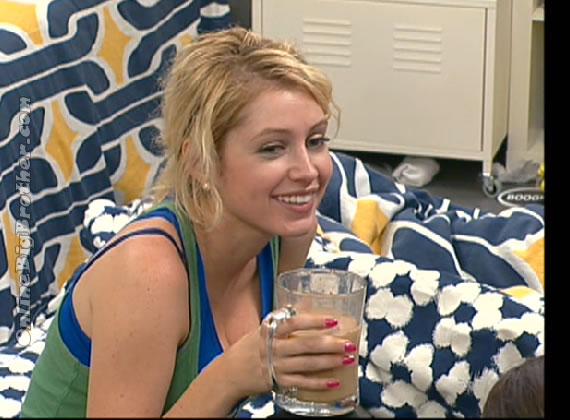 11:39pm Cam Danielle, Dan and Britney
Britney tells them she's in Three alliances.. Quack Pack, Silent 6 (Shhhhhh…) and their final 4 (Shane, Brit, Dan, Danielle)
Britney wants to change the name of the Quack Pack.
Britney: "Everytime I say Quack pack i'm humiliated and feel less of a person"
They start trying to figure out a name for their Final 4 alliance.
Britney wants it to be a cute name. Danielle likes the regulators.
Dan: "What about The squad"
Britney: how about The Britney Squad.
11:44pm Cam 3-4 Britney retells the Joe J*rking *ff story (Get the feeds and Flashback to it freaking funny) 3 Day Trial
Britney:" I'm going to tell you a story..
Number 1 it's going to change your life
Number 2 You are going to think less of me
Number 3 You may not sleep tonight .. :
britney retells the story..
11:50 Boogie joins them and retells the story
Britney: "I had to go to the Diary ROom and tell them someone masturbated near me"
A little picture I did up of Britney reliving the Joe sp*nking !t.
Share it YO!!
Tweet