POV Holder:
Frank
Next POV:
Aug 11 (Saturday)
POV Used
NO
POV Ceremony
Aug 13 (Monday)
HOH Winner:
Frank
Next HOH:
Aug 16 (Thursday)
Original Nominations:
Wil / Joe
Current Nominations:
Wil / Joe
Have Nots Cod fish/Candy Canes
Joe, Shane, Danielle, Britney
Last Evicted Houseguest
Janelle
3:15pm Cam 3-4 Random conversations kitchen Watch with FlashBack FREE TRIAL!
Joe big idea is to have a cooking show called ''Joe's cooking with friends. He tells Jenn he'll invite her.
Joe has prepared a cooking show for some of the houseguests. He's going to make
(Ashley, Shane, Jenn, Dan, Britney)
The reality in your life you don't have all the ingredients and this is what this recipe includes what you have in the cupboards. Joe calls this Blender salsa .. Joe's Special Blender Salsa .
Joe tosses a bunch of stuff in a blender does a song and dance and WAM BIAM he's created Joe's secret Blender Salsa.
Joe goes on about how the food he makes has layers of flavour he wants you to be able to taste each individual ingredient. Joe repeats "Layers of Flavour" about 4 times to make sure everyone knows he's legit.
During the entire routine as Joe goes through the steps of making his blender salsa Jenn acts as a kind of sidekick asking questions and trying to toss in definitions on some of the term Joe uses.
Joe: "This is big brother reality cooking this is….. The reality of cooking is cook what you got cook what you own don't waste your time with recipe cooking"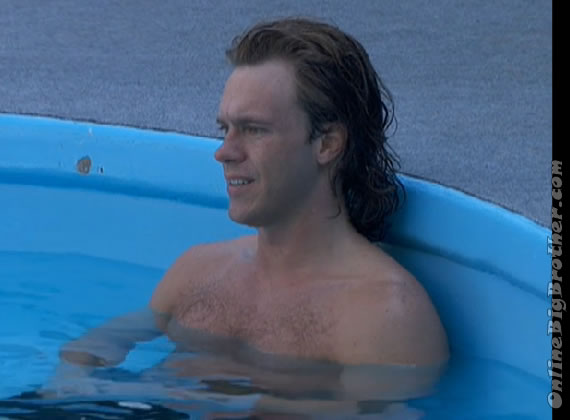 3:32pm cam 1-2 Pool Frank and Ian
They are talking about Frank having nine lives in the show
Frank and ian Agree that getting Joe out is the best idea. Frank suggests to Ian if he wins HOH he should put up Joe and Ashley. Ian agrees
Frank points out how much of a beast Shane is in competitions. Frank is worried if Shane wins HOH and the POV is played he's worried who Shane will put up. Ian really doesn't respond to this he just says that Shane came dead last in the baseball competition.
Frank: "even though Shane is a beast in competitions he's still loyal"
Ian agrees says the good thing about Shane is he's not too bright. Ian: " he just kinda simple.. super simple simon .. I feel like Jenn is a pawn"
Frank says that Jenn has zero chance to win Big Brother 14.
Ian is glad that the entire Zingbot thing happened now he knows AShley really isn't an act. Ian was worried at first that maybe AShley was super smart because she went to "Penn state " Ian: 'At first I Thought She can't be a total space bot.. but maybe she is".
Frank tells him he really needs to try and win HOH next week. Ian assumes that Joe is the target. Frank nods.
Ian: "if it's endurance I think I can get Danielle to drop and Britney and I are tight I can get her to drop
3:43pm Cam 3-4 Danielle and Britney Bathroom
Danielle: "Ashley is getting under my skin.. she's always seems to be coming into my space"
Britney: "Has she even been near you today"
Danielle: "she's acting weird"
Britney: "ya she's been acting weird.. kinda annoyed and in a bad mood"
Danielle: "She's probably not happy that Wil is leaving.. I have the feeling that Wil threw Dan under the bus"
Britney: "Ya.. nothing to do now.. Joe told Ian, Frank and Boogie he's not going to nominate them."
Britney: "That speech that Wil gave today during the ceremony.. it's funny because we're in the house all day but it's not funny for people watching the show"
Joe joins them and they start talking about making ice cream. Joe says they would have to use up all the ½ and ½ cream which means there is none for Britney's coffee. JOe adds even then it won't taste like regular ice cream. Britney and Danielle decide it's not worth it.
Britney plans to go make a ice coffee. Joe asks if Danielle wants one to. Danielle says that she cannot drink coffee because she has kidney trouble..
Danielle "and it's not good for my IBS either. "
Britney: 'It's funny you just throw it out there"
Danielle: 'I don't care anymore"
4:06pm CAm 1-2 Joe, Ian
Joe telling them that production told him 'Have Nots cannot have avocado in their salsa"
4:12pm Cam 1-2 Dan and Frank HOH

Dan tells him he really appreciates that Frank didn't use the veto and put him up. Dan knows he had a good chance to take him out this week and he didn't. Dan was never really worried but he still appreciates it.
Frank: "want to be honest it did cross his mind"
Dan understands and he knows there was plenty of people pitching his name out here last night.
Dan says he's close to Daniele he wants to take her as long as he can but if the situation arose he would drop her. Dan thinks it could be a little scary with Danielle and Shane..
Frank is sure dan has nothing to worry about, Danielle will take Dan's word over Shanes
Dan agrees.
Frank: "I got yours and mike's back you can count on me"
Dan appreciates it keeps telling him what he did today goes a long way.
Dan wants someone to win that is not floating. Frank agrees.
Frank loves Shane he's winning comps and everything but in frank's opinion he's not really understanding the game and not really playing it.. Frank: "if it's up to Shane/Boogie or Shane/Dan he would not vote for Shane in final 2"
Frank: "I don't want to sit next to Shane in the final 2 I want to sit beside Dan or Boogie"
Dan what do you think of Danielle.. She's like my Frank like boogie has you"
Frank: "she's good she's a golden girl" *
Dan: "Who do you think this week"
Frank is still onboard to get out Wil.. he thinks ashley and Wil won't work together and Jenn will float back to them. If they leave Wil in the game they'll have to compete against a potential Wil, Jenn, Ashley alliance.
Frank isn't worry about Ian he'll be putting joe and ashley up. Dan: 'He's not putting me up?
Frank: 'No I talked to him earlier and he's targeting floaters.. He even quoted rachel"
Frank wants to take out Joe then Jenn and Keep ashley around. Frank is interested in maybe taking Britney out.
Dan tells him he never remembered Britney making any big moves..
Frank: "She's good and telling big old fibs"
Frank thinks they can get into Shane's ear and pull him away from Britney.
dan wonders if maybe he should talk to Ian more.
Frank thinks it would be cool.. they both agree Ian is a good guy. Frank: "I love looking at the kid.. you know when he's in the hot tub looking in the mirror"
They talk about Danielle winning HOH
Dan: "I would love to get her to out up Britney and Shane"
Frank: "is britney getting close to Danielle"
Dan: "No"
Dan brings up again that Britney and Ian seem really close. He asks Frank if he's been seeing that.
Frank has noticed they are close but he thinks Britney is using him. Dan says one of his auxiliary goals is to make sure Ian makes it to Jury. Dan thinks that Ian will get 2 votes in the final 2 automatically just for being Ian.
Talk shifts to after the show.
Dan brings up about how people are still hung up about their Big Brother season even when it was 4-5 years ago.. it's really shocking how some people take the Big Brother experience..
(Frank is VERY confident that the final 3 is going to be a combination of Dan, Frank, Boogie)
4:39pm Cam 3-4 Boogie and IAn
Ian saying he's on the warpath to get out Floaters.. If he wins HOH he's taking out eagle eye.
5:21pm Cam 1-2 Boogie and Frank
Frank relays the conversation with Dan.
Boogie is thinking that Dan is applying the same formula he did in season 10.
Frank brings up how Dan is saying he will try to persuade Danielle to put up Britney and Shane. Boogie laughs say Dan told him that last night.. he doesn't see that happening. Frank mentions that dan isn't as close to Ian as they thought. Dan seemed really concerned about Ian nominating him. Boogie thinks Dan is just worried about everyone.
Frank says that Both Shane and Dan seem to want to roll with them. Boogie agrees wants to keep both of them around.. Boogie adds that he wants Britney gone first.
They both agree that Britney is not a person they want to go into the final 2 with. Boogie: "She's too good of a speaker"
(They are both confident that they now have Dan locked in)
Frank: "I wish she wasn't married"
Boogie: "what"
Frank: "She a little hottie"
Boogie agrees.
Frank mentions that Wil has been in bed for most of the day. Boogie says wil's been getting anxiety attacks. Boogie: 'I get those they are horrible you certainly can't focus on the game with those."
6:16pm Cam 1-4 Joe cooking that's right M**** Fu***** power house eagle eye Hollywood Joe is cooking on all 4 feed cameras.
As you can see from the picture above Joe takes a big bite.. What is Joe making? here's a picture (Looks like it's Havenots friendly)
6:52pm Boogie has a ear infection he's in the Diary Room right now seeing someone about it. Boogie says he cannot hear out of one ear it's making schemeing really hard to do.
7:03 Cam 1-2 Frank, Ian, Britney, Dan
Britney talking about Matt Hoffman having a collection of the worst tattoos on his back.
Ian: "he was the best to watch on Showtime.. the stuff he would say.. Hilarious.. " Ian mentions a time when Matt on near the pool table saying "When I was a kid I use to Jack off to Showtime and now i'm on it" Britney agrees sats Matt says some really funny things.
Dan mentions how Ian must really like Matt Hoffman he's the only person he's following on Twitter.
7:08pm Joe arrives with the code breaded in slop. Joe: "this is worth a vote" everyone tries a piece and say it tastes great.
Share it YO!!
Tweet