| | | | |
| --- | --- | --- | --- |
| POV: | Angela | Next POV: | Aug 4th |
| POV Used | YES | POV Ceremony | Aug 6th |
| HOH: | Angela | Next HOH: | Aug 9nd |
| Noms: | ROCKS and Scottie Tyler Bayleigh | Have Nots | |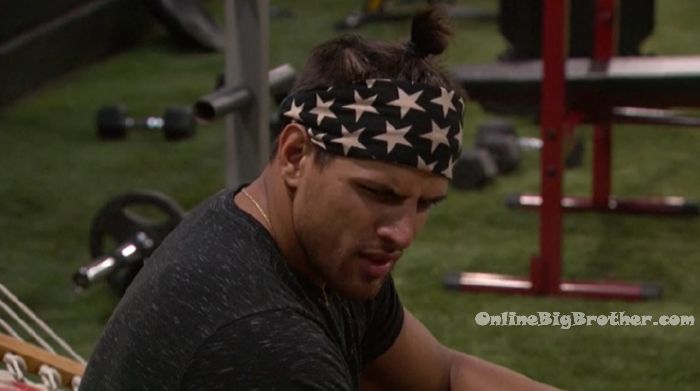 9:45pm Hammock. Fes and Haleigh. Haleigh – I need to tell you something. I am the hacker. Fes – really!? I knew it! Haleigh – No you didn't. I am going to call a house meeting and tell everyone. Fes – why would you do that? Haleigh – because Bayleigh is taking the heat for something she didn't do. Fes – no you're not going to do that. Did you tell Baleigh? Haleigh nods. Fes – are you being for real? Haleigh – yes. Fes – No, that means you're going to be the target. Haleigh – Bayleigh is up there for something she didn't do. People are being rude to her. I am going to tell everyone. Fes – NO! Haleigh – its the only way to keep Bayleigh here. Fes – you know who will be coming after you next week Angela, Tyler.. that's pretty much it I guess. F**k Haleigh!? Haleigh – I'm not going to let Bayleigh be treated like this. Fes – what happened when you told Bayleigh? Haliegh – she cried. Fes – what did she say? Haleigh – that shes not mad at me and that she's more mad at them for not having a reason to go after her. I wasn't going to tell anyone. Fes – Don't call a house meeting. What's done is done. Calling a house meeting isn't going to change anything. Haleigh – it will save her. Fes – not necessarily. Haleigh – I'm going to let everyone know and tell Angela that she's a dumba$$. Then I am going to go to my room and go to sleep. Fes – don't do this. It's not going to save Bayleigh. How many did you get right? Haleigh – I got 4 right.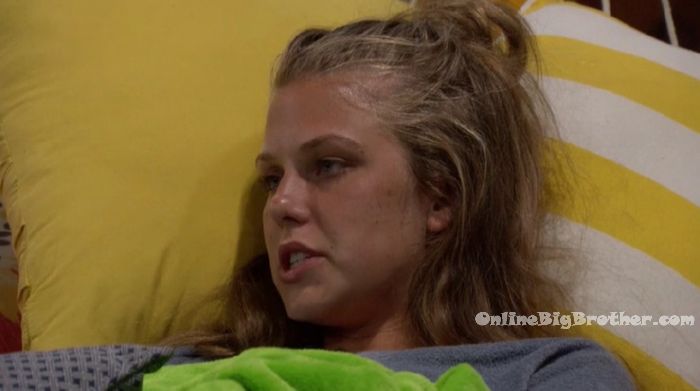 Haleigh and Fes. Haleigh – I'm just going to call it and say everyone here owes Bayleigh an apology. I'm the hacker. Tyler, I've wanted you to go home for several weeks now. And then hope to god I f**king win (HOH). Its not fair! Bayleigh is literally being treated terribly. Fes – what can hurt you for calling a house meeting. One – Angela can't win next week so that doesn't matter. Your only target is Tyler. But if Tyler wins anyways who was he putting up? Not Scottie, Sam, Angela.. Haleigh – it just gives everyone an easy reason to put me up and that's something I have to.. Fes – Well I've been telling you whatever you want to do .. I'm ready to go to war. The fact that you've already told Bayleigh. Haleigh – when Bay walks into a room people walk out. People have been making snide comments to her. Fes – I like you. Haleigh – that's not helpful right now. Fes – what did Bay say? Haleigh – she just cried. Fes – can I tell you a truth? I knew Bayleigh had the power the whole time. Haleigh – is this going to save her or is it just going to make me the target. Fes – one thing is its better if you tell everyone before Bay tells everyone. What would you say your reason is for wanting Tyler out? Haleigh – When Kaitlyn was here she told me a lot about who you were working with and what you were doing .. and its a lot more than anyone in this house knows. Fes – maybe you put a target on his back too. Haleiggh – and she also told me that he wasn't worried about anyone putting him up and when I sat back and looked at it. I knew no one would. Fes – you call him the F**K OUT because he is literally good in everyone's book. He's won 4 comps and you say that.. that might work. And then that's a good reason to put him up. You could tell Angela that it was just a twist and an opportunity that was presented to you and its not like I was targeting you. Haleigh – I just have to make sure whatever I do .. that she is okay with it. Fes – I knew it was you. I am such a smart player. If you are going to call a house meeting .. do it and own up to it. Don't feel bad that you did it. Haleigh – if I could go back I would have thrown the comp and not won it.
FLASHBACK and watch everything you missed: Live Feed 7 day FREE Trial!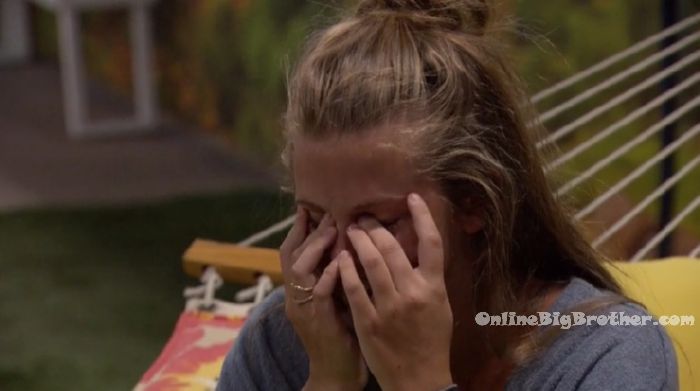 10pm – 10:15pm Haleigh – I don't want to have to do it but I feel like I need to. The only reason I would do it is if we can keep Bayleigh. If we can get two more votes, I can cancel Tylers. Fes – sh*t I forgot about that. Awe you're so smart, you won a comp! Haleigh – Its not good, I f**ked it up. It blew up in my face. I am going to call a house meeting, everyone is going to be going after me next week. Fes – you have to word that sh*t about Tyler just how you did. Like Kaitlyn told me all this sh*t. When you throw someone under the bus … the only reason you don't throw someone under the bus is so they don't come after you. By you coming out as the hacker he is already coming after you so throw him all the way under the f**king bus. ALL THE WAY under the bus! Haleigh – she (Rockstar) is going to be so upset at me. At this point I am just over it. Fes – lets go to war! I'm ready! I've been waiting to go to war. Call a house meeting, I've got your back. Haleigh – then they'll throw us up together. I don't know why I told Bay. She is sleeping next to me telling me how she feels isolated and attacked. I'm not made for this. I don't want to do this house meeting anymore.. F**K! Fes – what do you lose by doing it. Haleigh – I lose everyone's trust. Fes – I think you gain a little more than you lose. Haleigh – do you think we can get two votes without me calling a house meeting? Fes – yes.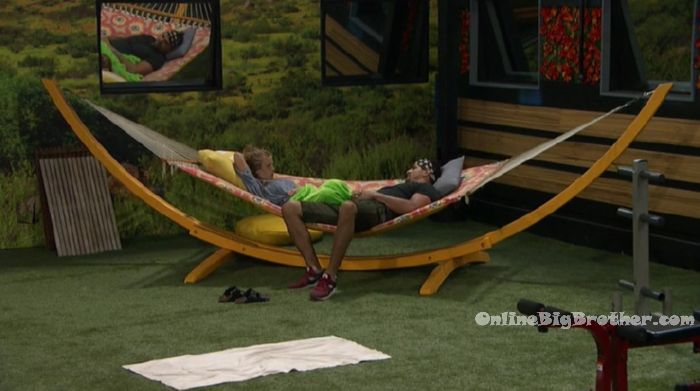 Haleigh – f**k it, I am just going to tell everyone. Its just a game. I just feel like a piece of sh*t for how Bay is treated. I just don't want it to put a target on you. If I do this people aren't going to talk to me for a couple days. Yes this is a game but I'm not going to sit here and compromise that..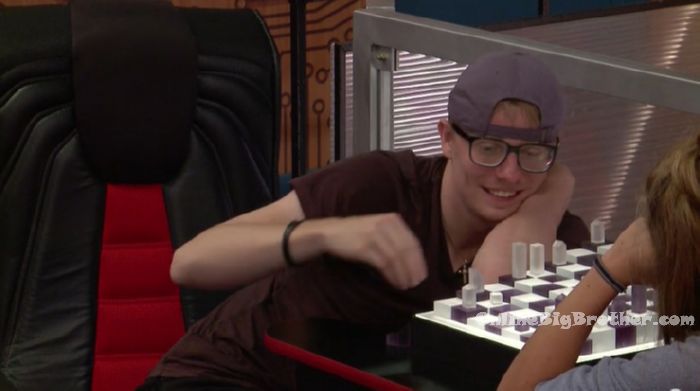 11:15pm Scottie and Haliegh play chess.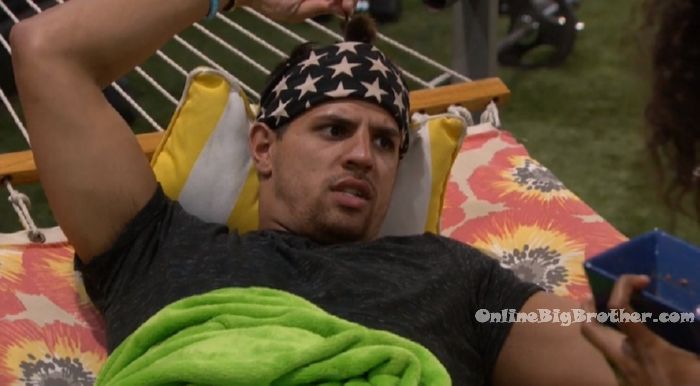 11:20am – 11:30pm Hammock. Bay and Fes. Bay sitting and eating by herself. Fes – joins her. Fes tells her about how Haleigh told him she's the hacker. Bay – I don't know if she is going to go through with it. Fes – I told her she should do it. One – who cares about Angela she can't compete in the HOH next week. Tyler is going to come after her. And if he wins then we change the noms. Bay – Yeah we change the noms to give us a fair chance. How do you think Rockstar is going to take it. Fes – it is what it is. Knowing that you're not the hacker .. Kaycee will vote to keep you, she's not good with Rockstar. Fes – I think you should be fine this week. Bay – I hope so.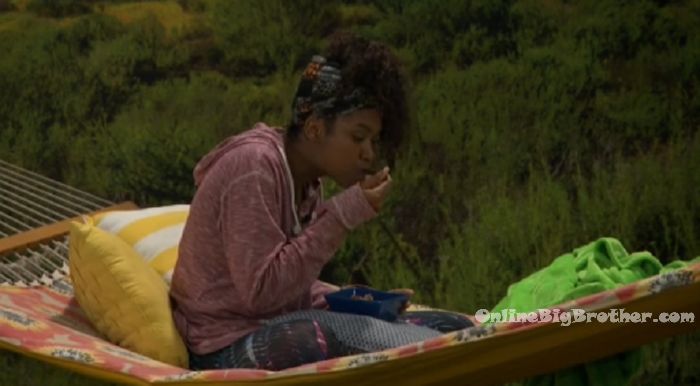 12:20am – 1am Fes then gives Haleigh all the reasons why she should call a house meeting. We're going to be okay. Fes – you have been a little more into me. Haleigh – a this point I'm like f**k it. F**k, F**k, F**k. Angela – is going to look so stupid. Fes – she took a shot at someone the she has a truce with. Fes – we have to make sure Bayleigh stay so that she can change the noms. Haleigh – Who's vote would this house meeting sway? Scottie is still wanting to keep Bay. Kaycee I think will feel bad and vote to keep her. JC, you can talk to him tomorrow. And I am obviously voting to keep her. Fes – and Brett. Haleigh – I will cancel Tyler's vote for sure. I don't want you hanging out with me tomorrow. I don't want you to be the only one to be talking to me. Fes – what should I do? Haleigh – find out what everyone is saying. Rockstar joins them. Rockstar – who would you put? Fes – I'm going to backdoor Haleigh. I need a pawn. Rockstar – are you pointing at me. I will f**k you up. I need to know there is a firm plan established in case I wild the f**k out and Bay stays here. I am going to either wild the f**k out. I am either going out ham or I will be mellow as a mother f**ker.
1:30am Rockstar, Fes and Haleigh. Rockstar – Its Bay so either way I lose. Like both at the same time. I think my speech will be I'd really like to stay here. It would be really cool. You guys are so cool. I would really prefer to not meet Julie in this outfit. Thank you very much. Fes – do you have to wear that. Rockstar – you do, I've seen it. Fes – that would be so embarrassing. I mean you look really good it in. Rockstar – thank you because I don't feel like I do. Part of me thinks Sam might have been the hacker and she feels really bad. And she replaced it with Tyler because she thought he would win it. Haleigh – maybe. I'm tired of talking about it.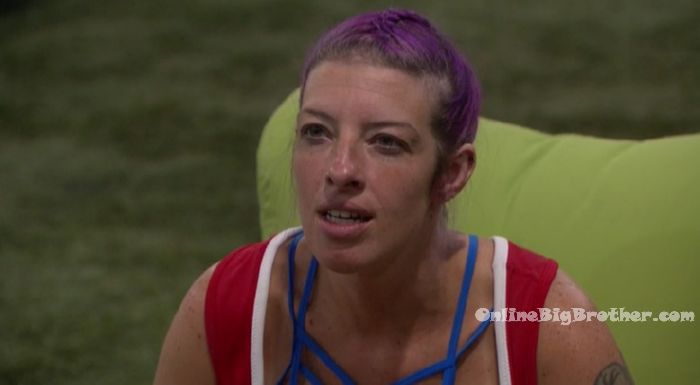 2:17pm Hammock. Scottie, Haleigh, Rockstar and Fes. Rockstar – I just have to ask Scottie. Whether I stay or Bay stays, we need to burn this mother down. Metaphorically. Scottie – I think Sam has a lighter. Rockstar – Metaphorically. Are you still on the underdog mission Scottie or have you flipped to the dark side? Scottie – I'm on an underdog mission. I'm an underdog. We need a few underdogs here. That was a good cartoon. Rockstar – you're right it was. Take down the rest of them, there's a lot of them. If I go I am going to be like alright Julie .. Double eviction lets go! Four of them up there. Fes – I don't think that's how it works. Four of them up there, two of them evicted. Haleigh – I'm going to bed. Rockstar – 27 days since Swaggy left. Fes – that's right 27 days. Damn so there officially isn't a regular battle back. Maybe a jury battle back though. Rockstar – if the other side really is targeting Bay and she comes back .. man we could really sweep if she came back. And if I go, the same thing. Fes – Okay battle back… na I'm okay. So they would wait for at least 4 to be evicted into the jury.. or 5.. that would mean top 6. Scottie – so top 7 comes back. Rockstar heads to bed. Fes to Scottie – you and Tyler won every veto. Scottie – no Angela won the last one. Fes – I don't count that, Tyler really won it. Scottie – so I guess they will campaign tomorrow. Fes – I think that was Rockstar campaigning right here .. it was weird. Does Angela want Rockstar or Bay out? Scottie – she hasn't said to me. Fes – I thought she said in her speech that Rockstar wasn't the target. Scottie – Oh I don't know. Fes and Scottie head inside.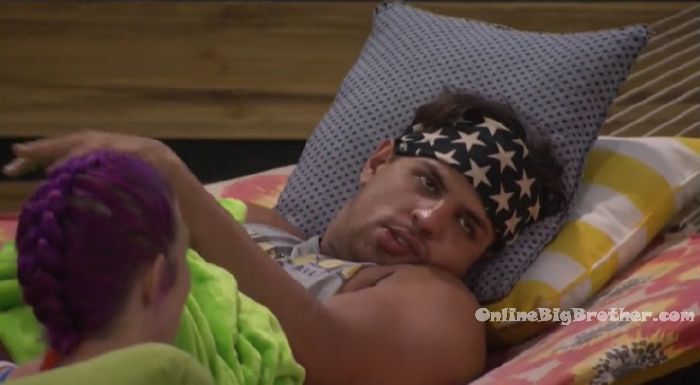 3:15am All the house guests are sleeping..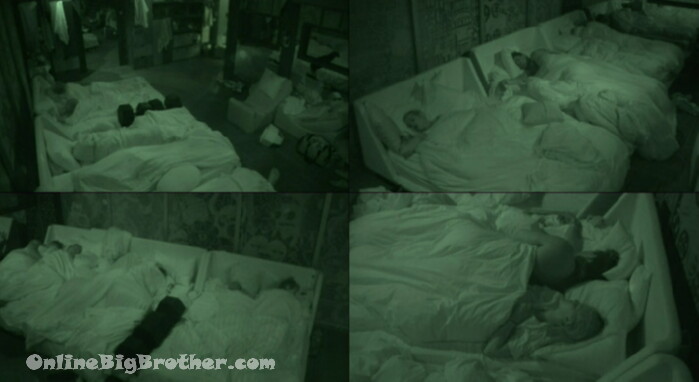 7:45AM ZZZZZZZ
If you've enjoyed our live feed updates so far this season, please consider donating.
Any amount is greatly appreciated! Your donations go directly to paying the fees required to run this site.
Rank the houseguests!
Easiest way to Rank the house guests use link below