| | | | |
| --- | --- | --- | --- |
| POV: | Angela | Next POV: | Aug 4th |
| POV Used | YES | POV Ceremony | Aug 6th |
| HOH: | Angela | Next HOH: | Aug 9nd |
| Noms: | ROCKS and Scottie Tyler Bayleigh | Have Nots | |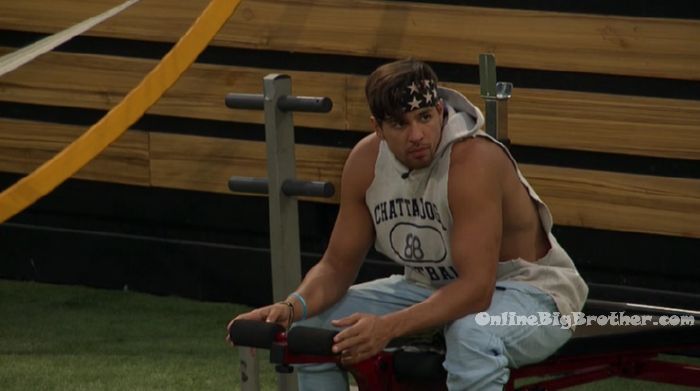 8pm Backyard Fes and JC. JC – how are they (Bay & Rock) doing? Fes – they're doing good actually. I think they've come to the conclusion that one of them is going home so like I mean they're in jury now so it is what it is. Maybe tomorrow night they'll do campaigning, I don't know. Sam joins them. JC – Fessie the good ol'queefer. Sam – That was horrible that you did that to her (Rachel). JC – oh she loved it. Sam – she came to me in tears in the yard and she talked about how you were bullying her. JC – really? F**king dramatic, that's why her a$$ is gone. She's f**king dramatic. She was bothering me and then I was giving her my fingers to smell and I got a little bit of her lip with her teeth. She went rolling around the yard crying. It was three days before eviction .. I wanted to say I evict RACHEL! Anyways she is in a better place now. Sam and Fes laugh. JC – did she really come to you crying saying I was bullying her? Sam – yes. JC – that b***h! She makes me look bad in tv. Sam – I think she was genuinely upset. JC – about her queefing thingy?! Sam – no. JC – if I was bullying her then she was sexu@lly harassing me.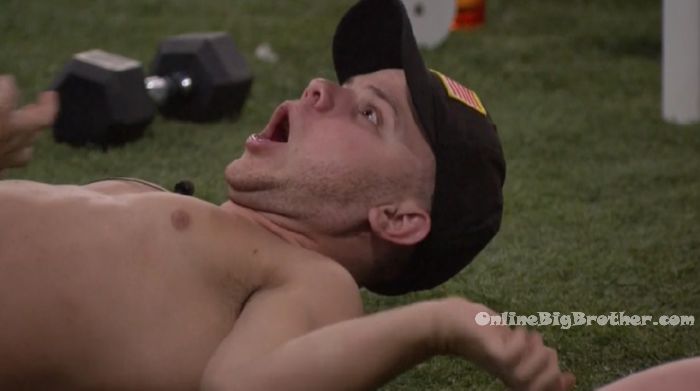 8pm HOH room. Tyler, Angela, Scottie and Kaycee. Scottie comments on how Kaycee has been in a unitard half the time they've been there. Tyler – where's you date tonight? Angela – well Haleigh said she was .. I am kind of hoping I'm going to get stood up. Scottie – I told you earlier she is going to try and spend all day with you. Kaycee – BFF's! Tyler – Dude, I want to win hacker next week. Screw HOH! Maybe not.. it didn't work out so well for this week. Scottie – it depends on who's HOH. Tyler – I wonder what Bayleigh has up her sleeve.
Watch the NEXT WEEK of the Live Feeds for FREE! Click here for your: 1 Week Trial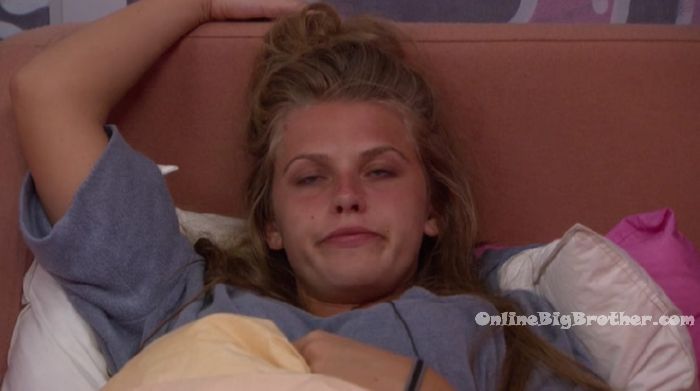 8:06pm Bedroom. Rockstar, Haleigh and Bayleigh.
Bay – everyone is saying its just a game and we'll all be friends outside of here. NOPE! I don't want to be friends with no body! All these lying, backstabbing, all this little drama running around just causing problems in real life so that you can wreck my life. Not thank you, I'm good! Rockstar – right. Bay – it is a game and game moves I can respect. But for you to disrespect a person. If I was running around cussing people out and saying this and this and that or being nasty. People would be like hey that needs to stop. That's not okay. When he said the power trip is over honey! I literally wanted to kill him. I had just yelled at Brett for calling me honey. Whoever stays .. one of us needs to win HOH. And then start knocking them down. Put up Angela next to Tyler. I'm just disappointed in them all. Especially Kaycee. I thought we were friends. Haleigh – I think Scottie is a good guy. I don't know if he was the flip. Its not like it even matters, its just the lying. Scottie is a good ally but he is going to go where the power is.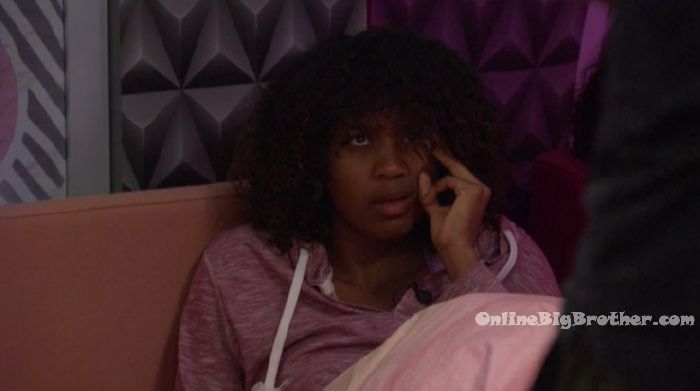 Rockstar leaves the room. Bay to Haleigh – are you going to tell Rockstar before or just let her find out after? (About Haleigh being the hacker) Haleigh – it doesn't solve anything. Bay – if you say that to them and they don't feel like they owe me an apology then that's who they are. Haleigh – I just wish we could get the votes for sure without it. I don't want you to take the fall for it. Bayleigh – It's hard, I want to go off on Angela so bad! Haleigh – at least you can campaign now without feeling bad. Bayleigh – if I do go home I want everyone to know they treated me like crap for no reason. I am so glad now that I didn't go off or act all crazy. If I stay you don't have to worry about going up next week. And if you can win the hacker comp again but tell me this time, that would be nice. Haleigh – I wasn't going to tell anyone. Bay – I know.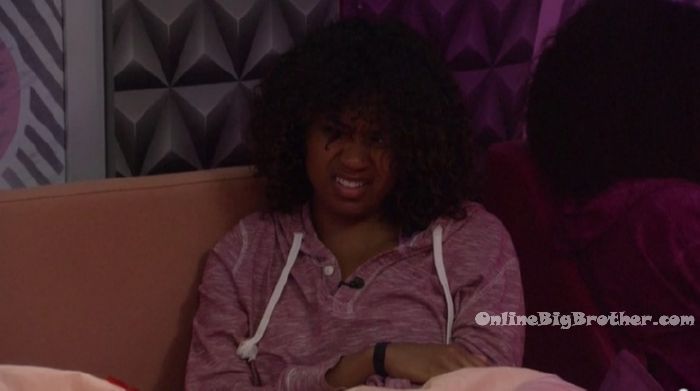 Bay to Rockstar – Your feet are so dirty. Rockstar – and I took a shower. Its from walking outside. Bay – I don't play those games. Haleigh – the bare foot games? Bay – no the dirty feet games.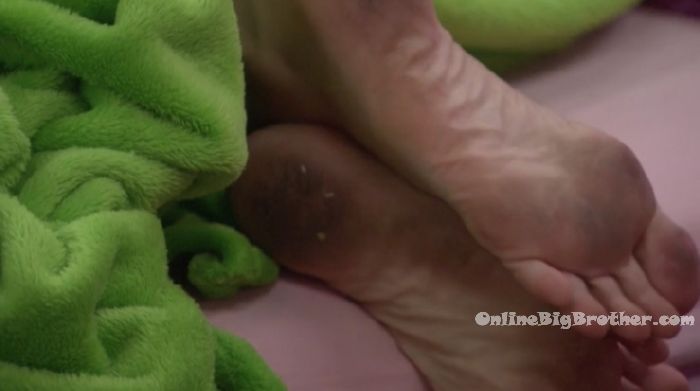 9pm Brett and Fes. Brett – I feel like this is a hard decision for you. Fes – it is, its a coin toss. Brett – Bayleigh has that power app where she can replace the noms but she obviously didn't tell you so like would she have really used it on you. And does Rockstar have a power app. There's another one out there. Fes – its not me and I know its not you since you've been on the block twice. Brett – and then this hacker app throws a whole other whirl wind into it. Fes – next week three would be a tie. I really need to win this HOH.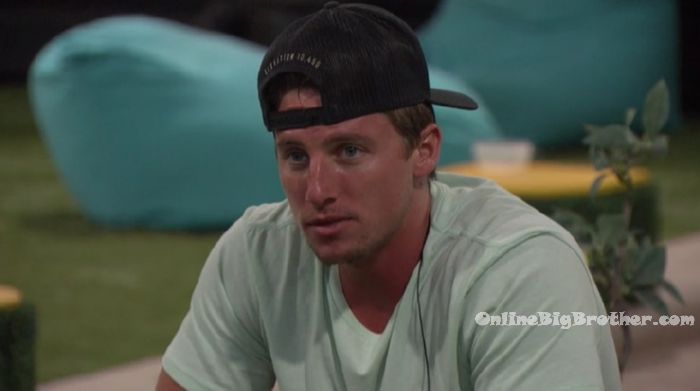 9:25pm – 9:35pm Bedroom. Bay and Haleigh. Bay – you have to realize that Tyler's been working with them since the beginning. Haleigh – I don't know if I can do it Bay, you might have to do it for me. (Telling others that she is the hackers) Bay – I think it has to come from you. I think if it comes from me, no one will believe me. I mean if you do it I can keep everyone off your case. Haleigh – what do you mean? Bay – Just make sure they don't be mean to you and make sure they don't say anything crazy. Make sure everyone knows I am not mad at you. If you don't do it sooner than later, you won't do it at all. I really don't think everyone will be mad at you. Fes might be, because you didn't tell him. Tyler might be upset but I think they will understand why you couldn't tell them. Haleigh – I will tell Fessie before. I will tell Rock before. Bay – okay. Haleigh – I never in a million years thought you would get pinned for it. Bay – I believe that. I am just so ready to get rid of some of these people. What keeps running through my mind is – your power trip is over honey! Like what!?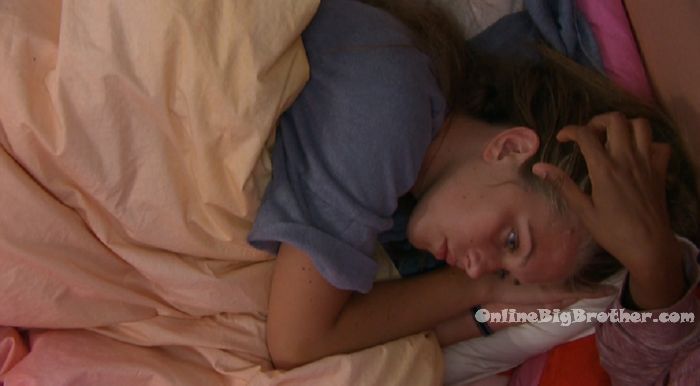 If you've enjoyed our live feed updates so far this season, please consider donating.
Any amount is greatly appreciated! Your donations go directly to paying the fees required to run this site.
Rank the houseguests!
Easiest way to Rank the house guests use link below