POV Holder:
Jessie
Next POV
Aug 3rd
POV Used
?
POV Ceremony
Aug 5th
HOH Winner:
GM
Next HOH:
Aug 8th
MVP:
AMERICA
Original Nominations:
Candice and Jessie
Current Nominations:
Last Evicted Houseguest
David, Nick, Jeremy, Kaitlin, Howard
Have Nots
no have nots this week
3:40pm Havenots Amanda, Aaryn, MC, Spencer
Amanda saying that Candice doesn't believe that Howard said he wanted to "F*** her" Amanda say why would she make that up it doesn't behoove her
Amanda is crying because someone is MVP and doesn't have the balls to be open about it. She feels she should just keep her bags packed because she'll be going up on the block every week. Aaryn says the MVP is Candice and she's going home this week so Amanda won't have to worry about it after Thursday. Aaryn tells her she's not going anywhere no need to stress so much.
Aaryn mentions how Elissa was pointing out that the Big BRother Stars are aligned because Candice is in clowny outfit and is expected to go home. "The person in the costume always goes home"
Amanda: "I can't win sh!t in this f***ing game it's annoying.. I thought I would win some.."
Aaryn says it was a crap shoot today and Vetos are really hard
Aaryn brings up how GM ran up to Jessie and was like "Ohh i'm so glad you took yourself off the block". Aaryn adds that it doesn't matter Jessie will put GM on the block if she wins HOH. Amanda points out that is why you have to watch yourself when you make nomination speeches like GM did because there's always one nominee that wins the POV and you don't want to piss too many people off.
Amanda: 'I want to go get some brass knuckles and punch them in the f**** mouth"
3:45pm Cockpit JUDD and McCrae
JUDD asking why Amanda is so freaked out. MC explain they can't figure out why she is being nominated every week.
JUDD is worried Amanda thinks it's him as MVP. MC: "honestly 100% she doesn't"
JUDD: "She's not going home this week" JUDD brings up how Candice told him that Amanda was targeting him because she thought he was MVP. MC: 'Amanda thought that last week.. it's wasn't even a thought.. she goes through a new person every f***ing day"
MC: "She is not coming after you we need you we cannot flip"
JUDD is worried because Amanda is acting so sketched out.
3:50pm Helen and Jessie
Jessie wants to know what her feelings are for next week.
Helen: "There's the group of us that have always been playing OK.. the 7 OK"
Helen: 'OK This is new Jessie and Helen OK.. I'm confiding in you and you are confiding in me we're starting over and working together to help each others games OK "
Jessie: "Totally"
Helen: "Ok.. you know.. OK" (Alright i made that one up)
Helen says there was always a plan in place to get their people as far as they could. The 7 of them the friends. She adds they are getting to the point where people close to the 7 but not part of will have to get cut. She hints that Aaryn and Spencer are two such people. She asks if JUDD would consider getting rid of Aaryn, "Ok OK"
Jessie doesn't know she always assumed the plan was to get rid of Aaryn, Spencer and GM.
Helen again points out there people that are still close and they need to go up eventually starting next week.
Helen says even if Jessie did not win the Veto they were always going to vote out Candice from day one.
Jessie brings up how she asked McCrae if she was going to be nominated next week and he told her probably.
Helen: "Not if Elissa and I win HOH"
Helen asks her if JUDD is MVP. Jessie swears he is not she thinks someone else in the house wants her out or it's concocted by Amanda.
Helen: 'This week we need 4 votes right.. if we take Candice out there are no targets on us.. if we take her out we have McCrae, Aaryn,. JUDD, and GM"
Helen says they need GM and Aaryn on board to take Amanda out and they are not going to sway from targeting Candice
Helen thinks that maybe America is MVP.
JEssie: "Lets just say I'm David and she is Goliath"
Helen says if she wins HOH next week she'll be putting up Aaryn. Helen asks if Spencer would vote out Amanda. Jessie thinks so. Helen realizes that Spencer is probably going up. Helen counts the votes they have Elissa, Her, and Jessie all they need is one more vote. She wonders if they can get Andy.
Jessie would like to keep Candice this week, last week she suggested voting out Amanda and got reamed out for hit.
Jessie says she has talked to Elissa before about getting Amanda out and she is receptive to it. JEssie thinks Helen could approach her and get good results. Helen mentions how Aaryn is so close to Amanda right now. Jessie thinks that is weird because Aaryn vents about Amanda many times to her.
Aaryn joins them. Says that Elissa is saying she doesn't want to vote out Candice and if she keeps saying that GM will put her on the block "This is really dangerous… you got to talk to her"
Aaryn leaves
Jessie says she may be able to talk to JUDD but is a bit worried he'll go squeal to McCrae. Helen doesn't think they can get Amanda out this week next week will be their chance. Helen thinks Amanda is going to go nuts this week being on the block. Jessie thinks the next HOH will cater too Helen and Elissa.

4:00pm bedroom Aaryn and Amanda
Aaryn: "I would vote GM over you"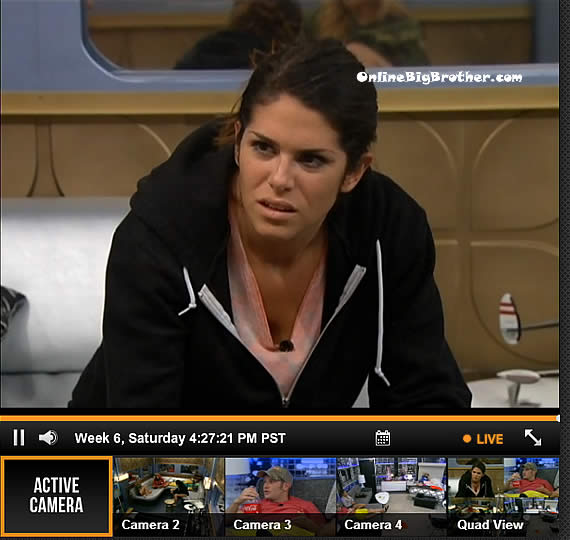 4:19pm Cockpit Amanda and Aaryn
Amanda is certain Elissa will not vote against her they need to get Spencer up because if they don't Amanda is worried about going home. She thinks Spencer, Helen, Jessie and JUDD will form an alliance and take her out.
Aaryn doesn't think so she's more worried if Spencer goes up he'll go home.
Amanda tells her she's certain Spencer will stay, 'Who would vote out Spencer". Aaryn isn't convinced thinks Candice will flip the house.
Amanda says Helen, McCrae, Andy and JUDD will vote out Candice that is enough right there.
MC joins them.
Amanda: 'I'm saying Spencer needs to go up over Elissa.. Elissa will not vote me out"
MC: "I was thinking Elissa to because she's playing stupid.. but let her throw that vote out it'll make her a bigger target" (Elissa is saying she won't vote out Candice
Aary: "I'm worried Helen and Elissa will recruit JEssie because she will do anything for attention.. they only need one more person if they get Jessie"
MC: "Jessie will do what JUDD wants and JUDD doesn't want Spencer out at all"
Amanda: "JUDD and Jessie are closer than we all think"
Amanda: 'If Elissa goes up it will hurt me.. i'm just telling you that"
Aaryn: "I swear Amanda I will be loyal to you forever but please think about me to.. we both can get tunnel vision sometimes"
Amanda: "I don't think Elissa on the block will benefit you either"
Aaryn agrees.
4:30pm Helen, MC and Amanda Cockpit
Amanda says that Jessie came to her this morning and offered a truce. Amanda wants to know what her and Jessie were talking about in the cockpit. Amand is just worried because when she came in JEssie told her it was a private conversation. Helen says Jessie heard HJelen was going to vote her out so she had to explain to Jessie the target was always Candice. Amanda says Elissa going around saying she's keeping Candice is dangerous. Helen explains she cannot pull Elissa away from Candice because Candice has been on her a$$ all day.
4:43pm JEssie and Aaryn Jessie telling her that they should change things up next week. Points out there are people in this game that have never been on the block . Mentions Andy and McCrae. Aaryn reminds her that JUDD has never been up.
4:47pm GM gets her "Cone of Shame" she has to wear it for 48 hours and can never take it off.
GM menntions that Candice has to wear the Clownie-tard for a week, 'Imagine how bad her a$$ will smell"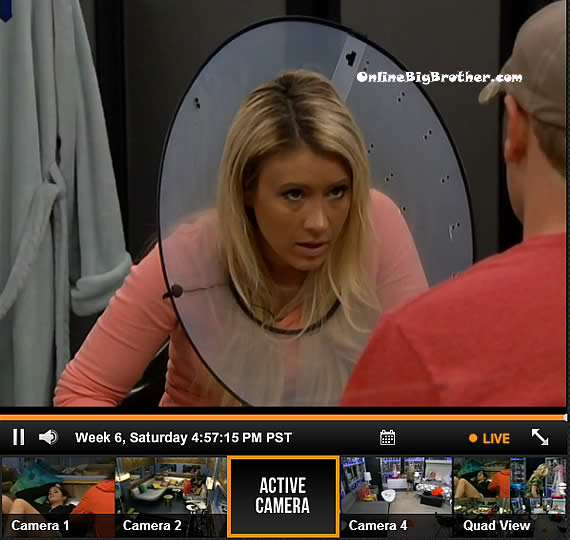 4:55pm HOH Jessie, GM and Aaryn.
Aaryn saying if they put up Elissa the will have more blood on their hands. She advises they put up Spencer. Aaryn adds Amanda told her if ELissa goes up Elissa goes home. GM: 'Good then Elissa goes home"
Aaryn: "over Candice"
GM: "Ya"
Aaryn: "But we've burnt so many bridges with Candice"
GM: "Candice can't win sh!t"
JUDD comes up and GM asks the ladies to leave so she can chat with JUDD in private
JUDD says everyone was telling him to go for prizes and he doesn't want GM to think he didn't try for the Veto. GM tells him he is not going up and in return she wants him to keep her off the block if he won HOH. THey shake on the deal.
GM says that she will probably put up Spencer but now she's hearing Elissa is campaigning for Candice to stay. JUDD says he'll vote out Candice.
GM: 'You promise me before.. you f***ed me with the NICK Vote .. did you or did you not lie to my face"
JUDD: "Yes "
GM: "You going to lie to me again"
JUDD: "NO"
They shake on it, She's believes him and will move forward with trust.
GM doesn't know if she should put Elissa or Spencer up. JUDD says he's behind her 100% regardless of what she does
JUDD points out that Spencer hates Candies he will vote her out.
Aaryn comes back and starts working on getting Spencer nominated. JUDD adds that putting Spencer up will ruffle less feathers.
5:13pm MC joins them She asks him if he will vote out Candice. MC says definitely. She tells them Spencer is most likely going up.
Aaryn says that Jessie came up here and laid on JUDD. JUDD groans he's been trying to distance himself from her hopes that everyone doesn't think they are together again. MC says Jessie is probably going to vote out Candice even if she doesn't she's f**** and will be going home the following week.
They agree that next HOH will probably be the Knock out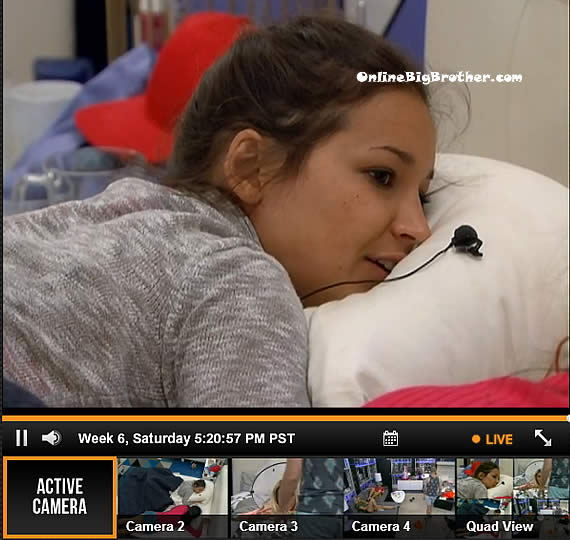 5:20pm Bedroom Jessie and Helen they both think America is the MVP and keeps putting Amanda up because they do not like the style of game she is playing. Jessie says the POV was perfect TV, JUDD got the money, Spencer got the trip for him and Marilyn and she got he veto everything they needed. Jessie adds that Candice and Amanda were yelling at each other perfect for TV.
Andy joins them (Drink)
They start talking about the fight during the POV. they all agree that Amanda is VERY mean and says some of the nastiest things.
Andy: 'She can get very negative"
Helen: "McCrae said SHUT UP Amanda. "
Jessie: 'She can get really mean.. even more ugly than Jeremy"
Aaryn comes in "She's going to put Spencer up it took a lot of convincing"