POV Holder:
JESSIE
Next POV
Aug 3rd
POV Used
?
POV Ceremony
Aug 5th
HOH Winner:
GM
Next HOH:
Aug 8th
MVP:
AMERICA
Original Nominations:
Candice and Jessie, AMANDA (MVP = Nom)
Current Nominations:
Last Evicted Houseguest
David, Nick, Jeremy, Kaitlin, Howard
Have Nots
no have nots this week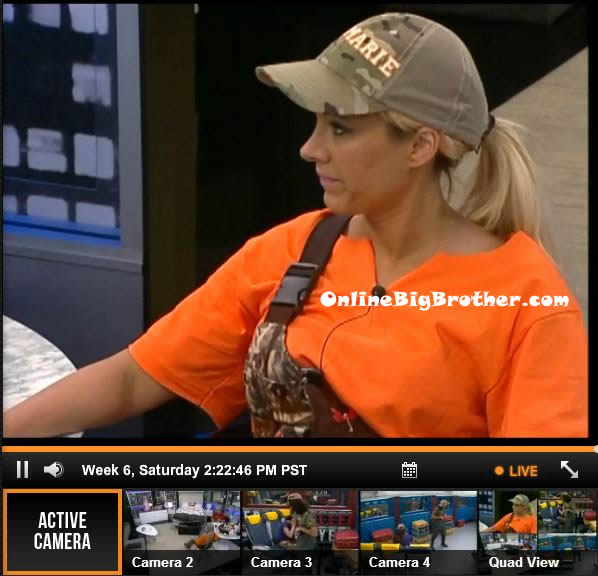 12:30pm – 2:20pm Big Brother switches the Live Feeds to TRIVIA for the Power of Veto COMPETITION! When the feeds return, we learn that JESSIE won the VETO!
Summary of the Veto Competition:
Jessie won the veto
Candice has to wear a clown suit for a week
Spencer won a trip to the Bahamas
JUDD won $5,000
Amanda is going to be spray tanned throughout the next 48hours every time music plays. "50 SHADES of Orange" (50 times?)
Ginamarie has to wear a dog cone for 48 hours. "Cone of Shame"
Judd and Ginamarie go up to the HOH room. Gimamarie is happy for what Judd did during the competition. She says she is so happy he got the $5000. They talk about how Jessie won the veto. Candice has to wear a clown suit for the week. Spencer won a trip to Bahamas. Gina says that Spencer wanted to be greedy and take that trip instead of trying to win the veto. Spencer is going up in Jessie's place. The competition had to do with frogs.

In the havenot room – McCrae is pissed for going off on Candice. He says I don't get it, she is going home you didn't have to do that! Let her say what she wants to say, you didn't have to rub salt in the wound. Amanda says that she was put on the spot. McCrae says you say you trust people, then wont trust them. McCrae says mow we have to do so much work to rebuild trust. McCrae tells her you do this all the time, next time just say nothing at all. Amanda says that when someone defames her she has to stick up for herself. Andy says you need some tough love you can't say things like that.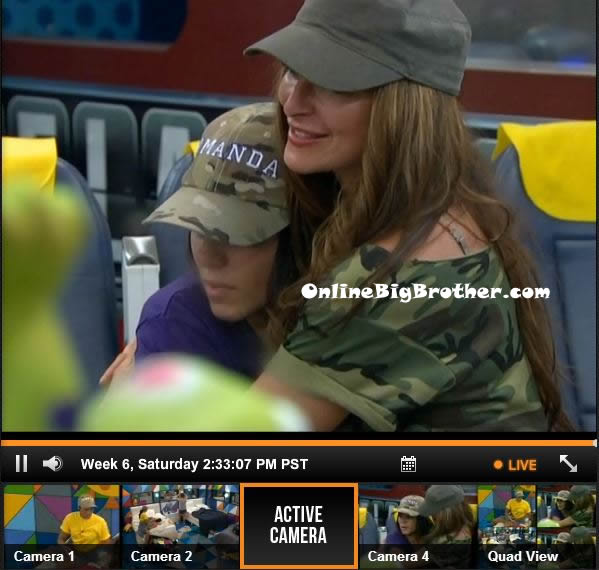 In the storage room – Judd tells Helen that he is a loyal person to his alliance. When it comes down to it I we will go after each other but until then I am loyal to all of you. Judd swears he didn't win MVP. Judd says that he was scared for Jessie to win POV and people would think we were together. Helen says no one thinks you are still with Jessie. Helen Congratulates Judd on winning $5,000. You need it, I am so happy for you.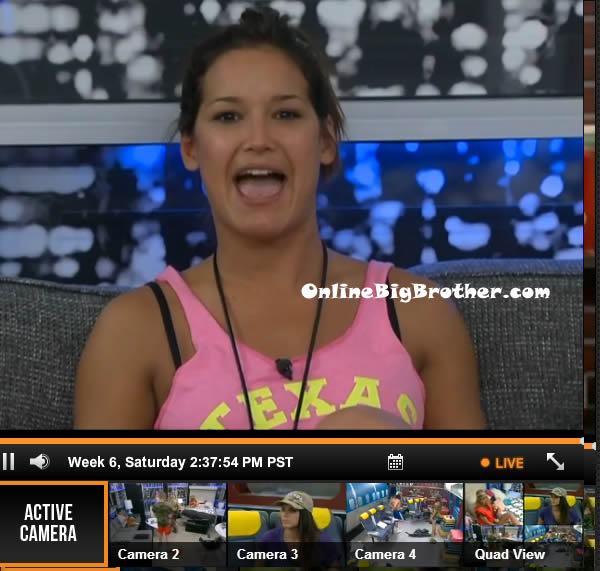 2:50pm Up in the HOH room – Andy, Gina, Jessie and Aaryn are talking. Aaryn kisses her clown and says that I get my clown and another clown is leaving this week. Gina starts going off saying that Candice is a f**king rat bag and she is going home! Aaryn tells her not to say things like that. Ginamarie asks if black people can turn orange. Ginamarie keeps talking trash and Aaryn tells her we aren't going to be like that. They talk about how everyone was yelling and screaming at each other during the competition. Gina tells Jessie you are the man! Thank you I owe you one!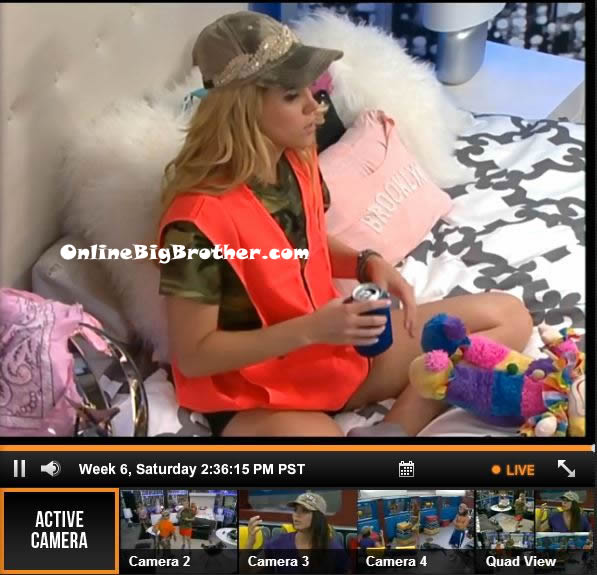 2:55pm In the lounge room – Judd asks McCrae if Jessie was scheming. McCrae says no she was just looking for safety next week. Judd says that he's hearing that Amanda and him are coming after him. McCrae says no. He says that Candice told him Amanda is sure he is MVP. McCrae says that we thought there was a chance, I thought for sure Howard was MVP last week but it doesn't matter. Judd says that I would have told you if I was the MVP, I wouldn't tell everyone but I would at least tell you. McCrae says he believes him. Judd asks if Amanda would. McCrae says she might but she has gotten so paranoid lately. Judd asks if he should have gone for veto. McCrae says that it doesn't matter. Judd is worried about being seen as not needing to go to jury or far in the game because he won the $5000. McCrae says that no one thinks that and I will cover for you on that because I got $5000 before too. Judd says that he has already cover for McCrae winning some money. McCrae says that Judd will be seen as the nice guy for giving the Veto to Jessie. Meanwhile in the havenot room – Amanda is reading the bible. McCrae, Andy, Judd and Elissa come in to talk to Amanda. Judd swears that he is not the MVP. (I think Amanda was calling him out on being the MVP during the competition.) They all tell Amanda that she is safe, Candice is going home by a 7-0 vote. Amanda talks about how she is going to be spray tanned throughout the night and then she will have to go shower.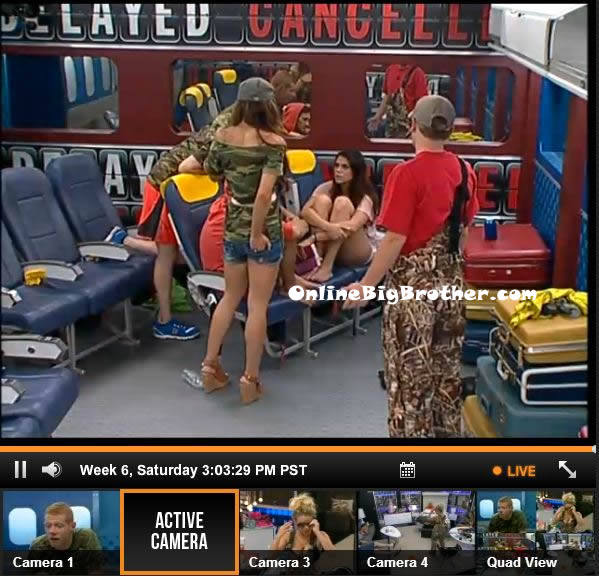 3:15pm McCrae explains to Elissa that Candice is trying to f**k with everyone and is inconsistent. Elissa asks so Aaryn, Jessie and Gina are more consistent? McCrae says no, but they have power right now so we need to play nice with them. Elissa says obviously I will vote with you guys. Andy tells Amanda that she has to cut out the personal stuff you have to shut your F**king mouth. Andy says you said she (Candice) puts Howard's co*k in her mouth. And calling her Shaniqua. You can't say things like that!! Amanda says she feels stupid for her outburst. She says that she was put on the spot. Helen joins them and she discusses how she thinks Candice was MVP. She hasn't talked to anyone today. When I confronted her she said Boo I'm not MVP. McCrae tells Helen that she needs to work on Elissa because if she doesn't vote with us she will be gone next.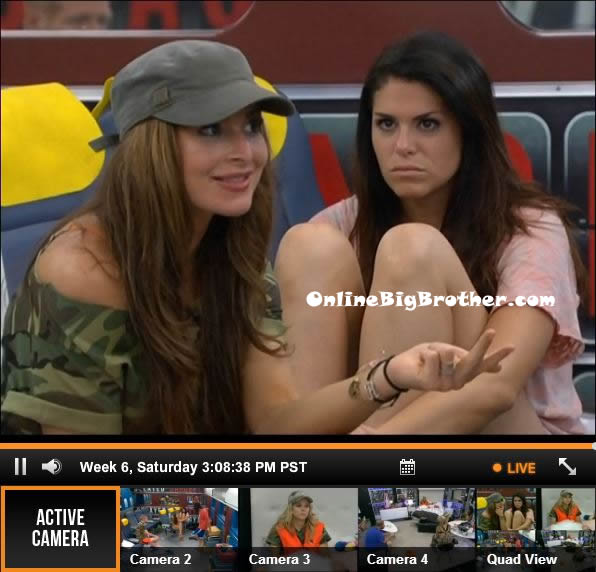 3:25pm Up in the HOH room – Aaryn, Spencer and Gina are talking. Aaryn says Amanda's comment during the competition was so great!! Aaryn repeats what Amanda said during the competition – Howard's cock was in it but he wanted it in me. Gina says I can't wait to see that b*tch (Candice) in that costume! They talk about how Amanda has to be spay tanned every time the music plays. Spencer comments that it was called 50 shades of orange and thinks she will be sprayed 50 times.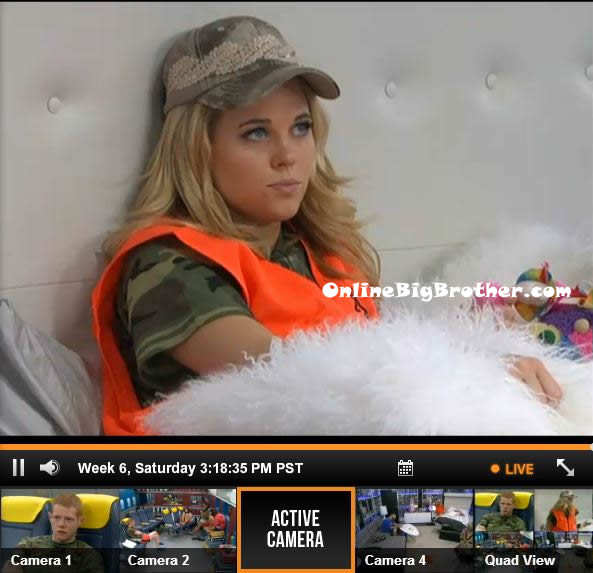 3:30pm In the rainbow room – Andy talks to Candice quickly and tells her that he didn't like how it got so personal during the competition. Candice says that she didn't appreciate Amanda feeling so safe that she felt she could make deals during the POV.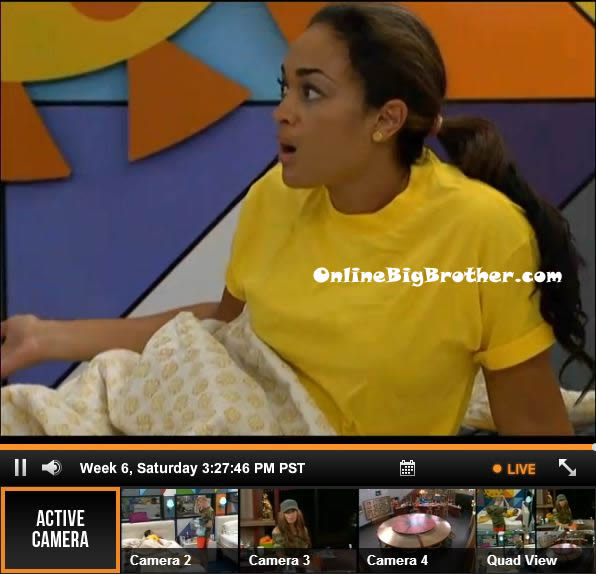 3:35pm In the havenot room – Spencer says that he is sorry that he took the vacation from Amanda. Amanda says that's okay you got to take what you can. Spencer says that he could never afford a trip to the Bahamas and even if he could he would probably go somewhere else. He says maybe I will propose to Marilyn there. Aaryn comes in and asks Amanda if she is upset about the fight or the veto? Amanda says the fight, I need to keep my mouth shut. Aaryn says that Candice started it and it just makes her look bad. Amanda says it just makes me look stupid. Aaryn says no it makes her look stupid, everything you said about her was true.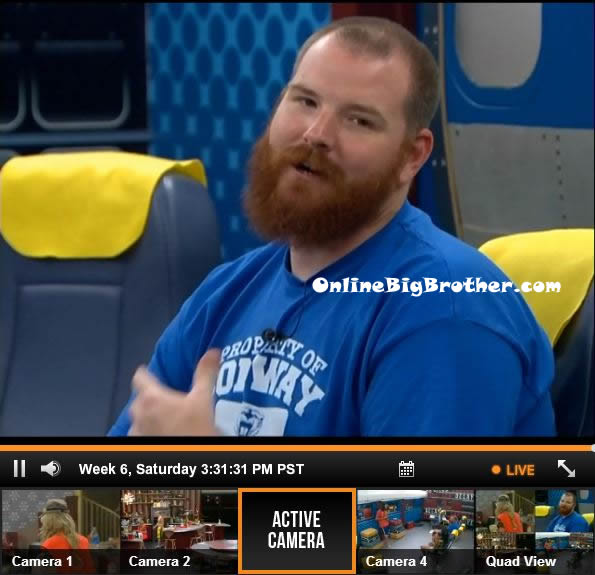 Use the Big Brother Live Feeds to FLASHBACK to SEE what they can't show you on TV: BB15 N!p Sl!ps / N*des