POV Holder:
Jessie
Next POV
Aug 10th
POV Used
YES
POV Ceremony
Aug 5th
HOH Winner:
GM
Next HOH:
Aug 8th
MVP:
AMERICA
Original Nominations:
Candice, Jessie and Amanda (MVP Nom)
Current Nominations:
Candice, Spencer and Amanda (MVP Nom)
Last Evicted Houseguest
David, Nick, Jeremy, Kaitlin, Howard
Have Nots
no have nots this week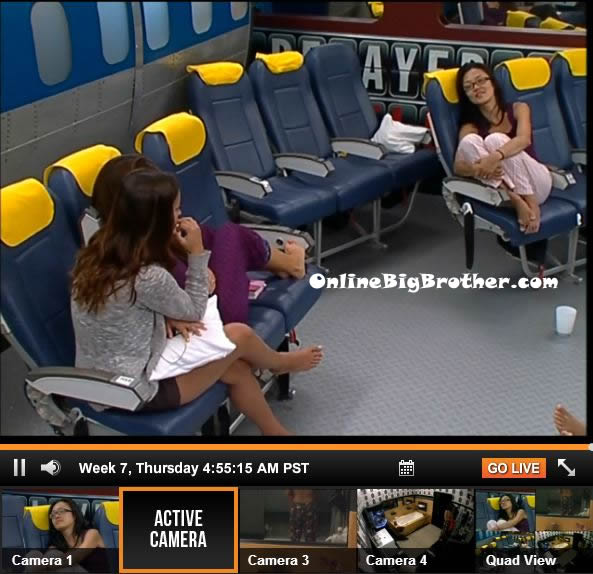 1am Helen, Elissa, Candice and Jessie talk about how hard it is to be around and work with people is difficult. Jessie heads to bed. Elissa tells Candice that she can't wait for her to get married. Candice says that she thinks her friends think she is crazy because she passes up all of these guys just because they don't feel like a puzzle.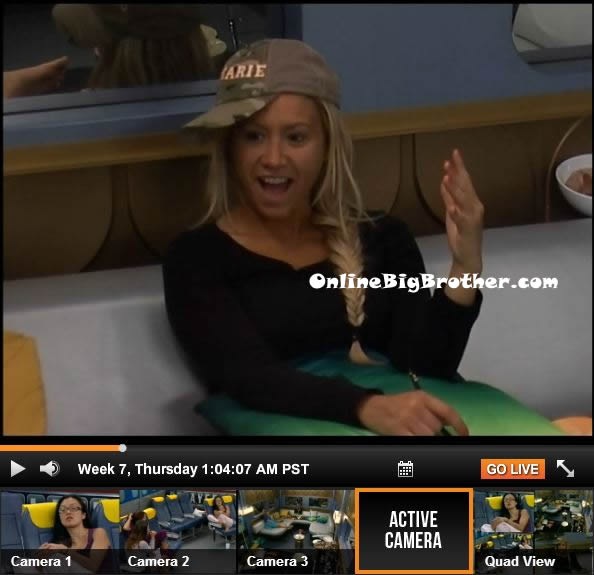 Meanwhile in the lounge – Ginamarie and Aaryn are talking. Aaryn says she (Jessie) was being so.. like jumping on the coffee table. I was like who are you were you raised in a barn? Gina says um you're going to break it, get your fat a$$ off it please. Aaryn asks who does that, like who does that? Who were you raised by that you think it is acceptable to jump on a coffee table? Gina asks was she raised in a ranch or on a ranch? Aaryn asks was she one of the farm animals? Like I am confused. I hate her! Gina brings up how it would be a whole different game if Jeremy hadn't voted out David. Gina says that she wishes Nick told her about the moving company so that she could have saved him. Aaryn says he didn't tell you because he thought he had the votes.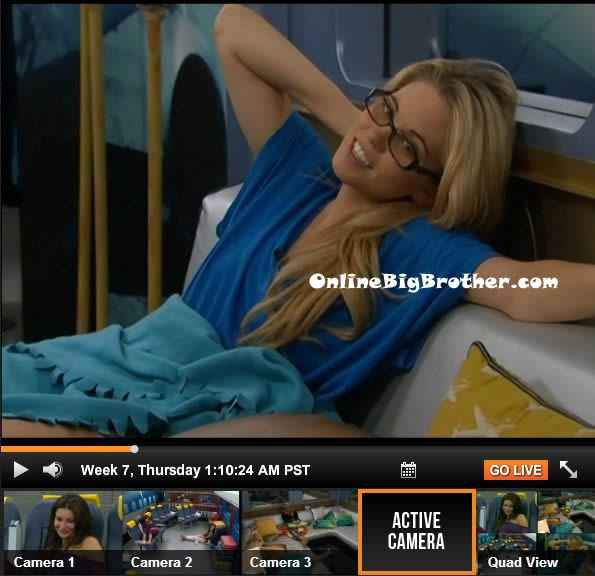 The camera switches to Spencer and Andy in the bedroom. They complain about the girls in the havenot room talking so loud they can't sleep. Andy opens up the havenot door and tells them he loves them but shut the f**K up we are trying to sleep. He tells them to go talk in the cockpit or that bathroom.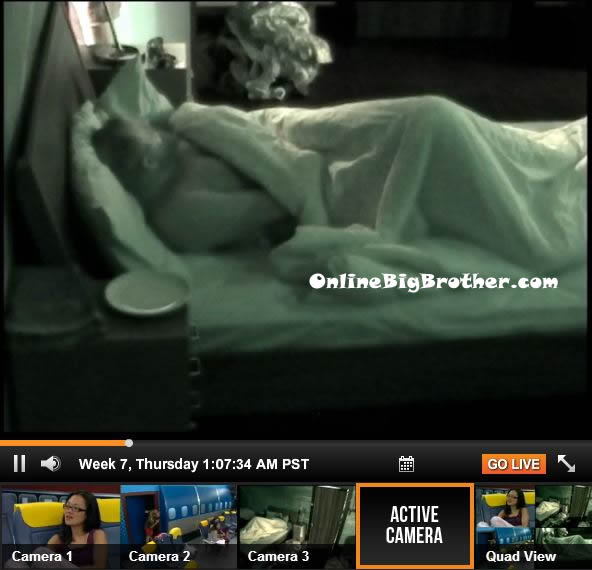 1:10am In the lounge – Aaryn and Gina continue to talk. Gina says she is going to bed soon. She says if she (Candice) doesn't shut up soon she is going to have to go in there. Aaryn says it's okay she can run but she can't hide. We are coming after you clownie! Gina is worried that Candice is talking to Elissa, Helen and Jessie about flipping the votes. Aaryn says that's only 3, they would need one more. Gina asks what about Andy. Aaryn says nope, no chance, no chance! Gina and Aaryn head to the kitchen to eat Pizza.
1:15am Up in the HOH room – Amanda and McCrae eat pizza in bed. Amanda says I feel much better about this eviction than last eviction. It's like I am used to it. McCrae asks I wonder if anyone is going to try and take a shot at us. Amanda says no, it's too early. There are 4 other targets in the house before us. McCrae says it still would be easy to get to if it was a double eviction. Amanda says whoever tried to take us out, everyone would go after that person because everyone likes you. I think everyone likes me too, most everyone. Amanda says it's too early, it would piss off way to many people. Don't you think so? McCrae says some people don't think about that. Amanda says the only person would be Jessie but she would asks Helen or Andy and they would tell her not to. Amanda asks I wonder if you or I would go if we were on the block together. McCrae says if it was everyone that is here, you would go. Amanda asks why? McCrae says because with you gone I am weaker. With me gone you are the same strength. Amanda doesn't agree. McCrae says I think Andy would keep me over you. Amanda doesn't agree and says I tell him more stuff than you do. McCrae says the only reason they would keep you over me is if they want a bigger target in the house. McCrae says if I was up on the block against you I would tell them I want to work with you guys. Amanda says EWWW! McCrae says I will work with whoever keeps me. Amanda asks you would campaign against me? McCrae says I would campaign for myself not against you. Amanda says you're a jerk. McCrae tells Amanda that he is pretty confident she would go before him. Amanda says as long as we were in jury I wouldn't campaign against you because I love you and care about you making it far in this game. McCrae is worried about going home and not making it far. Amanda tells him he needs to grow some balls, she has been on the block and he hasn't. You need to get some tougher skin bro! Amanda tells him not to worry. McCrae says if I walk out tomorrow I would be f**king pissed. Amanda and McCrae count out the votes and realize that McCrae could be voted out over Amanda if Jessie won HOH. They continue to go through scenarios depending on who won HOH. McCrae says that he doesn't want to be the one to put up Judd. He then says if he has to he will.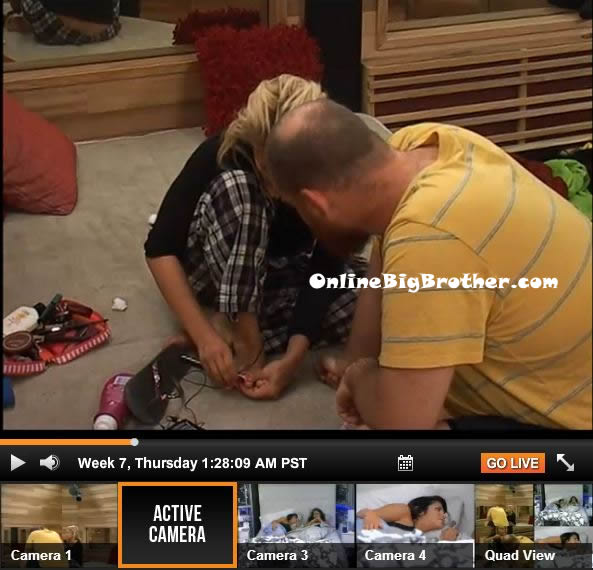 1:30am Spencer meets with Ginamarie in the bathroom and she tells him he is good. Spencer says hopefully you and I make it to the jury and then we are straight! Gina says I hope so, I am so f**King excited, I can't wait. She isn't going to know what hit her. Gina and Spencer head to bed. Elissa and Candice are talking in the living room. Elissa asks what am I going to do? Candice says I don't know – win HOH, put Aaryn and Ginamarie on the block and get her out of here. Elissa asks what if you two go to jury together? Candice has a shocked look on her face. Elissa says it would be a nightmare.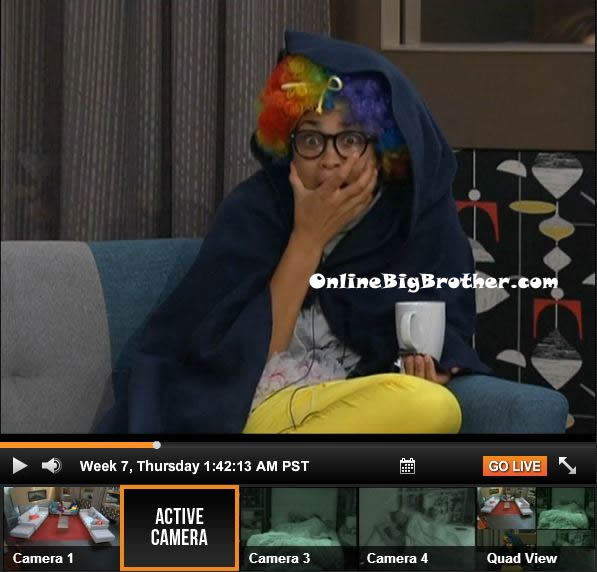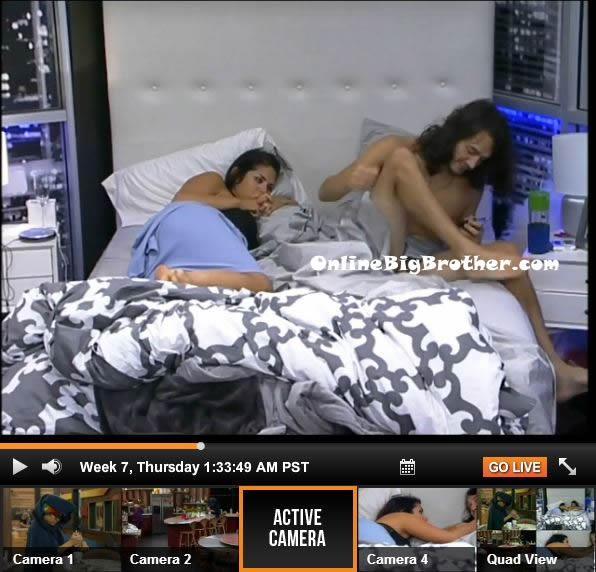 1:33am – 2:30am McCrae goes to get out of the bed and has a d**k slip. He says oh no d**k slip! (Chick here for the Flashback Time Stamp) Amanda and McCrae shut off the lights and continue to talk. Amanda asks do you think although I am up on the block every week do you still think I am in a decent position in the house. McCrae says yeah. As long as we ride with the 5 each week we are fine. We just need to get HOH two weeks in a row and we are set. Amanda and McCrae watch Candice and Elissa on the spy screen. Amanda asks what are they doing up anyhow. She says Go to sleep, stop campaigning you are going home tomorrow. Amanda asks McCrae this doesn't bother you at all? McCrae says it does but they don't have the numbers. Amanda says maybe they are enjoying their last night together. Amanda says she wants to sneak down and see what they are talking about. Amanda says I love how you farted around me once and not you feel like you can do it all the time. You're a fart factory. You've even crop dusted my face. She says I still haven't done it around you because I am a lady. Amanda says if I leave before you and you ever share a bed with anyone else I may just come back in Pandora's Box and strangle you to death. McCrae says there is no way I leave before you if Judd leaves. Amanda asks what are you talking about, you and me final two. Amanda asks are you not going to want Judd to not go? McCrae says I don't know. Amanda asks is this really happening right now, are you really contemplating not getting rid of Judd? He put me up as MVP two weeks in a row. You know how dangerous he is. McCrae says yeah. Amanda wonders if they should separate once the MVP twist is gone. Amanda asks if you want to do that but Judd has to go. Amanda starts getting mad thinking McCrae wants to keep Judd over her. Amanda comments that we both are friends with different people. She says that people would feel guilty about putting him up because no one is targeting him. Amanda says she can't even contemplate how he is thinking of keeping Judd after he tried to get her out two weeks in a row. If anyone put you up I would be gunning for them forever. Amanda asks is there a way to keep Judd here and not have him go after me. McCrae says he doesn't know. Amanda says it's you and me to the end, final two. McCrae then farts really loudly right on Amanda. She says it went in her butt. Amanda and McCrae go to sleep.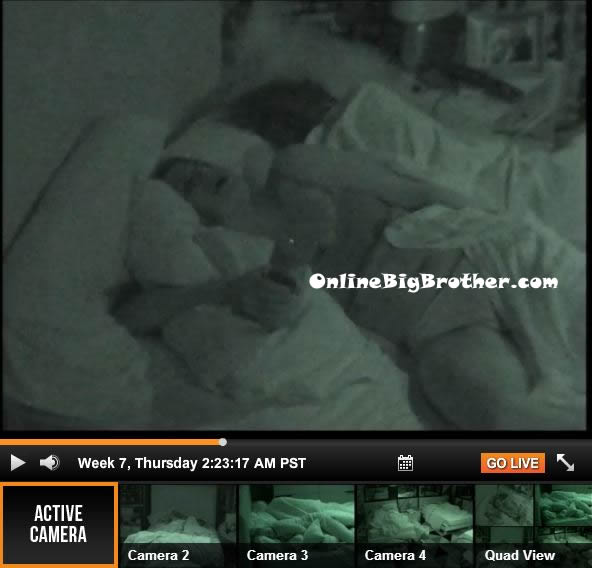 Use the Big Brother Live Feeds to FLASHBACK to SEE what they can't show you on TV: BB15 N!p Sl!ps / N*des