POV Holder:
Jessie
Next POV
Aug 10th
POV Used
YES
POV Ceremony
Aug 12th
HOH Winner:
GM
Next HOH:
Aug 8th
MVP:
AMERICA
Original Nominations:
Candice, Jessie and Amanda (MVP Nom)
Current Nominations:
Candice, Spencer and Amanda (MVP Nom)
Last Evicted Houseguest
David, Nick, Jeremy, Kaitlin, Howard
Have Nots
no have nots this week
9:48pm HOH Aaryn and Amanda
Aaryn says Jessie has been up Candice's bumhole all day.
Amanda: 'Why"
Aaryn: "they're bonding because they are rejects"
Amanda tells her winning too many competitions gives the house a reason to put you up.
Aaryn: "They have a hundred excuses to put me up then"
Amanda says out of the people practicing today Aaryn and her have the best chance to win it. Amanda really wants to win it.
McCrae joins them
Amanda brings up her bad feeling that the vote will be 3-3-1. She's certain Elissa, Helen and Elissa will not vote her out. If there is an odd vote tomorrow Amanda says it must come from Aaryn.
Aaryn: "If you feel more confident in Helen and elissa then I'm telling my information to the wrong person".
Amanda says she trust her the same., 'I know they will not vote me out.. McCrae knows that to.. if anything shady happens I know it's not going to be Elissa"
Amanda explains she has protected Elissa throughout this game Elissa has no reason to vote her out.
Aaryn is getting upset, " I show you every card I have ever held and Elissa has been a flip flopper and now you trust her more than me "
Amanda: "I don't talk any game with Elissa.. I don't have any alliances with elissa she has no reason to vote me out"
Aaryn: "and I do .. you said if the votes go wrong it would be me… taht implies you are worried about my loyalty"
Amanda: "thats not what I'm saying "
Aaryn: "I hate Candice more than anyone in this house."
Gm joins them.
Amanda: 'i think you are just getting paranoid"
Aaryn: 'No I am not" Aaryn leaves
MC isn't surprised that Aaryn is getting worried and pissed. Amanda told her that if the vote is odd it was Aaryn's doing. That leads Aaryn to believe that Amanda trusts Helen and Elissa more than Aaryn,.
Amanda getting heated about this says she never meant it like that she knows Elissa is a locked vote.
Andu joins them
MC: "But you said 3-3-1.. indicate that someone is going to flip and it's Aaryn"
Amanda yelling MC stop yelling
Amanda: "I hate it when you are f***oing this.. you always take her side"
MC: "I would be pissed too.. it's what you don't say.. "
Amanda says the only reason someone would be defensive about the 3-3-1 would be someone thinking about it
MC: "or sombody that is loyal"
Amanda: 'She hates that I trust Elissa"
Amanda starts up the Aaryn hate asks McCrae why is he sticking up for Aaryn, "You always take the other person's side.. you never take my side"
McCrae: "you and Helen do not understand the difference between threatening and nonthreatening.." He tells them what they are doing is threatening.
10:09pm Cockpit Spencer and JUDD
Spencer: "I hope it's double eviction while everyone is till on the get Jessie out bandwagon"
10:20pm HOH McCrae and GM
MC is saying Aaryn will stir up sh!t about people in the house to him that is sacrey and dangerous. If Aaryn and GM are on the block he'll save GM. MC: 'Dud but you'll have to keep that between me and you" GM says yes she's not a rat f*** =they shake on it.
Amanda comes in
GM says what Aaryn was saying during Jeremy and Kaitlin being on the block really made her sick.
MC: "She's scary"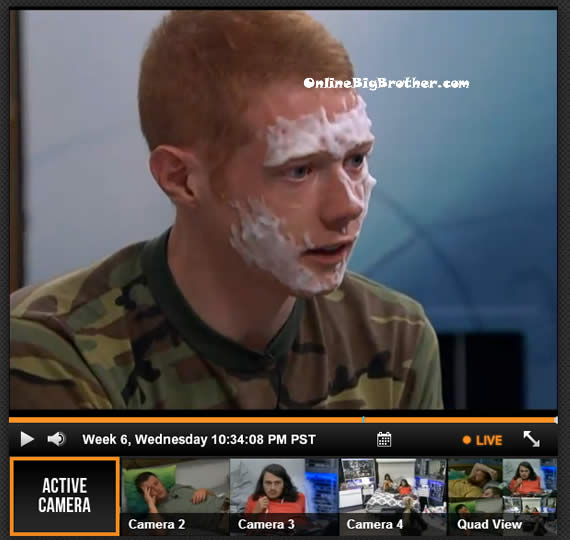 10:24pm Cockpit Andy, Spencer and Judd
Spencer: "If you can like… forget about her Klan membership She;s actually kinda a cool chick"
Andy: "I agree"
JUDD: "Ya.. to me GM said worst sh!t than she did"
Andy agrees.
Spencer says he heard GM say the "N" word in front of Howard.
Spencer gets called to the DR
Andy and JUDD start talking about Big Brother Canada
Andy says Suzette called someone a redneck and the whole house acted like it was the worst thing.
JUDD joking saying he was a superfan of Suzzette and Kat. He brings up when Kat was talking to Suzette and she said "This is my HOH i don't want to talk game"
JUDD: "It's like Ginamarie winning the first HOH here.."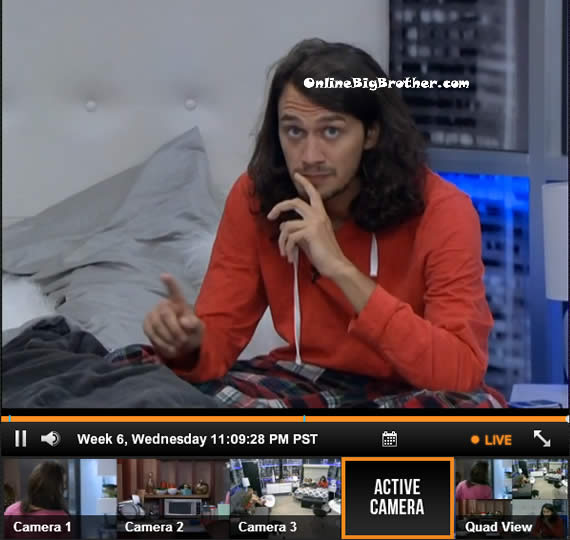 11:05pm HOH Andy, Amanda and McCrae
Andy says you really can't take GM's game talk too seriously ..
Feeds keep cutting out
They are all agreeing if it's double eviction they will put up Spencer and Jessie with the plan to Backd**r JUDD. MC: "Worst case we take out Jessie"
Andy: "I'm ready to make that move"
Amanda: "Me to.. who would you take off if you won Veto"
Andy: "Spencer"
McCrae agree
Amanda says that someone was throwing Andy's name out here as a possible nomination. They think it was JUDD. Amanda thinks Jessie will put her and McCrae up. Andy says JUDD is up Jessie's a$$ all the time he thinks if she wins OH JUDD can influence it.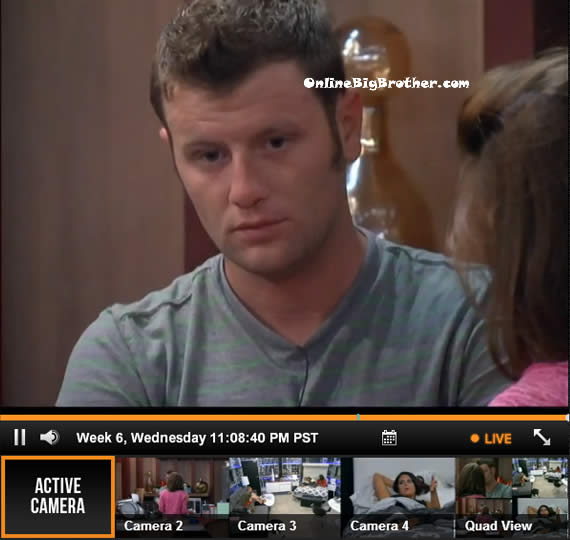 11:10pm Kitchen JUDD and Elissa
JUDD says Jessie feels like she's going up next so she is putting random targets on other people which is putting the target on herself.
11:22pm HOH McCrae, JUDD and Andy JUDD wondering if Candice is leaving why is Jessie, Candice and Elissa so far up Candice's a$$. McCrae: "Maybe they are being nice"
Andy says Jessie will freak the f** out if he nominates her. "She'll be heart broken" . JUDD jokes if he wins the second HOH he'll be like Hey Jessie we won the HOH then the next day he nominates her. MC: 'I think she liked boys that treat her bad.. she'll like you more after that"
JUDD says he gets nervous watching Double Evictions when he's at home so he's REALLY nervous about it tomorrow. "I'm more nervous than I have ever been in this game"
Amanda comes in. They agree the most brutle competitions are the have have nots.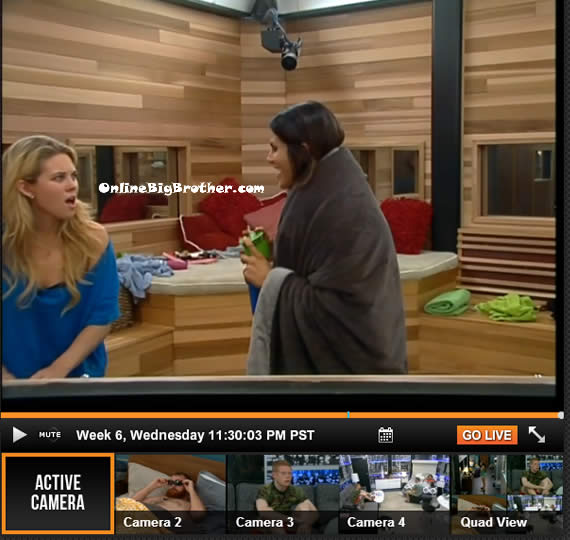 11:26pm Bathroom Aaryn and Amanda
Amanda saying that GM told McCrae that Aaryn wanted Amanda and Elissa up this week. Aaryn says that was weeks ago. Amanda: 'I know In know but she never clarified that to McCrae that it was when Jeremy was still here"
Aaryn: "Why would she even say that"
Amanda: "Don't say anything please"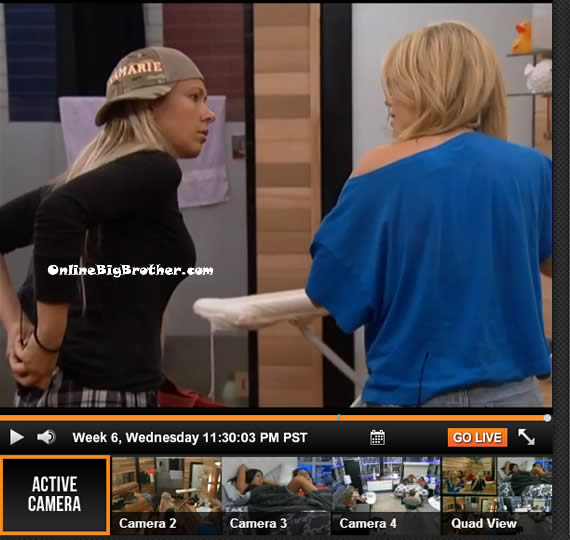 11:28pm Aaryn and GM Bathroom
Aaryn wants to know why Aaryn told McCrae and Amanda that she wanted them on the block this week.
GM: 'I never said that.. it was weeks ago it was Jeremy and the moving company"
Aaryn: 'They said me"
Gm says she'll go up to HOH right now and explain it was when JEremy was here. Aaryn: "No no she already knows"
Aaryn mention that what GM said today caused a alot of sh!t between her and Amanda.
Gm heads up the HOH to clear it up
GM: 'No a problem to me I know what the fu** I said"
You can re-watch ever second on the feeds using the flashback feature.. It's just like a DVR and is super easy to use. click this link for a Free Trial —> Subscribe to the Big Brother Live Feeds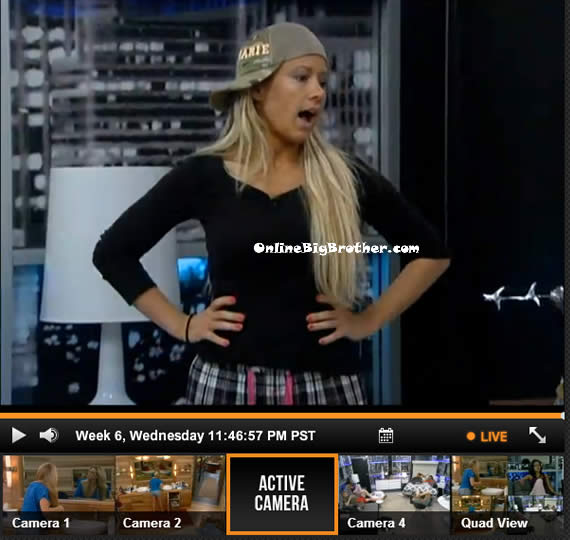 11:30pm HOH JUDD, Amanda, McCrae, GM, Helen
Gm going off about Aaryn cornering her and telling She told Amanda Aaryn Wanted to put Amanda up.
Amanda: "Weeks ago"
GM: "I go Aaryn honey I said that weeks ago"
Amanda: "I said Weeks ago.. I literally told her weeks ago "
GM: "She said you are fighting at it's all my fault"
Amanda: 'We're not fighting at all… whatever "
Helen is leaving GM: 'Will someone go get her .. "
Amanda asks them if she should bring up that Aaryn told her GM hates Amanda. JUDD and McCrae say no, "Too much going on tomorrow"
Aaryn comes in. GM explains they were talking about past things. Aaryn explains that Amanda and McCrae didn't take it like it was a past thing. Amanda says when she told Aaryn about it she said it was all cleared up. Aaryn: 'The fact it was taken that way is a problem.. nothing needs to be taken that way to begin with.. it needs to be clarified"
Aaryn leaves
GM: "She jumped at me dude.. she fu** attacked me.. cause I like to get down to the point.. wind this bird up.. people bring up Nick every day of course we talk about the past. did I say Amanda was annoying at first Ya .. Do I mean it now NO "
GM: "I know what I said Roll Motherf*** tapes.. I aint sacred and I'm not a motherf**** rat.. "
GM: "Obviously we have to recap what happened because if there is a motherf**** quiz.. of course future, past and present are going to come up"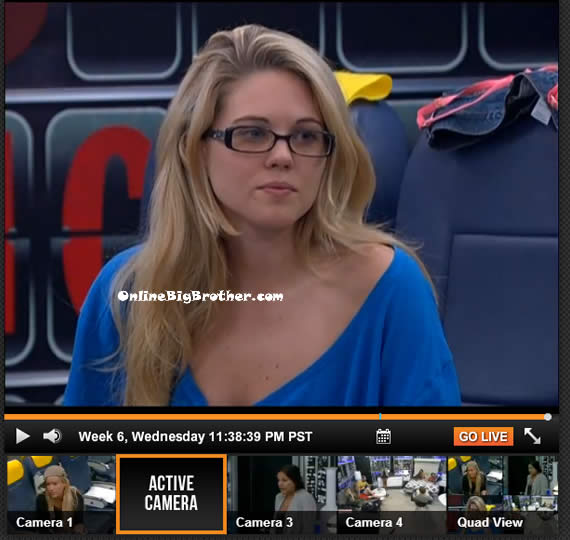 11:41pm havenots Aaryn and GM They clear things up and hug it out.
GM: "You're good baby you're good"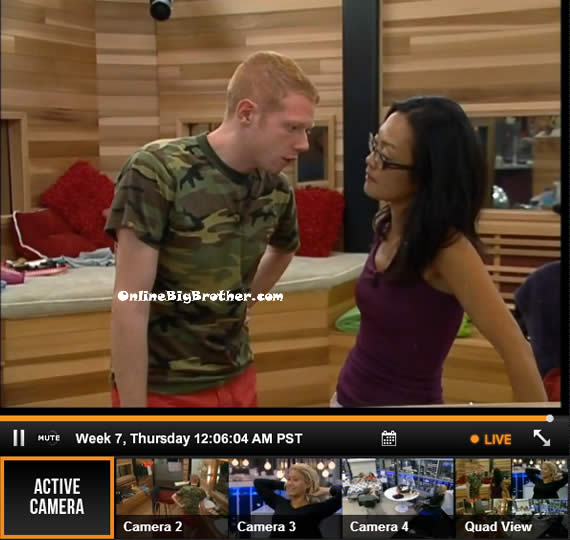 12:04AM Andy and Helen
Andy says if it's double eviction he's putting up Spencer and Jessie and telling them to win the veto they are not the targets. The target is JUDD. Helen agrees says she will do the same. Andy: "So will Amanda and McCrae"
Helen: "he wants me gone.. he's a idiot"
They head into the storage room where Helen is telling him Amanda was the person taht told her JUDD is targeting her. Helen: 'Don't say anything Amanda would kill me"
Andy: "I think he's too big of a wimp to put up you and Elissa"
Andy: "Taht will be great if we can get him out"
Helen: "And that will weaken Aaryn she is getting too close to him"
Andy: 'Ok lets shut up we're on the same page" (LOL)
12:18AM HOH JUDD, Andy, Amanda and McCrae
They are going through double evictions scenarios. Amanda is saying they are all safe going into the double eviction she doesn't think they are anybody's target.
JUDD: "Even me"
Amanda says GM, Specner, Aaryn and Jessie are the targets going into Double eviction.
They think Elissa will put up Spencer and Aaryn.
Andy: "Do you know we can't use the name Goof Troop because it's a copy write infringement"
McCrae: "You're shiting me"
Feeds cut.
12:32AM HOH McCrae and Amanda
McCrae thinks they should maybe hold up a bit in getting JUDD out. McCrea: "He's got to go of course but we are much stronger with him than without him"
Amanda: "He put me up.. honey he wants me to go home he said that to you"
McCrae wants Aaryn gone before GM. MC feels Aaryn causes way too much trouble for them and he's never really trusted her.
Amanda: "We need Aaryn she is going to go after Elissa"
MC: "YA"
Amanda explains that Aaryn is going to become everyones target, "we need to keep her here as long as possible"
A: "That is why JUDD has to go because he'll keep her here longer than me"
MC thinks they need to cut another alliance with SPencer. Amanda doesn't want to say he can't trust Spencer
MC: "Elissa scares me she'll come after me before you"
Amanda: "Whoever puts us up will put a HUGE target on them.. nobody will do that"
MC: "maybe someone will say f**** it I want to see this game burn" (PLEASE PLEASE BURN THIS GAME)
They get ready to sleep. THey agree Jessie is the only one that could put them up if she wins double eviction.
12:55AM
Cam 3-4 Slurping going on in the HOH with Amanda and McCrae
Cam 1-2 Candice, Helen, Elissa and Jessie talking about men, hearts, feelings, faith, the kinda things super friends would talk about.
Use the Big Brother Live Feeds to FLASHBACK to SEE what they can't show you on TV: BB15 N!p Sl!ps / N*des