POV Holder:
Andrew
Next POV
April 6th
POV Used
No
POV Ceremony
April 1st
HOH Winner:
ANDREW
Next HOH:
April 4th
Original Nominations:
Gary & Topaz
Current Nominations:
Gary & Topaz
Last Evicted Houseguest
Aj
Have Nots
Gary, Peter, Topaz, Emmett (used Slop Pass)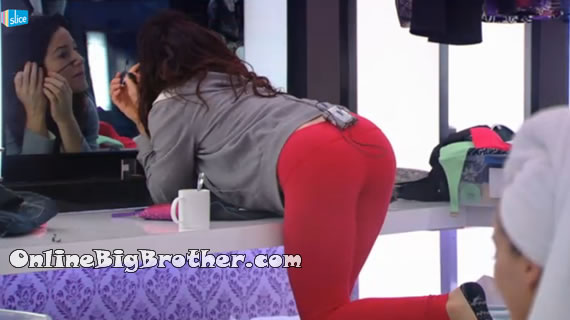 11:35AM Bedroom TAlla, Jillian and Topaz Talla continues to apologize for last night.
Jillian says that Talla fell into Hot Tub and was telling everyone she was peeing.. Immediately everyone started jumping out of the tub. Talla: "I didn't really start to Pee" Jillian knows brings up that Talla was saying "I'm peeing" a couple time throughout the night. Talla: "It was my sentence of the night.. honestly I had fun but I wish I would have stayed up and lasted longer"
Jillian tells Talla she didn't help her because she cannot be around people that are puking. Jillian: "I have a phobia about puking like some people have a phobia about spiders.. I can count on my hand how many times I've puked" Topaz: "Really… I puke a lot.. I wish that was the case with me"
Jillian adds she's only puked once from drinking and it was from red wine.. she thinks she is allergic to red wine.
Talla goes into the toilet.. Topaz:"You puking?" Talla: "I'm not feeling good.. I feel like I need to puke.. it's all that talking about puking" Talla heads into the kitchen tells everyone she will be cleaning up the bathroom stall but she needs to get some food in her stomach first..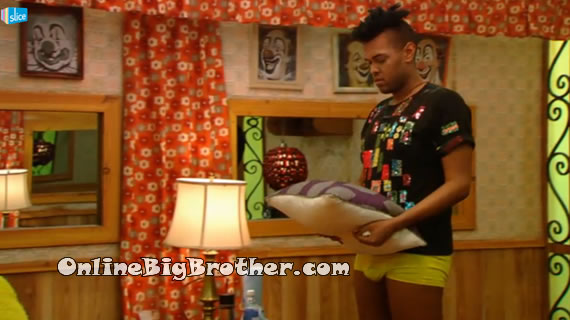 11:45AM Bathroom Topaz and Gary
Gary: "I don't even want to be here anymore.. I hate it"
Topaz: "We can't have another one of those days Gary…"
Topaz explains to Gary the reason Emmett was vacuuming was because all the "Pink stuff" was on the ground and it was being tracked around. They all wanted to clean as a family and get it done and the floors had to be cleaned quickly.
Gary: "I don't like to clean until my face is done.. I'm not on Jillian and Emmett time"
Topaz: "really what it was there was feathers getting carried all around the house"
Topaz says he can clean out the have nots room so then he can say he cleaned something nobody will care.
Gary :"I don't want to clean the have nots.. people are going to call me out"
Gary goes into the have nots and starts to clean up.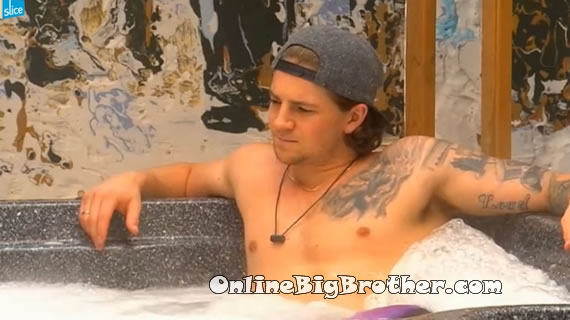 12:11PM Hot Tub Emmett and Andrew
Emmett saying that this morning everyone was cleaning up and Gary had volunteered to celan the floors but the entire time he was doing his makeup. Emmett adds that the carpets are covered in crap and we're tracking it through the house. Emmett: "I told him man it'll take 10 minutes.. he said he would do it later.. I was like OK I grabbed the vacuum and did it.. It's Gary thinking he's so special.. "
Andrew agrees, points out that Gary is the same way with when the alarm goes off Gary doesn't get up. Andrew points out that it's very obvious that everyone is trying to get Talla on their side. mentions Alec in particular.
Emmett: "Next Topaz goes.. " Emmett says that he hasn't gone into a competition and haven't given it 100%. Emmett adds that next week he wouldn't be too worried if Peter or Alec winning it because he thinks they are safe and Topaz will be the target. Emmett adds that it's the HOH after next that he must win.
Alec joins them and they chit chat about Big Brother 14 US. Alec says Dan didn't win because he played such a dirty game.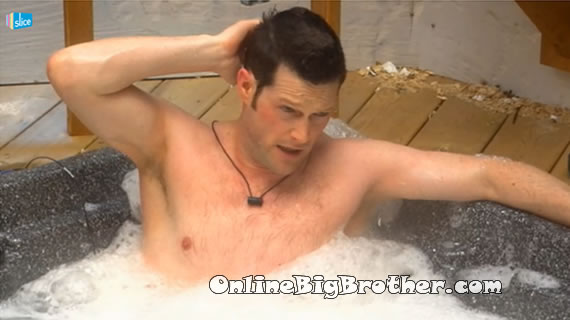 12:31PM Andrew and Emmett Hot Tub
Andrew: "Alec and Peter there is no chance they will vote to keep Gary over Topaz.. Jillian and you won't.. as long as there is no twist GAry is gone "
Andrew explains that it's all down to who is better at competitions and Gary is "Miles' Ahead of Topaz. Andrew points out that the only person on the other side is Alec. Emmett thinks Peter might be alright. Andrew isn't worried because Peter has been on slop the entire week. Andrew: "Look we have Jillian, you and Talla.. I know you are worried about Talla but we have no other choice"
Emmett thinks peter is a HUGE "DR guy" his strategy is to make his DR's good so we wins Canada's player and is linked by the fans.. Andrew doesn't think Peter is funny, "He's got a loud voice.. he wants to parlay this into whatever.."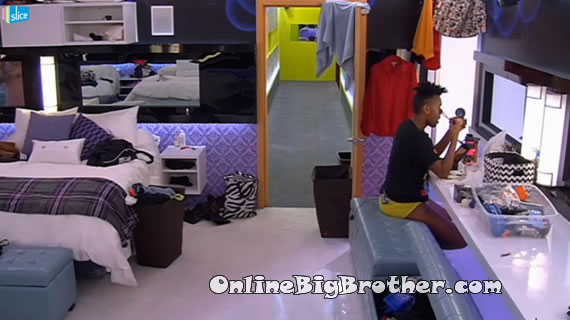 1:00pm Bedroom Gary back to putting on Makeup.. in the backyard Alex is working out and in the kitchen Talla, Jillian and Topaz had a talk about food and nutrition.
1:05pm
Emmett and Jillian studying dates for future competitions.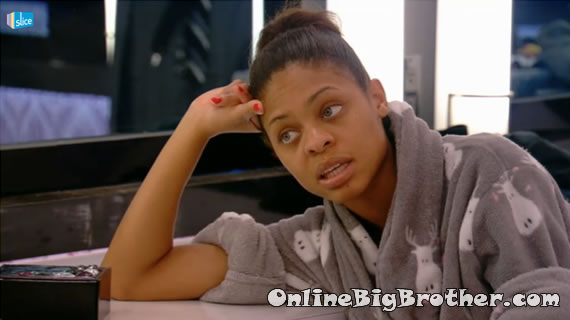 1:17PM Topaz and Gary
Chatting about Alec/Peter and how douchie Alec has been about this showmance. Topaz mentions how Brendon fought full out for Rachel but Alec did nothing for her.
GAry: "I don't want Peter to make it to final 12 and right now it's looking like he is.. "
Gary: "Alec is not getting my vote if he makes it to final 2.. "
Topaz doesn't think Alec really cares about her regardless of what he says to her. GAry: "We'll find out soon enough if he cares.. " Topaz: "If someone won't fight for you in a game what makes you think he'll fight for you in the real world.. In the real world where sh!t is real he won't be there" Gary: "F*** him.."
Topaz: "I understand he was hurt because of the locket… but i'm hurt because he ruined my entire game"
Gary: "He's got to forget about that locket.. hommie"
Topaz thinks that Alec might even be fighting to keep GAry because Alec thinks Gary is stronger and would be better to have on his side
Gary: "He's a mother f*****.. it's good for my game but still"
Topaz mentions how she went to Alec to ask for a vote and he told her he was going to do what Andrew wanted because he didn't want to piss the HOH off.. "
Gary: "He really said that… You were the HOH and he didn't do what you wanted he didn't care about pissing you off"
Topaz brings up that Alec isn't even going to give her a pity vote unless Andrew gives it the OK. Gary: "if he doesn't give you a pity vote he's a true Mother F*****.. if you go out to a zero he played you.. he played you to a T"
Gary asks if she still actually wants to have a relationship outside the house? Topaz doesn't reply flat out but it's pretty clear she doesn't. Gary keeps calling Alec a mother F**** and says he's a selfish sicko..
Gary: "I've campaigned for you more and i'm on the f****** block.. "

(Video Uploading)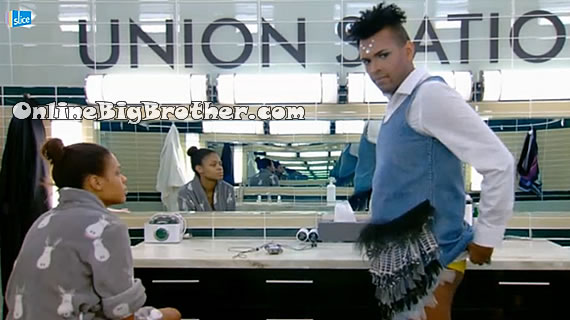 1:50PM Gary tells Topaz he made the dress he's wearing in college..
Most of the house is sleeping.. Talla roaming around talking to whoever isn't sleeping about how wasted she was last night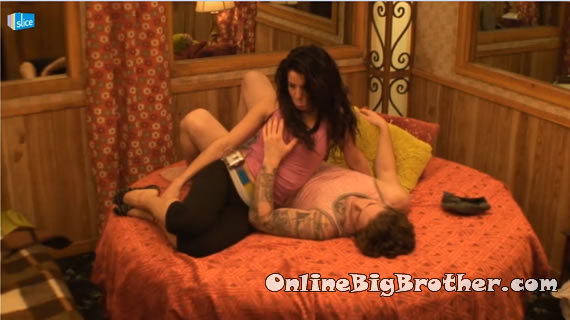 2:10pm Emmett and Jillian Showmancing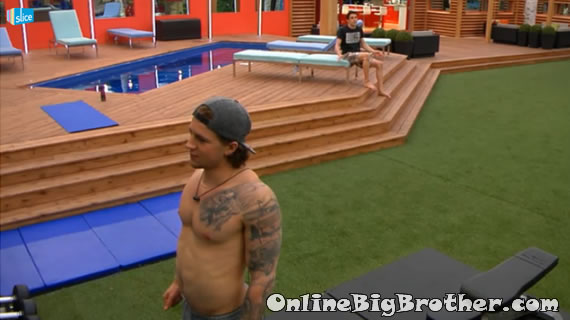 2:42pm BAckyard Andrew and Emmett working out
Stay connected and interact with other Big Brother Fans on our Facebook page.
And Follow: @BigBspoilers and @Dawgsbigbrother on Twitter for the most up to date spoilers.
[polldaddy poll=7007427]