POV Holder:
Andrew
Next POV
April 6th
POV Used
No
POV Ceremony
April 1st
HOH Winner:
ANDREW
Next HOH:
April 4th
Original Nominations:
Gary & Topaz
Current Nominations:
Gary & Topaz
Last Evicted Houseguest
Aj
Have Nots
Gary, Peter, Topaz, Emmett (used Slop Pass)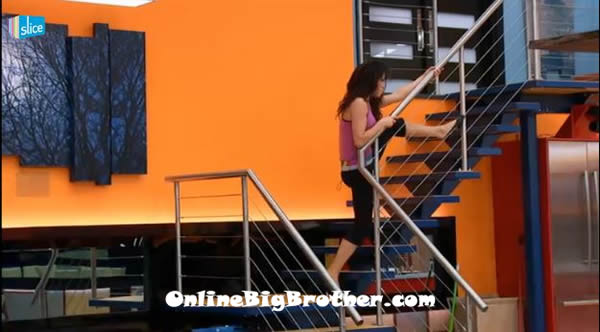 2:50pm – 4pm Andrew, Emmett and Alec are working out in the backyard. Jillian is doing her yoga by the pool. Peter is in the hammock. They wonder if they will get a task this week. Alec brings up how Gary's "task" wasn't a real task. Meanwhile inside Gary and Talla are talking at the kitchen table. Gary wants to find a guy that will take care of him for 5 years if he breaks his leg. Gary starts talking about his past relationships. Gary then starts grilling Talla about her past relationships. They finish up their conversation and head outside for a smoke. Gary then heads to the bathroom to do Topaz's makeup.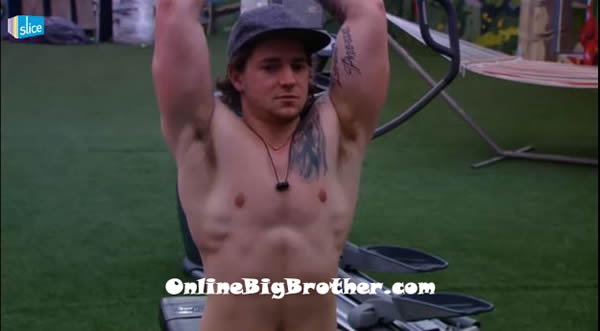 4pm – 4:15pm Topaz is talking to Gary about how Andrew told her that he is going to confirm what is happening on Thursday morning. She says that Alec doesn't know that Andrew is going to tell her. Topaz says that Alec told her he is waiting to find out who Andrew wants out because he doesn't want to upset the HOH. Gary asks her if she even wants to hear Alec say he tired. Topaz says no, there's nothing to try. Topaz says Alec said we can be in a friendmance this week and if you stay we can work on it. So if I leave it won't look bad to the public that he was all kissing up on me and not trying to keep me. Gary says that he is sick. Topaz says that she is up and down with how she feels about him. Topaz says if we couldn't make it work in the big brother house .. it wouldn't work outside the house. Gary says don't ever let it slip outside the house. Topaz says he ain't never getting this pu$$y! Topaz says that in relationships you work on struggles together but he didn't try. Gary agrees. Topaz says that if he tried or threatened I would stay but he's not trying. Gary says he doesn't want to shake up his game. Topaz says I still think its 50 / 50 between me and you. Andrew thinks you are a physical threat but he also wants to avenge me. Gary says he lost his game because of this move. Topaz agree's and then tells big brother after her makeup is done she wants to come have a little chit chat!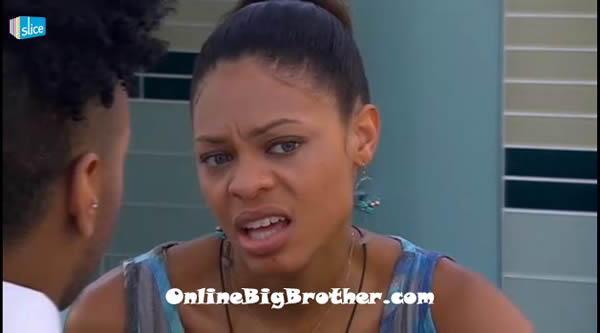 Topaz tells Gary that she knows if she stays its not because Alec saved her its because Andrew wanted to get out a big competitor. Gary says yup a big dog.
4:20pm – 4:35pm The camera's switch to the kitchen. Big Brother calls Alec to the diary room and then soon after they call Andrew. Andrew asks didn't Alec just go in there? Andrew goes in and Big Brother calls Emmett into the diary room. Gary then gets called into the diary room. Jillian is then called to the diary room. Peter gets called. Topaz goes out into the backyard calling for Gary. Big Brother sounds the alarm to wake up Talla. Topaz asks where the fu*k is everyone. No ones in this house Talla. Talla asks what do you mean? Topaz goes up to the HOH room to look for Andrew. Topaz says don't tell me Andrew got PANDORA'S BOX! Then Topaz gets called to the diary room. All OF THE HOUSE GUESTS ARE NOW IN THE DIARY ROOM. Big Brother switches the live feeds to the hush, hush screen.
Video is uploading:

5pm The live feeds come back. The house guests comment on how that was fun. Big Brother tells them not to talk about production. I have no idea what happened or why they all got called into the diary room. Jillian commented that Emmett said in there that she attacks him. Alec comments that we now know that 24 people are watching. (It sounds like they were each asked questions from viewers.) Alec says you really did surprise me, I thought you were going to be nice. Andrew says well I am a di*k. And you're a co*k. Talla says oh my god Andrew when you said doctorate.. Andrew laughs and looks at Alec. Talla says you made fun of Alec so much its hilarious. Talla says I had the opportunity to say hi to someone but I didn't.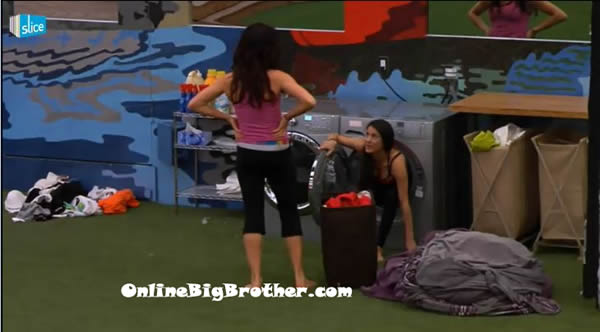 5:25pm – 5:50pm Talla and Jillian want to both do laundry. Talla climbs into the washing machine to save it. Jillian tells Talla that she can throw her dress in with her darks. Talla climbs out and goes over to Emmett in the hammock. She asks him to go show her where her dress is. She tries tipping him out of the hammock but he won't move. She steals his hat and runs inside the house. Topaz tells her where her dress is folded up. Talla tells Emmett that he isn't getting his hat back. Emmett tells her if she doesn't give his hat back in 1 hour he is going to throw her in the pool. He then changes his mind and says she has 10 minutes. Talla joins Andrew on the couch in the living room. Andrew imitates how Talla acted when she was drunk last night. Talla tells Andrew that she feels like someone is lying to her. Talla says Alec. Andrew says wells that's a definite possibility. Emmett tells Talla she has two minutes to give the hat back. Time runs out and Emmett goes to get Talla. Talla give the hat back but Emmett says she waited too long. He picks her up and takes her out to the pool. She tells him she will do anything ..she will be his slave for a day. He tells Canada to say nothing if they want him to throw her into the pool. Emmett then jumps into the pool with her.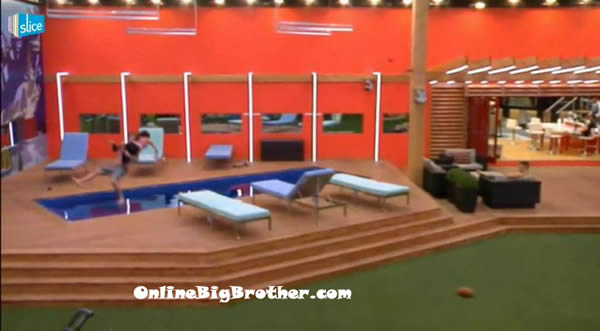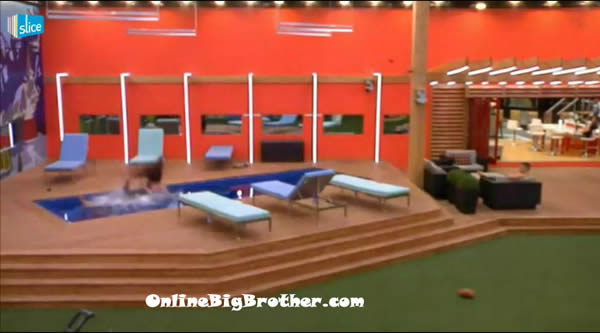 OnlineBigBrother.com
Stay connected and interact with other Big Brother Fans on our Facebook page.
And Follow: @BigBspoilers and @Dawgsbigbrother on Twitter for the most up to date spoilers.