POV Holder:
Victoria
Next POV
July 26th
POV Used
Yes
POV Ceremony
July 28th
HOH Winner 1:
Frankie
HOH Winner 2:
 Cody
Battle of the Block Winner
Jocasta/Amber
Next HOH/ Next BOB
July 24/July 25
Original Nominations:
Brittany/Victoria(Cody) Jocasta/Amber (Frankie)
Final Nominations:
Brittany & Donny
Have Nots
?
POV Players
Cody, Brittany, Victoria, Caleb, Nicole, Zach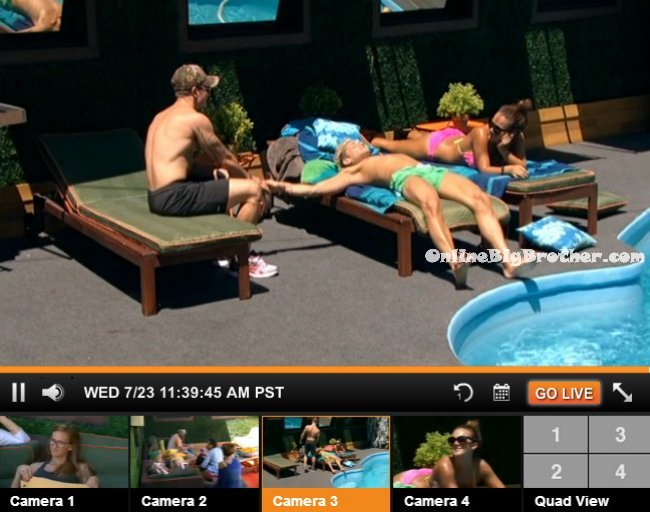 11:40am Caleb joins Frankie and Brittany over by the pool. Frankie calls Caleb a vision of gorgeousness. Frankie says that his type has never been a big muscle guy but after this he thinks he'll go to a bar and find one like him. Frankie heads inside. Caleb tells Brittany I really hope that date last night with Amber wasn't the real one because it really wasn't worth eating the pickle for. Caleb says that he is going to put a pickle inside a banana and close it up to make it look like its a regular banana. It's to show her that you can't judge a book by its cover. That the outside doesn't always match the inside. I might be all muscles but that's not what's inside. Brittany says oh that's cute! Caleb says Give a banana a chance?! Open it peel it! You never know until you open it. There have been numerous times when the cover of a book doesn't match the inside of the book. I was thinking she hates banana's and I hate pickle! How can I incorporate the two. Brittany says oh that's cute! Caleb says I was thinking of trying to glue it shut. Brittany says I have double sided tape you could use. Caleb says I will hand it to her and I'm sure she won't take it. I will try my hardest to get her to open it. At the end of the day the outer appearance isn't what its all about.
Big Brother 16 Live Feed FREE TRIAL – Use the FLASHBACK feature to watch everything you've missed!
11:50am – 12pm Big Brother calls for an indoor lock down. Caleb tells Frankie about his pickle inside a banana idea. Frankie says wow, so you're a pickle! Caleb says you can chase her all over the house and she won't touch a banana but if you can get her to open it .. Frankie says If you can do it, I want to be there. I want to be there when you do that! I support you in your efforts! Caleb laughs and says he supports my efforts.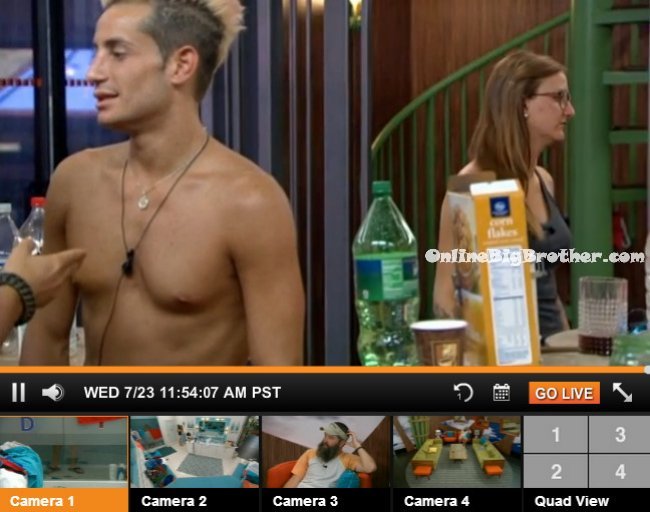 12:10pm In the bathroom – Frankie comments on how in his HOH letter it was great but he wished it could have said more about how the family is doing and if Grandpa and Nona are okay.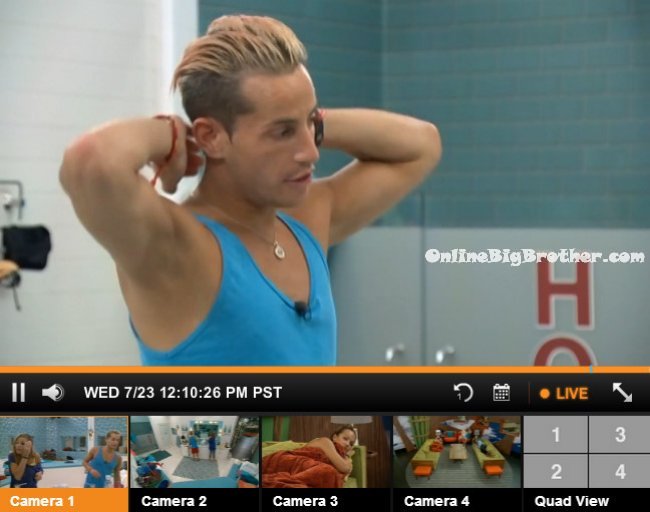 In the kitchen – Jocasta, Amber, Donny, and Brittany are eating and talking. Donny talks about how one night Devin woke him up to tell him that he doesn't believe who he says he is. Donny says I told him well I am who I say I am but it doesn't matter does it. Amber says it really doesn't matter, its no reason to put someone up. Brittany says we've been up so many times people just put us up because it's easier. They discuss how it gets harder to nominate people as time goes on.

1pm – 1:20pm
Donny plays a game with Jocasta and Amber. He gets them to cover their eyes and he puts up things to their noise for them to guess what it is. He gets them to smell peanut butter, cranberry juice, lemonade, cinnamon, garlic salt, soy sauce, pickles, tums, hand lotion, etc. Amber and Jocasta enjoyed the game and said it helped pass the time.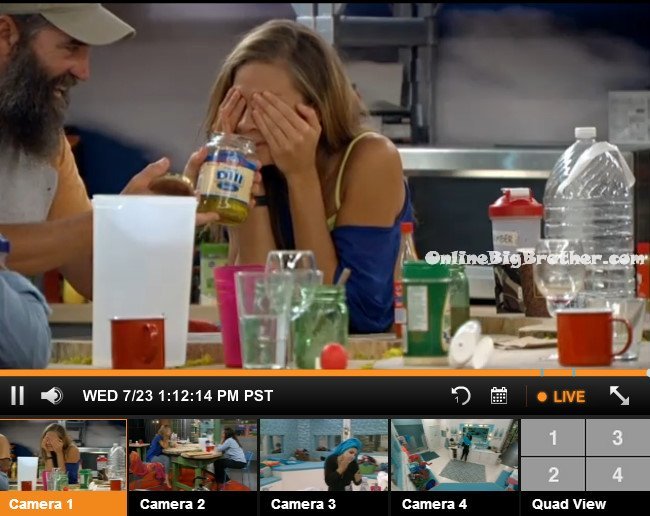 1:30pm In the bathroom – Donny, Amber, Jocasta and Victoria are chatting about random things like their favorite jobs. Amber says that her favorite job was in Charlotte a couple years ago. Donny says that he was there then too. I probably flirted with you. Jocasta starts talking about her bow ties and how lots of people ask her about them and where to get them. Donny suggests she make them and sell them for charity. Jocasta says that's a good idea. They talk about how Victoria doesn't talk to them. Donny says that he understands because some people you just don't have anything in common with. Victoria joins them to go to the washroom and then leaves. Amber heads to bed.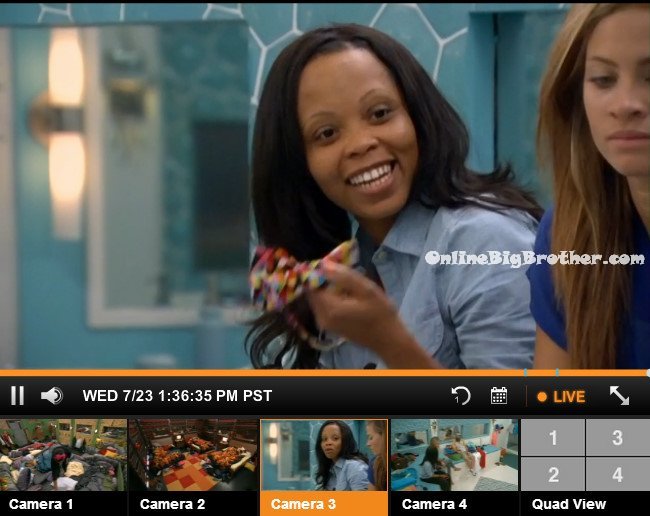 2pm – 2:15pm Victoria / Jocasta and Donny are the only house guests awake at the moment. Donny and Jocasta are in the bathroom talking. Jocasta talks to Donny about a jewellery store she worked at. She describes how her manager was a racist and didn't want her to work there. Jocasta says that she would treat it like she was an actress like you have to put on the best show ever every time someone came in to the store. Jocasta and Donny decide to do laps in the house. They start doing laps and Donny says I imagine this is going to be boring to watch. Hayden wakes up. Christine also wakes up.
2:20pm – 2:35pm The cameras quickly switch to the bee hive room where Jocasta is crying. The camera then switches back to the kitchen. Hayden asks Victoria if Brittany campaigned to her? Victoria says yes. Hayden asks what did she say? Victoria says I can't say. Donny joins them. Hayden tells Donny that he doesn't need to say goodbye. Did Brittany say her last goodbye? Donny says yeah out in the backyard. Hayden gets on the ground and acts like a dog. Victoria feeds Hayden like a dog and then says "Get up Hayden! You're freaking me out! I like human Hayden!" Hayden says I like human Victoria better too.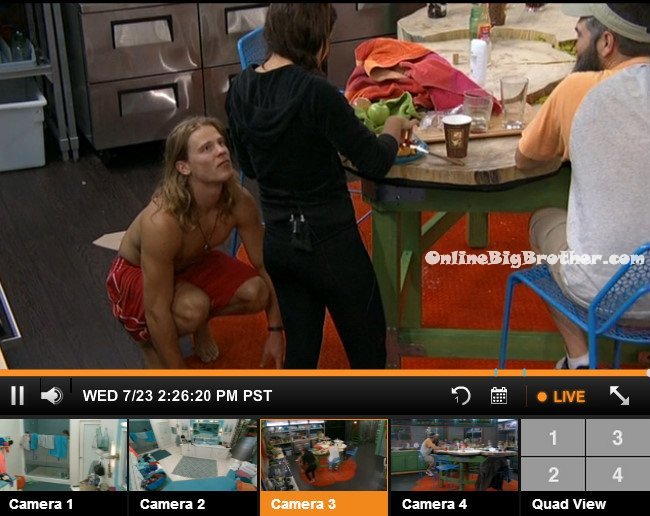 2:40pm Victoria grabs a watermelon from the storage room and brings it to the kitchen. Hayden says nice watermelons! Donny repeats him. Victoria says wow I am such a good watermelon selector! This watermelon looks so good!
2:45pm – 3pm Cody comes down from the HOH room and heads to the bathroom. He asks Christine if she would like to have a hammock date in the birds nest bed. Christine says that she would love that. He tells her to come grab him when she's ready. She says okay. Cody then joins Hayden, Victoria, Jocasta and Donny in the kitchen. Jocasta asks Hayden what his favorite job has been? Hayden says his 3 favorite have been the pedicab job, limo driver in Boston and track coach. Cody says his is the hosting job that he had before coming in here. Victoria says that her favorite job is the photography business she has right now. Derrick joins them. Jocasta asks Hayden what his worst job was? Hayden says working at a nursing home and having to watch people dying. That and the cigarette shop.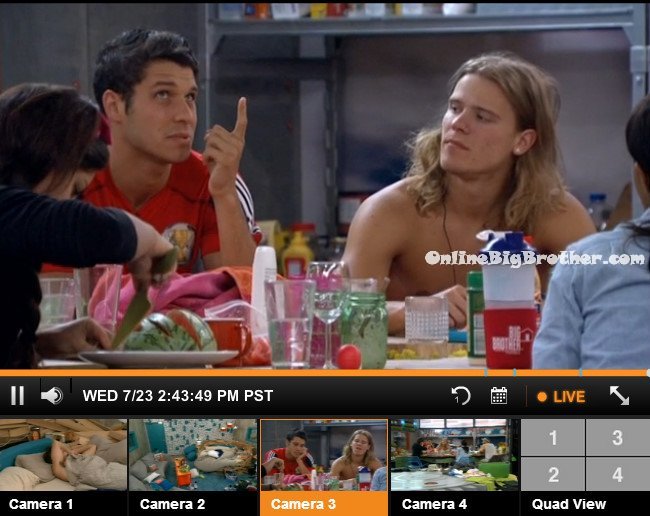 In the bathroom – Brittany talks to Nicole. Brittany tells Nicole I don't even want to talk game because I feel like no one wants to hear it. She says and I don't want to talk game either. Brittany tells Nicole that she is hearing that some people are starting to doubt her. I am offering to be put up as a pawn next week if I stay. I just don't know what to offer, and I'm not going to lie and promise something that I'm not going to do. I feel like I'm okay as long as people speak up about how they are voting. Nicole tells Brittany that she thinks her argument is good and doesn't need to change anything.
In the hive room – Hayden says that Brittany told him she wants Victoria and Zach out. Hayden says but obviously I am voting her out. Victoria asks why she's saying that? Hayden says because she's dumb! She doesn't know how to play the game. Hayden tells her not to worry about it. They hug and leave the room.
3pm – 3:10pm In the bathroom – Victoria tells Nicole that she's excited for Thursday to come.. Meanwhile in the kitchen the house guests are eating and talking about their most embarrassing moments. Nicole says hers was last night being drunk and says that's why she's slept most of the day away.
Alliances (Some Of these are dead)
Zankie = Frankie/Zach
Bomb squad = Caleb, Amber, Frankie, Derrick, Cody, Christine, Zach, Hayden
Team America = Donny, Derrick, Frankie
Nicotine = Christine/Nicole
Not a showmance= Hayden/Nicole
Los Tres Amigos = Derrick, Cody, Zach
The bottom Feeders = Derrick/Nicole
We hate Devin = Christine and Zach
Outsiders = Brittany, Victoria, Jocasta, Donny
Old timers = Jocasta/Donny
Stalker = Caleb/Amber
Quad Kings = Derrick, Zach, Cody and Hayden (still being built)
Trilogy = Nicole, Christine & Hayden
The Detonators = Derrick, Frankie, Zach, Christine, Cody
Final 2 Deal "The HITMEN" – Cody & Derrick
More polls here https://www.onlinebigbrother.com/big-brother-compendium/big-brother-16-polls/
[polldaddy poll=8198814]
[polldaddy poll=8194643]