POV Holder:
Shane
Next POV:
July 13 (Friday)
POV Used
?
POV Ceremony
July ???
HOH Winner:
Willie
Next HOH:
July 19 (Thurs)
Original Nominations:
??? and ???
Current Nominations:
Frank and Kara
Have Nots /Slop
Danielle, Shane, Ashley
Coach Competition Winner
Boogie, Ian is safe
Watch the Big Brother Live Feeds on your mobile phone Try it FREE for 3 Days!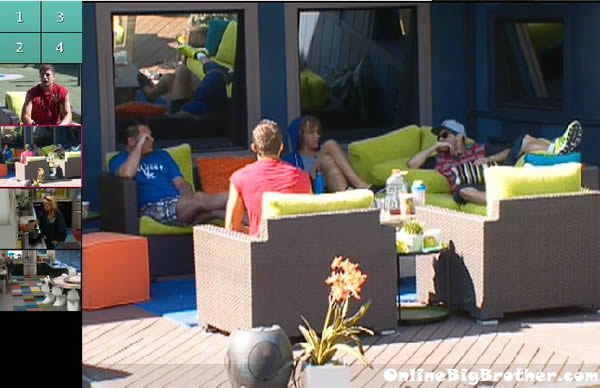 9:30am Mike, Frank, Joe and Shane talk about how lazy the girls are in the house. Mike and Frank start going off about how lazy Danielle is, how she doesn't clean at all. Frank says that she thinks because she is a have-not she feels like she doesn't have to clean up after herself. Mike says I don't even understand why Danielle was picked… like what is her role. Joe says the southern bell … some people just interview really well and then nothing when they get the job. Mike comments on how she knows a lot about medical things. Mike says then yesterday Ashley said what medication she was taking and Danielle asked how many milligrams. He says that there is no way she knows that medication … I think she is a nurse or something.
The conversation changes to talking about Ian and how his motivation is to get his name on Wikipedia. Mike says that he is the coach that wants to grab the player by the helmet. They bring up how Ian goes into the bathroom every time the girls are having a shower and the girls are getting annoyed. Shane says that if Ian keeps doing it he is going to have to say something to him. Frank mentions that after the POV competition when the players were all sudsy …he was the first one in the shower and he didn't even play. They talk about how Ian just doesn't realize what he does some times.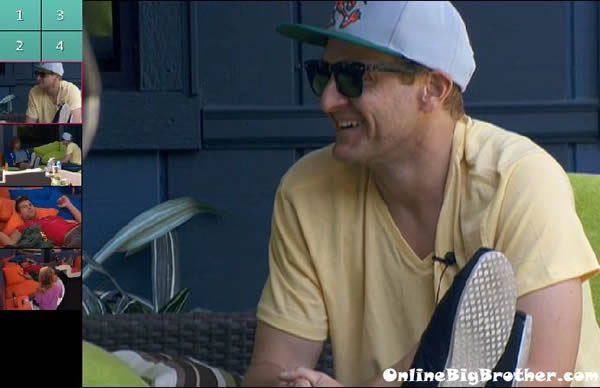 9:40am
Frank and Mike are alone out in the backyard. Frank says that he put in some quality time with Janelle. Frank says that Janelle told him that she felt like a fool … how you clowned everyone in big brother 7. Frank tells Mike that he told Janelle that he wanted to separate himself from him. Mike asks you said that. Mike says it would be real good for you to infiltrate some of their meetings. Mike says if you could get in there you could keep the heat off Jenn. Mike says that Ian is pissing people off and I don't know if I can get the kid where he needs to be.. I'll try but I dunno. Frank says our ace in the hole will be the couches competitions… Frank says that Janelle even brings up the whole trading thing …like she wants to trade for me later on. Frank says he told Janelle that she reminds him of his momma. Mike laughs .. she's like five years older than you but whatever. Mike tells Frank that people like him and that over the next five days he needs to just strengthen those relationships. Mike says that once Kara is out ..Dan only has one player so you can virtually count him out. Mike says that despite how things worked out in our season ..Janelle and I worked together .. so she knows she can trust me if we get down like that… so maybe I need to spend a little time like that too. We had a good hidden alliance back then.
10am Joe joins then in the backyard. Mike asks Joe if he has decided which way he is voting. Joe says Frank. Joe comments on how yesterday Kara walked out and said she didn't want to talk about it. Joe says he wants people here that deserve to be here. Frank says people can ask me anything ..I am open and honest, I'm an open book. Mike says Kara is not an open book. Frank says yeah she has a chastity lock on that. They comment how Kara is the popular girl that isn't popular in the house. Joe tells Mike and Frank that Kara was a Playmate of the Year. Mike asks how do you know that? Joe says that Janelle told him. Joe says that a playmates of the year get $200 Grand for doing that.. Mike says you know what's funny she told me she lives with 4 girls on the border of west wood and Hollywood… and that is where the Playboy mansion is… Mike says that makes a lot of sense …she is indifferent about being here …she's living at the Playboy mansion and she comes here and is told she can't have a beer. Mike says that's my neighbourhood … doctors and lawyers live there ..not 4 girls living in a house. (Big Brother cuts the live feeds to wake up the other house guests.)
Superpass Live Feeds: 3 Day Trial!
All the house guests are up and getting ready for the day and making breakfast. Joe, Jojo, Ashley, Willie and Mike are out on the backyard couches talking about random stuff.
10:50am In the storage room, Mike confronts Ian about how the girls are getting creeped out about him lurking in the bathroom while they are showering. Ian says oh no I didn't even know I was doing that?! With who? Mike tells him not to get defensive and that this can be a positive thing. Mike tells Ian to go and privately talk to each of the girls and mention that he likes to be social and is just so happy to be in the house. Ian looks super uncomfortable and embarrassed. Mike tells him again not to get defensive ..that he is just telling him how it is.. Turn it into a positive. They both then leave the storage room.
Watch the first few days of Big Brother 14 for FREE: 3 Day Trial!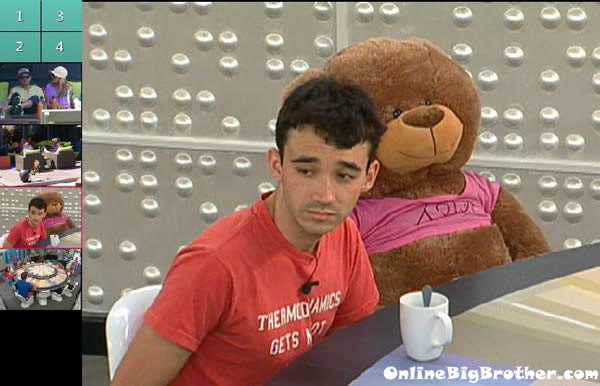 11am – 11:10am Ian tells Jojo in the bathroom while she is changing that he was told that some girls are getting uncomfortable with him being in the bathroom. Jojo asks oh really, who? Ian says that he doesn't know he was just told that. She says it doesn't bother her .. that coming in here you have to expect that. Ian tells her that the first night Jodi walked in on him in the bathroom. Jojo asks oh really?! Ian then leaves to go get in the hot tub.
Share it YO!!
Tweet