POV Holder:
Frank
Next POV:
Aug 18 (Saturday)
POV Used
Yes
POV Ceremony
Aug 20 (Monday)
HOH Winner:
Shane
Next HOH:
Aug 23 (Thursday)
Original Nominations:
Boogie And Frank
Current Nominations:
Boogie And Jenn
Have Nots
No Have Nots This Week
Last Evicted Houseguest
Wil
HOH temptations
Britney Safe this week, Boogie gets 10grand
7:30am Boogie wakes up and lays on the living room couch. 8am Frank wakes up and then head into the arcade room to talk. Frank says that he can't give up all hope. Boogie talks about how he has been practicing his speech all morning. They wonder about if Joe was serious about telling them who he's voting for ten minutes prior to the live show. They discuss what they can say to sway his vote at the lasrt minute. Frank says that as much of a f**king baffoon Joe is, he is an emotional guy. Boogie says that he is a family man; he is so will bring up family. They talk about using the fact that he is family man to try and get him to vote to keep Boogie. Boogie says that if it doesn't work, we've done all we can do. Frank talks about Ashley saying that she is a f**king soldier. Frank says that boogie choose wisely to get her on his side.
Big Brother Live Feeds FREE 3 Day TRIAL: Watch the last month for ONLY $14.99!
8:30am – 9am Boogie relates the game to football for how what it will be like tossing the ball to Ian or Ashley and them not being able to catch the ball. He says they are like Edward Scissor Hands trying to catch that ball. Boogie asks Frank how much he got to practice the game in the backyard. Frank says that Ashley told him that everyone was Eagle Eyeing me when I was practicing for game in the backyard last night. Frank says that Ashley was pretty good at it too. He says that Britney and Dan aren't very good at those competitions. Boogie tells Frank to rake them over the coals if he win this HOH, even the people that you want to work with going forward. They talk about how it will be bigger for the visual aspect of the show. Frank says what would be great is if we got a 6-3 vote if Joe and Dan changed their vote, it would separate them. Boogie comments that Ian is all about acting like he knows all about the competitions but this isn't about chemical engineering. Frank thinks Ian will be good at the memory chip one. Franks says Ian will be good at the before & after one. Frank says that Jenn came in after practicing last night saying that she's got this!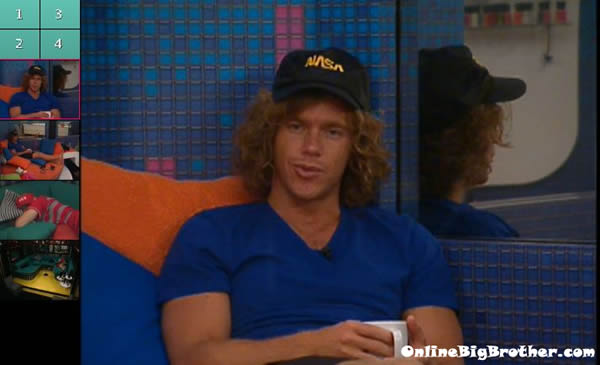 9am – 9:30am Frank is in the bathroom talking to the camera about how they are staring down adversity right now. Frank talks about how Boogie is a good guy and that he loves this game. He says that he hopes he and Mike are getting some love out there. Frank says that he has to hold out hope, Joe might change his mind. Frank says that he loves Ian and Ashley but their track records aren't good. Frank says that he has been in situations like this before and that he can pull it off again. He says you would be surprised how many people you can get on your side when you win HOH. I would love to win this HOH, but even more I want Ian or Ashley to win, especially Ashley. Frank says that it breaks his heart that he couldn't get Mike to stay, well he still might but its not looking good. Frank goes over the events of the week and how hard its been. He says Shane jerked us along and how he didn't have to add insult to injury. It shows bad character to do that to people. Frank says that now he will make it to jury and make sure he is campaigning against some of these people on the regular. He says that he and Boogie are getting penalized for playing a clean game.
Frank says Boogie and I should have known Shane would go against his word. He is not a man of his word. He isn't really a man he is just a boy, and a boy who got duped which is worse. Frank says that Shane hasn't even watched a whole season of this show; being a fan of this show it just breaks my heart to see him here instead of real fans of the show. Frank says that Dan is so jealous of mine and Mike's relationship that he can't stand it. Frank says that Dan is afraid of me, he knows I'm better at this game than he is, I am better at the competitions and he has to work so hard to develop bonds with these people, these long, long conversations. Frank says that I bond easier with people.


9:40am – 10:25am Big Brother wakes up the house guests. Dan is up and in the arcade room by himself. Shane joins him. Frank and Boogie are in the kitchen eating breakfast. Big Brother then tells them to report to the head of household room.Everyone heads up to the HOH room and finds a place to lay down. No one is talking..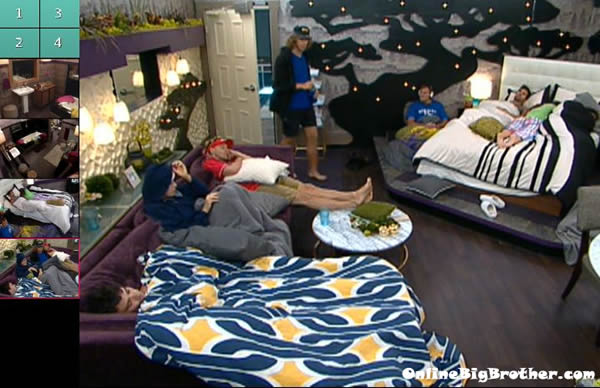 10:25am TRIVIA..
11am STILL TRIVIA..
11:35am Trivia Continues..
12:35pm MORE TRIVIA..
12:55pm – 1:05pm The Live Feeds come back from TRIVIA. Shane, Danielle, Ashley, Frank, Ian and Dan are in the kitchen making lunch. Jenn is in the stereo room packing her bag. Joe comes in to the room and tells her says she doesn't have to pack. They both laugh. Joe heads to the bathroom to get ready for the live show. Ian and Frank head to the storage room and have a short conversation. Frank tells Ian not to give up hope that there are still a couple Hail Mary's that might save them. Ian says that he is holding out hope. Frank tells him not to get down and to hold out for it because otherwise they ain't got nothing.