POV Holder:
?
Next POV:
July 14 (Friday)
POV Used
?
POV Ceremony
July ??? (Mon)
HOH Winner:
Willie
Next HOH:
July 19 (Thurs)
Original Nominations:
??? and ???
Current Nominations:
Frank and Kara
Have Nots /Slop
Ian, Ashley
Coach Competition Winner
Boogie
7:25am Ashley and Willie wake up in the HOH bed and she asks him if he can get her an ice pack for her back. Willie goes down to the storage room and grabs one for her. While he is gone she lays out on the HOH bed and rubs cream on her lower back. When he comes back she thanks him for the ice pack. Willie asks her how her back is and she says its better. She asks him what time it is and he says early, let's go back to sleep. Willie says he needs to go back to because he has to compete today.
Watch the first few days of Big Brother 14 for FREE: 3 Day Trial!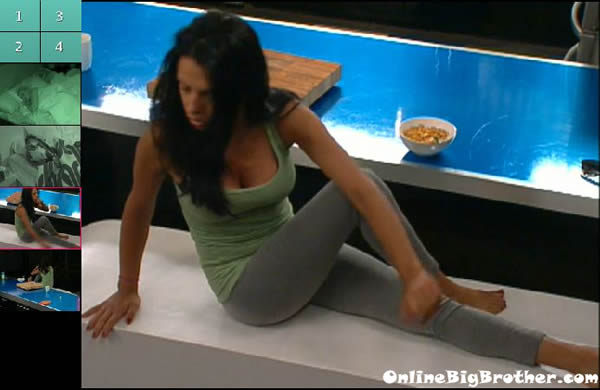 7:55am Jojo is up and in the kitchen eating breakfast. After she finishes eating she does the dishes. Shane joins her in the kitchen and complains about having to sleep in the have-not room. He says he feels like he's an old man. Jojo says she feels gross having to sleeping next to Boogie. Shane comment that he hopes the POV competition is early. Jojo says that she hope she gets to be involved. Shane says you're the host, you'll be involved. Jojo says yeah I just hope that I get to do more than sit there. Boogie joins them in the kitchen. They all wish they could go out into the backyard. They comment on how they can hear them working on setting up the POV competition.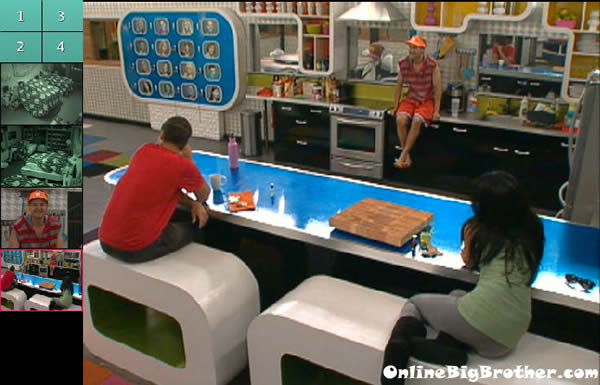 Sign-up for the Big Brother Live Feeds and get the MOBILE Feeds for FREE!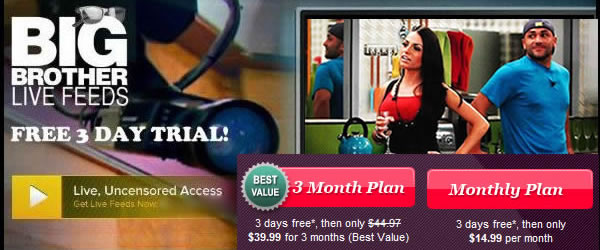 8:20am – 8:50am
Big Brother wakes up the house guests for the day. Joe, Wil, Jojo, Boogie and Ian are sitting at the kitchen table talking about last night. Ashley slowly makes it down the stairs. Wil goes over to help her down. She says that she needs to go to the diary room to do some damage control to make sure she doesn't get in trouble for sleeping in the HOH bed. Meanwhile, in the kicks room Frank, Shane, and Jenn talk about having a horrible sleep. They talk about how messed up Ashley is and how if she was on the block she wouldn't even be able to compete. Back in the kitchen most of the house guests gather around the table and talk about random stuff. They talk about how they think the POV will be around noon today.
9am Shane, Kara, Joe, Frank, Ian, Wil, Boogie and Jenn are all gathered around the kitchen table waking up and talking about random stuff. Joe talks about how he may just wake up his kids by blasting music because his it takes 4 times to wake up his son.
In the bathroom, Jojo is getting ready for the day. Britney gets a bowl of ceral and joins her in the bathroom on the couch. Kara comes into the bathroom and asks Jojo if she is ready to host the competition. Jojo says she's nervous. Kara reassures her that she'll be great and that she shouldn't be nervous.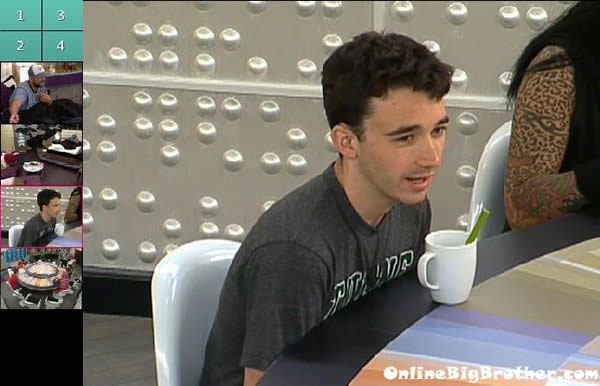 9:20am – 9:25am – 9:40am Britney and Willie are up in the HOH room talking about who to get rid of this week. Willie continues to talk about getting rid of Kara over Frank. Britney tells him that if we are getting rid of Kara this week you can tell them that if they want Frank out they can get him out next week. Britney tells Willie that he is trusting a lot of people to vote that way. Britney tells him that he needs to figure out what is more important to him… either one week of safety from Frank or cohesion of our alliance. Willie says that he thinks Frank will take care of me for a while. They keep going back and forth again about who to vote out. Britney talks about how Dan is being honest with us and spilling his guts to us, he told us that Boogie called him before coming here to be in an alliance with him. Willie says that Frank knows that he is on a ship that's sinking. Britney says Boogie is telling him what to do. Willie says that it doesn't matter, in a perfect world Frank wins the Power of Veto and then we get out Kara and then Wil. Janelle joins then in the HOH room. They talk about how messed up Ashley is and how she is still in the diary room. Janelle says that Ashley is so sweet, she is the one that volunteered for me to make her a have-not. Britney asks what they should say to Dan today. Janelle says just ask if he is down with getting Kara out. Britney talks about wanting to get Ian out before week 4 because he will win every single mental challenge.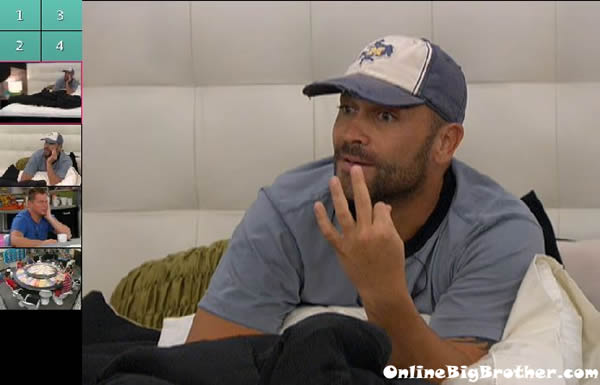 9:50am Britney says when do you think we will start knocking off these losers. Janelle laughs and asks like who? Britney says the people that the coaches don't care about. Janelle ask which coach would you like to see go home first. Britney and Willie say Dan because he has a better social game. Britney starts making fun of Willie and then does an imitation of him smoking. Willie then starts making fun of Joe saying that he doesn't think he is a real chef. Willie says that he is a decent chef but be burnt corn the other day.
Superpass Live Feeds: 3 Day Trial!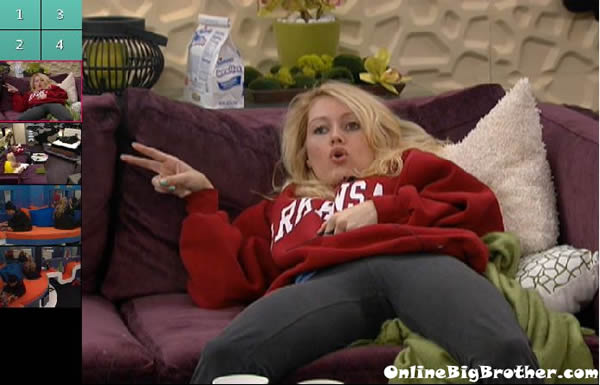 Share it YO!!
Tweet