POV Holder:
Donny
Next POV
July 4th
POV Used
?
POV Ceremony
?
HOH Winner Team 1:
Frankie
HOH Winner Team 2:
Caleb (current HOH)
Battle of the Block Winner
Brittany, Victoria
Next HOH/ Next BOB
?
Original Nominations:
Caleb noms (Donny, Paola) Frankie noms (Brittany, Victoria)
Current Nominations:
?
Have Nots
Cody, Hayden, Joey, Brittany
POV Players
Donny, Paola, Cody, Zach, Caleb, Victoria (HOST = Jocasta)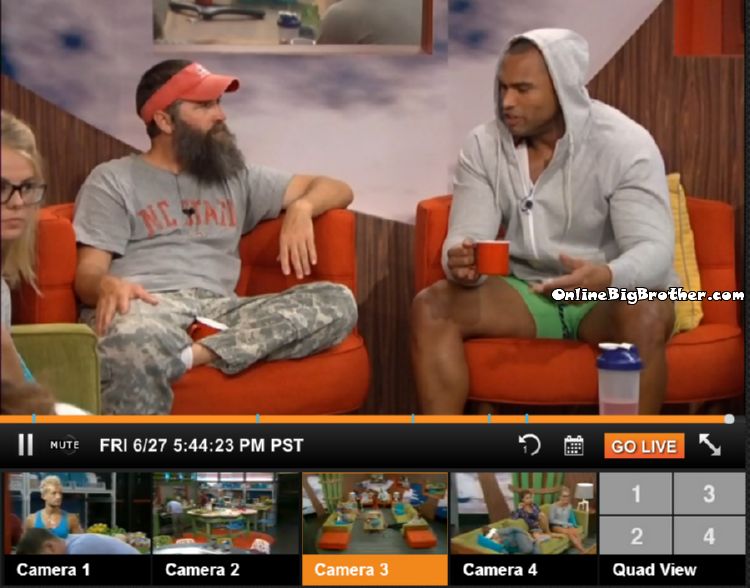 5:44pm Devin and Donny (Not sure what substance he was in rehab for)
Devin shares the reason he stopped playing baseball . Something about "Fall off the wagon" And going into Rehab. He mentions having extreme anxiety and at one point the team pulled him into a small room and demanded he went home check himself into a facility and get help.
Devin says he wasn't ready to check himself in at first.. "Too me about a week" finally he went into Rehab willingly, "Did the whole program bought into it bought into the guided medication.
Devin – "the last week I was in there the Cardinals called me a released me from my contract.. Ii operated independently a couple years after that"
Says part of the program was to spend 90 days in a men's facility "You could hear them detoxing from heroin.. at this time i'm 21.. 22.. and these were grown men" Explains they had a curfew and at that time he didn't have a car so he rode his bike everywhere, Devin adds the meditation helps him relax and be mellow it really works for him.
Donny appreciates Devin opening up to him they agree to do some medication but not tonight they are too exhausted.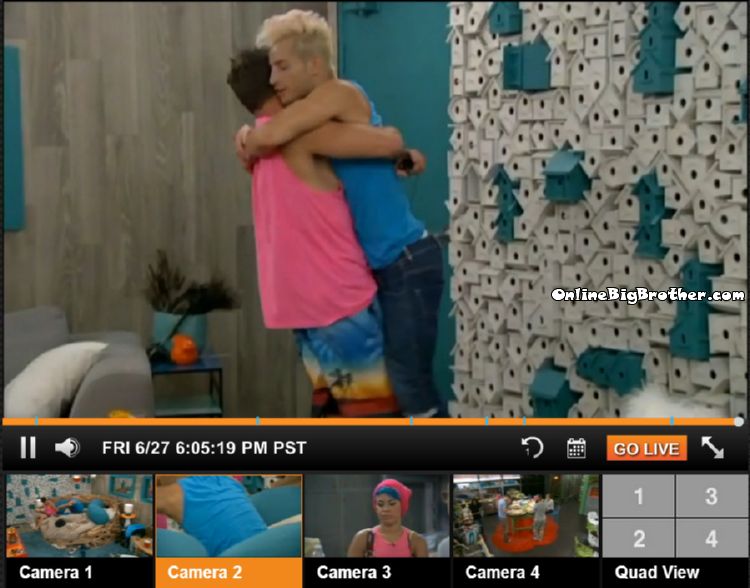 6:00pm HOH Zach and Frankie
Zach says POW POW isn't very smart he's certain she will implode. Frankie is shocked she hasn't imploded already.
Frankie says Donny is a real threat right now but he won the POV. They agree POW POW is not a Threat. They joke about her struggling to spell "Calculator".
Zach – "I think Donny will put up Caleb if he wins HOH" Zach mentions his secret fake alliance with Cody and Derrick and how Cody does not like Devin.
Zach goes over their divide and conquer plan. They each have a side alliance with two people they ride the 8 person alliance until the other side is gone. After that they use their side alliances to remove the other players in the game leaving just Zach and Frankie.
Zach – "We're like Memphis and Dan I have complete trust in you"
Zach – "we're going to glide to the final 4.. when we get there we don't have to scheme because we talked about this week one"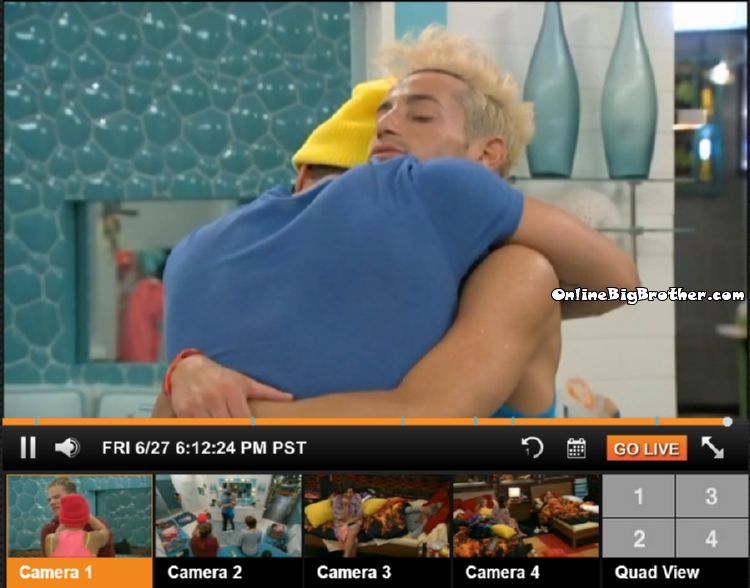 6:09pm Frankie and Cody
Cody is a bit worried about how close Caleb and Devin are, everytime Cody see Devin Caleb is there. Frankie says he has nothing to worry about " I swear to god.. If there was something to worry about I would tell you.. I sleep in the same bed as the man.. I don't hear every conversation but.. it's too stupid for anyone to make a move on us.. you blow everything.. everything… cause whoever goes on the block blow it up" (Cody, Frankie and Caleb are in a 8 person alliance if Caleb puts any of those 7 up they will tell the house about it. Cody says he trusts Caleb a lot. Frankie tells him to keep his cool and just do what the house wants this week.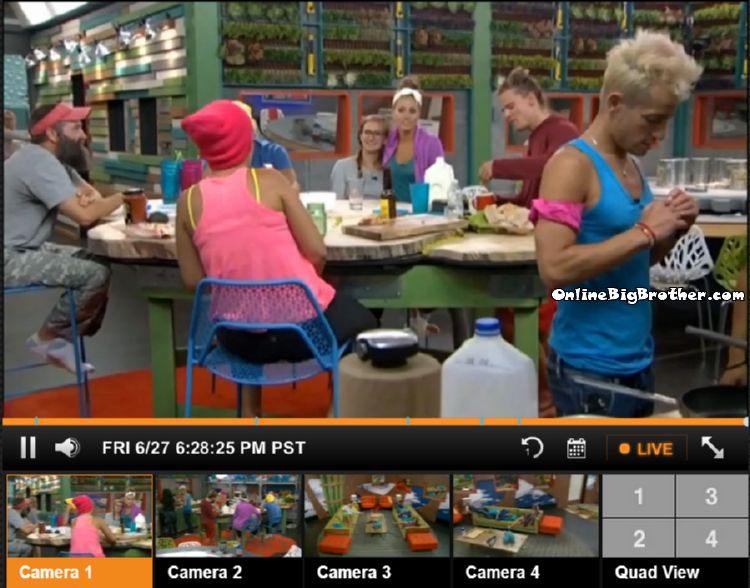 6:30pm Random chit chat and mulling around.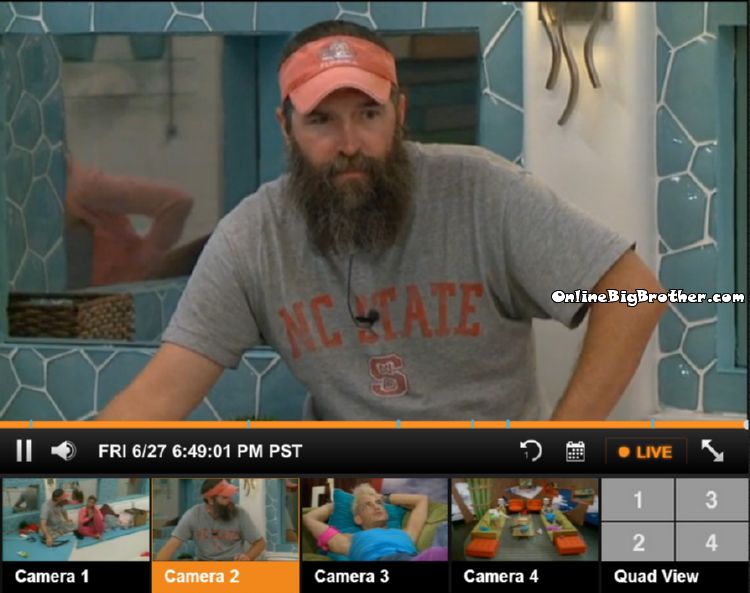 6:49pm Bathroom Donny and POW POW 
Doing is giving her advice on how to play the game  "Don't get under nobodies skin.. be hunky dory happy happy happy.. Don't over play it no more.." He tells her she was showing herself as a strong player by "remembering stuff, beating people in chess" POW POW says she's the weakest player. POW POW wonders who is going up as the replacement nominee. Donny – "Don't talk about that.. Be happy and chill the more you talk the more they tell thats the way it goes"
POW POW – "thats true"
Donny – "just be happy low key low key, don't act sad or depressed stay around people all the time.. people's got to vote they could vote you to stay.. make friends individual friends not group friends."
POW POW lists her friend off as Brittany, Jocasta and Amber. Donny – "you need to win over some guys.. you don't hang out with guys" POW POW says she hangs out with Hayden and Derrick
Donny – "Derrick? there's a guy named Derrick.." (LOL)
Donny gets up " I just found something in my mouth.. it's slop I thought it was rice"
Big Brother 16 Live Feeds Subscriptions, if you don't have them yet what are you waiting for! Free 2 day trial  Try It Free! Subscribe now to the official BB16 Live Feeds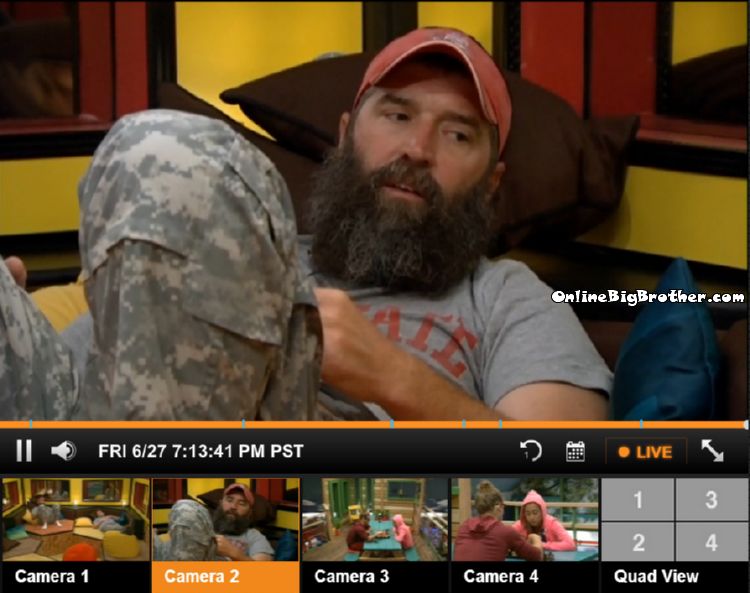 7:14pm Lounge Derrick and Donny
Derrick telling him about being a grounds supervisor says his home town has a really good police department. Donny says it's crazy how they are both in the same line of work, Donny is a groundskeeper and Derrick is in more a management roll. Donny brings up killer bees coming up from texas.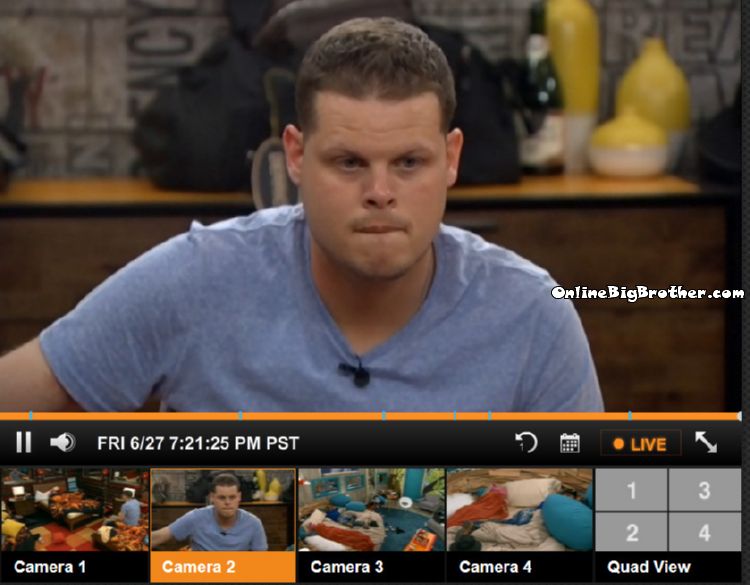 7:20pm Fire room Derrick and Amber
Derrick thinks Joey, Jocasta or Nicole all have a good chance of going up. Amber brings up if Joey wins HOH she might put them up. Derrick agrees asks her if Caleb is putting Joey up. Amber isn't sure.
Derrick mentions Amber having a showmance/friendships with Caleb  "He likes you and he values your opinion"
Amber nodes. Derrick says Caleb is a straight up dude he's going to stick with the plan for the 'Bomb Squad" to make it to the end. .
Derrick says Caleb only has four people he can put up otherwise he's turning on the alliance, Nicole, Hayden, Joey, Jacosta. He asks her out of those four who would it be. Amber thinks maybe Joey.
Amber says she was excited when Donny won the POV adds POW POW is close to her "She's been attached to me since day one" Amber also told POW POW she wouldn't vote her out this week so she doesn't want to go back on her word. Amber's main worry is that theres an alliance out there she doesn't know about. Derrick says if Caleb puts Hayden or Nicole up they may not have the votes to keep POW POW but if he puts Joey up they do. Amber doesn't think Hayden's head is in the game right now. Derrick – "He's kinda floating along" They agree Caleb is talking Game all the time he needs to slow down. She asks him out of the four (Nicole, Hayden, Joey, Jacosta) who would he send home. Derrick says Jocasta isn't really in the game, same with Nicole, Hayden is having a fun time. Derrick thinks they have a very good reason to put up Joey.
Derrick – "Donny pulled it off because Devin wanted him gone"
Amber – "Devin did but not Caleb"
Amber says Brittany told Caleb to put Devin up.
Alliances 
Alliances:
#TheCrazy8s = Frankie, Donny, Joey, Paola, Devin, Amber, Nicole, Cody
#El Cuatro = Paola, Amber, Joey, Nicole
#Double Ds = Devin, Donny
Bomb Squad = Frankie, Caleb, Devin, Cody, Derrick, Zach, Amber, Christine
Bed buddies = Nicole, Christine
Final 2 Deal = Frankie, Zach
[polldaddy poll=8136415]