POV Holder:
Donny
Next POV
July 4th
POV Used
?
POV Ceremony
?
HOH Winner Team 1:
Frankie
HOH Winner Team 2:
Caleb
Battle of the Block Winner
Brittany, Victoria
Next HOH/ Next BOB
?
Original Nominations:
Caleb noms (Donny, Paola) Frankie noms (Brittany, Victoria)
Current Nominations:
?
Have Nots
Cody, Hayden, Joey, Brittany
POV Players
Donny, Paola, Cody, Zach, Caleb, Victoria (HOST = Jocasta)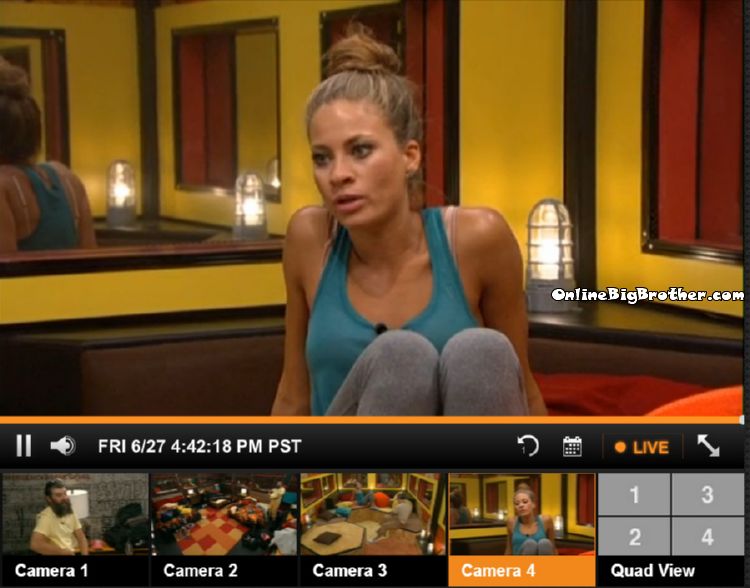 4:42pm Lounge Amber and Caleb
Caleb ask her if Donny had not won what would she have done.
Amber knows the guys wanted to send Donny home. Caleb thinks getting rid of Donny was the best decision. Amber – "You all think it's the best decision because you think he's someone different than what he appears". They point out Donny won the POV and it was a spelling one, Caleb thinks he's smarter and is hiding it. Amber wants to know what he's going to do now that Donny has the POV.
Caleb doesn't know asks her who she wants. Amber says if it's a guy he should put up Hayden, if it's a girl he should put up Joey. Amber brings up Joey trying to build a girls alliance early in the game. Amber is a bit worried Joey will put her up next week if she wins HOH. Caleb- "Because she's jealous" Amber says Caleb has a really good reason to put Joey up because she tried to make a girls alliance it's the better choice.
Amber — "Do you see where I'm coming from"
Caleb – "I sure do.. if it's POW POW and Joey you are voting out Joey, right?"
Amber – "right"
They agree POW POW is not a threat in the game. Amber – "The only people she trusts are me and Jocasta" Caleb mentions how poor POW POW has done in the competitions. He doesn't see her as a competition or Social threat. Amber wants him to know she will stand by whatever decision the head of household makes.
Caleb – "I'm going to go with a house vote… Someone today told me to put Devin up.. ya right.. I'm not stupid I'm not going to put him up"
Caleb says Brittany likes all the girls in the house and is trying to him to put up Devin, Brittany doesn't care for Devin anymore.
Frankie joins them, They start talking about Devin arguing with Christine last night and Cody the night before. Amber leaves. Frankie – "Brittany wants to play" they discuss how Brittany wants Devin gone.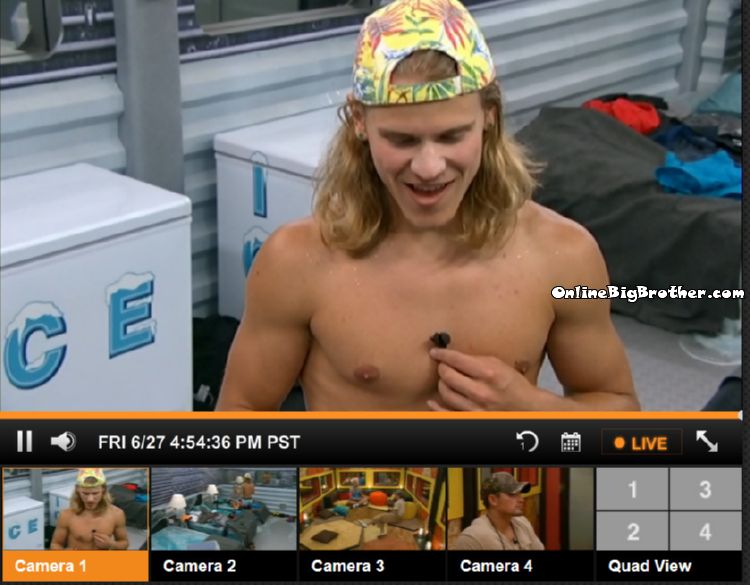 4:55pm CAm 1 Hayden and Nicole
Hayden thinks Joey is going up. Nicole says if she goes up against POW POW she's confident the votes will be on her side. hayden doesn't think she should worry about it. She starts going through the votes. She's worried about Victoria because she's so easily manipulated. She is are worried Caleb will be able to control her vote.
Big Brother 16 Live Feeds Subscriptions, if you don't have them yet what are you waiting for! Free 2 day trial  Try It Free! Subscribe now to the official BB16 Live Feeds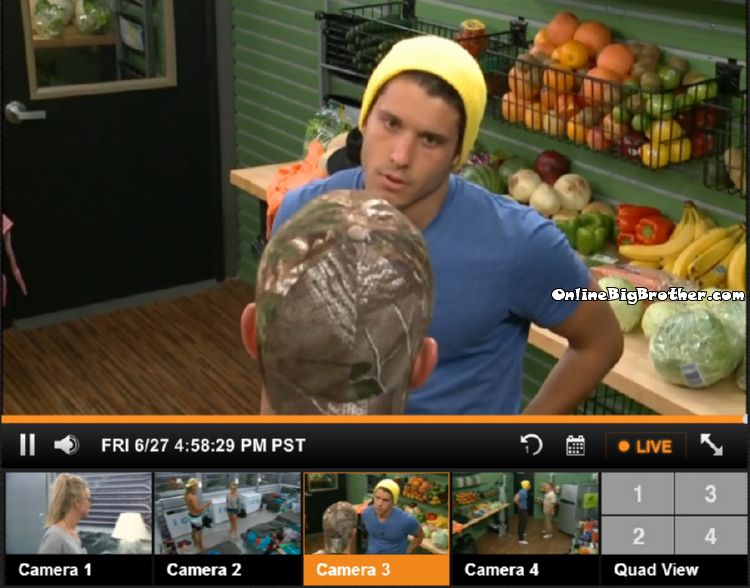 4:58pm Caleb and Cody
Caleb says he's putting up Joey. He's trying to convince the house that it's their decision to send her home. He's adamant Joey will go home.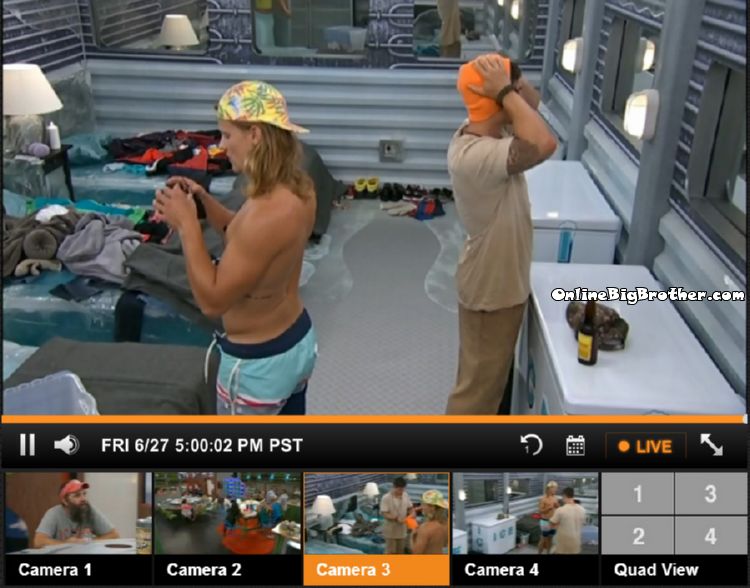 5:00pm Caleb and Hayden
Caleb asks Hayden who should go up "I have to pick somebody"
Caleb – "I'm just going with house vote I don't know"
Hayden is having trouble finding out who to trust and who not to trust. There a few people that don't rub him the right way but nothing major. Caleb feels the same way.
Caleb – "The majority of this house doesn't want you to leave.. There was one person that brought up putting Hayden up with POW POW because no one will vote Hayden out"
Caleb says he's been hearing a lot of people wanting Joey out because she tried to start the girls alliance and "Who knows might still have girl alliance"
Hayden – "I think if you put up Joey she will go home"
Caleb agrees says he has  good reason to put her up.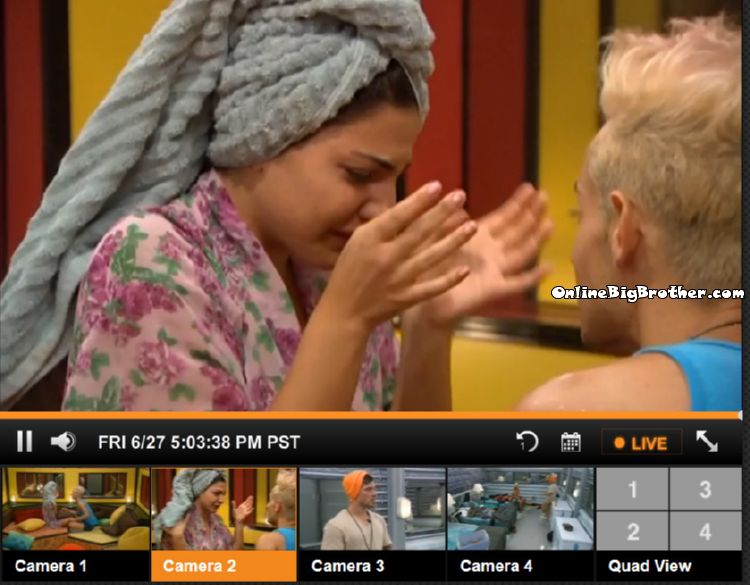 5:04pm Lounge Victoria and Frankie
Crying about people thinking she's ugly. When she was young she had long hair but as she got older it started to fall out. This is why she wears hair extensions.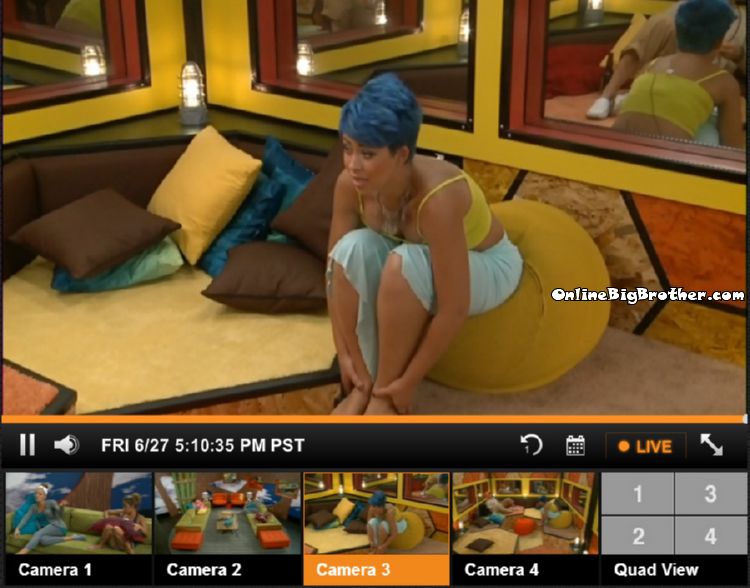 5:10pm Lounge Joey and Caleb
Caleb says whoever is going up is a house decision he's asking everyone in the house and the person with the most votes to go up will go up. Joey says she understands calls it a democracy.
Caleb – "I've talked to Brittany , Amber.. everyone.. right now it's not about the biggest threat"
Joey – "Ya someone has to go home"
Caleb – "Just prepare yourself that is all I have to say" Caleb thinks she made a mistake telling everyone about the girls alliance that collapsed earlier in the week.
He gets the point across that he "It's a house decision" Joey hugs him and says if it goes down with her going up she will not hold it against him.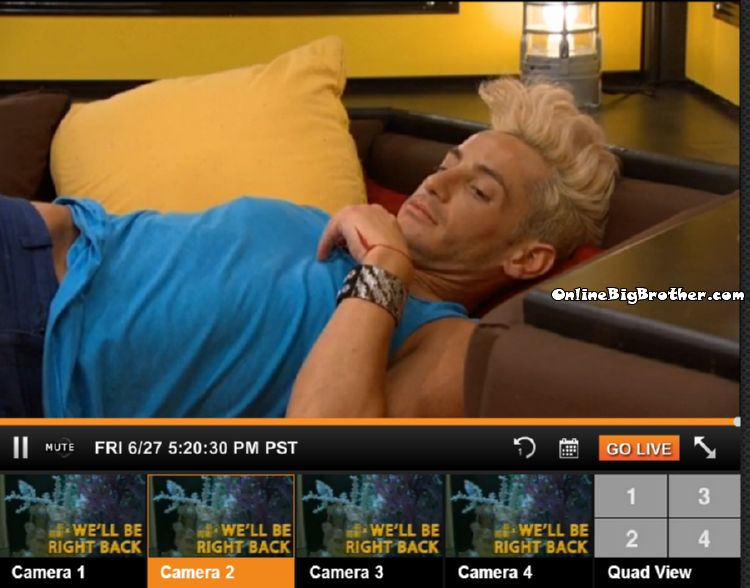 5:20pm Lounge Frankie and Caleb
Caleb says he's going to tell Amber he likes her tonight.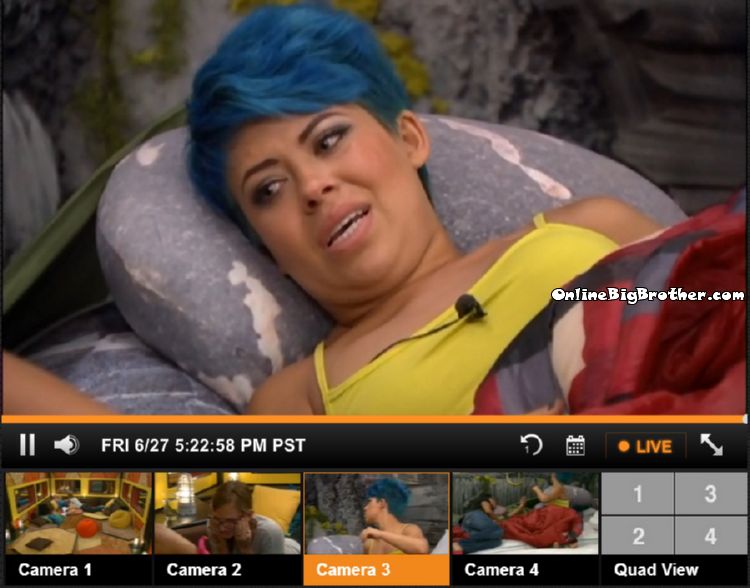 5:25pm Jocasta and Joey
Joey crying says she made a big mistake early in the game and now she's thinking she's going up.They start talking about missing their family. Joey wouldn't be able to be on the show if she had children. Jocasta hint that her family is having tough financial times and you have to take a opportunity if it presents itself.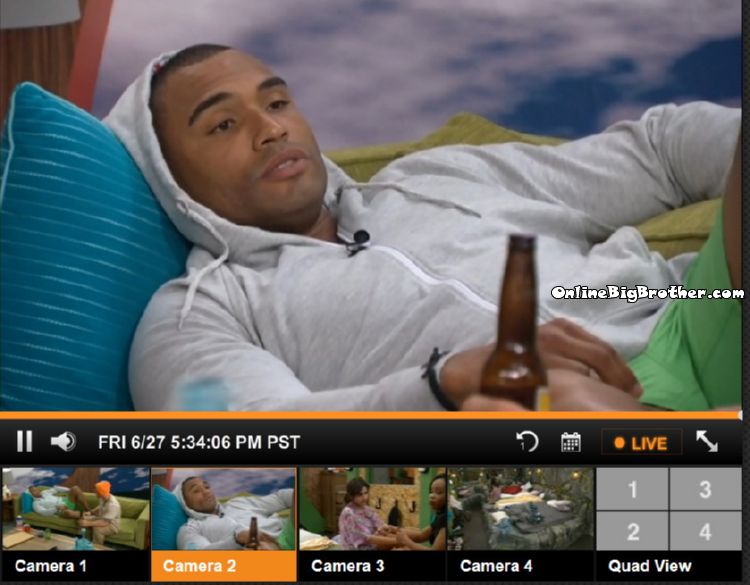 5:34pm Devin and Caleb
Devin – "hey man what you thinking.. what you thinkin man" Caleb says he's trying to make everyone think it's a house vote BUT  "By the end of the day it's whatever the me and my alliance wants"
Caleb – "I've hear a lot of POW POW's and a lot of Joey's " Devin thinks Joey should be the one going home.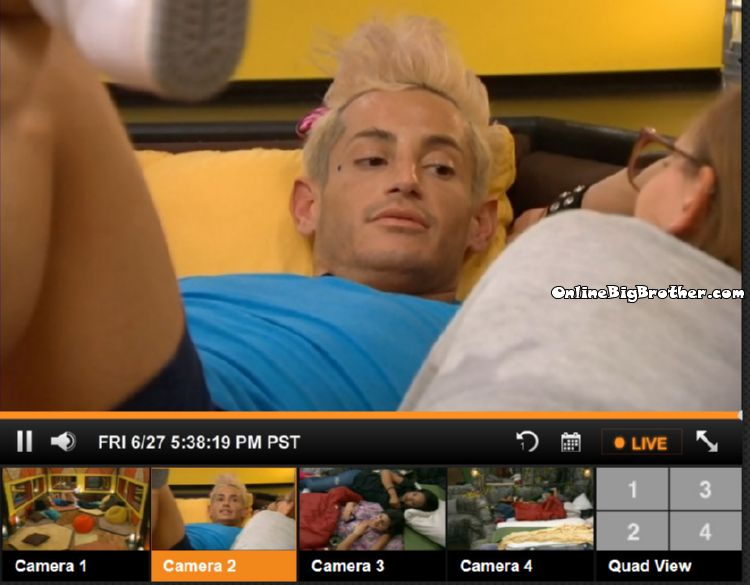 5:38pm Frankie Tells Christine the plan is to Backd**r Joey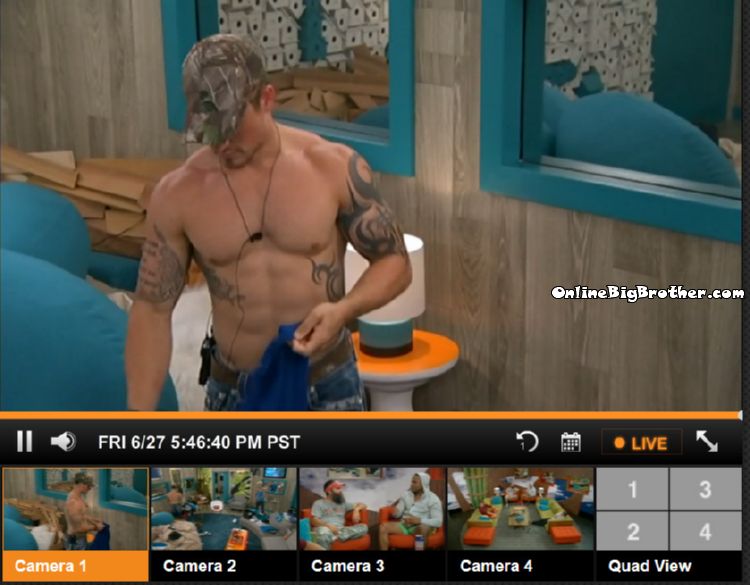 5:46pm Caleb and Frankie
Caleb getting ready to tell Amber he likes her. He's going over what we'll say to her. They agree telling Joey she's going to be the replacement nominee before the POV Ceremony is the best course of action.
[polldaddy poll=8136415]