POV Holder:
Jessie
Next POV
Aug 10th
POV Used
?
POV Ceremony
Aug 5th
HOH Winner:
GM
Next HOH:
Aug 8th
MVP:
AMERICA
Original Nominations:
Candice, Jessie and Amanda (MVP Nom)
Current Nominations:
Last Evicted Houseguest
David, Nick, Jeremy, Kaitlin, Howard
Have Nots
no have nots this week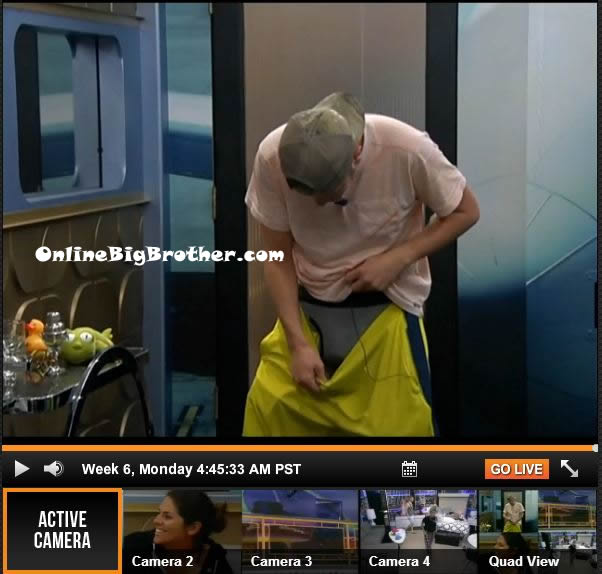 1:50am In the lounge room – Amanda and McCrae are talking. Judd joins them. He lifts up his shirt and starts humping the air. Amanda says eww I see your pen!s outline! Eww what are those bumps on it?! Judd then investigates. Amanda asks do you have genital warts? McCrae tells him to stop, I don't want to look at it anymore. Amanda asks so who's sleeping with Judd tonight? Do you want me to sleep with you tonight? Judd says I'm sleeping with Jessie. Amanda asks are you? Judd says yeah. McCrae says you sleep with Judd and I'll sleep with Jessie. Amanda says yeah. McCrae asks what's the word, nothing new? Judd says no. Gina joins them to say goodnight. Gina leaves. Amanda says Elissa told us what their conversation in here was about. Jessie was complaining about you (Judd) sleeping with Aaryn. That's what the entire conversation was about. Judd asks so we need to separate. McCrae says I don't care what you do. Judd takes a sip of McCrae's water jug. McCrae gets annoyed because he doesn't like other people drinking from him jug. Andy joins them. Judd asks Andy if he thinks it matters if he sleeps with Jessie or not? Andy says no one pays attention to who sleeps in that room. Judd comments that Helen told him if he wants to separate from Jessie he can't be laying in the hammock with her and stuff, it's a two way street. Judd says why do I care what Helen thinks about where I sleep. Amanda asks why does she want to sleep with you so bad tonight. Judd says because she's seen this! (He humps the air) Amanda says she saw you warts? Judd then pulls down his shorts again to show the live feeders and says look no bumps. Judd then passes McCrae's water jug to Andy and says take a sip. Andy takes a big sip. McCrae says eww.. no don't do it! Stop. Judd says I just took a sip but Andy deep throated it! They speculate on who the MVP is. Judd thinks its Elissa. She's just stopped telling us she has it. Judd tells Amanda to stop having emotional outbursts. It's painting a target on your back. Amanda says okay. Andy says that he talks to Helen and comes back to relay information to you guys. Judd says we can't tell Elissa and Helen anything. Amanda says I know she isn't MVP.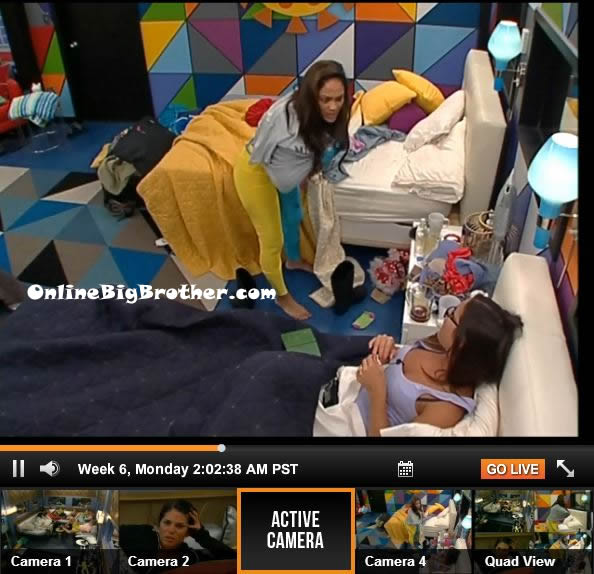 2:05am – 2:25am Candice and Jessie talk in the back bedroom. Candice wonders who keeps putting Amanda up? Candice thinks its McCrae because she keeps messing up his game. Jessie wonders if it both of them trying to mess with people. Candice says but not two weeks in a row. Jessie says Amanda needs to go. Candice says you saw what she did in the competition. She could do that with anyone. Jessie says well Elissa is 110% on board with us. Judd is 50/50. I don't even know where Helen's head is at, she was 100% this morning but now not at all. Candice wonders who will go up – Spencer or Aaryn. She says how do they keep Spencer here over me. He has f**ked all of us, I haven't f**K anyone. I was just trying to keep my friend here. Jessie says I want Amanda gone. Jessie it's okay just let me handle it. It's going to be Vegas or bust. It will be you or Amanda not Spencer. Elissa and I are the only ones working to keep you here. Candice heads into the diary room. Elissa joins Jessie. Elissa asks did you make out with him? Jessie smiles and says no but we kissed. He's sleeping with me tonight! We had a great conversation I explained what you and I had talked about but didn't say your name and laid it all out on the line for him. He said you're making a lot of sense right now Jessie. He said he is going to think about it. So it will be Me, You, Judd and Helen. Jessie tells Elissa to just make sure Helen is solid with this plan. Elissa asks if her kiss was good. Jessie says it was just a peck. Elissa leaves. Jessie says to Candice we good boo. Either its going to work or it won't.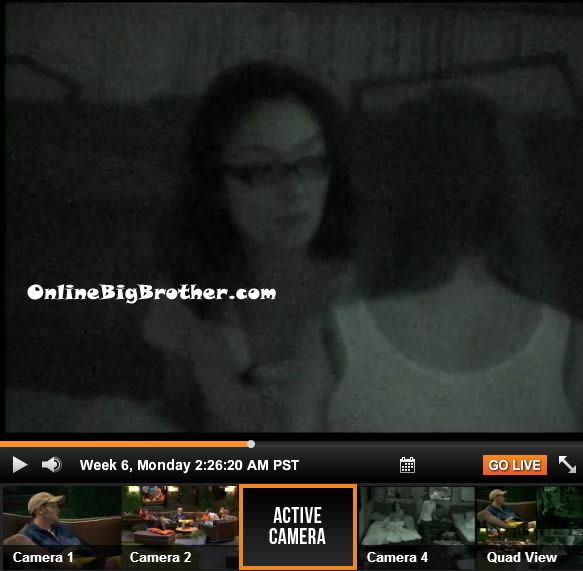 2:25am Jessie goes to talk to Helen. Jessie says that things are looking really good with Judd, I know you may not believe that but he and I had a very serious conversation. He is keeping it to himself, he is going to mull it over and think about it. He looked at me and told me that I made some very valid points about if we don't do it we are handing McCrae and Amanda the game. Jessie says and we kissed at the end of it, we're good. I want to give him a night, and a day and morning to think about it. Jessie says it will be me, you, Elissa, Judd, Candice and Andy against Gina, Aaryn and McCrae. Helen says we would also have Spencer. Helen says she is just worried about Judd. Helen tells her we will just think about it and see where things at in the next couple days. Keeping working on Judd.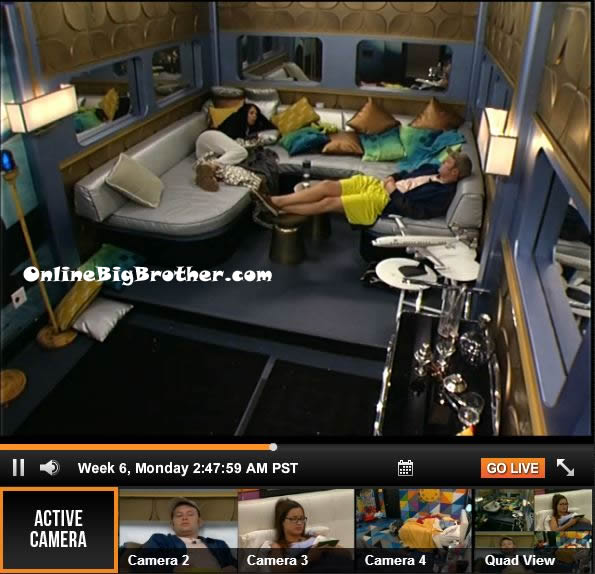 2:40am Spencer, McCrae and Andy are talking about random things and movies out on the backyard couch. Andy heads inside and talks to Judd in the lounge room. Judd tells Andy I don't want to tell Amanda just yet because I don't want her to freak out but do you know what's going on? Andy says I mean I think Jessie was telling her that she wants to back door Amanda. Amanda joins then and the conversation stops. Judd asks do you think Helen and Elissa are solid? Andy says yeah. Judd what about Elissa? Andy says I think she will be. Judd asks you don't think she is 100%. Andy says no but she will be on Thursday. Amanda asks what are you worried about? Judd says because people are being shaddy. Amanda says of course they are. You aren't going up tomorrow, Spencer is. Andy leaves. Judd then leaves and Andy comes back. Amanda comments that Elissa's name is coming up a lot, why? Andy says because she is acting shaddy. She and I never talk game. Helen is our liaison.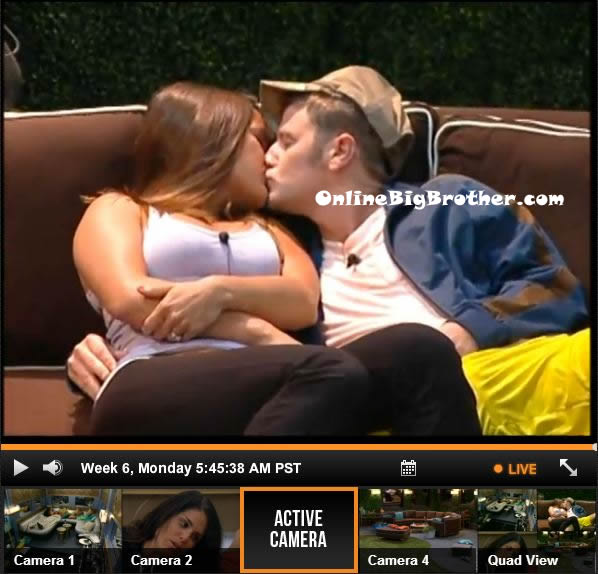 3am – 4am Meanwhile out on the backyard couch – Judd and Jessie start making out. Jessie says you better have my back handsome! Judd says I do. They start talking about who the MVP has been. Jessie says we have all week to talk about it. She heads to bed and tells him to come lay down with her. He says I'll be in, in a minute. Judd and Spencer talk on the backyard couch. Judd says he wants to roll with Spencer. I am planning on making big moves. I mean not this week but next week. If you stick with me I swear to god we can make it to final 7 or 6 and then fight like hell from there. Just trust what I say when I tell you something or whenever I ask you to vote a certain way. I know this is your game too but I am starting to figure things out. We are slim pickins. I don't think next week will be ready for a big move unless I get HOH. Spencer says I can't rock any boats until we get into jury. Judd says you can trust me, Andy, McCrae and Amanda. Judd says you will probably go up tomorrow but just know you are safe. Spencer explains his theory about why America is MVP and says if they are it makes you wonder what is going on for them to nominate her. Judd tells Spencer that he isn't sure what we should do yet but we'll figure it out. Judd says that he doesn't think we can go far with Elissa, she wants all girls. That's why its been so easy to get out these tough competitor guys out. Judd says don't tell Jessie but don't get to close to her. She will throw your name under the bus like she did to me. Judd tells Spencer that things get around don't screw me over. Judd says he will sleep with Jessie tonight. I have to do what I have to do. Spencer says bless your heart! Judd tells Spencer about how Jessie is trying to get him to flip to get out Amanda. Judd says we need to get rid of Elissa and Helen. Helen needs to go, she is too smart and Elissa is nothing without her. If we can get rid of those two (Helen & Elissa) we will have the numbers. I am getting in better with Jessie and I can make sure she doesn't put you up. Judd says "strategery" is the way to get things done. Spencer heads to bed.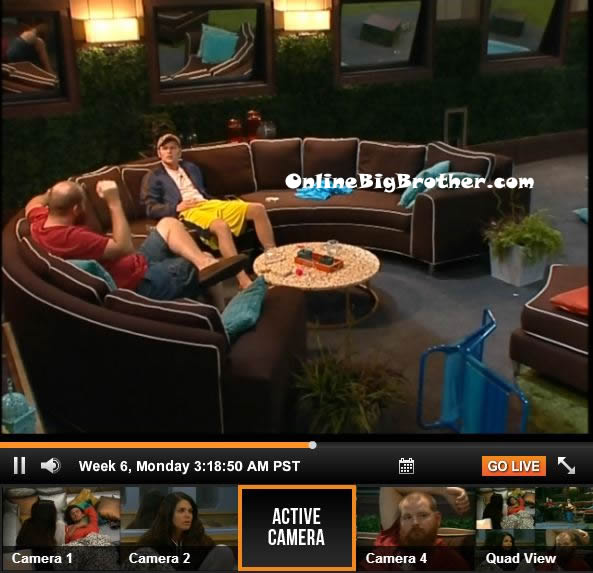 4:15am – 5:40am In the lounge room – Judd, Amanda and McCrae are talking. Judd tells Amanda and McCrae that his allegiance is to them till the end with a final four with Andy. Judd tells them don't stab my back and I won't stab yours. Judd tells them about keeping Spencer on their side. Judd says we didn't tell Spencer about Aaryn, just like we won't tell Aaryn about Spencer. Judd says that way we can get them to put up each other if we need them to. Amanda asks would I stay if I was up against Aaryn. Judd says always.. you two and Andy are my family. Amanda says that she doesn't think she could put up Helen and Elissa next week because that would put a bigger target on my back. Amanda says that Elissa would go home and Helen would still be here. Judd says we would have the numbers. Amanda said that Andy would go ballistic if I puts up Helen. Judd asks Jessie and who else? Amanda says she would have to see how the votes go this week to see who she would put up next week. Judd reassures Amanda that the votes are solid for her to stay this week. Judd tells Amanda that Spencer isn't voting her out and is confident he wouldn't put you up if he won HOH. Judd warns Amanda not to flip of if he comes to tell her things. Judd tells them how Jessie is trying to flip him to vote her out. Judd says that Helen and Elissa want you (Amanda) out this week. Judd says we need to get Helen and Elissa out before Jessie. Judd says he hates that Jessie will make it to jury. Amanda tells Judd to keep Jessie close. They talk about how they thought Judd was the MVP. McCrae asks Judd what he is going to tell them. Judd says that he is going to tell them it is just too early. Judd says that Jessie has been more flirty with me but I know they are just using me. Amanda says don't let them think it is going to happen. Amanda tells Judd she has been loyal to him throughout this whole game. Judd says that he thinks Andy will stay loyal to us too. Judd says he is going to stay close to Jessie and f**King make out with her. Amanda asks Judd if he has ever made out with Jessie before tonight. Judd says no. Judd heads to bed. Amanda and McCrae whisper. McCrae asks Amanda why she asks Judd so many questions. They think that Judd is lying and just wants the girls out. McCrae says just agree with him, when you question – he thinks you don't trust him. Amanda says that Judd wants me to go after them so he doesn't have to. They head to bed.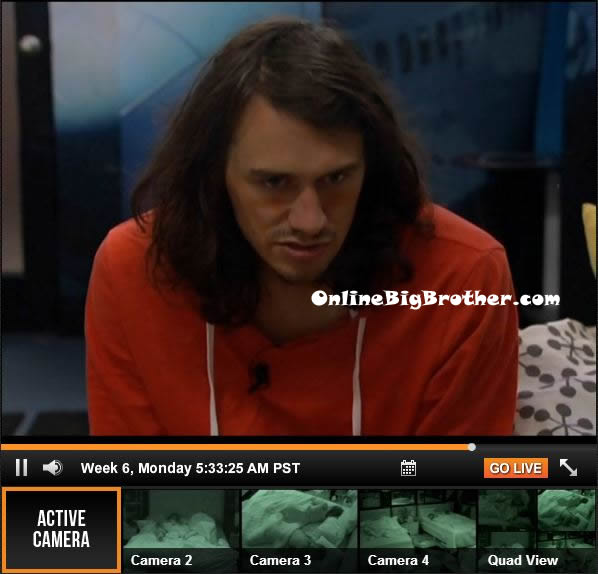 6:15am – 6:35am Amanda can't sleep and goes to sit on the backyard couch. She starts reading the bible. She heads back to bed.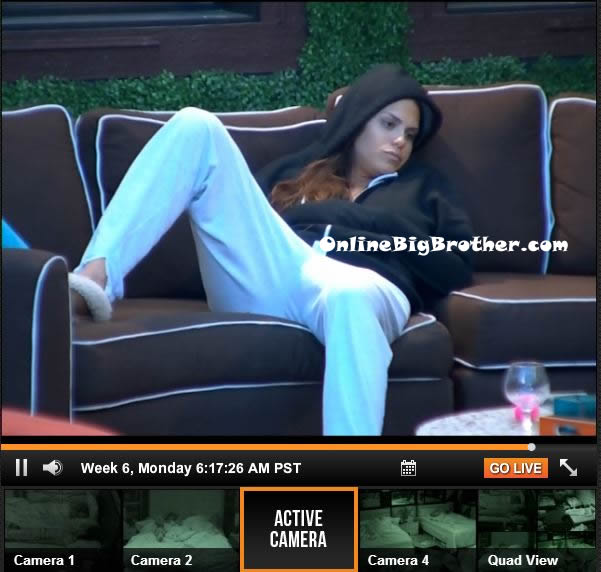 7:10am All the house guests are still sleeping..
Use the Big Brother Live Feeds to FLASHBACK to SEE what they can't show you on TV: BB15 N!p Sl!ps / N*des