POV Holder:
Spencer
Next POV
Aug 3rd
POV Used
YES
POV Ceremony
July 29
HOH Winner:
Aaryn
Next HOH:
Aug 1
MVP:
AMERICA
Original Nominations:
Spencer, Howard, AMANDA (MVP nom)
Current Nominations:
Howard, Candice, Amanda (MVP nom)
Last Evicted Houseguest
David, Nick, Jeremy, Kaitlin
Have Nots
Judd, Amanda, Candice, GinaMarie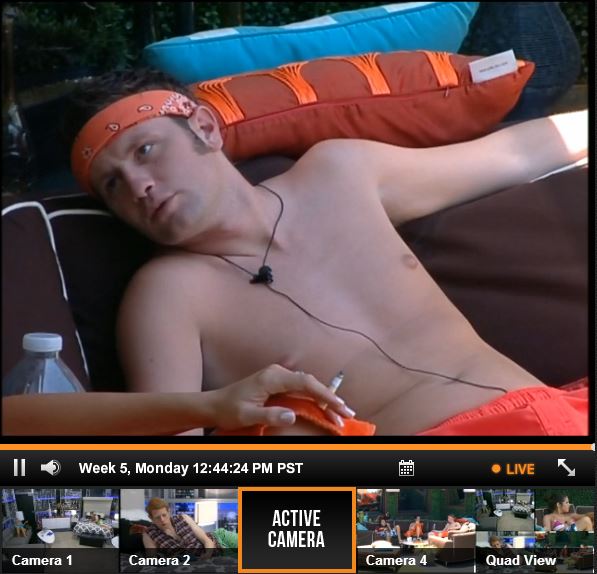 12:45pm Out in the backyard – McCrae, Amanda and Judd are talking. Judd reassures Amanda that she is staying and has nothing to worry about. Amanda questions Judd if he said anything to Ginamarie. Judd says he talked to her and told her they might come to her with a deal but for her to just play along with it. Amanda questions if Judd and Jessie would be together after the show. Judd says he doesn't know they live pretty far apart. Amanda says she think Jessie is at the point where she would move. Judd says I don't know we haven't even kissed. Judd says that Jessie is someone he would date but would wait till after the show. I am focusing on the game right now. Amanda says yeah that was my mistake. Amanda heads over to the pool to suntan.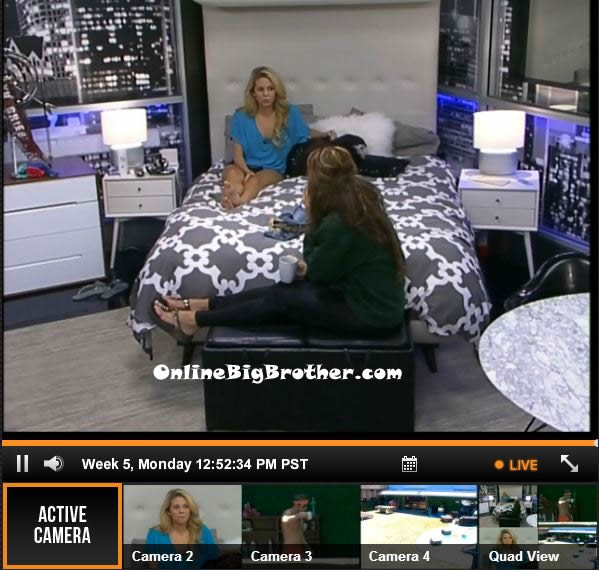 12:55pm Up in the HOH room – Elissa talks to Aaryn about what's been going on. Aaryn tells Elissa that Spencer is trying to rally the votes to get Amanda out. Aaryn says that Spencer switched it he first came up and said that he wanted Amanda out and then when he came up again he said he wanted Candice out. Elissa says oh my god. Aaryn says that Howard is trying to use reverse psychology by telling people to vote him out when really he wants the opposite. Elissa asks Aaryn "Is there any way that Howard could have the Comb d'pa? Aaryn laughs and says Coup d'etat. Aaryn says no he doesn't have it, if he did he wouldn't be doing all this scrambling. The speculate on who the MVP has been the last couple weeks. Elissa thinks it might have been given to an evicted house guests like Nick, David or Jeremy. Aaryn tells Elissa that she needs to win HOH. Elissa says she wants it so bad to see her family. Aaryn says she wants to see her family so bad. Elissa says that she hopes Aaryn gets a Pandora's Box. Aaryn does too and thinks there will be one every quarter. Elissa says that she hopes the Zingbot comes in and zings her. She says she will just laugh. Elissa heads downstairs.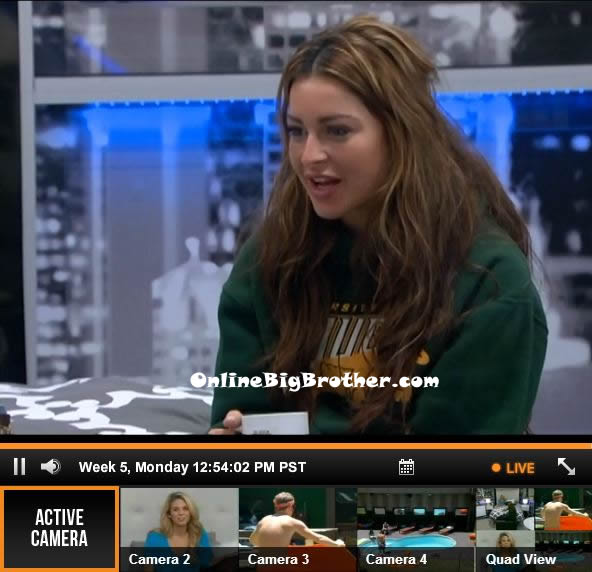 1:10pm – 1:15pm Helen and Howard are playing chess and not talking. Meanwhile in the lounge – Andy and Amanda are talking. Amanda and Andy agree that they are on the same page and that they trust Judd for now.
Big Brother 15 Live Feeds: FREE 2 DAY TRIAL
1:35pm – 1:50pm Out in the backyard – Amanda tells McCrae that they should just spend some time tonight not talking game and just being lovey. What do you think? McCrae nods. Amanda says that she can't wait for them to be in Florida to be able to go to the beach. She tells him that she will help him get a job down there because she knows a lot of people there. Amanda and McCrae head inside. Aaryn and Judd continue to suntan by the pool. Judd says that he wants a beer and says it sucks being out by the pool without a beer. Aayrn agrees. Judd tells Aaryn that he thought for sure she was going to get Pandora's Box today. Judd heads inside.
2pm Amanda and McCrae are in the lounge talking. Amanda says that there's no point in talking game until the day before the eviction. Amanda tells McCrae that Aaryn wants Jessie out. We will just let her deal with that. Amanda explains to McCrae that Judd said he didn't want them to not trust him. Amanda says she said no we're fine. I trust Judd because we have to. Amanda says that she told Judd to tell Andy about the Kaitlin thing (Where Judd spread the lie that Kaitlin was coming after Helen, so that everyone would vote out Kaitlin over Aaryn.) so that we all know and trust each other. Amanda says I think everything is going to work out, the fact that Howard is scrambling and stuff. And the fact that Howard can throw Candice under the bus like that which will show America what kind of a guy he really is. Amanda says that it's good that this Kaitlin thing came out because now Helen knows that Judd is deceitful. Amanda says the fact that Jessie is so weak is a bad thing since she is connected to a smart player, but the fact that Aaryn wants her out is a good thing.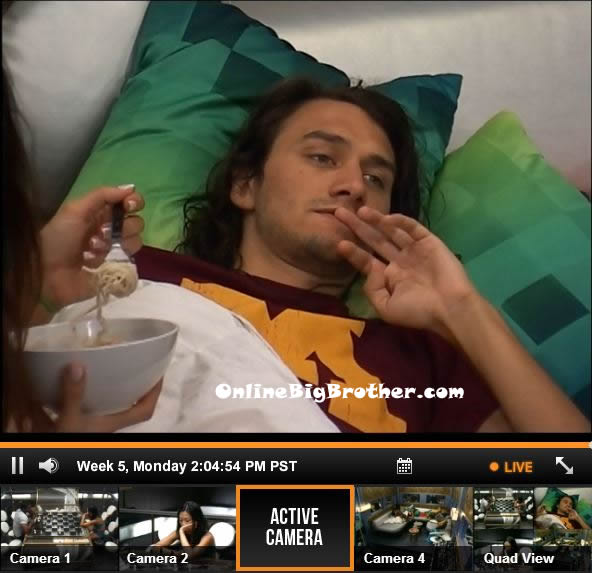 2:20pm – 2:25pm In the bathroom – Judd asks Elissa if she is still voting out Howard? Elissa jokingly says no I am voting you out! I've been trying to get you out since day one! Elissa asks Judd if he would try and get Amanda out. Judd says not right now but maybe later. Elissa asks Judd if we still have a final two deal. Judd says yeah. Elissa asks if we should have a name. Judd says no, names are a curse. Judd tells Elissa that they should make an alliance called the black widows for all the girls who lost their men. Elissa laughs. Judd and Elissa laugh about how Gina still wearing the hat. Judd says it's not even Nick's hat it was given to McCrae. That's why Nick didn't take it with him, he didn't want it.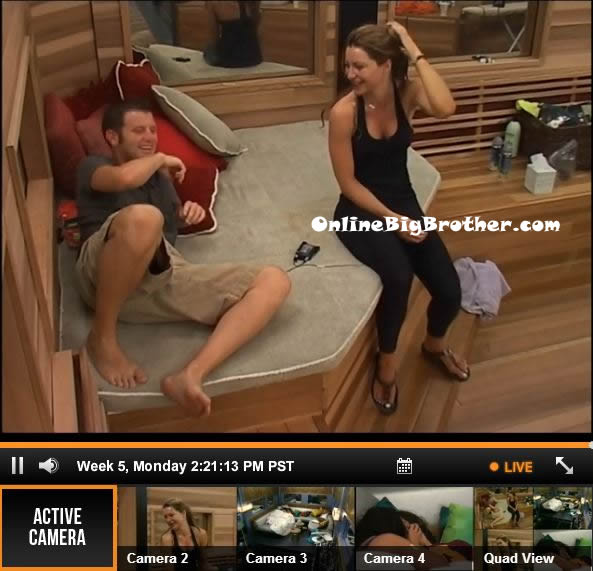 2:30pm Amanda and McCrae are making out in the lounge room. Judd walks in and asks them if they're having $ex? Amanda starts talking about how loud Candice was slamming doors this morning. Amanda comments that tow of the songs this morning were about money. Judd says she is a gold digger isn't she. Judd says it was stupid of me to tell Howard last night that I needed to think about it. I should have just told him yeah. Judd says I never really considered it. Amanda says oh I know. Judd wonders why Andy tries to over sell Helen. McCrae says he does that with everyone. Amanda says that Andy thinks if she is here then he is safe because he knows she won't put him out. McCrae says he isn't worried about the votes at all. Judd says unless it's a double eviction. Judd says Gina doesn't understand a double eviction at all she thinks both people on the block go home.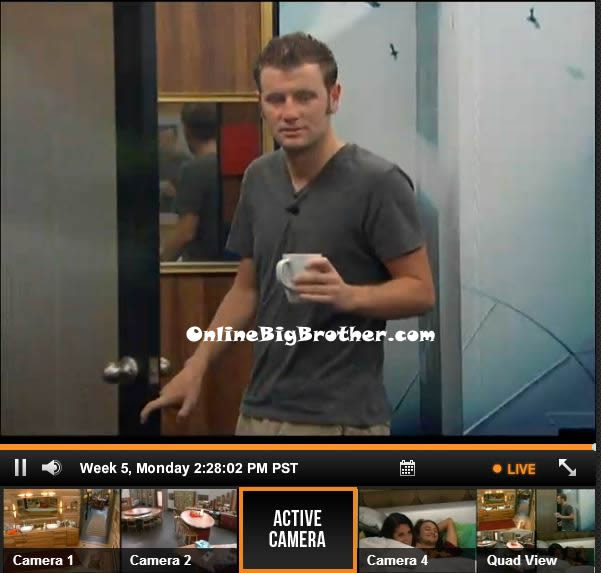 2:45pm In the havenot room – Candice is talking to Howard. Candice says that Jessie was talking bad about him. Howard says that's fine. He asks her why Candice was talking game, you said you weren't going to. Candice says I didn't start the conversation. Candice says if they really wanted Spencer out they wouldn't have given him the chance to play for the POV. They didn't give me that chance. I am not crazy I know what they are doing. Howard says I am just looking for you to be positive about it. To say that you hope it works. Candice says I do hope it works. Howard says that he is doing everything he can to keep us safe. He says she keeps being negative about it. Candice says that the people who want you to go home actually want me to go that's why they didn't give me a chance to play in the veto. Candice says I know you are saying you want to self-evict but you're not the target. Howard says I am being faithful now I want to go home rather than be here and play these games with people.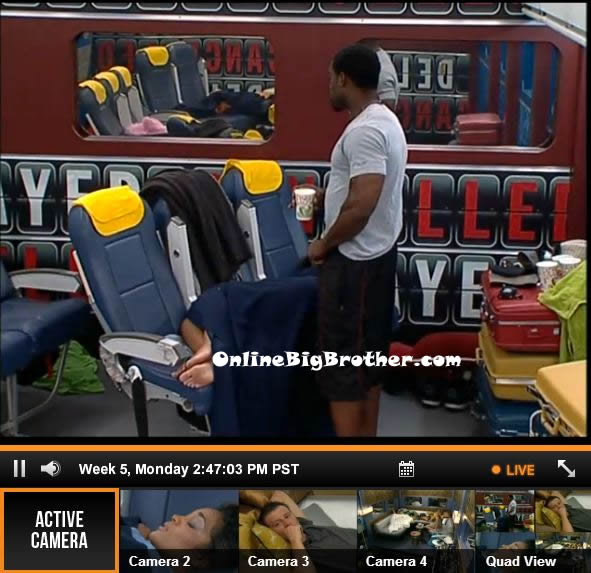 3pm – 3:15pm In the lounge – Aaryn, McCrae, Judd and Amanda are talking. Aaryn says that she is being portrayed as a racist bitch but says that she thinks this week she is being portrayed as nice and misunderstood. Aaryn starts talking about Candice saying that even though she is a bit*h she still feels bad for her when she sees how Howard is treating her and how she is going to see it when she gets home. Aaryn says that she had to see for herself how Howard was being deceitful. She says that now she sees it. Judd and Aaryn leave the lounge and Judd puts his arm around her. Judd heads to the havenot room to nap and asks Helen to wake him up if he isn't up by 6pm. Meanwhile in the lounge McCrae and Amanda start making out.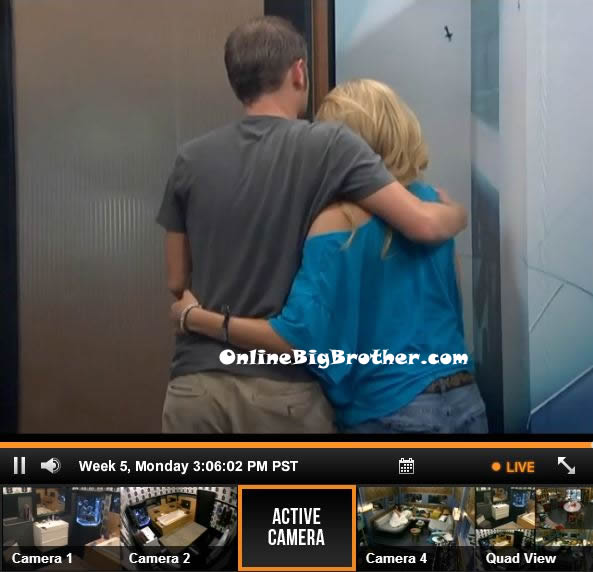 3:30pm – 4:05pm In the kitchen Elissa is doing the dishes and Aaryn is baking. Ginamarie comes through the kitchen and Elissa jokingly tells her that Judd said Gina got a penalty nomination for sleeping outside when BB told her not to. Aaryn is asking Elissa about he life outside the house and what types of things her and her husband do. Meanwhile in the lounge – Amanda & McCrae are talking about past events of the house. They continue to speculate on who got the MVP. Amanda says that she thinks Judd made a deal with Aaryn. There is no way that he made up that think with Kaitlin going after Helen without telling Aaryn about it. Amanda wonders if Judd wanted to get me out because he knows I would be a vote for you. Amanda says the reason why we should let Andy know is because Judd is so smart he will figure out a way to get Andy to flip. McCrae asks flip for this eviction? Amanda says yeah. Amanda says that people like Judd. She says that he is super smart and shaddy you don't know what he is thinking. Amanda says she wants to stay here so bad. Amanda and McCrae continue to go over scenarios. Amanda heads to the havenot room to nap.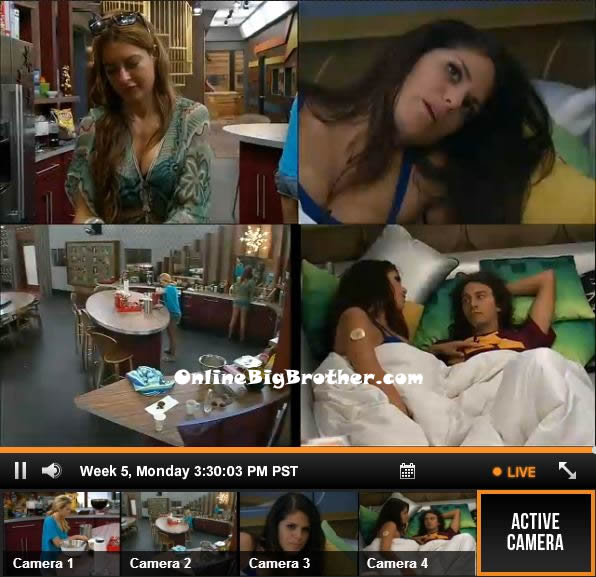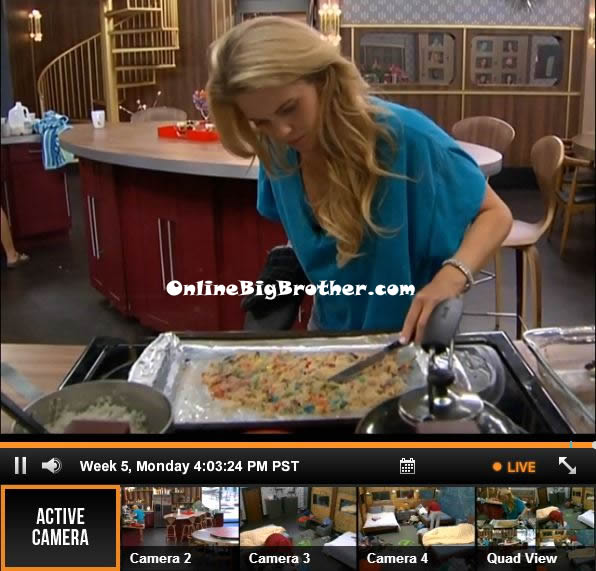 Use the Big Brother Live Feeds to FLASHBACK to SEE what they can't show you on TV: BB15 N!p Sl!ps / N*des