POV Holder:
Kenny
Next POV
?
POV Used
?
POV Ceremony
?
HOH Winner:
Andrew
Next HOH:
March 13
Original Nominations:
Paul & Neda
Current Nominations:
Last Evicted Houseguest
Anick
Have Nots
Rachelle, Neda, Heather and Sarah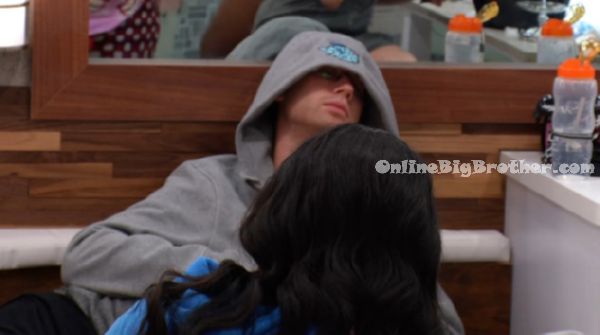 8:45am Big Brother wakes up the house guests. They're all complaining that they didn't get enough time to sleep. The tv screens in the living room say power of veto ceremony today. In the bedroom – Sarah is not feeling well. The others say that she's not feeling well because she's on slop and had exerted a lot of energy yesterday with the power of veto competition in addition to not getting much sleep. Arlie was rubbing her back talking to her trying to make her feel better. He then got Sabrina to sit with Sarah and he went out into the living room and stood in front of one of the camera and started freaking out at big brother to get Sarah the medication she needs. The other house guests tell Arlie to calm down and to stop. Sabrina says that Arlie shouldn't be yelling and swearing at big brother. Paul agrees that no one should have to wait for medication. He says its stupid for people to have to wait an hour for gravol medication when its not a prescribed medication. Big Brother then blocks the feeds.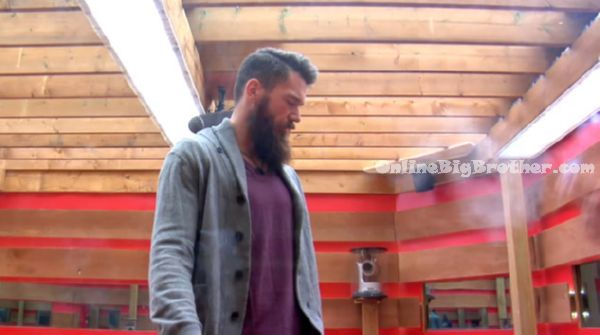 9:35am – 9:45am When the live feeds come back – Arlie and Sabrina are up in the HOH room talking. Sabrina is telling Arlie that she firmly believe you shouldn't slap the hand that feeds you. Arlie agrees but says that he wasn't really losing it. Arlie says that when he was really sick and needed medication Sarah freaked the f**K out for them to give him medicaition and 5 minutes later I got it. Arlie says so they should us if you freak out, then you get medication. Sabrina says that she knows his intentions were good it just wasn't the right way to go about it.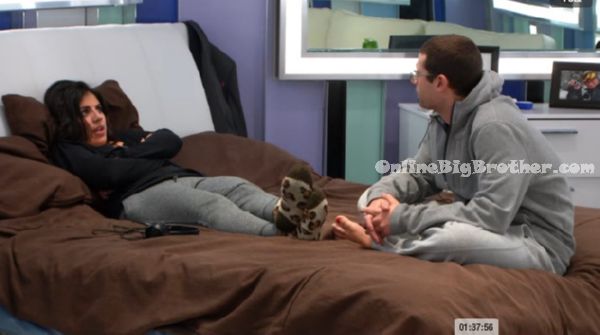 9:50am – 10:05am Jon, Kenny and Arlie talk on the second level near the front door. Kenny wonders what he should say during the veto. Jon tells him to say that he is using it on Paul because he was never the target and that the last few days showed that. (The plan is for Kenny to take NEDA off the block and for Andrew to nominate Kyle for eviction.) Arlie realizes that if he puts his ear to the floor he can hear Andrew in the diary room. He says he can hear every word – word for word. Big Brother tells Arlie to stop that. When Andrew comes out of the diary room Arlie tells him they could hear him. Andrew says well that f**King sucks! Mind your own f**king business! Kenny and Andrew head out to smoke again. They talk about being able to hear diary room conversations. They're getting annoyed with Arlie. Andrew says that he apologized to big brother for how Arlie was behaving.
10:25am Out in the backyard – Kyle, Adel and Paul are talking. Adel and Kyle are pissed at Paul for throwing them under the bus. Adel says I am not in this game, I don't care any more. Just talk real with us! If you want to talk game then go in the house and start playing the game. Kyle is resigned to the fact that he is going up and going home. Adel says I need you to be a man and stop moping around like an old man to get extra votes for another week. Just be real with us.
10:40am Meanwhile in the bathroom – Rachelle is going to the bathroom while talking to Ika about how much they dislike Heather. They talk about how fake Heather is and how they can't stand her. They're worried about Heather telling the guys information. Ika says we'll just lie and say it isn't true. They head into the bedroom. Neda is worried after her diary room session that she thinks Kenny might take Paul off and put up Kyle. Big Brother blocks the feeds again..

12:30pm Cams 1 – 4 are still blocked for the POV ceremony but the War room is showing the 3 eating their lunch and getting ready for the day.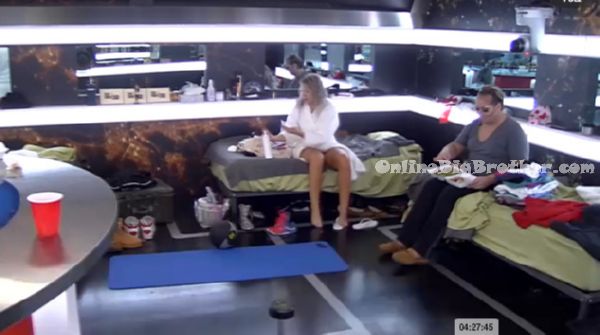 [polldaddy poll=7857961]
Check out the NEW OBB Forum https://forum.onlinebigbrother.com/
Stay connected and interact with other Big Brother Fans on our Facebook page.
And Follow: @BigBspoilers and @Dawgsbigbrother on Twitter for the most up to date spoilers.