POV Holder:
Devin
Next POV
July 12th
POV Used
?
POV Ceremony
?
HOH Winner 1:
Amber
HOH Winner 2:
Devin
Battle of the Block Winner
Hayden & Nicole
Next HOH/ Next BOB
July 10/July 11
Original Nominations:
Devin's Noms (Pow Pow & Brittany) Amber's Noms (Hayden & Nicole)
Final Nominations:
?
Have Nots
Victoria Brittany, Zach and Derrick
POV Players
Host Donny, Players Devin, Brittany, POWPOW, Derrick, Zach, Amber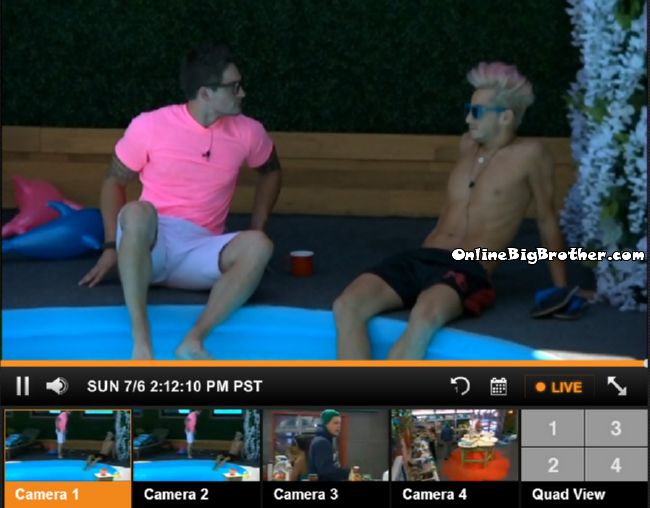 2:12pm Pool Frankie and Caleb
Frankie asking why everyone is going crazy with alliances and not trusting.
Caleb say the only thing he can think of is Zach telling Devin. Frankie – You are afraid that Devin will do something against Zach" Calen – "I don't know I don't think he will now.. theres a few people in our alliance he wouldn't put up because he doesn't trust them"
Caleb says he trusts Devin 'As much as I can i only have known him for 17 days" Frankie says Zach is going crazy right now. Caleb thinks as far as he knows everyone is sticking to the plan.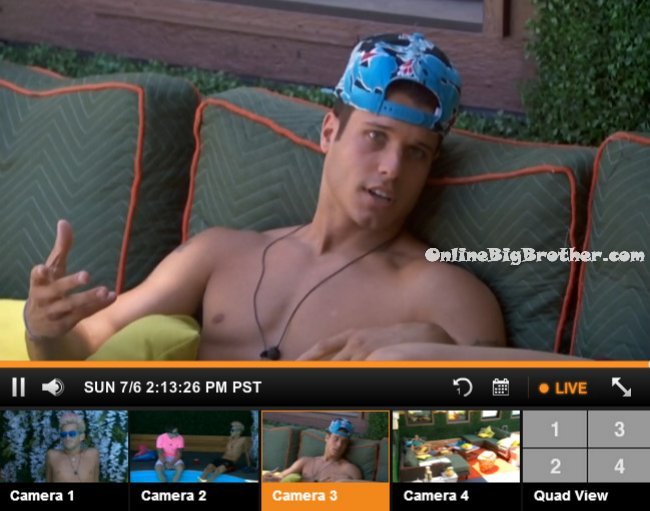 1:30pm – 2:15pm Big Brother blocks the live feeds with the we'll be right back screen and then switches to the pre-season Jeff Schroeder interviews. When the live feeds return – In the kitchen Derrick is talking to Devin about going up to talk to him soon. The camera switch to the backyard – Cody is talking to Christine. Christine says he smacked him a little. Christine says he might be in actual trouble now. He needs to calm down. Cody says its a game. Christine says its a game. People are taking it too personal. Cody saying Frankie is fake he's playing both sides. Christine – "He's fully with them I think" . Cody mentions how he was getting close to Zach and it's causing Frankie to be jealous. Christine says Caleb is the one she trusts the least. Cody isn't planning on turning his back on Zach.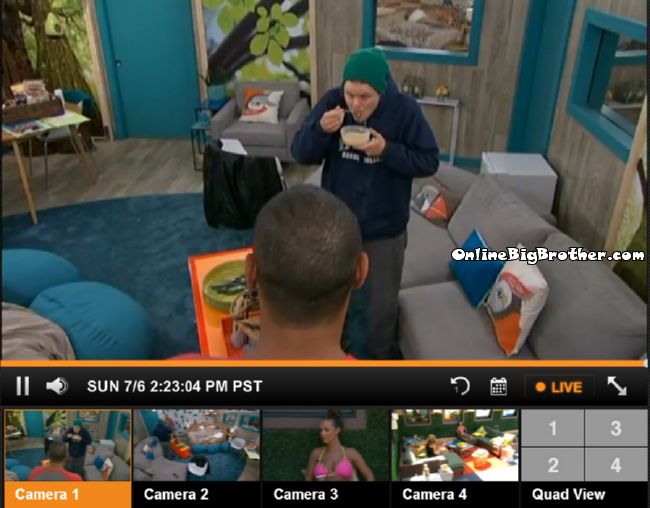 2:23pm HOH Derrick and Devin
Devin tells him he doesn't know what is going to happen with the veto he doesn't know… Devin says he will never put Derrick or cody up. Devin gets called into the Diary Room.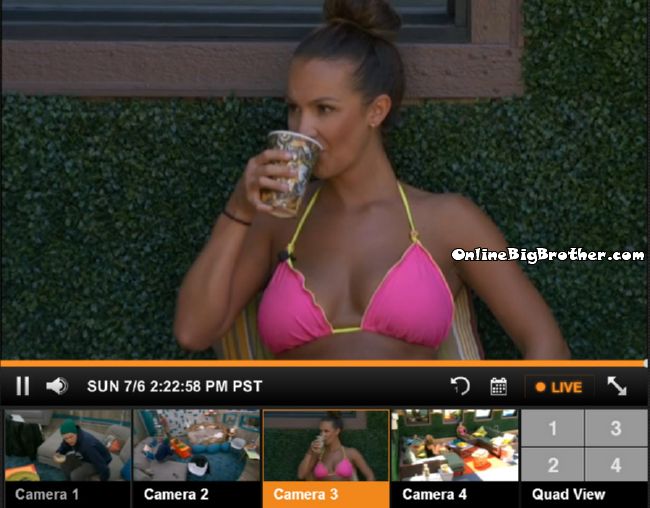 BAM Brittany
Try the feeds for free.. help out OBB and get them using one of the links on this site. You can go back and watch everything we showed on this site. A live feed subscription comes with access to the Big Brother Archive letting you rewatch from day one. It's a pretty sweet setup!
FREE 2 Day TRIAL! The ONLY $26.99 to watch the ENTIRE Season of Big Brother 16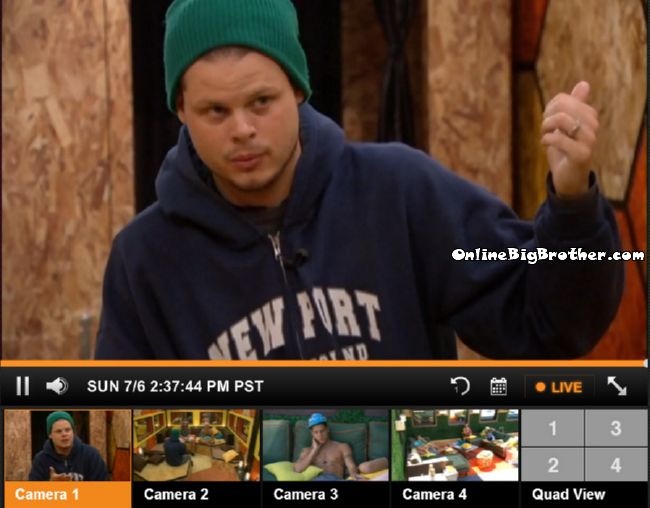 2:24pm BEEHIVE Frankie and Derrick
Frankie says they are both smart players, "Theres people in our group that our in our alliance and not playing smart"
Frankie says he's sitting in the middle of the alliance with Derrick right beside him. They have the ability to sway things that is best for them in the future.
Frankie says Cody and Amber showed their f***ing cards during Devin's meeting. Derrick is worried that Devin is going to pull something in the POV ceremony otherwise he would tell them what he's doing. Derrick -"He's putting up an alliance member"
Frankie – "Zach is a f***g mess"
Derrick – "If he BAckd**r zach he will blow up the alliance"
Frankie says the only people in their alliance that is able to not be hindered by their emotions is Frankie, Derrick and Christine. Derrick agrees says Christine is smart. They agree getting Devin out next week may not be the best thing to do. Derrick says Devin doesn't suspect them of anything it's Zach and Amber that have all the heat. Derrick points out the odds are the bomb squad is going to collapse before jury "It's going to be nuclear.. no pun intended"
Frankie and Derrick agree they trust Caleb with their life but in the game they don't know what he will do. Frankie says Caleb tells Devin everything so watch what he says. Derrick would love to have been a fly on the wall when Caleb and Devin talked because they smashed a lot of beefs.
Derrick – Devin's not dumb he's irrational but not dumb for him to put up an alliance member.. it's hard.. "
Caleb walks in..
Derrick mentions his talk with Devin in the HOH where Devin said he didn't trust Zach. Caleb asks him if everyone in the house wants Devin gone. Derrick – "I don't think it's necessary right now.. outside of this house I trust Devin.. the kids.. He's a teddy bear he's got a heart of gold.. he's got passion we can all relate to him he's not a bad guy"
Derrick doesn't think it's best for them to blow up their alliance week 2.
Caleb and Frankie agree to keep the bomb squad intact. Derrick and Frankie tell him Zach threw all his cards out there yesterday and now Devin doesn't trust him. Caleb says he told Devin to take POW down put Victoria up and let them pound heads.
Derrick – "they cannot beat us if we stick together… the odds are 100%"
Frankie goes to get Cody. Derrick tells him Hayden is strong sooner or later they will need to take him out. Derrick thinks Frankie or Hayden will win America's player because they are funny.
2:46pm Caleb, Cody, Frankie, Derrick BEEHIVE
Caleb tells him they have a guaranteed 100% jury oif they vote the way they are supposed to vote and stay true to their alliance.
Caleb – Right now Devin doesn't trust zach will Devin put up Zach I don't know
Caleb says he has Cody's back until Jury, "I can guarantee you to Jury right now"
Cody says he's never going to turn on the alliance.
Caleb says once they get top Jury they can all do whatever they want cuss Devin out kick him in the b@lls doi whatever they want.
Cody says it's been tough these couple days with all the Drama between Devin and Caleb.
Caleb – "It's like this..  your mom gives you a whopping but at the end of the day you still love her"
Caleb adds if Zach goes up Zach is not going home, If Victoria goes up she might go home and that is what he told Devin.
Caleb explains yesterday when he talked to Devin he said there's people in the alliance that are wanting to put him up so they needed to have a meeting and realign their priorities.
Derrick says if Devin backs Zach into a corner he might start swinging (swinging m = Call out the bomb squad )
Caleb tells them Zach is a real benefit to their alliance he's smart, Sleeps all day and he's a number. Cody – "I don't think he's going to put up Zach"
The other three agree, Derrick says the meeting is coming very soon they need to grab Zach and Devin and have them work it out. Caleb mentions that Devin is easy to talk to one on one but in a group he's a disaster.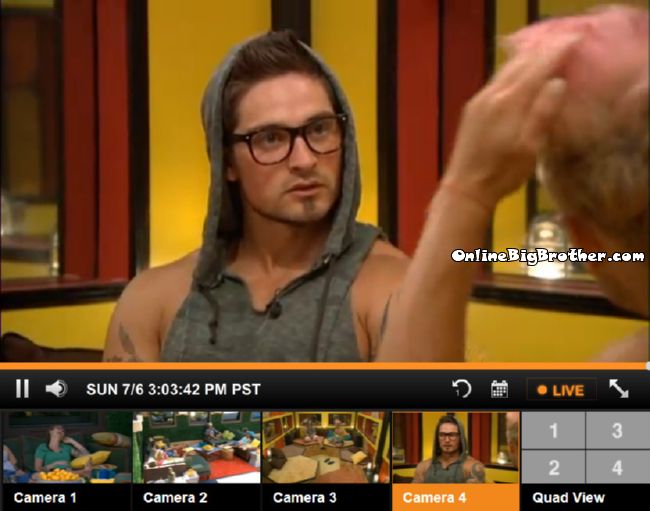 3:04pm Caleb and Frankie
Caleb says right now is not the time to loosen your bolts it's a time to tighten them up.. "you know what I mean" Amber comes in sits next to Frankie. He tells her he knows Amber and Devin are having differences. Amber says Devin is hurting her game play.
Amber says Devin is telling her she cannot trust them. Amber says Brittany knows about the alliance, "Devin told her a lot of stuff" Frankie and Caleb think she "Thinks" she knows but she really doesn't
Amber still wants to know why Devin is telling her to not trust them.
Franki e"Caleb mentions to Devin there was people in their alliance that wanted him to go home. We decided to have a big meeting.. in that big meeting zach told Devin he was one of the people.. He said it to him in front of all of us"
[polldaddy poll=8164185]