POV Holder:
?
Next POV
July 5th
POV Used
?
POV Ceremony
?
HOH Winner 1:
Amber
HOH Winner 2:
Devin
Battle of the Block Winner
Hayden & Nicole
Next HOH/ Next BOB
July 10/July 4
Original Nominations:
Devin's Noms (Pow Pow & Brittany) Amber's Noms (Hayden & Nicole)
Final Nominations:
?
Have Nots
?
POV Players
?
9:10am Big Brother wakes up the house guests. In kitchen Victoria is telling Nicole that something happened late last night. Victoria says that she isn't sure what it was about but that Frankie said he would tell her. Nicole asks who was it about? Victoria says about him (Devin) up there. Nicole comments on how she grew up staying out of things. Nicole goes to the bathroom to shower. Christine comments on how Big Brother told them the veto meeting (Picking for Veto players) was happening soon. Donny's in the living room. Amber joins him and comments how she was awake until 7am. Caleb comes out and is all confused about what time it is. Amber tells him 9am. Caleb asks the next day? Amber says in the morning. Caleb says so we've only been sleeping for an hour? Caleb goes back to bed. Big Brother blocks the live feed. When the live feeds return they're talking about how big brother told them to get up. Their day is starting! The guys in the earth room are still sleeping.
9:50am – 10:15am In the bathroom – Brittany, Nicole, Amber, Victoria, Christine and Pow Pow are getting ready for the day. Pow Pow is mad because she doesn't like getting told to get up. Pow Pow asks for a hair thing and Victoria says that its over by her tiara. Brittany complains that her hair is all tangled. Amber suggests she have a hot shower because we might be havenots later so get a hot shower while you can. Pow Pow asks Amber if she can put her hair in the Tomb Raider pony tail. Christine says Pow Pow's going to WAR DID YOU HEAR THAT!
Big Brother 16 Live Feed FREE TRIAL – Use the FLASHBACK feature to watch everything you've missed!
10:15am – 10:45am In the hallway by the bedroom – Christine tells Nicole about the blow up last night and how they wanting to keep Brittany. Nicole asks if Hayden know they want Pow out. Christine says no. Nicole says its better to get Pow out because people are making so many deals with her. Nicole says that Devin, Caleb and Amber promised Pao safety for the next couple of weeks. Christine says it doesn't matter who wins HOH at this point because everyone wants him (Devin) to go next. Nicole says that he is going to blow up! Nicole tells Christine about how Amber said she (Nicole) was the only girl she could put up. Nicole says that she thinks Amber is cocky. In the living room – Donny talks to Amber on the couch about how a lot happens at night. I miss a lot. It's a good thing! In the kitchen Brittany talks to Nicole about being woken up last night. She complains that she hasn't had a bed to herself pretty much the whole time she's been here.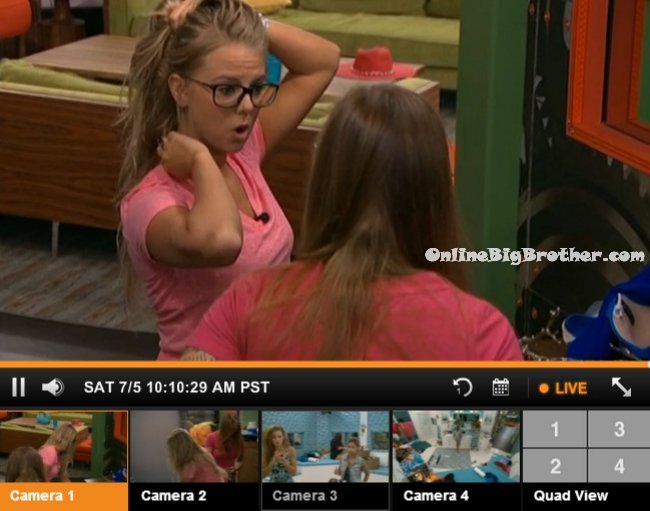 11am – 11:20am In the bathroom – Brittany says I was being selfish last night because he (Devin) already announced that I was going to be a havenot again. She says that he already told everyone that if he gets to decide he will make her a havenot. She says so I had 2 glasses of wine and a beer last night. Nicole asks if Devin said anyone else. Brittany says no. Nicole comments that Hayden's donated his hair three times already. She says and he got a 4.02 GPA in high school … I'm so attracted to that! Brittany says soo… Nicole says no its not like that he just gained an extra point in my eyes. She talks about how Hayden said his type is exotic .. but that the girl he dated in high school was blonde.



11:20am – 12pm In the living room – Nicole tells Brittany if you get house guest choice .. make sure you think about who you're picking. Its hard to get it right now with all the names but if you do get it you don't want to be standing up there like AHhhh.. Just make sure you think about it. Christine comes out of the diary room and Brittany says "Christine your honkers look good in that top!" Christine says laughs and says thank you. Nicole says someone times I feel like I take being here for granted. She says I get bored some times but then think heck no I'm in the big brother house.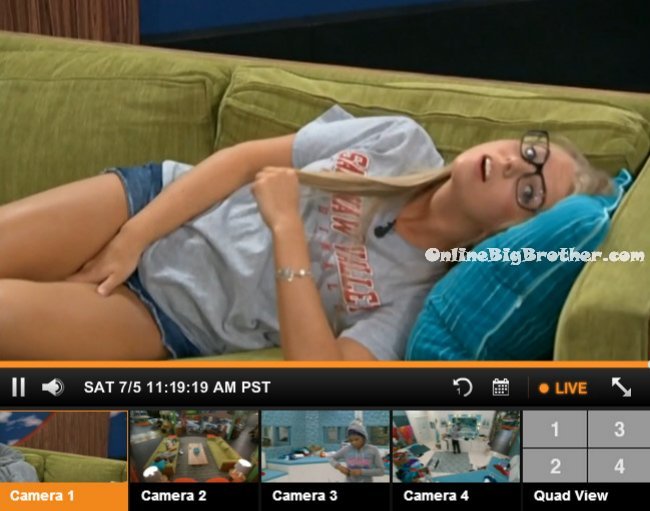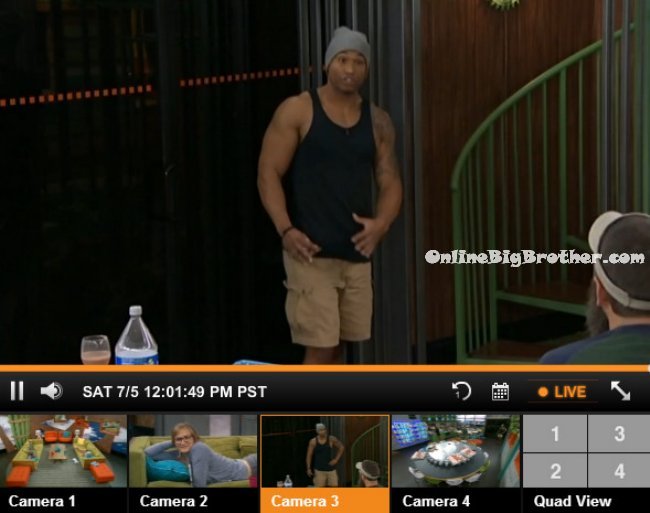 12pm – 12:20pm In the kitchen Devin tells Donny that he will put him down to host the Power of Veto competition if he doesn't get drawn to play. Donny says I appreciate that. Devin says no problem. I owe you a lot! Devin heads back up to the HOH room. Jocasta heads up to the HOH room and asks if he is okay. Devin says yeah I'm cool. I look at it this way I have a strong sense of loyalty and not in a game sense. When Amber dogged Caleb.. Jocasta says oh yeah he told me. Devin talks about the blow up with Caleb last night. Devin brings up how Caleb questioned him about not making decisions for personal reasons. Devin says that I want Brittany out because she is coming after me and I asked Amber if she would vote out Brittany and she said she didn't have anything against her. Devin tells Jocasta when I came out there I told him that we were done. I stuck up for him when Joey accused us of being in an alliance. Caleb and I aren't in an alliance, what good would a 2 person alliance do?! You know what I mean. (Devin is trying to cover for the bomb squad alliance but what he doesn't know is that Frankie told Jocasta after the blow up that Caleb and Devin are in a 2 person alliance.) Jocasta tells Devin about the blow up between Zach and Victoria.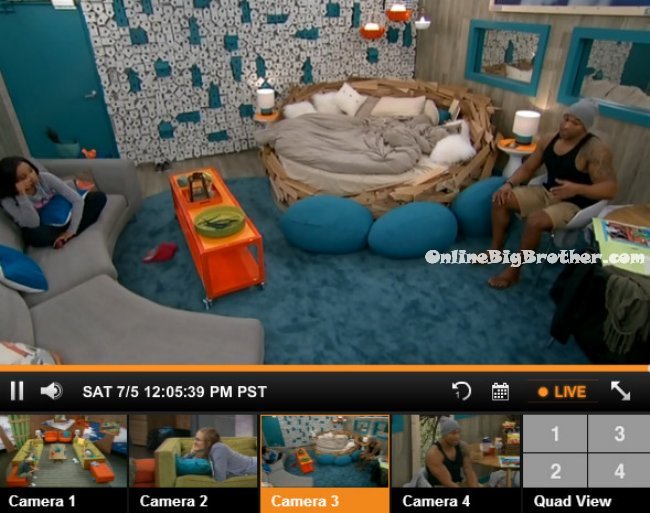 Alliances 
Bomb Squad = Frankie, Caleb, Devin, Cody, Derrick, Zach, Amber, Christine
Sub alliance of the Bomb Squad = Christine, Frankie, Cody, Derrick Zach
Sub alliance of the Bomb Squad = Derrick, Cody, Zach
Double Ds = Devin, Donny
Bed buddies/nicotine = Nicole, Christine
Final 2 Deal Zankie= Frankie, Zach
DC = Derrick and Cody
Where the vote is 
?
[polldaddy poll=8164185]