POV Holder:
Devin
Next POV
July 12th
POV Used
?
POV Ceremony
?
HOH Winner 1:
Amber
HOH Winner 2:
Devin
Battle of the Block Winner
Hayden & Nicole
Next HOH/ Next BOB
July 10/July 11
Original Nominations:
Devin's Noms (Pow Pow & Brittany) Amber's Noms (Hayden & Nicole)
Final Nominations:
?
Have Nots
Victoria Brittany, Zach and Derrick
POV Players
Host Donny, Players Devin, Brittany, POWPOW, Derrick, Zach, Amber

Wheels spinning in the mud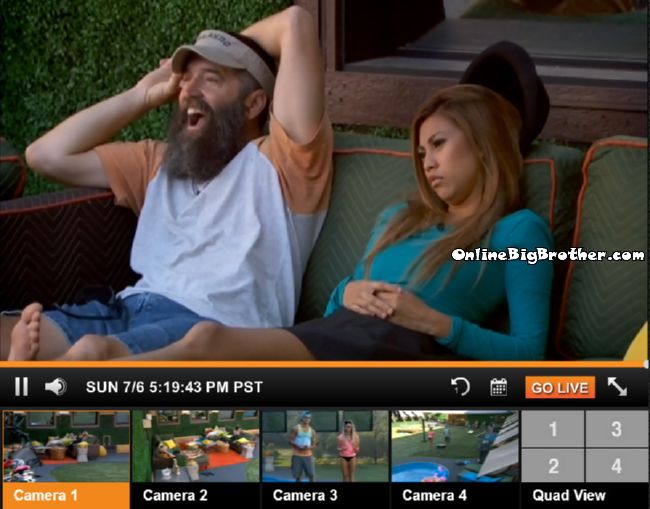 Maybe Donny Sees something POWPOW doesn't
Corn hole game.. chit chat.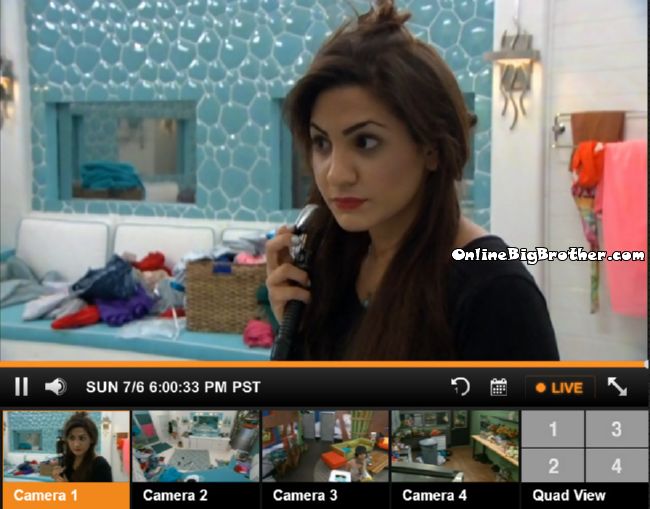 6:00pm People milling around showering, making food very quiet
Jocasta cleaning the bathroom sink
Victoria doing hair
Christine putting on makeup
They got a BBQ and a whole whack of meat..
6:13pm Bathroom Jocasta and Victoria
Victoria says "they" gave him the "thing" today the necklace. Jocasta asks who. Victoria explains earlier today the Diary Room took Devin's "Necklace" and they just gave it back to him.
Jocasta – so probably it will be today
Victoria asks Jocasta if she's heard anything.
Jocasta – I didn't even know he had it.. it was sitting there like Donny had it
Victoria went to ask Devin if the Diary Room told him they have to conviene he said no.. Feeds cut
Try the feeds for free.. help out OBB and get them using one of the links on this site. You can go back and watch everything we showed on this site. A live feed subscription comes with access to the Big Brother Archive letting you rewatch from day one. It's a pretty sweet setup!
FREE 2 Day TRIAL! watch the ENTIRE Season of Big Brother 16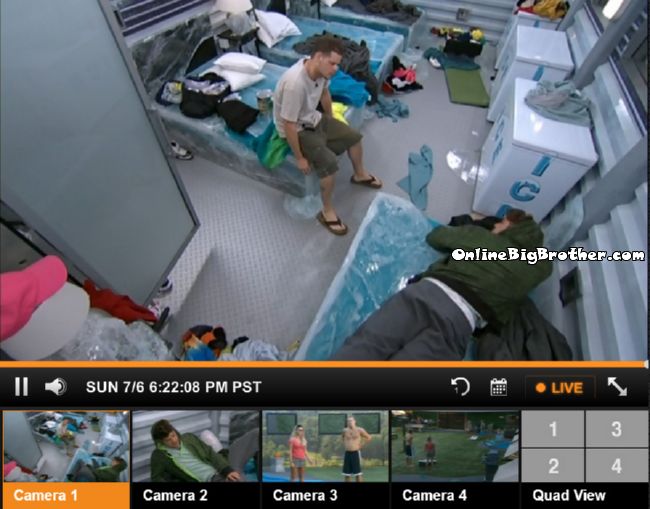 6:22pm Zach and Derrick HAve nots
Zach says whenever the POV was over he was going to put Devin on Blast in front of the whole house. Up until 2 hours ago that was his plan. Derrick asks him if he wants to leave the game. Zach says he does but only because he's grumpy he can't sleep or eat.
Derrick tells him if he did something rash and ended up going home next week he will be sitting on his couch watching the show and regretting it. Zach Agrees. Derrick – 'you can't come back in here.. don't make an irrational decision"
Derrick tells him to prepare the slop the way he did it makes it edible, "Tastes like regular oatmeal". Derrick suggest tonight pad up with clothes, "You got 3 nights to sleep like this.. that's nothing bro"
Derick says next week Donny and Caleb are going on slope they've volunteered.
Derrick – "Did you leave on a good note with Devin"
Zach "not really.. I'm not a pushover.. one minute he's this way the other he's that.. he's mentally insane
Derrick – He's a paranoid dude bro
Derrick says theres thousands of people watching 24/7 and they are pumping out what is really going on in the house. Derrick stresses all the crap in the house comes out.
Derrick doesn't want zach to ruin their game, he's here for the money, ""You have to have the same perspective.. .you have to have no regrets"
Derrick – "Right now he's Devin the HOH wit POV he's the most powerful guy in Big Brother"
Derrick tells him not to throw this chance away by doing someone rash Derrick wants him to come to him first next time before. Derrick – "If he Doesn't put you up smile and say Hey thank you bro"
Zach tells them what he was going to say to Devin. 5 days ago you called a house meeting crying over your f*** daughter saying you wouldn't compromise your dignity or you honestly for any amount of money crying over your daughter and now you're going back on your word. If you think that makes you a good father you're the worst father in the world. your daughter is going to be ashamed of you"
Cody – "Don't do that"
Hayden rolls in tells Zach everyone wants him in the house.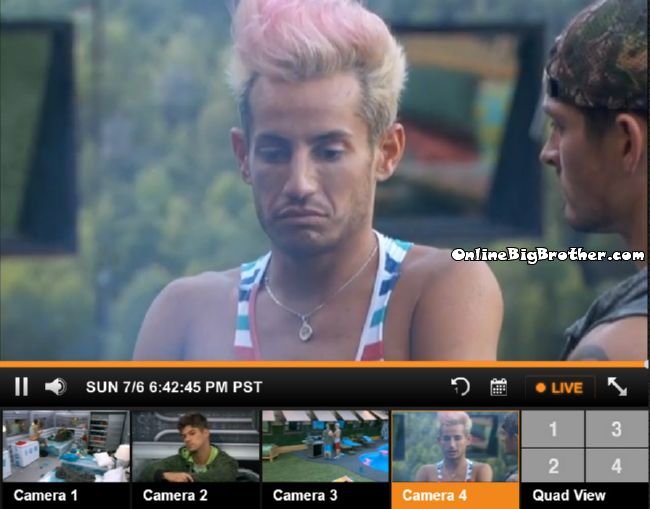 6:39pm Frankie and Caleb
Caleb saying that Zach told him he didn't fully trust him.
Caleb about Zach – "If you really want to go home lets send him home"
Frankie agrees says if Zach is willing to talk to Devin and go quietly "I just don't know what the motivations are I don't understand"
They both Agree Devin is going to do something wrong. Frankie says he's really nervous about Zach this morning when he was ranting saying he doesn't know who to trust anymore. Hayden rolls in says he just told Zach everyone wants him in the house and he seems to be perking up a bit. Hayden points out that Zach is having a tough time as a have nots. Frankie wonders how long will they have to keep reassuring Zach…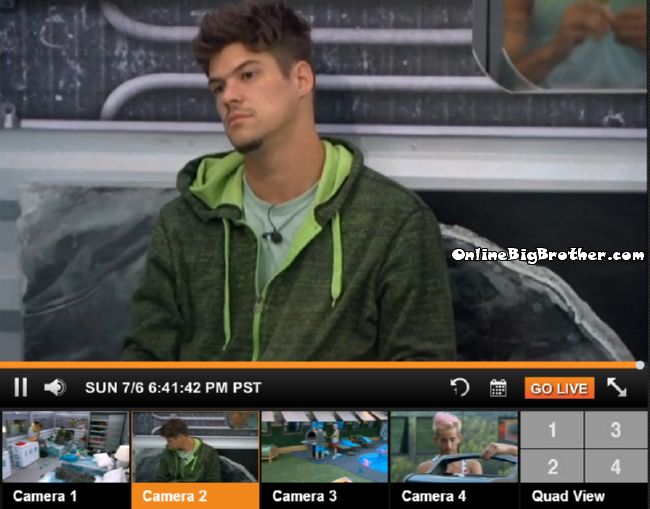 6:42pm Cody and Zach
Cody says Frankie is with Devin and Caleb and he's screwing over Zach and Cody.  Cody isn't bringing Frankie to the end, "Devin and Frankie gotta go.. Devin because he's a monster and Frankie because his social game is too good" Cody wants to put them both up if he wins HOH (When they hit Jury) .
Zach points out Devin is all about their team yet he's cutting deal with everyone behind their backs. Cody warns about Amber she's sending information to Devin.
Cody – "Best case scenario POW goes down Vic goes up we're sending him home"
Cody says he's putting POWPOW for BOB if he wins HOH.
COdy says Devin wants to keep Jocasta now because he's got some special deal with her.
Cody wants to keep Brittany, Nicole and Hayden. he's worried if Christine wins HOH she's going to put up one of the Bomb squad if Caleb wins HOH
Cody – "I'm excited because they think everything it good everything is cool"
Cody – Frankie showed his true colours because me and you got crazy tight.. you love him I loved him and now he's like f*** them"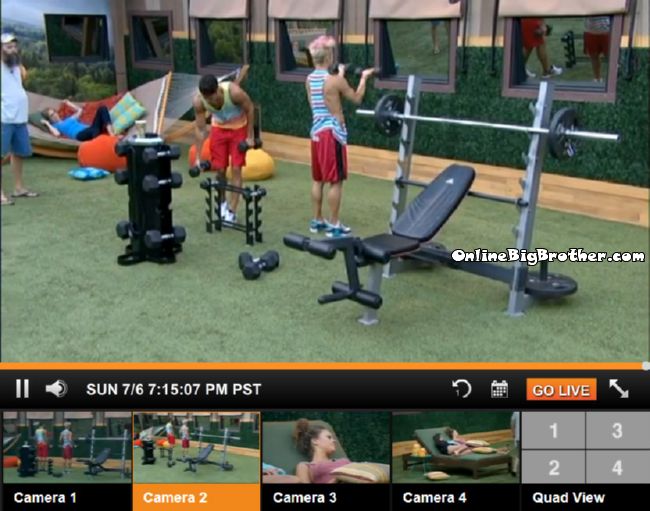 7:16pm Working out Donny, Frankie and Cody
Cody and Frankie talking about gyms..
Donny asks if cody "GTL"
Cody says what Gym, Tan, Laundry.. he doesn't tan.
Frankie says he tanned when he was in Mamma Mia because they wanted them to look like greek gods
7:12pm Amber and Victoria backyard
Amber tells victoria not to be worried about the POV ceremony she'snot going up. Victoria – "You can't say that"
7:20pm Victoria and Hayden 
Hayden tells her he thinks she's safe this week. They both agree Devin is bi polar. Victoria's complains about the Have nots room says it gets very cold at night.
Victoria points out that Brittany thinks she's safe.
[polldaddy poll=8164185]