POV Holder:
Donny
Next POV
?
POV Used
YES
POV Ceremony
June 29th
HOH Winner Team 1:
Frankie
HOH Winner Team 2:
Caleb (current HOH)
Battle of the Block Winner
Brittany, Victoria
Next HOH/ Next BOB
?
Original Nominations:
Caleb noms (Donny, Paola) Frankie noms (Brittany, Victoria)
Current Nominations:
Joey, Paola
Have Nots
Cody, Hayden, Joey, Brittany
POV Players
Donny, Paola, Cody, Zach, Caleb, Victoria (HOST = Jocasta)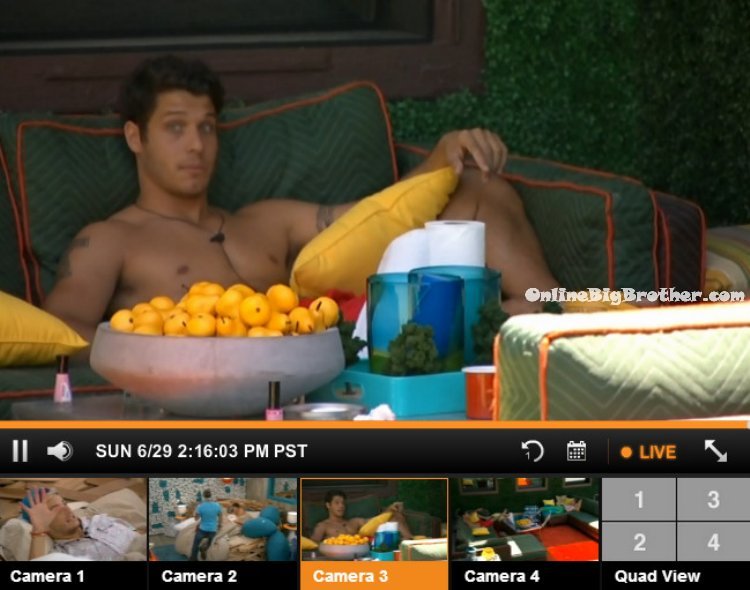 WATCH the next 48 hours for FREE – Big Brother 16 Live Feed TRIAL!
2:20pm Derrick and Cody talk on the backyard couches. Derrick says that's the thing with winning HOH, you draw the line with people by putting them up. They're like I thought we were cool. Cody says its just better not winning HOH right now. Derrick agrees. Cody says that if Devin goes up on the block, I will vote him out. Cody says I would like to win HOH to be safe and avoid the back door. Cody says but this early in the game, if you take a shot at someone you can't miss. Derrick agrees. Cody says it would solidify our spot with the other side of the house too. Like damn look what he just did, I'm not putting him up. Derrick says we're going to do this, we're going to do this kid! Over by the couches – Cody gives Joey a back massage.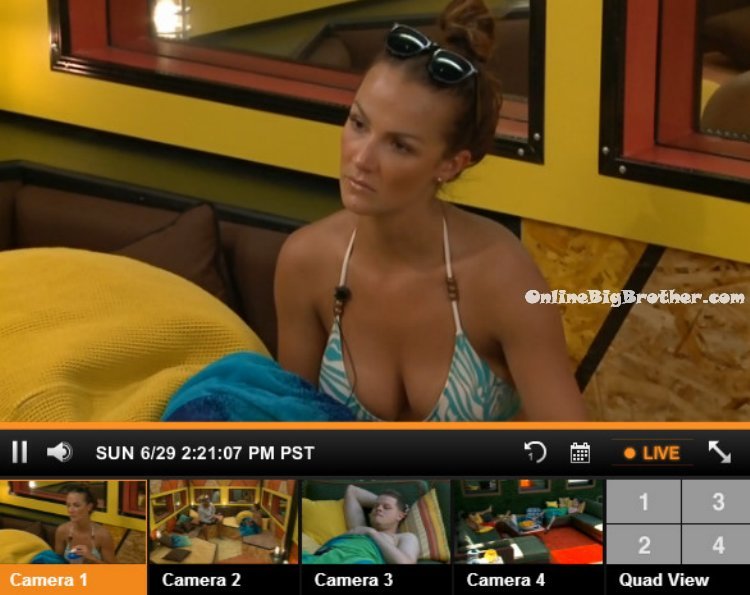 2:25pm – 2:55pm In the hove room – Devin apologizes to Brittany and tells her he is sorry for last night. He says that he doesn't want his daughter to grow up and see her father in a negative light. Last night it broke my heart. I mean 100% as a father I would be elated to see you or another parent to be sitting in that seat at the end. Devin tells Brittany that he told Joey that he doesn't want to vote out Joey. I like her and not because of the laughter. I like her because she is my type. I told her that she has my vote. I know that you and Joey are close. Brittany says I want to stop you and talk about us first. When you were talking to me you just shut down. In the beginning I told everyone that you were an amazing person. When you came in here it wasn't about the lotion. Out in the backyard I was just being honest with you. You and Joey are the only people that had issues with people. You blew me off. How you talked to me took me back to a place I don't want to remember. You made me feel like an idiot. Honestly if it was between you and Pow, I would have voted for her. Me being honest with Caleb put me in a bad position. I am probably going home next week. Devin says coming into this the last time I saw my daughter face to face was over 3 months ago. Devin starts crying. He says he values his time with his daughter and loves her so much. He says that he moved away from her to San Antonio for work. He says that he did a face time with her before coming out here and being in the house away from here is really hard. Brittany says that she gets it and that she understands yesterday was a bad day for him being his daughters birthday. Brittany starts to cry. Brittany says we're all just starting to get to know each other. There aren't lines drawn in the sand yet. Devin talks about how Donny told him he doesn't get love at home like he's gotten in the house. Devin says he told Donny he trusts who he says he is 95% but that 5% of him doesn't think he is who he says he is. Devin says Donny told me he is who he says he is and if I'm not who I say I am he would still love me. Devin tells Brittany that he told Joey he would vote for her to stay. Devin says I promised her my vote and I don't want to go back on it. I just hope I'm not the solo vote. Brittany says I don't think you'll be the only one..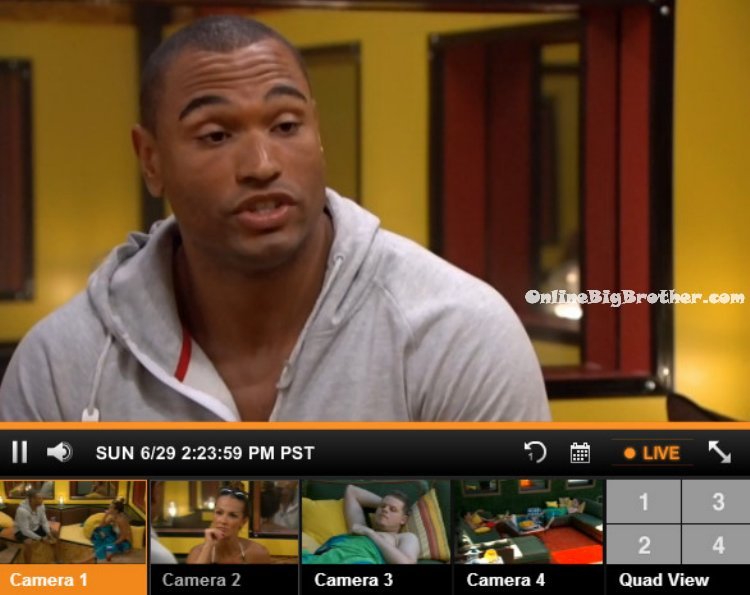 Hayden and Caleb playing chess..

Stay connected and interact with other Big Brother Fans on our Facebook page.
And Follow: @BigBspoilers and @Dawgsbigbrother on Twitter for the most up to date spoilers.
Alliances:
Double Ds = Devin, Donny
Bomb Squad = Frankie, Caleb, Devin, Cody, Derrick, Zach, Amber, Christine
Bed buddies = Nicole, Christine
Final 2 Deal = Frankie, Zach
Old Alliances
TheCrazy8s = Frankie, Donny, Joey, Paola, Devin, Amber, Nicole, Cody
El Cuatro = Paola, Amber, Joey, Nicole
[polldaddy poll=8154372]