Head of Household Winner – Memphis
Have nots – Kaysar, NicoleF, Christmas, David
Nominations – David & NicoleA
Power of Veto Players are – Memphis, David, NicoleA, NicoleF, Ian, Tyler
POV Host: Enzo
Power of Veto holder – Memphis
Power of Veto Ceremony – Memphis did not use the veto David and NicA remain on the block.
Safety Suite – Christmas wins. Ian is her Plus One
Live feeds —-> Grab your Live feeds here. Try it free.
Rank the houseguests —-> Big Brother 22 Ranking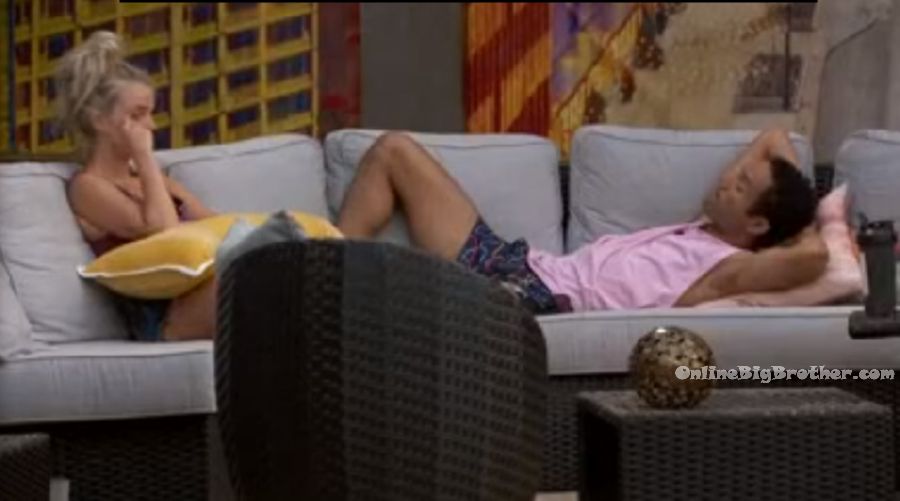 7:20pm Backyard. NicoleF and Kevin.
Nicole – have you heard anything new? Kevin – I already told you that Janelle was talking about you. She is trying to put it on NicoleA as if it was her and it was not. I was there. Nicole – I know it wasn't. Kevin – and I am a little nervous because I want to do what the house wants but I already promised her I would vote for her. Nicole – yeah do it. Kevin – we have plenty of days too.. today is only Monday! Nicole – yeah so much time. Kevin – do you think people will think its weird that I'm voting for her. Nicole – no. I would totally expect you to keep her. Kevin – and I already told David and he said I understand. Nicole – that is nice. I just feel like there is some weird energy and its different you know. Kevin – I feel like lets get rid of the energy. Nicole – I know.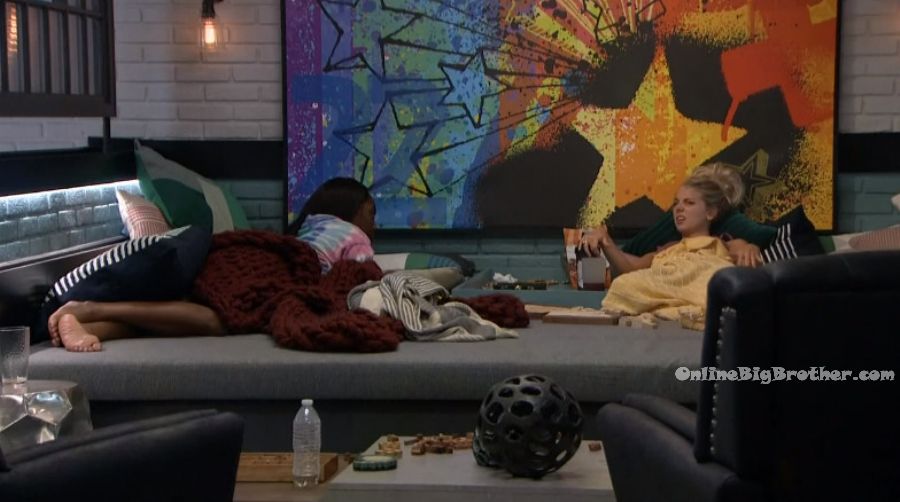 7:55pm Lounge outside the HOH room. NicoleF and DaVonne.
Nicole – I feel like a lot of people are lying. DaVonne – I agree. That b***h (Janelle) has got to get out of here. That B***H has got to go! DaVonne – I was talking to her and how she didn't trust you in this game and something about you did something to Rachel in the Amazing Race. Nicole – it wasn't anything. Rachel was not my friend and not my ally. Rachel came and told me that my friend and her enemy were after me. So I verified it. She is mad because she told me something to help me and I asked if it was true and it was my friend. And her Enemy so I thought she made it up.. that is it. They just dragged it out into real life and that was no reason. And to bring that up in this game is so dumb because there is no reason. Nicole – do you still want David to say? DaVonne – yeah. I love Nicole but she is attached to her (Janelle). Nicole – I feel safer with David for some reason. I feel like you have a little control with David and I have a little control with Ian. And we can use that to protect us. No one is saying anything about you though so that is good.
8pm Bedroom. Dani and Cody.
Dani – she (Janelle) tries to flip the script on me like I did something wrong. Like she doesn't know if she can trust me. She thinks that we're super close. Cody – honestly I am done saying sh*t to her. Dani – nothing. Cody – and we're supposed to be in an alliance.. so you come to me and say that she is mad at me .. so I go to her just to make sure .. If we're going to be in an alliance. Dani – she was acting like I'm not allowed to talk to you because even though we're in an alliance I'm supposed to be close with her. It so stupid. Cody – but this is what she f**king does. Dani – she's had like 3 strikes in 2 days. Cody talks about Tyler in it. Dani – Tyler is in it now!? I am so sick of this fake alliance.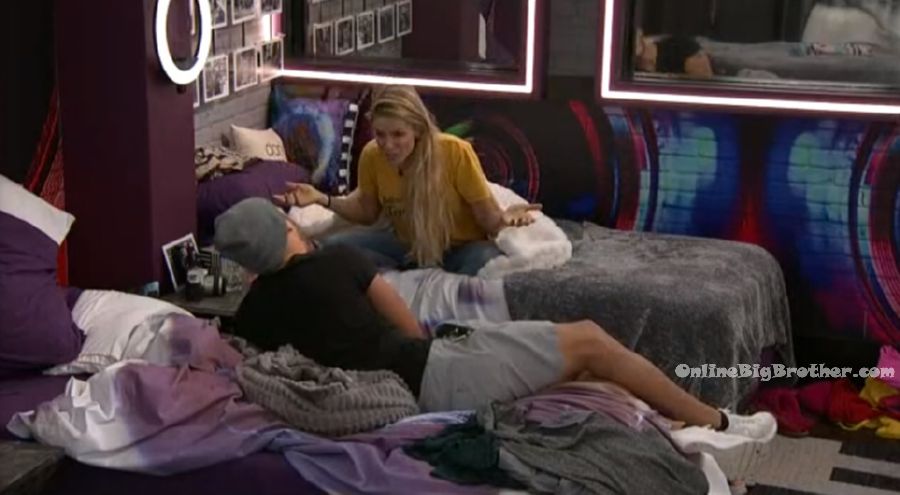 8:30pm Hammock. Ian and Janelle.
Ian – do you know how these noms were settled on because they seem pretty f**king random to me. Janelle – he doesn't talk to me about that. You now what I'm saying. Ian – Its just like the most recent season. Its just like odd. Its interesting. Janelle – I am leaning towards picking NicoleA just because of physically .. I've been beat in the end by physical players so I know what to do. Ian – that's a good point. Janelle – and David has that hunger to win.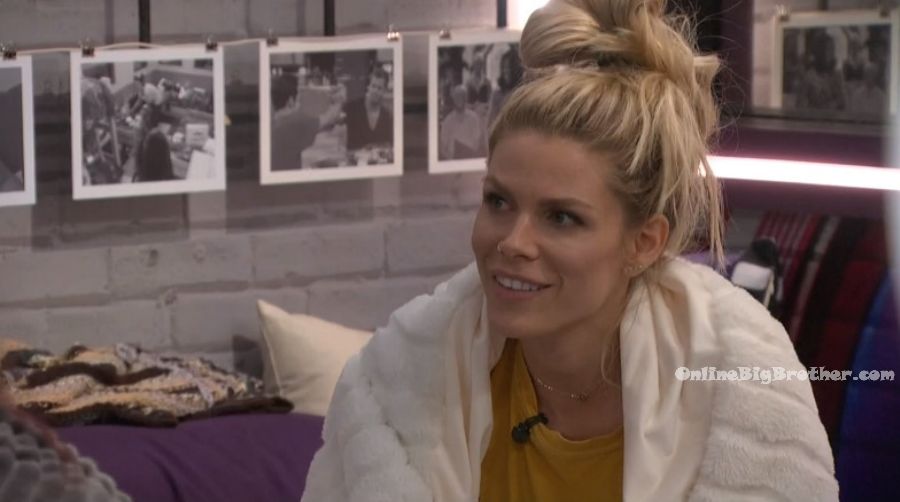 8:40pm Bedroom. NicoleA, NicoleF and Dani.
Nicole – its so frustrating .. I just want to stay and have my moment. And just do at least one think like oh wow Nicole did that. Then I can leave. But right now what did she do.. she almost died on slop and then she dropped a ball two seconds into a comp. Well Done! NicoleF – the comp was so hard and slop is too. Dani – you've just gotten the crap end of the stick. There is still a lot of time and there is always a chance.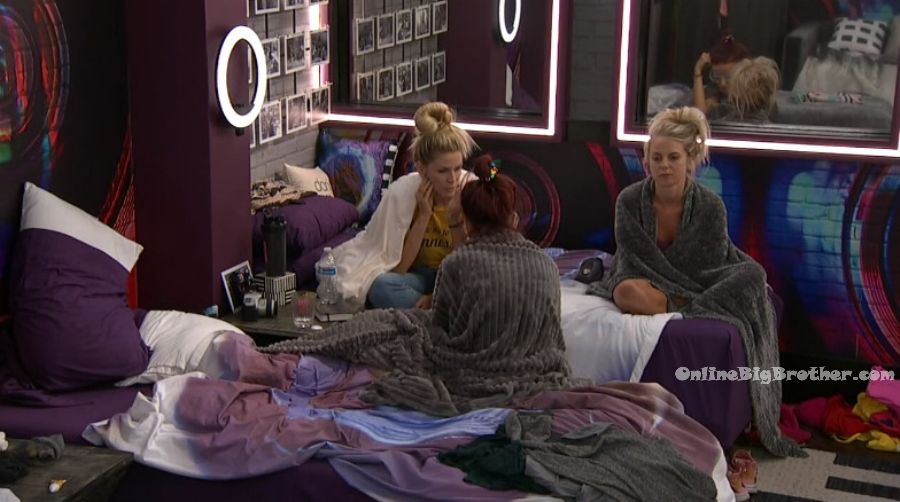 8:55pm Storage room. David and Tyler.
Tyler – I am telling you Day and Bay are in an alliance with Janelle and Kaysar. I think it might come down to a 6 – 6 vote. So I need to be talking to Memphis about that because he breaks the tie. And if he breaks the tie and keeps Nicole .. he is with them. I am going to tell him that he shouldn't play his cards for something like that. David – I don't think Day and Bay will turn on you. Tyler – dude I see them sneaking into rooms the whole time. David – because they're not good right now. Kaysar is trying to rattle them to get information. I think Cody is bringing information up to Memphis which is getting to Kaysar. Tyler – what kind of information. David – all guy alliance .. coming from that room. That Enzo invited him. Tyler – like all guys? David – no like small guy alliance ..like our little group. Tyler – Kaysar is making sh*t up. He is probably saying that its me with Cody. David – but he is trying to say I am in it to DaVonne. Tyler – what did you tell him? David – I told him that I am protecting Bay and Day. Tyler – I don't know bro. David – Kaysar is good. Tyler – Kaysar is going to vote you out.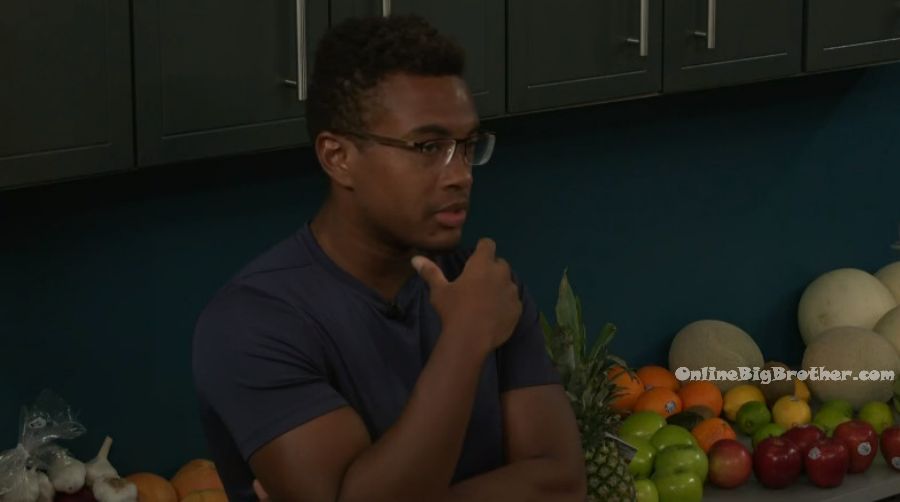 9:25pm Bedroom. Kaysar and Janelle.
Kaysar tells Janelle what he told Ian – I said if we don't get David out we are going to be in a world of hurt. He wants to get to the second half of the game. Janelle – you're really good at talking to Ian. He gets really nervous around me. Kaysar – I said no one is going to target you with Janelle and I in the house. I said if you work with Janelle and I .. I will do everything in my power to make sure you get to jury. I said a vote to keep David is a vote to strengthen Cody. He was like what would you do if you got HOH. He said do you think we can break up the alliance and I can still salvage my relationship with Nicole? I said of course. He said how do you do that. I said you have to get Cody out. He said yeah that is the right move. So now he has a personal vendetta to get Cody out. Janelle – okay good. Kaysar – I said that is what I am going to do if I get HOH. I am taking Cody out. He is extremely dangerous. He is a comp beast and he has an extremely charismatic social game. Janelle – have you seen him around girls .. he acts like a girl! What the f**k! I am not falling for it. If I was a 25 year old girl .. my first time around .. 100%!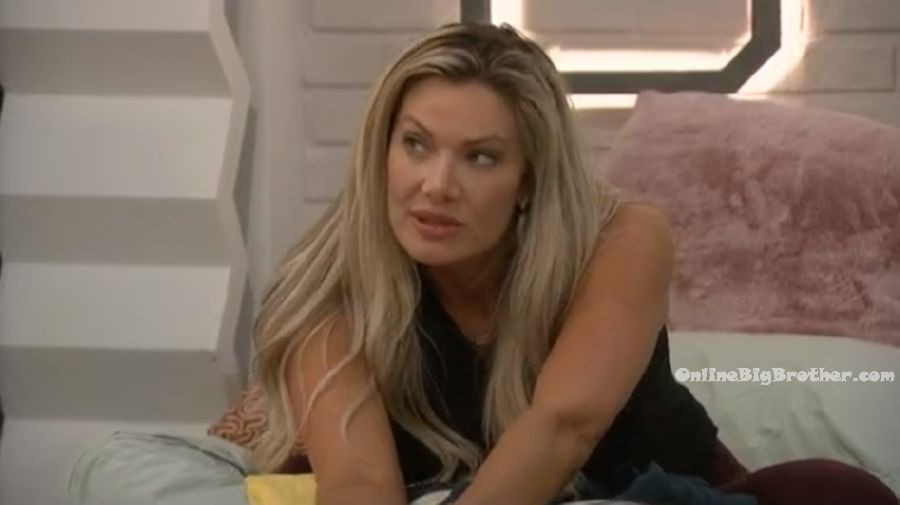 Janelle – I think he (David) wanted to come at me with honesty .. but at the same time he isn't thinking about what is in it for me. If Memphis comes off the block .. I go up. Why would I keep you (David). He's like guilty by association. Kaysar – it basically implicates you. Janelle – you're on the block .. how is this good for me?! I love DaVonne to death but she bounces around like a ping pong ball. If she doesn't vote with us .. Its a game move.. why is she here. kaysar – everyone has triggers ..we have to be understanding. When would she (DaVonne) be okay with getting him (David) out? Week 2, week 3? Janelle – when we're up on the block!? I said if you're going to go after Memphis .. where do I fit into your game? He said well you're guilty by association. I was like so you're going to put me on the block next to him? He was like I respect you.. you're the queen bee. I will give you respect .. which means you're (Kaysar) going to be on the block. Kaysar – we need to tell Memphis. We need to get him out. DaVonne joins them. Janelle tells Day about what David told her. Janelle – David came into the storage room for his pitch and this man told me .. I am here to campaign .. I am going after Memphis. I said David that is fine.. I don't have anything with Memphis but like where do I fit into your game. And he goes .. you're guilty by association. I said so if Memphis wins the veto .. you're okay with me going home? He said well I would give you a one week deal ..respect! I respect who you are as a player.. you're a legend! I was like okay.. Day – what am I supposed to do with that. Janelle – so you're after Kaysar? Kaysar – so I'm guilty by association. Janelle – they're using him. They're using that man. His pitch was terrible! Kaysar – I love and respect you but this dude is going to f**k up our game. Janelle – he is threatened by me. Kaysar – we need to lock down an alliance. For the sake of our game we need to lock this in. You need to trust us. Day – its not that I don't trust you. Kaysar – what are you worried about .. you think you'll be stronger by yourself. Day – I told you about what I am battling with ..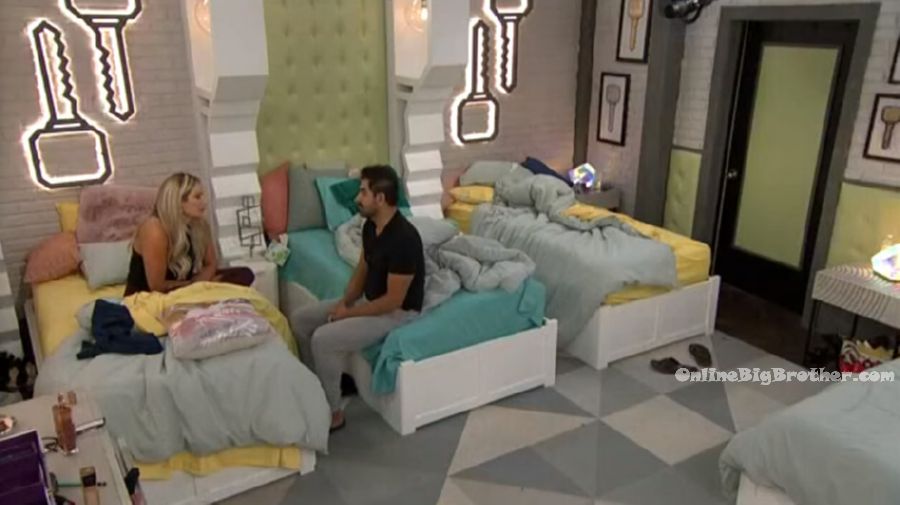 Janelle, Kayar and Christmas.
Janelle tells Christmas what David's pitch was to her. Christmas acts shocked and then tells Janelle its his first time. Janelle – okay so you're going to give me a one week pass and then you're going to take out my buddy!? Christmas – when you're backed up against a corner you don't bite the person that can save you. Janelle – so where is your head at? kaysar – I want to seal a deal. Janelle – how do you feel about us three and Day / Bay. Christmas – I'm on board but I want to make sure they're on board too. I have no problem working with you guys. Where would NicoleA be in this? Kaysar – we're cool with NicoleA. She is a solid number. Christmas – I am good with everybody. I just want to make sure socially it stays that way. We'll check in ..in the next day or two. Kaysar – right now I think we're close to having the numbers to keeping NicoleA. Christmas leaves. Janelle – I think Day will come around. Bay joins them. Bay tells them – I am being 100% honest .. don't tell anyone I told you this .. but Memphis told David he is staying. Janelle & Kaysar – WHAT?! Bay – if there is a tie.. Memphis will break the tie to keep David. Janelle – Memphis told us he would break the tie to evict David. Who told you that? Bay – David. Janelle – girl.. he is sloppy.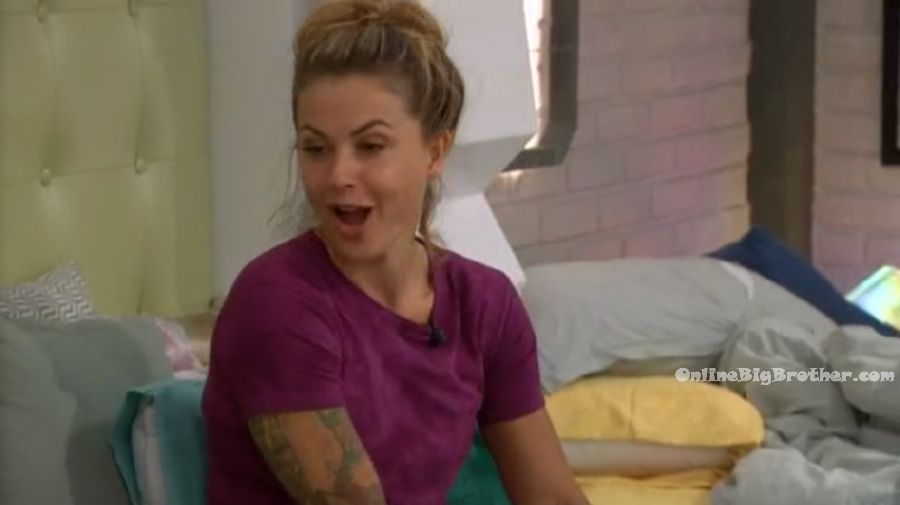 10:30pm Kitchen. Kaysar is burning something in the kitchen. Kevin asks why he is trying to BBQ in the house. Kevin points out all the smoke outside the HOH room. DaVonne tells Kevin – if the sprinklers go off and my wig gets wet … I am going off!

11pm Hammock. Kevin and Dani.
Kevin – I am trying to understand where she is with her vote. Dani – Did she say anything? Kevin – yeah, she's leaning towards David. Dani – keeping? Kevin – yeah. Dani – I feel like they're closer. Kevin – I have a feeling its going to be a split vote. Dani – who do you think is going to vote to keep NicoleA? You? Kevin – please, I don't want anyone to think I am part of something when I'm not. I am doing it because Nicole voted for me. Dani – tell me who is going to vote for NicoleA (to stay)? Kevin – me, Janelle, Kaysar, Christmas, Bay and there a sixth person they are trying to work.. either Ian or.. Dani – do they have DaVonne? Kevin – Janelle is trying to get me to work DaVonne to bring her to Janelle's side. Dani – why is she trying to split the house.. why am I on the opposite side ..I am so confused. I don't understand what is going on. I have never spoke one bad word about her or said that I am after her. They're literally trying to put me on the opposite side of the house.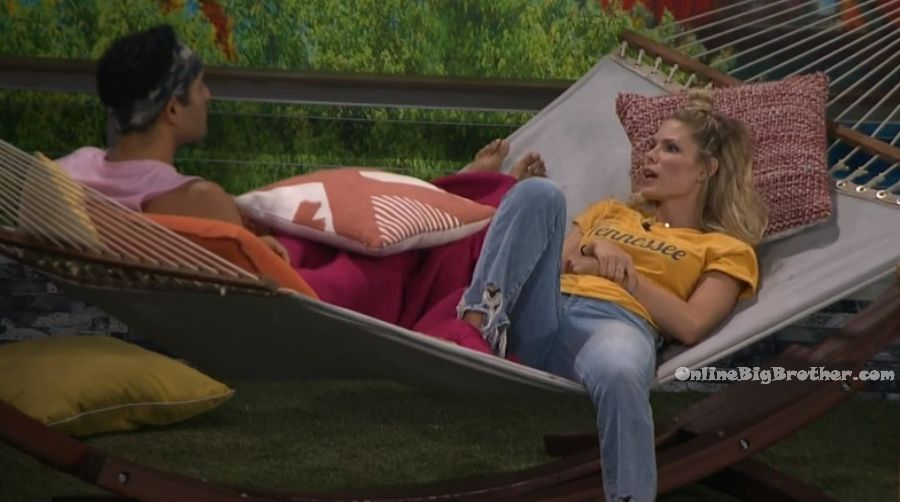 Janelle tells NicoleA – so Kevin thinks its going to be split. NicoleA – damn, damn, dame! Janelle – Just stay super positive. I would campaign to Enzo and Cody just to throw him off. I think the only person that sees us together is Dani.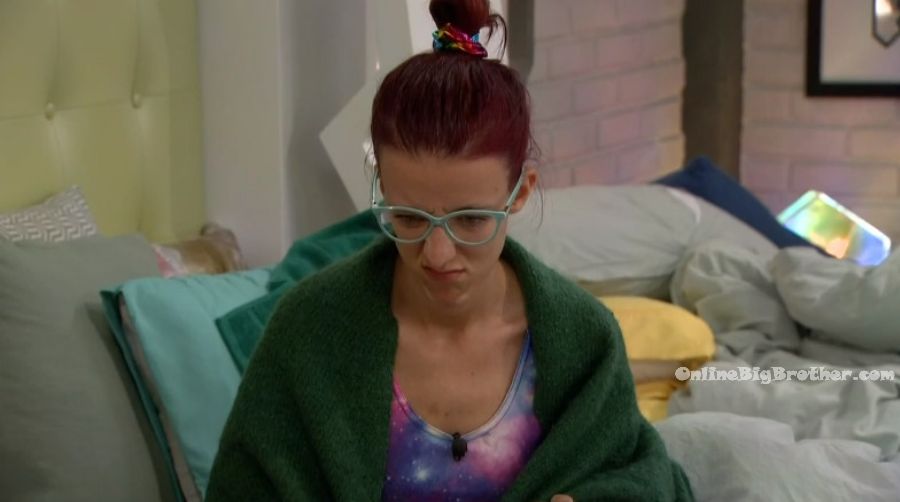 11:40pm Hammock – NicoleA and DaVonn.
Nicole – Did Janelle approach you today? Day – yes. Nicole – did she approach you with an alliance? Day – yes. Nicole – did you accept said alliance? Day – no. Nicole – okay. Day – why? Nicole – I am trying to fact check what Janelle told me. Day – oh, I didn't decline it either. But I didn't say yes or no. Nicole – okay. Day – why? What is she trying to do? Nicole – she is trying to tell me that it is locked in because she made an alliance. With her, Kaysar, you, Bay and Christmas. The five of you locked in an alliance. Day – 4 out of 5 are true. She was pressuring me and I said let me sleep on it. Nicole – I am just trying to figure out if she is really advocating for me or if she is just blowing smoke. Day – no she is trying. She is following me around trying to get me. Nicole – I am sorry, you shouldn't be pressured like that. Day – I was supposed to be the one to solidify it. Day – don't tell D (David) anything. He just rubbed me the wrong way. He was like stop campaigning for me. I said I am not campaigning for you ..I don't even know you. I am just saying what I am not going to do. It could be any man. Its not you. He was like you just need to chill out. You just need to chill out. So I was like HHHmmmm. Okay! It just really rubbed me the wrong way.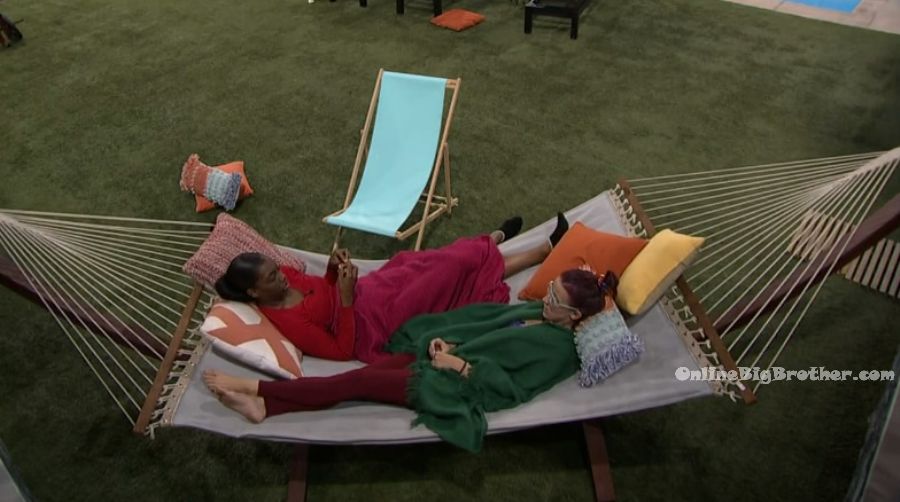 12:20am Bedroom. Dani, Cody, Tyler, Day and Bay.
Cody – I am really friendly but I am extremely loyal. Tyler – everyone is putting us together anyways. Bay – do we need a handshake? Lock in your six!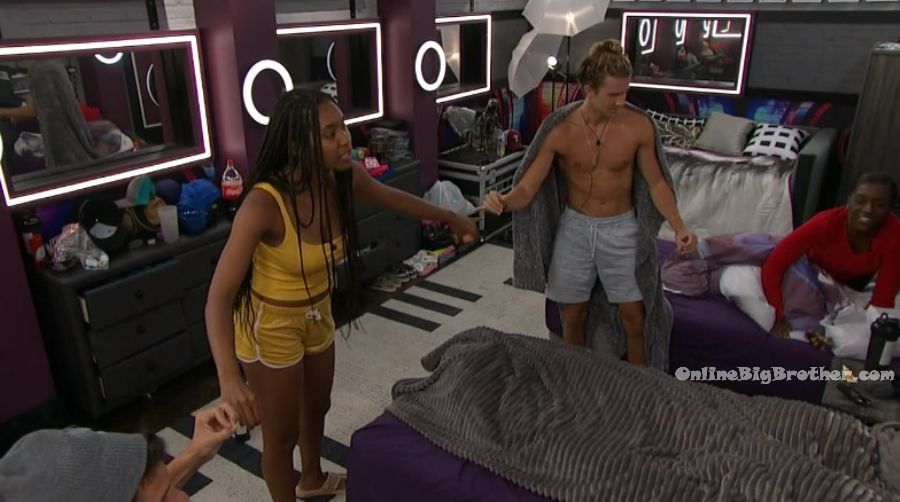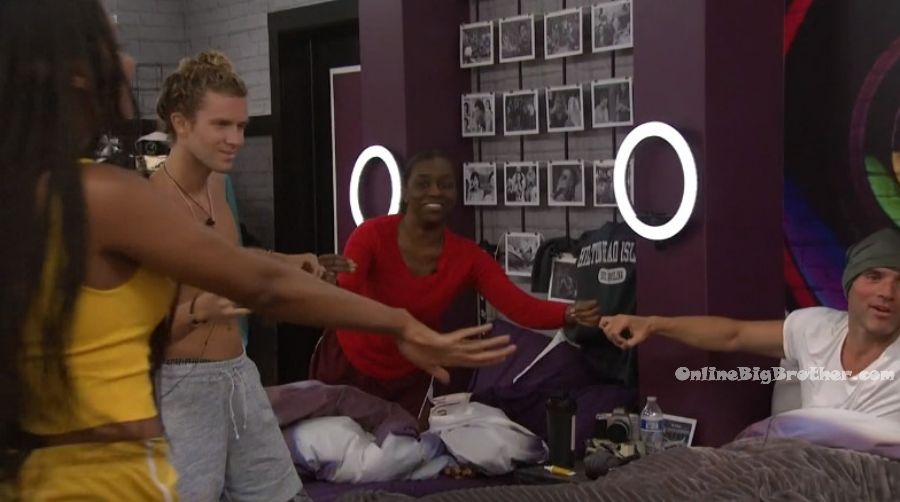 Cody – the rest of this week I can't wait to see what comes out. If Ian actually believed them. Day – if he turns .. they could probably pull it off. If Christmas turns, what is Memphis going to do? She (Janelle) is that that she will not (vote out David with a tie breaker). Bay – he (Memphis) is a beast! Cody – I wish we could fast forward to the HOH comp. Janelle and Kaysar told NicoleA not to even campaign to me. Dani – why would you not campaign to someone .. that's like sinking your ship. Cody – I talked to her for like 45min in the hammock. Enzo – this could be our thing. (See photo below). Day – no, that is out. Bay – as soon as she finds out I am with you.. she is going to put me up. Cody – I'll have her on the block before that.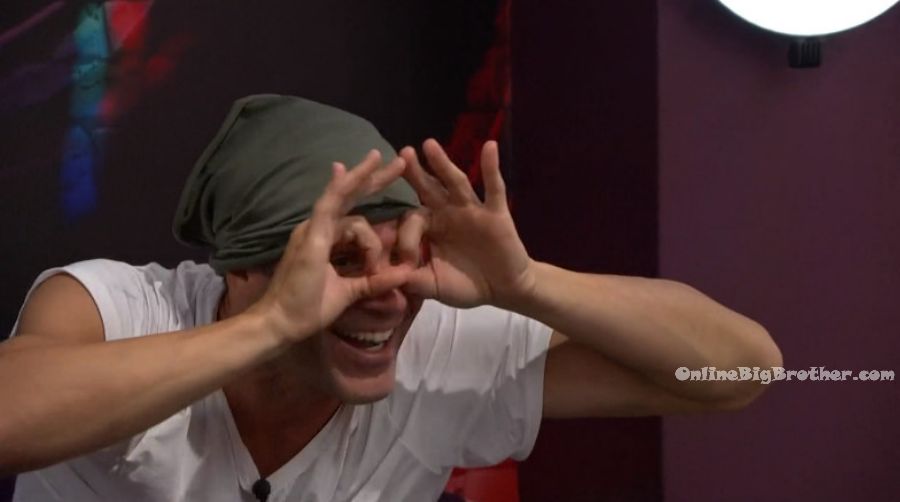 2:30am All the house guests are sleeping..