Head of Household Winner – Memphis
Have nots – Kaysar, NicoleF, Christmas, David
Nominations – David & NicoleA
Power of Veto Players are – Memphis, David, NicoleA, NicoleF, Ian, Tyler
POV Host: Enzo
Power of Veto holder – Memphis
Power of Veto Ceremony – Memphis did not use the veto David and NicA remain on the block.
Safety Suite – Christmas wins. Ian is her Plus One
Live feeds —-> Grab your Live feeds here. Try it free.
Rank the houseguests —-> Big Brother 22 Ranking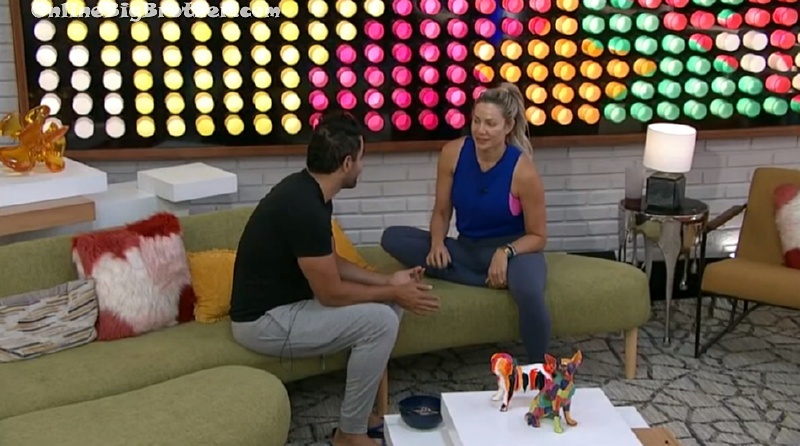 10:19 am Janelle and Kaysar
Janelle says someone is still pissed (not sure who I think it's NicF)
Kaysar – f* that shit what do you want me to do sit around and go home. Like what am I suppose to do ask her permission
Kaysar – they think they have the advantage they will be really pissed next week
Kaysar – I just don't understand why she would be mad
Kaysar says they are offering Ian into their alliance and will say "no no we never got around to it"
Kaysar – he's not stupid
Janelle – I know
Kaysar – I think he trusts me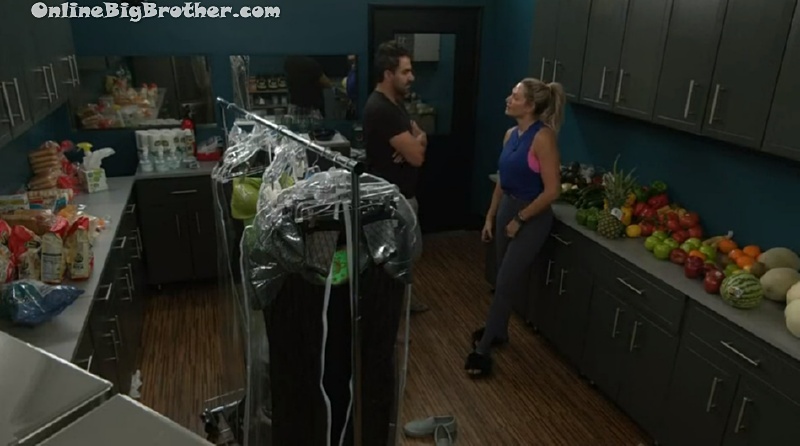 They move to the storage room.
Kaysar warns her they can listen through the storage room door
Janelle asks what time "she" got pissed at
Kaysar – sometime in the evening, Tyler and Cody watching me chatting with Ian for a long time
Kaysar explains that he was talking to Ian and talking real close they could tell he was making inroads with Ian. "In about an hour"
Janelle – so they saw you talking to Ian and they started freaking out
Kaysar – They were like this is bad news.
Kaysar says after he finished talking to Ian he went and talked to NicoleF on the hammock for hours "the expression on their face was serious"
Kaysar – she hasn't been the same ever since she's trying to be super nice to him so it's obvious something went down .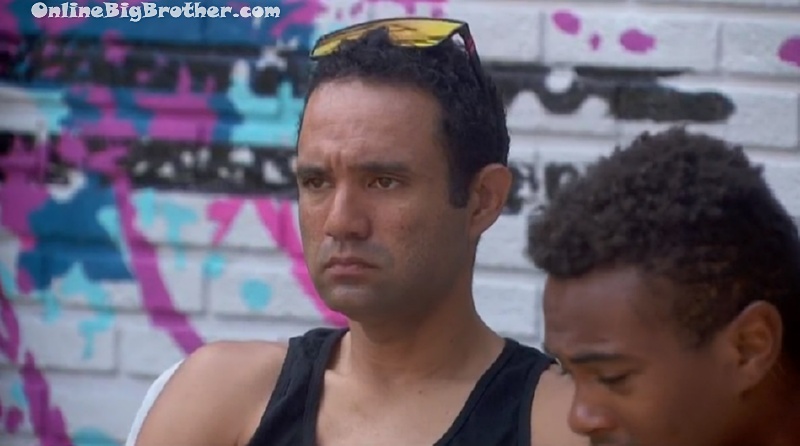 10:43 am Kevin and David
David – I'm sorry you are stuck in the middle with two people you care about
Kevin – you have it worse than me because you are on have-nots and up against someone you care about I didn't have that situation.
David starts talking about his ethnicity and how he identifies with people of the same ethnicity.
David says he identifies with Kevin and Kasyar because they are both minority men.
David about Kaysar – I don't know how far he played or how good he is.
David – now he's campaigning against me and wants me out.. well not wanting me out .. it just hurts. especially this early
Kevin – I think there is a strategy to exaggerate things on their part I don't know if there's even a campaign there's just 3 people
David – they are making up stuff and get it out there
Kevin – Make it seem like it really has it has momentum
David – people are smart enough in here to see that (Umm no)
Kevin says Kasyar and Janelle are playing like Rookies
Kevin – they are vets this is their second Allstars so something ain't adding up
David – I know
Kevin can't figure out why Kaysar and Janelle are playing so bad "Damn either you are so disconnected or you have something genius going on" (Nope you're the only genius in the house Kevin)
Kevin – unless we're the ones being dupped.. double dupped (DING DING DING)
Kevin – you think you can get Tyler
David – I think so
David – people don't want to see me go they don't want to see Nic go.
David – if anybody has any empathy it's hard not to feel like maybe David didn't get to really play I'm nice, I'm genuine, I'm helping I clean (we're nearing the Kraken folks)
David- it's something its not something I'm doing for the game.. I live here. it has some value outside of this game. I just don't want to live here
Kevin – you have a similar mission as me
Kevin says David needs to start talking to everyone today and then put the extra work in tomorrow with the people that need it.
Kevin says he was begging NicA to get away from Janelle and Kasyar but she was lured in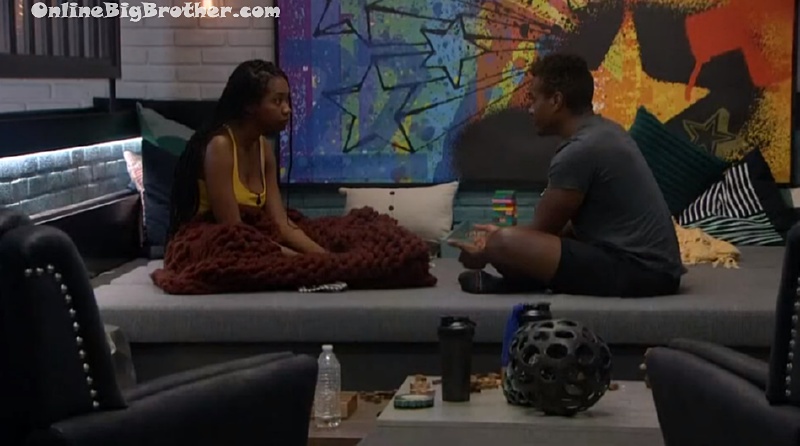 11:03 am Bayleigh and David
Bayleigh – I see what is going on in this game.
David – I cannot go through what I went through last year in this house.. that hurt
David says if it's a tie he thinks Memphis will "get me out"
Bayleigh – I agree
David – I feel like I have enough votes but Kaysar is pushing
David says Da'Vonne won't be in the same room as him.
Bayleigh says Da'vonne will vote for David because of "her cause" The other people in the house are just trying to pick a side.
David saying that NicA was "Thrown out there by them"
David – we heard talk
Bayleigh – people are not voting on teams.
Bayleigh – everybody has their side things. it's fine. there has to be what's the ultimate. you know what I'm saying
Bayleigh says she has one goal the same one she told David and Da'Vonne. "Mingle, mingle, mingle as long as that comes first"
David says he's been trying to communicate that to Da'Vonne
Bayleigh – she doesn't know you so it's hard
David – I'm not putting all my cards out there.
Bayleigh – why did you tell Janelle she had a one-week free pass
David – if she keeps me.
Bayleigh – a one-week free pass just tells her you're coming after her anyways
David says he didn't frame it that way. "I need votes I'm going to every person to ask"
Bayleigh – just lie next time and say I'm not coming after you
Bayleigh – this will be an interesting week and if you do stay our game will be PEW.. because a side was chosen. It's fine we're going to play a game.
David – I talked to Tyler.
Bayleigh – me and Tyler are Okay because what we went through was so traumatic because of what I went through everyone blamed Tyler for it it really hurt him. I don't want him to get hate (wounded baby bird)
Bayleigh says she's not going after Tyler she doesn't want a redo of season 20
David – I didn't like level 6
Bayleigh – nobody did level 6 sucks (nobody likes the 4000 alliance you all have made this season)
Bayleigh tells him she thinks it's leaning his way for it to be a tie both Da'Vonne and her have to vote him out.
Bayleigh – Memphis has got to go, I want to come back put him on the block win veto cause he thinks he's the veto king. He beat me once not twice. Now I know what it's like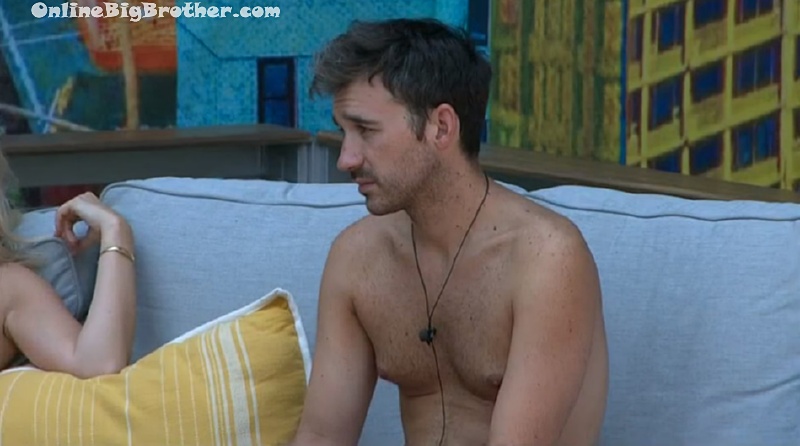 11:21 am NicF and Ian
NicF claiming that Ian is her "best friend"
NicF – they're going to say whatever they can to everyone because they are desperate (Corey?)
Ian says Janelle and Kaysar are going to be sent out. Janelle will be first and Kaysar will be left. "His position is really good.. He's going to be put up and unless there's a veto Janelle will go and he'll be the residual. he'll be around for awhile. You have to think about those sort of things"
NicF says she's loyal to ian
Ian – that's not a question no matter what you will push for me to be in the core
Ian brings up teh Brigade and how Brintey made it far because lane wanted her there.
NicF – you're not on the outside of anything don't be scared of that ian
Ian – if we can manage to keep David this week and he's going to be with us I think
(Ians' the 7th person of a 6 person alliance of which 2 of it's members have him as their main target)
David joins them.
12:06 pm Bros in the water..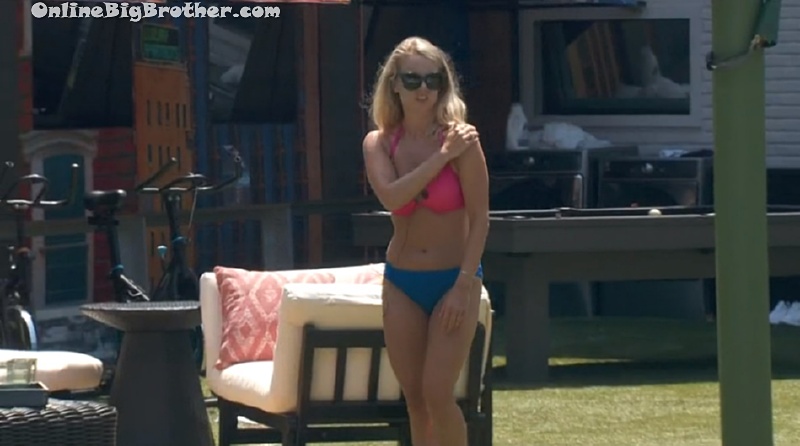 12:07 am NicF slithers outside searching for a heat rock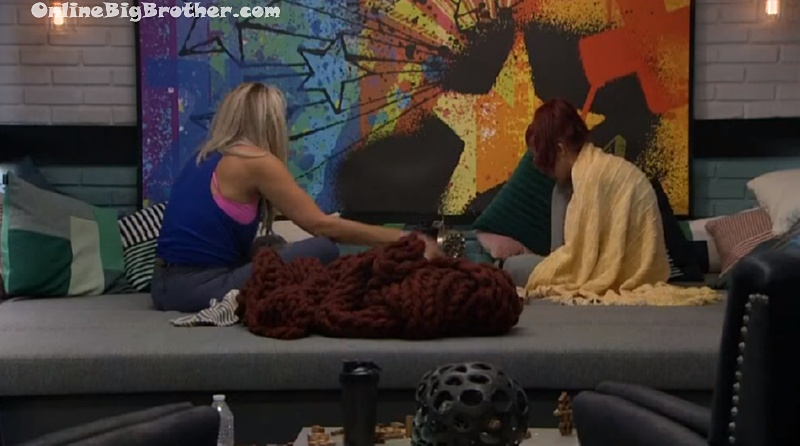 12:45 pm NicA and Janelle
nicA says that the house will vote as a block on Thursday because everyone wants to be on the same page.
Janelle – did I tell you David's pitch to me.. (how David is targeting Memphis)
NicA – you need to talk to Memphis about that
Janelle – I did
Janelle says Memphis told her he's voting out David if it's a tie.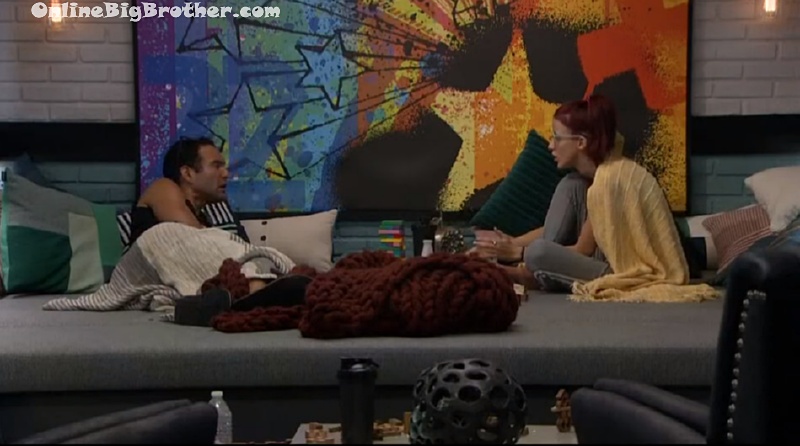 1:12 pm NicA and Kevin Perfect read on the house
NicA saying that Jenelle is hell-bent on getting rid of NicF and Kevin.
NicA says Janelle used her and manipulated her "I'm embarrassed" (you sure will be. NicA and Kevin Allstars)
NicA – she can manipulate Bayleigh she can manipulate Christmas and Ian that's all the people she wants on her side the people she will keep safe the people then she'll dispose of them
NicA – you don't dispose of your allies week 2
NicA – she's campaigning for me to bury me
Kevin says she's using Nica to form an alliance.
Feeds cut
When we're back they're talking about convincing the house that NicA is with Janelle and kaysar but only to take them out.
Kevin bring sup forming a "shadow" alliance in the house to keep her.
Kevin going on about as long as Kaysar and Janelle don't win HOH they're going up.
Kevin goes on about how NicA can convince the house that she will lull Kasyar and Janelle to let her win the HOH because they think she's with them than NicA wins and puts them up.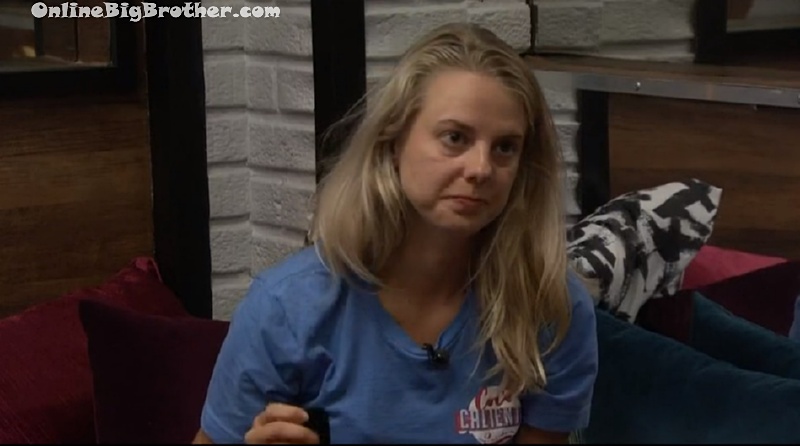 2:02 pm Nica and NicF, Ian
NicA says Janelle came up with a plan to turn Ian against NicF adds that Janelle thinks it's funny.
NicA – I'm not with them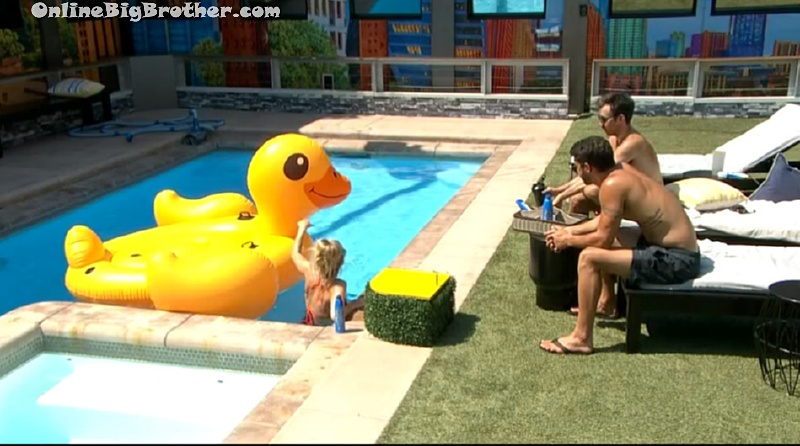 2:36 pm Dani, Ian, Cody
Ian filling them in on what NicA is saying.
Ian calls it that Kaysar is going for the Spencer spot this season.