POV Holder:
Frank
Next POV:
Aug 18 (Saturday)
POV Used
Yes
POV Ceremony
Aug 20 (Monday)
HOH Winner:
Shane
Next HOH:
Aug 13 (Thursday)
Original Nominations:
Boogie And Frank
Current Nominations:
Boogie And Jenn
Have Nots
No Have Nots This Week
Last Evicted Houseguest
Wil
HOH temptations
Britney Safe this week, Boogie gets 10grand
5:28pm Cam 1-4 Hammock the 4 Girls Watch with FlashBack FREE TRIAL!
Britney asks them what has been happening in the house.. she's been sleeping all day.
Jenn: "I washed my a$$ put a smile on my face and got over the 24 hours of Rage.. "
Danielle and Jenn climb off the hammock because it's about to collapse under the weight.
The girls decide that the Yoga last night was a great idea they are thinking about doing it again.
Danielle now telling them in High School she spent a summer in China as an ambassador from the US to spread good will.. She had to learn Chinese.
Jenn and Britney start to talk about New York and how hard it is for people. .. talk is chit chat girl stuff.
5:39pm Cam 3-4 Boogie and Frank Kitchen
Boogie points out that the girls have all kissed up.. "Why do you think that means.. you think she feels comfortable? "
Frank: "No.. I think she finally figured out that her being sore was hurting her game"
Boogie: "Look at her.. I have to call her out a little bit"
Frank isn't sure that is a good idea because any drama Boogie starts may hurt their chances at getting Joe's vote.
5:48pm Cam 3-4 Frank and Boogie Backyard Couch
Frank wants them to have code words for certain players so they can do a bit of talking in front of the other players
Boogie: "You know your Sh!t Frank.. out of everyone here only you and Dan deserve the win.. You know I hate the guy but gotta tip the hat to Dan"
Frank: 'I think Dan is cleaver.. but I think he pulled it too early"
Boogie: "Sorta.. he might have done it too early but he did it with the right group"
Frank no realizes that Dan never wanted to play with him since day one.. Dan was playing him all along. Boogie says Frank is a lot like Will. During season 7 Will would talk Boogie down all the time.
Conversation moves to diet, exercise and sweet tea…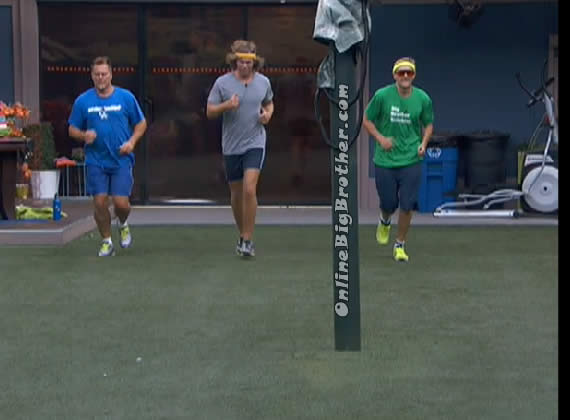 6:24pm Cam 1-4
The Core working out yo..
All 4 Girls are now on the hammock still chatting about random stuff.
(Boogie is starting to get a bit pissed at this.. because Jenn is probably successfully getting votes)
(earlier in the day Shane, Ian and Joe were in the hot tub commenting on the girls getting so close isn't a good idea)
6:33pm the guys working out.. Britney keeps getting in trouble by production for singing (You can hear them over the load speaker).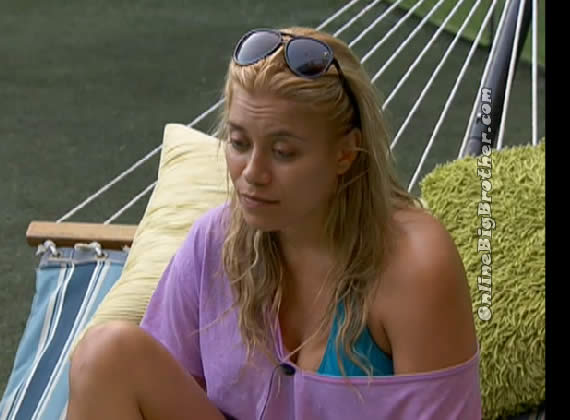 6:50pm CAm 1-2 Britney and Ashley
Ashley tells Brit that she will still vote to keep Jenn, Boogie and Frank have been campaigning hard on her but she knows what is the best thing to do for her game. Ashley feels bad for everyone involved in this HOH, Shane, Frank, Boogie, Jenn.
Ian Joins them
Britney starts downplaying Dan. She says even if Dan's only being nice for his social game she would still prefer that than someone being mean in the house. Britney adds that Dan is a nice guy regardless if that his game or not thats not bad to have in the house
Britney: "If that make him dangerous and the best social player in the game fine better than being nasty"
Britney says that if she's in the jury house she'll base the vote on game and how the person was socially in the game. She's not going to vote for someone that was a total douche bag.
6:59pm CAm 1-2 Hammock Ian and Britney
Britney whispers that Ashley just told him she voting to keep Jenn. Ian: 'Interesting.. it changes every hour… makes this game very difficult to play when someone plays so random"
Ian says that boogie is going to ask Britney if there is someone in the house that is jerking him around.
Ian: "Say it's Joe"
Britney: "I think Joe is telling Boogie tonight"
7:07pm Cam 1-2 Britney, Shane and Joe HOH
Britney just heard from Ashley that she voting to keep Jenn. Joe says she's lying she was trying to get Joe's vote last this morning. Joe: "She's rolling with Boogie.. i'm tellin you that" Joe goes into the shower. Britney tells Shane that she's getting
Joe tells them that he's going to talk to Ashley ask her who she is voting for and if it's Boogie.. I'm calling her out when I draw the line. Joe says the one thing he doesn't get is he told Jenn she is safe this week and right away Jenn runs to Boogie to tell him that. It doesn't make sense to Joe since they are both on the block why would Jenn say anything. Britney explains that Jenn, Boogie and Frank are still in a team together for some reason.
Joe leaves to put clothes on.
Britney: "My god if Dan ever wanted to win he needs to win it now… "
Shane "I know I added that to my blog
7:24pm Joe comes up says he just asked Ashley what she's doing and she told him 1000% she's voting out Jenn. Joe is getting all fired up.. he's going to tell Jenn after dinner.
Shane: "Thats crazy.. that sucks for you I'm sorry"
Britney: 'Oh I don't care.. I'm sure ashley is like Britney is 100% with Dan.. thats great AShley go be with someone who's going home on Thursday"
Britney: "oh my god Ashley is soo too faced.. and really good at it she had janelle fooled"
7:21pm Cam 3-4 Frank and Ian
Boogie had called Britney a b!tch and Ian is a bit pissed about it. Frank explains to him that Boogie is heated because he sees BRitney talking to you trying to get information.
Frank start pitching to Ian if Boogie goes home they start a group of four Ian, Frank, Britney and Ashley. Frank says they need to get Shane and Dan out first.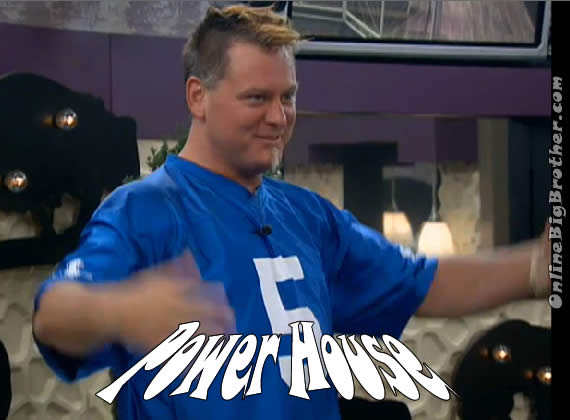 7:46pm Cam 1-2 HOH Head Hunters
Joe saying he walked outside and Boogie said to him "Lets turn the heat up in this b!tch yo" Joe is going to call Ashley out in the backyard. Joe isn't going to give his vote to Boogie when AShley is flip flopping 5 times. Dan tells him to make sure that Jenn is in the room when Joe does it.
Britney: "Great game move ashley… now's the time to pick your alliance by picking people that are on the block"
Danielle thinks the best time to do it is when they are all outside doing yoga.
They all decide to head outside incase someone needs support. Dan reminds Joe not to make stuff up just tell the truth.
Blow up will probably happen tonight!!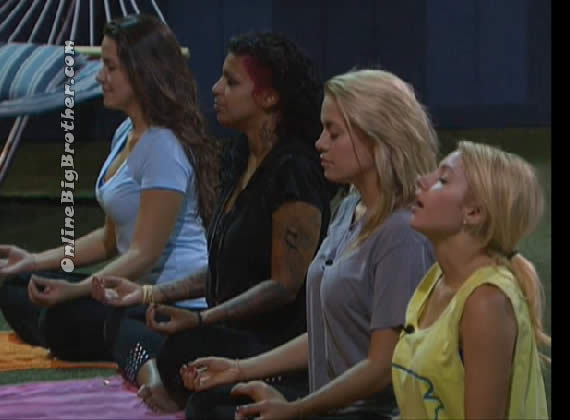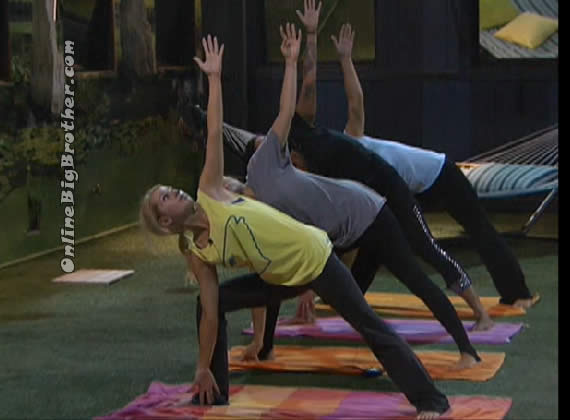 8:05pm – 8:36pm Yoga
8:25pm Cam 1-2 Boogie and Frank
Boogie and Frank eating in the kitchen. Boogie saying how delicious the food Joe made is. Joe joins them tells them his blood pressure is down but he's still going to see the Doctor tomorrow. Boogie tells Joe that it's the best pork chop he has ever eaten and he's not just saying that because they need his vote.
Boogie warns Joe that the other side is going to really be working him hard.. They are worried because they do not have AShley anymore. Frank tells him that he wants him Joe and Ashley to sit down and have a talk because they are just as close as the other 4 are. (DDBS)
Frank asks Joe how he wants to play things if he decides to roll with them. JOe would like to play straight up.
Share it YO!!
Tweet