POV Holder:
Frank
Next POV:
Aug 18 (Saturday)
POV Used
Yes
POV Ceremony
Aug 20 (Monday)
HOH Winner:
Shane
Next HOH:
Aug 13 (Thursday)
Original Nominations:
Boogie And Frank
Current Nominations:
Boogie And Jenn
Have Nots
No Have Nots This Week
Last Evicted Houseguest
Wil
HOH temptations
Britney Safe this week, Boogie gets 10grand
2:42pm Cam 1-2 Arcade Joe and Frank
Joe is asking him if they have Ian's vote.. He's hearing things .. "I'm getting played a few head games right now.
Joe says his decision is very close he's been trying to get all the information today.
2:44pm Frank and Ian
Frank telling him that JOe is saying that Ian is voting to evict Boogie
Ian: "Bullshit .. Who's telling joe this"
Frank: "Not sure could have been shane"
Frank is running through scenarios says they need to take Shane out first. Ian: "The key is to get the other side to waste their HOH on JOE" Frank runs by him that they need to keep Joe around for awhile.
Ian: "I have the feeling he'll have his tongue up the a$$ hole of whoever is upstairs"
Frank isn't sure he points out that Joe was with Janelle til the end he thinks he can be loyal.
Ian wants a cut loose plan for JOe.. He doesn't want Joe to make it past 6. Frank agrees, Ian :'Which one do we want to drag far" (who out of the quack pack)
Frank: "Britney"
Ian:"I agree"
They discuss how Shane has no game is is only relying on winning competitions to move ahead in the game.
3:03pm Cam 1-2 Joe and Ian
Joe: "where's your vote
Ian: "Keeping boogs"
Joe: "I heard you were wishy washy and your were getting close with the other side"
Ian: "No way that is all BullS!t.. NIP that in the BUTT now i'm keeping Boogs"
Ian: "Keep boogie around we can go far in this game.. YOu go with the other side you are the 5th man they'll cut you first Chance"
Ian asks Joe if he's giving a definite answer. Joe plans on it tonight.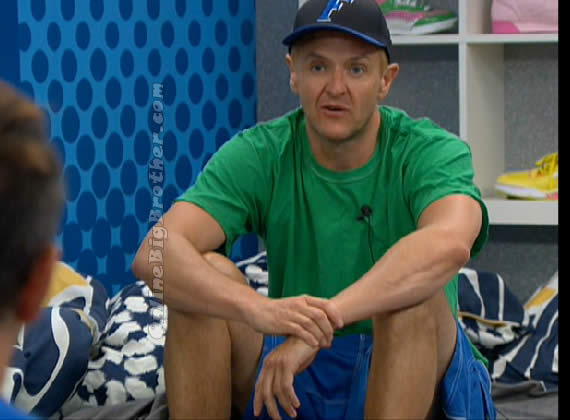 3:07pm Cam 1-4 Bedroom Joe and Boogie Watch with FlashBack FREE TRIAL!
JOe: "There are a few other things that I'm a trying to figure out"
Joe: "There is some lies going around.. I'm kinda hearing that Ian isn't voting for you"
Boogie: 'They're trying.. thats Dan talking.. They are playing you.."
Boogie tells him he's the swing vote and it's all about him.. "You can do the easy thing and vote me out.. but it benefits you to stick with us"
Boogie says that next HOH will be JOe, Boogie, Frank, Ian and Ashley against Britney, Dan and Danielle. They are going to win it.
Boogie offers him that they can do business together after this and be friends outside the house. They can work on making Joe's dreams whatever they may be in his career world become reality.
Boogie: 'You hold all the power this week.. you think that Shane will keep you over Danielle.. I started talking game with Ashley 48 hours ago.. there is no Hierarchy in our group like there is in that group" Boogie reminds him that Dan can't help him with his restaurant desires but Boogie can.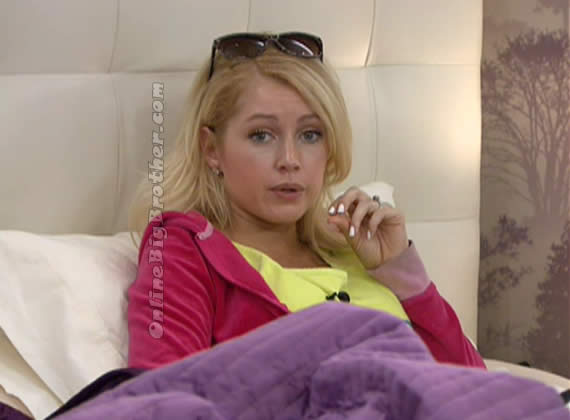 3:10pm Cam 1-2 Brit, Dan, Danielle, Shane Watch with FlashBack FREE TRIAL!
They are going over how the house stands right now.
They agree that Ashley is much more dangerous now, Dan points out her fake smile. Danielle and Britney point out that AShley is acting very flirtatious with Frank and Ian. Danielle calls it gross. Danielle: "I wonder if Ian even notices it.. Frank knew Ian has had a crush on AShley since day one.. "
Britney: "Does it not hurt Jenn's feelings that Frank doesn't even consider keeping her"
They count the votes out and Boogie has Ashley, Frank and they think Ian. Dan says it's over for AShley he would work with Jenn over Ashley in a heartbeat. Dan points out that Jenn won't have a home next week. Britney: 'She'll be back with Frank.. but I never would have predicted her acting this way when she's nominated so what do I know"
3:34pm cam 3-4 Frank and Boogie
They are pretty sour about Joe not committing to them. Frank goes on and on how it's better for Joe to stick with Boogie and Frank.
Boogie goes off that they need to start threatening JOe telling him if he votes to evict Boogie he's moved to slot number one.
Frank says if he wins HOH he'll put signs up on the memory wall targets number 1 and 2 (Pointing to Dan and Shane)
Boogie reminds Frank he needs Joe to know that he's not 100% going for Shane or Dan he'll go for Joe if joe turns on them.
Boogie looks at the camera says: "ahhh Man.. I F***** Hate these people… I F***** Hate these people"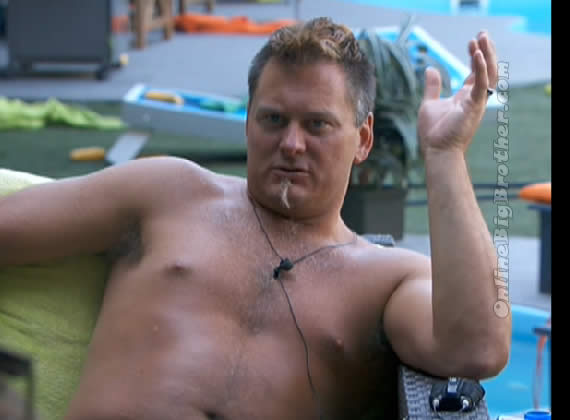 3:45pm Backyard Joe, Shane, Danielle, Shane
Joe is saying he's having trouble with his blood pressure because Frank, Boogie and Jenn keep cornering him. Joe says they are offering him all sorts of deals saying he can lie to the other side and that they will cut him loose when they get to 5.
Joe saying that tomorrow boogie going to offer him the statue of liberty.. Dan :'He'll offer the land back from the white house"
they said to Joe: "If you vote for me We can be friends on the outside.. and I can help you"
Shane: "He's done that before offering jobs"
Dan :"You would much rather conquer that journey on your own"
Joe: "I've been swindled before.. I told him 've been swindled before"
Joe he says if I do give boogie his vote Boogie told me I can still hang out with your guys then back stab you on Thursday. Danielle: "Like he controls who you hang out with.. that is so juvenile.. They want the target on you"
Joe brings up how Boogie wants him to backstab you all which will rattle them for the HOH. Joe: "I can't believe they think I don't come tell you everything.. They don't know true loyalty.. Final 3 and my own restaurant..He's offering me more than the prize for one week.. people will got deep"
Dan: "If we get Alcohol tonight it's going to get ugly"
Joe's been treating his conversation with Boogie and Frank as business negotiations because he has done that before with top tier food distributors.
4:21pm Dan and Danielle
Danielle thinks that Ian will vote out Boogie so he has that one epic moment. After this week Ian is going to probably turn on them. Danielle predicts that after Boogie leaves Ian and Frank will become extremely close. Danielle predicts that Frank will continue to showmance Ashley. Dan: "If we win HOH jenn will come to us if they win she'll go with them.. "
Danielle is infuriated with Ashley right now. She notes that Britney is super paranoid about Boogie having a power.. Danielle doesn't see the point becuase if Boogie really had the power he would not be running around panicing trying to get votes.
Dan is worried that Britney is talking to Frank trying to keep her and Shane off the block next week.
Danielle never sees them to much more than small talk. Danille somehow believes that Shane gets jealous when Frank flirts with her. Danielle plans to continue to be sweet with Shane, she's confident that he will keep them safe for a good long time.
Danielle: Do you think we pulled the trigger too soon"
Dan: "Nope.. keeps one of them out of Jury plus we don't have to worry about them together"
Danielle: "This is our final week with Ian"
Dan: "Doesn't matter because he won't win anything as long as Frank stay in the game.. Once Frank is gone I am willing to take out anyone outside of our 4"
Dan about AShley: "She's so Fake… Ashley is the definition of a flotation device and I don't like how she treats Ian"
Danielle: "I don't like how she made out with Frank, Boogie and Ian.. and none of them care"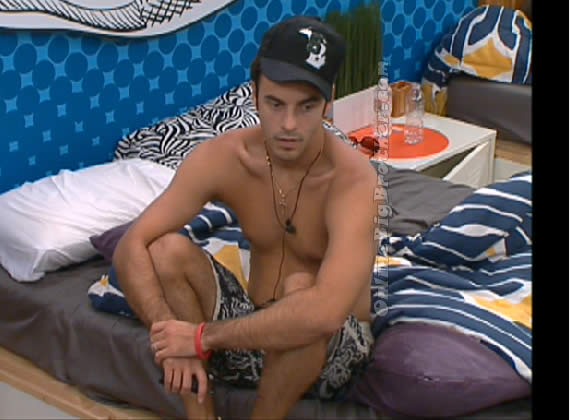 4:45pm Cam 3-4 Dan and Britney
Dan asks her if everything is OK. Britney is bummed out today. She may be starting her period… she's late a week on her period.. Dan Jokes asks her if there is something between Ian and Her he doesn't know about. Britney thinks it's the stress getting to her.
4:58pm Cam 3-4 Kitchen Jenn and Danielle
Jenn saying she's pretty upset because there are 2 people campaigning for Boogie and then she's left on her own.. Danielle asks her if it makes her upset that the other team has picked Boogie over her. Jenn says it does.
Ashley comes in and says she cannot stand Ian squeaking back and forth on the Hammock.
Danielle now saying she has ADHD and she takes medication for it and it make her feel so much better. AShley adds that she's taken ADHD medication before and it had the opposite effect on her she was super hyper. Danielle: 'Thats because you don't have ADHD.. " Danielle adds that they took the medication from her because it's a controlled substance. Danielle now claims that when she is on the medication before coming in the house and she lost a lot of weight. She thinks that because she hasn't taken her ADHD medicine is gaining weight. AShley adds that when she takes those pills she loses her appetite.
(The medication they were talking about is Adderall)
5:12pm Cam 1-2 Ian, Frank and Boogie
Ian thinks that Shane, Frank and himself will be the only ones out of the cast ask back in.
Frank saying if they do a dumb, dumber and dumbest season they will call Shane up. Frank leaves and Ian goes on and on about Joe. Ian wants Joe gone, Joe is F*** with us, Joe is my target, JOe will be the reason Boogie goes home, Joe joe joe joe.
Ian: "If the wife looks anything like that tattoo he must have stock in viagra"
Share it YO!!
Tweet