POV Holder:
Next POV:
Aug 18 (Saturday)
POV Used
POV Ceremony
Aug 20 (Monday)
HOH Winner:
Shane
Next HOH:
Aug 13 (Thursday)
Original Nominations:
Current Nominations:
Have Nots Cod
Last Evicted Houseguest
Wil
HOH temptations
Britney Safe this week, Boogie gets 10grand
1am Ashley and Ian are in the HOH bathtub together. Danielle is in the room getting dressed, and Ian asks her if she made comments about him staring at her the first week when showering. Danielle tells him she didn't say it, it was Staten Island. Ian says that's weird it was JoJo because she grossed me out the second week with some of the things she said about her G-string hanging out.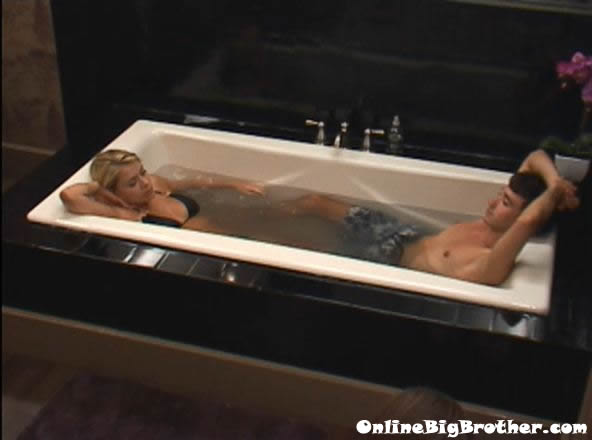 Meanwhile, Shane and Joe are whispering. Shane tells Joe that he heard if Boogie won he would put up Shane. Joe tells Shane that they had said that. Shane tells Joe that Frank and Boogie are going up. Shane tells Joe they will all talk tomorrow in HoH. Shane tells Joe that he trusts him. Shane and Joe wait and hide outside the diary room with pillows to surprise Britney and Danielle. When Danielle and Britney come out of the diary room, Shane and Joe attack them with pillows. Dan comes down from the HOH room and tells them no to attack him because he has broken glass in his hands. Shane asks Danielle and Britney what took them so long in the diary room. Britney says that they were requesting more alcohol. Britney, Danielle, Shane, Dan, Ashley and Joe are in the kitchen talking and hanging out. They talk about tonight HOH competition. Danielle talks how most HOH competitions she has beat Frank in them. Shane tells Britney that she would have beat him if she had gone for the HOH and not for safety. Danielle says that if Dan had gone HOH, he would have had her beat.
Watch what happens, AS it happens: Big Brother 14 Live Feeds!
FREE for 3 Days, then ONLY $14.99 per month!
1:45am Dan and Danielle are playing pool in the backyard alone. Dan says that he doesn't think Shane has it in him to stab anyone in the back. Dan tells Danielle that she has it in her though. Danielle says she doesn't know how to take that. Dan says it's a good thing, I know your friends with Brit but if you had to get her out to get me in final two with you, I know you would do that. Danielle agrees and says she thinks Shane would put Frank up if he could be back doored. Danielle starts talking about the more she gets to know Shane; the more she sees that he is mean. They start talking about how he has treated her. Dan says that he knows Britney and Shane would not turn on him and Danielle. Dan says he thinks 100% they would not turn on them. Danielle asks Dan what she should say when Shane asks her advice because he takes it serious and listens to her. Britney joins them. Britney says that she wishes Danielle had won because she would have pulled the trigger. Britney says that she was told by Ian that Boogie told Ian to put up Shane. Dan asks if Shane knows? Britney says yeah, but Shane says Frank and Boogie held up their end of the bargain. Britney talks about how she wants Frank out of the house. Britney says that she cannot take another second of Frank in this house; he's such a douche bag! Dan agrees and says that he is pretty rude. Britney says plus he actually is really good at this game. Britney warns them that this is the last spot before jury and says that it has to be Frank and Boogie up on the block. Britney says that she thinks Frank has best chance to win and that she could not deal him winning. Ian joins them. Ian tells them that Frank and Boogie wanted Britney as the replacement choice but that they agreed it would be Shane to go up. Joe joins them and the conversation stops.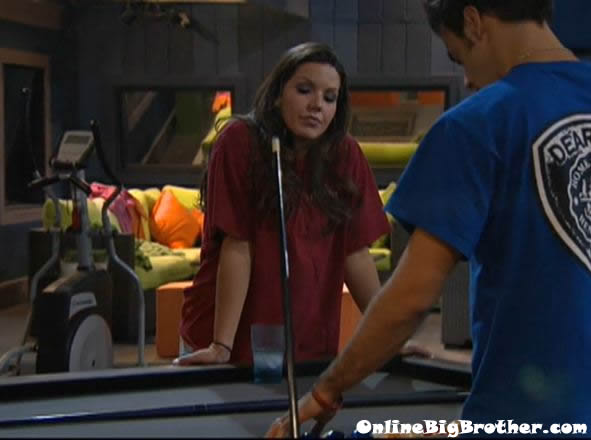 Britney and Ian head inside to make tea. Britney talks to Ian in the storage room. Ian talks about why Frank and Boogie are after her. Ian says that they don't think Shane is very slick. Ian tells Britney that he thinks they didn't say Dan because they thought Ian was friends with Dan. Britney says the problem is Shane doesn't want to break his word. Ian says that Boogie now has $16,000 lets get him the fu*k out of here. Britney says she wants Frank out first. Ian says why it should be Boogie, he is so much stronger than Frank in this game.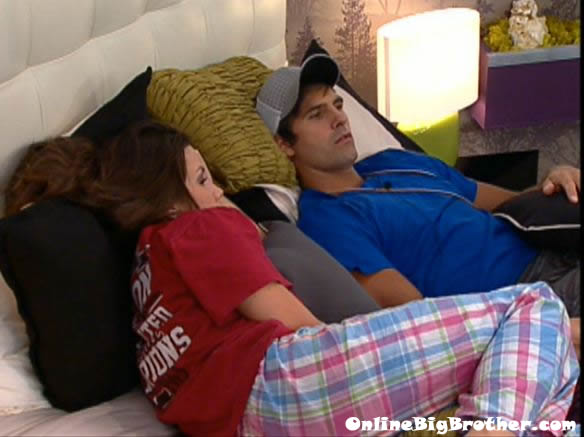 2:10am Up in the HOH room Danielle and Shane are lying in bed together. Danielle tells Shane that he is her best friend in the house and that he should listen to her advice. She then starts talking about all the mean things he did to her today. Danielle tells Shane that if Frank goes, Boogie will be on his own because Jenn won't work with Boogie because of how he talked about trading her. Shane says that he knows Frank has to go this week, otherwise Shane and Dan will be screwed next week. Dan comes up to the HOH room to take a shower. Britney joins. Britney tells them what Ian just told her, she says they were planning to get Dan out last week and Shane this week. Dan says that 70 percent of his diary room sessions were about him getting back doored. Ian joins them. Ian tells them that Boogie told him today before HOH that he was pushing for Britney to go up then Shane. Ian tells them that their best move to win this game is to put Frank and Boogie. Every thinks Frank should be the target but Ian says Boogie should be first to go. Britney talks about how little Boogie needs the money and that they would rather sit next to him in the finals because no one would vote for him to win. Britney says let it go by Power of Veto. She says that if Frank wins Boogie goes, if Boogie wins, Frank goes. Shane says that he hopes Frank goes, he has made it through being on the block 3 times, won HOH twice. They hope there is going to be a fast-forward and talk about how there is no have-not competition tomorrow. They agree that they will have to replace it with something. Britney says what an idiot for going for the $10,000.
Watch it ALL on FlashBack: Pick the Day, Time and Camera View!
2:30am Joe and Ashley are talking alone. Joe tells Ashley if we can't win competitions, then let's float. Ashley agrees, she says call me a floater all you want. They laugh. Joe tells Ashley that a big move might be about to go down. Joe tells her that Shane wants to know if they can trust Ashley with her vote. Ashley says of course. Joe tells her that it is absolutely imperative that she does not speak to anyone about this, no matter what. Ashley agrees. They talk about how they are going to keep their head down and let the big players fight it out. Joe says that they are lucky to even be in the game right now. Meanwhile back up in the HOH Ian tells Shane to take Pandora's Box if there is an indication it might be a diamond power of veto or the coup de'tat. They tell Shane what to look for in the clues. Dan asks Ian if Boogie and Frank have any clue that he is working with them. Ian says no, they tell me everything. Everyone but Danielle and Dan heads downstairs to go to bed. Dan takes a shower in the HOH bathroom.

3am – 3:40am Danielle and Shane talk about the nominations. They agree that Frank is the main target this week and that they could even put up Joe as the pawn if Frank or Boogie win the Power of Veto. Dan is out of the shower and Shane heads downstairs. Dan tells Danielle not to leave Shane's side tomorrow because he could be swayed by Frank and Boogie if they get a chance to talk to him before nominations. Danielle agrees that they have to keep an eye on Shane. Shane comes back. Dan says goodnight and leaves. Shane asks Danielle if Dan is still solid for their final four deal. Danielle tells him that he is. Danielle says that Dan is weary of Ian and says that he doesn't really trust him. Danielle says that Ian has to go because no one wants to sit next to him in the finals. Danielle asks Shane if he and Ashley have been flirting. Shane says no, I never even talk to her. Danielle keeps asking Shane for a back massage. He keeps telling her no. Shane says that she can go, go inspector gadget arms and massage yourself. Danielle brings up Ashley and says that he was cheering Ashley on during the competition. She says that he snapped at her (Danielle) and that he embarrassed her in front of everyone. Shane calls Danielle stupid. Danielle keeps touching him and he tells her he doesn't want to be touched. "Touch free zone." Danielle starts talking about the zing-bot, she says that America thinks I am the stalker. Danielle says that she doesn't know why she hangs out up here. She says that she just gets her feelings hurt. Shane laughs and gets out of the bed to go read his HOH letter. Shane then tells Danielle that he was planning on coming into the house and playing the gay card to get in good with all the girls. He says that he would pretend to be gay to get all the girls secrets and then at the end reveal that he is really straight. Danielle tells Shane that he is making her look like she needs a fu*king restraining order! Danielle says that she is so mad at the Zing-bot and says that it will make America think she is a stalker and that Shane ignoring her only reinforces that. She tells him that he is playing the douche card. Danielle wants him to turn off the light and go to bed but he tells her that she can stay some other night. Danielle heads downstairs to go to bed.
6:35am All the house guests are still sleeping..

Share it YO!!
Tweet