POV Holder:
Next POV:
Aug 18 (Saturday)
POV Used
POV Ceremony
Aug 20 (Monday)
HOH Winner:
Shane
Next HOH:
Aug 13 (Thursday)
Original Nominations:
Current Nominations:
Have Nots Cod
Last Evicted Houseguest
Wil
HOH temptations
Britney Safe this week, Boogie gets 10grand
10:32pm Living room Watch with FlashBack FREE TRIAL!
Ian says right before he left for Big Brother 14 his Mom tried to convince him not to go. She "I don't want you to do this.. do that.. I don't want you to talk about that.. or This.. Don't wear the unitard for a week.. Don't smoke.. Don't lose your virginity"
Ian adds that his dad didn't know he was coming on the show.. he thinks if he did things would have been said.
Britney talks about her mom being a lot like her same body type.Britney mentions that her mom got to the first conference for season 1 Survivor. Boogie: "When did your mom stop applying for Survivor" Britney says Survivor casting they told her she didn't get on because she couldn't swim. After she found out they did cast someone that could swim she was pissed. Britney mentions that during her mom's casting process they had her in a room with a bunch of monkeys to see how she interacts with them. Dan: "They don't do that anymore"
Britney talks about Wil going to Germany 18 and getting signed by a label. The owner of the label went crazy and was placed in a mental hospital so the label went out of business. She adds that Wil went to an American Idol casting call but they told him they didn't like his outfit and he was cut.
Ian brings up a thread on the survivor sucks forum that discusses cast edits. Ian says there is 4 mains categories of edits, Invisible when a person doesn't get any Diary Room clips in a episode. Kristen Bitting from Big Brother 12 was like this. Danielle: "I was told she gave really Boring DR's" Feed go to fish..
Over the top is another edit mans very visible on the episode.. Ian: "a good example is Coach on survivor". There is Complex personality – The viewer is being let in on their strategy. Ian: "Richard Hatch was this one" final category is MIddle of the road . Ian: "There is also Positive, Negative and mixed tones to each category. Britney: 'Who does this.. compiles all the Data?" Boogie: 'Sounds like a lot of work"
10:57pm Boogie talks about Big Brother 7
Boogie says that Chicken George was one of the few people that actually went around America and campaigned to get on the show.
Ian: 'I'm a little bit surprised that Jase got on the show.."
Britney: "I liked Jase"
Ian: "Well I liked the 4 horseman"
Boogie says that Cowboy showed up to a charity event with a 400 lb dude and volunteered himself to participate in all the events. He adds that the limo was pulling away and Cowboy and this guy jump in. The lady running it didn't have the "Balls" to ask him to leave because he wasn't invited.
Britney: "How long ago was this?"
Boogie: "3 years ago"
Britney: "what was it called"
Boogie: "Fire lake casino… Dan was there"
Dan: "That was the best event there"
Boogie about Cowboy and his "Dude": "It was so weird it was like they were gay lovers.. Dan didn't you get that Vibe"
Dan nods .
11:14pm Shane's HOH Room
It's your typically HOH Room event.. A bunch of random side conversations..
Boogie: "Did you guys hear this.. Shane's sister is moving to my my hometown!"
11:20pm Shane is drinking a monster drink.. he offer some to Ian. Ian turns it down says he wants to go to bed soon. Britney asks him how his armpits feel. Ian says they are alright as long as he doesn't put deodorant on them. Britney: "It's all about the experience.. how many times do you have the chance to Nair your armpits on Big Brother"
11:24pm Ashley runs up says they have 2 Bottles of wine and 7 beers. (There is a giant Smile on her face)
Britney says her and Danielle will share a bottle of wine. Shane comments how much that is.. says that production might be wanting a fight.
11:38pm Dan, Ian, Ashley, Danielle, Britney, Shane
Shane is surprised that so many people went for safety. Dan says it's because Shane had such a strong start they all felt they didn't have a chance Britney was at first thinking she should try for the HOH because if she won safety she still might be a have nots. She then found out she can't be a have nots this week. (Either there isn't any havenots or her safety pass makes her except from it)
Shane: "What are the chances of pandora's box this week"
Ian: 'Heavy"
Shane: "What should I do"
Ian brings up about the Big Brother 13 Pandora's box that allowed Rachel and Jordan to work in paris.
Joe warns Shane that the Pandora's Box can affect everyone's game.
Ashley is getting a bit cuddly with Ian.. Ian jokes "Nobody gets between me and my floatmance"
11:49pm Cam 3 Frank Frank has been transformed into grumpy anti social frank.. he's sleeping while most the other players chill out in the Head of Household drinking beer and win
11:59pm Power House Screen Capture
12:03AM Power House Joe is saying that the Diary Room gave him a pep talk and told him things change all the time in this game. Britney agrees says it's already happened a couple times this season.
Ian says he felt that Frank was robbed not being allowed to play for the 10 grand in the HOH today. Britney is quick to point out that Frank was about to be evicted and the reset saved him. (No shit Ian.. WTF) Shane saws that Boogie told him to slow down because he was worried he was going to win HOH before Boogie got the 10 Grand Barrel fill. Shane was thinking to ask Boogie to split the 10 Grand with him. Britney quick to tell him that it's illegal and production would of stopped it.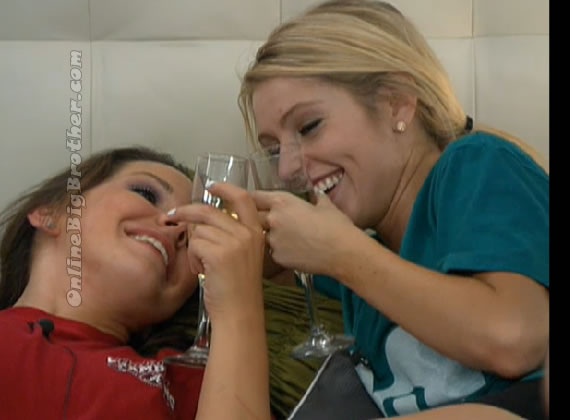 12:22Am Danielle and Britney getting tipsy.. (If you want to see brit drunk get the feeds..)
12:24AM
Britney and Ian start talking about the first 3 weeks in the house being amateur hour.
Britney: 'We bartered newports for votes.. that's the kind of amateur hour it was they weren't even marlboro"
Britney to Ian: 'Oh My God did you just have a seizure"
Ian: 'No.. I totally just stimmed out.. "
AShley: "You epileptic"
Ian: "No I just haven't been sitting still for a while.."
12:38AM
Shane: "I'm going to be SHIT faced at the finale SHIT faced"
Britney: "No you won't you are busy talking the entire time and your family is there you'll be trying to catch up"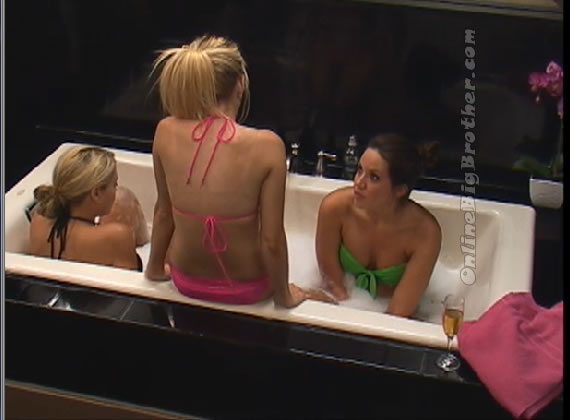 12:46Am Girl chat in the tub
Danielle is begging Britney to get Hayden Moss on the finale. She tells Britney to look at the camera and ask. Britney looks at the camera Someone tweet Hayden Moss tell him to be at the finale he's got a date" (OMG Hayden RUN RUN!!)
They break one of the wine glass on the bathroom floor. they scream for Ian to come he'll clean it up for them but he's grabbing his trunks and jumping in.
12:56AM Ian in the tub with Ashley and Danielle. talking about the HOH comp. Ian says the crisco they used to lube up the HOH competition was horrible to remove. Ian: "It was caked onto my leg hairs" (Thats a sign Ian that you need to go completely hairless this season)
Share it YO!!
Tweet