POV Holder:
Next POV:
Aug 11 (Saturday)
POV Used
POV Ceremony
Aug 13 (Monday)
HOH Winner:
Frank
Next HOH:
Aug 16 (Thursday)
Original Nominations:
Wil / Joe
Current Nominations:
Have Nots Cod fish/Candy Canes
Joe, Shane, Danielle, Britney
Last Evicted Houseguest
Janelle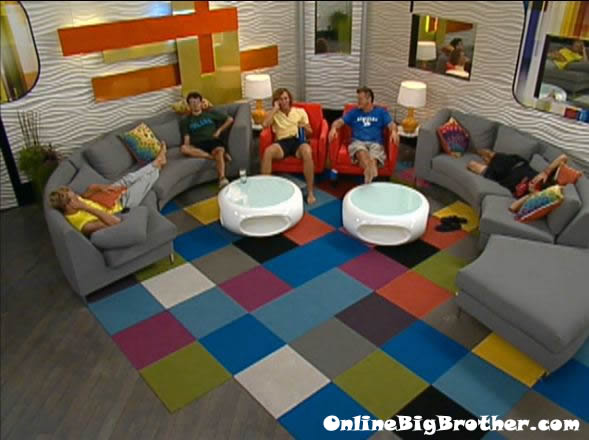 1:20am Boogie tells Joe, Ian, Frank and Dan about his experience with the red light district when he was only 20 years old. Boogie says that he paid his money to be with a girl and she left the room for a minute. He says that there was a full length mirror on the wall so he checked out his form. He says that he looked at the mirror closely and realized that it was a 2 way mirror. He says that he could see eight to ten guys watching on the other side. He says that then he felt like he had to perform for them, so he did his best for the guys watching. Boogie says that the place charged him and they charged the guys to watch. They all laugh.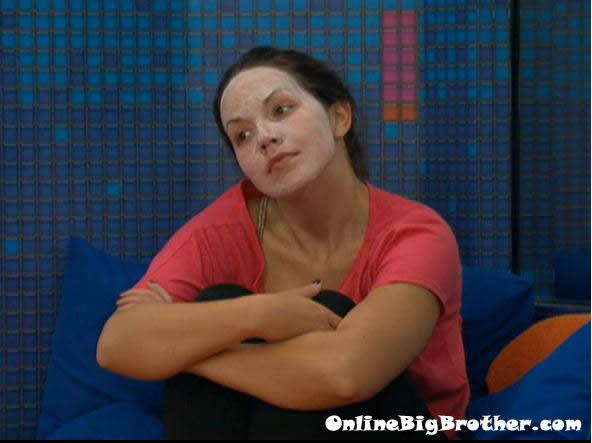 1:30am Wil and Danielle are talking about how Janelle called her fat. Danielle talks about how she models and says that she is able to slim down really fast. She talks about how when she models they always push the sex think because of my big boobs and butt. Wil tells her she has an hourglass shape. Wil then starts talking about how he tried out for American Idol in 2008 and says that he made it through three levels of the competition and was rejected when he crossed his eyes during the audition. He says that he had a break down because he had also recently had music deals fall through. The conversation turns to talking about how hard it is to play a social game in the house but that everything is so hyped up in here. Danielle says that Janelle's last personal attack on her made her think that she should have lost more weight before she came here. Danielle says that she is so tired of the he said she said things in the house. She says that she really thought Janelle was going to attack her when she confronted her before she left and says that she was glad that she didn't, but she just couldn't take it anymore. Danielle tells Wil that she cannot stand mean people and that just because she is not running around being mean does not mean she is not playing Big Brother. Wil tells Danielle that there are still 6 weeks left and that a lot can change in this game.
Watch what happens, AS it happens: Big Brother 14 Live Feeds!
FREE for 3 Days, then ONLY $14.99 per month!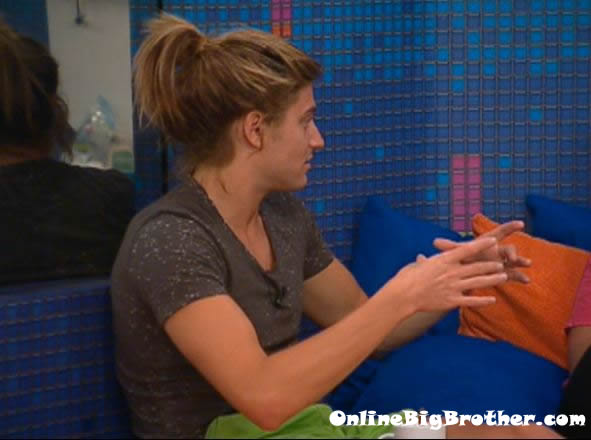 2:40am Danielle tells Wil that she will always respect the pure honest truth. She tells him that she will never hold it against someone if they tell her the truth, but that she will if they lie to her. Wil says that he gets caught up in lies a lot. Danielle says that she has no problem admitting when she is wrong. Wil agrees and says that he is the same way. Wil starts talking about how he had a difficult childhood when he was growing up because he was gay. He says that growing up was pure hell. They continue to talk about random things. Frank, Ian and Dan head inside after playing pool together. Danielle talks about how she wishes she had told her parents about coming on big brother. She talks about how her parents try to run her life. Danielle says that it meant a lot to her to get the letter from her mom when she was HOH because she is actually supportive now. Danielle says that the last thing her dad said to her was that he thought she was going to hell. Danielle tells Wil that she loves him as a person no matter what. Wil says that he isn't upset to be on the block, because if he isn't going to make it to the end, then he doesn't want to be sitting in the jury house. Danielle says that she wasn't saying that because she thinks he is going home. Wil tells Danielle to just let him know so that he isn't blindsided. Danielle tells him that she will tell him if she knows. Wil asks her if she knows anything. Danielle tells him that Joe is getting on peoples nerves. Wil and Danielle get ready for bed.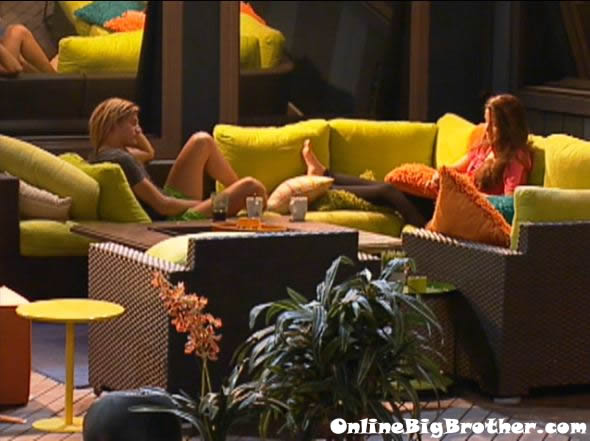 3am – 4am
Dan comes into the bathroom when Danielle is getting ready for bed and asks what she was talking to Wil about. Danielle tells him that it wasn't about game. Danielle says that Wil says he doesn't feel cut out for this game, and that he is fine with going home. She says that Wil apologized for anything he might have said in diary room about her. Danielle tells Dan that if she doesn't win this then he better win it. She tells him that he will have everyone in the jury voting for him if she is in there. Danielle asks Dan if he regrets her getting Janelle out? Dan says no, it's a totally different feel in the house, but at some point it can't keep going like this. Dan says that he thinks they will take a shot at Shane before they take a shot at us. Danielle says that Wil won't be going after us if he won HOH. She asks Dan if he thinks he can beat everyone at HOH? Dan says that he thinks anyone can win. Dan says that the Silent Six won't make it to the end. He says that someone will be picked off by someone when you least suspect. Dan says that Ian is in the best situation in this house. Danielle tells Dan that Wil said if he draws house guest choice for the veto he will pick her or Britney. Danielle says she wants to tell Frank so he doesn't think anything of it. Dan and Danielle head to bed.
Watch it ALL on FlashBack: Pick the Day, Time and Camera!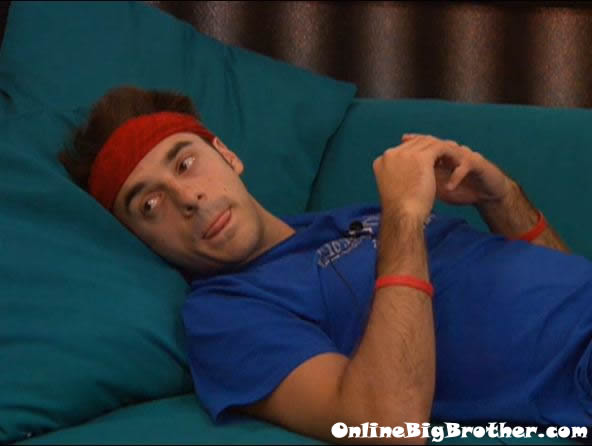 5:50am All the house guests are still asleep..

Share it YO!!
Tweet