POV Holder:
Next POV:
Aug 11 (Saturday)
POV Used
POV Ceremony
Aug 13 (Monday)
HOH Winner:
Frank
Next HOH:
Aug 16 (Thursday)
Original Nominations:
Wil / Joe
Current Nominations:
Have Nots Cod fish/Candy Canes
Joe, Shane, Danielle, Britney
Last Evicted Houseguest
Janelle
7am Boogie wakes up and goes to the kitchen and then heads out into the backyard. Boogie comments to the camera that while we have fun, he will be in here doing work. Boogie talks about how Wil has copped an attitude this week. Boogie says that Wil said that it is Frank's HOH but I am doing the talking, Boogie says do you know who I am? Fu*king right I am doing the talking dog. Boogie starts talking about Janelle and says that she should not have come at him. Boogie says that she played sloppy this year. He says sorry I wanted to play nice, but it probably didn't help sending Janelle home. Boogie says that he did a good thing because now Janelle will have all summer to talk to the fans. On another camera you can see Ashley slowly walk out of the bedroom and lay face down onto the living room couch.
Watch what happens, AS it happens: Big Brother 14 Live Feeds!
FREE for 3 Days, then ONLY $14.99 per month!
Boogie starts talking about Wil again, saying that he has done too much talking; now he is starting to think that he knows a little too much. Boogie says that when people get to know too much and wear it on their sleeve they get shown the door. Boogie says that Joe could use a few friends in here and that could help us. He says that the Power of Veto hasn't been played yet, so who knows. He says that maybe it's cocky of him to act like the HOH is mine but I have been loyal to Frank. Boogie says that he wishes the internet could talk to him. He says that he tries to read our minds and how the edited product of BB is so great. Boogie says that he wonders why they are not on an indoor lockdown so that they can set up the backyard for the POV. He wonders if it might be a night time POV. Boogie heads inside.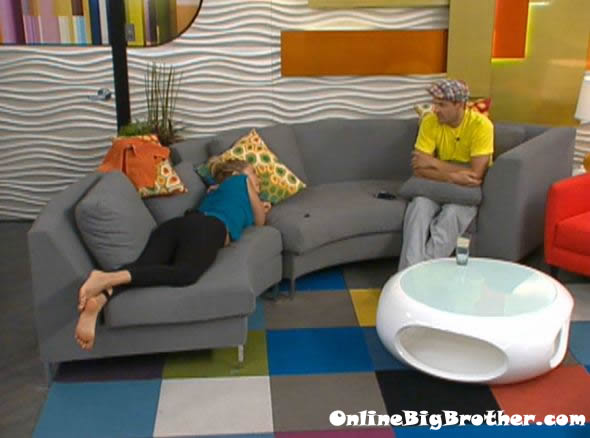 8am – 8:30am Big Brother wakes up the house guests. Boogie heads into the living room. Ashley tells him that she has an awkward feeling because she is waiting for the Advil to kick in. She says her back pain is getting better. Boogie tells her she has to get better and win a competition or two. He says that if she doesn't people will start to think. Boogie tells her to win an HOH competition by hitting a buzzer. Boogie tells her that it is weird they aren't setting up in the backyard yet for the POV. Boogie asks her if she feels like she isn't even playing the game. She says that she has never been in so much pain. Boogie says that he wonders why BB hasn't taken her for an x-ray like early in the morning when no one else is up. Big Brother cuts the feeds. Ashley says that she wishes there was something else she could do. She says that the muscle relaxers don't do anything for her at all. Boogie mentions to her that she should try Franks HOH bath. Ashley wishes they would give her more cortisone shots and says that she will worry about the consequences later.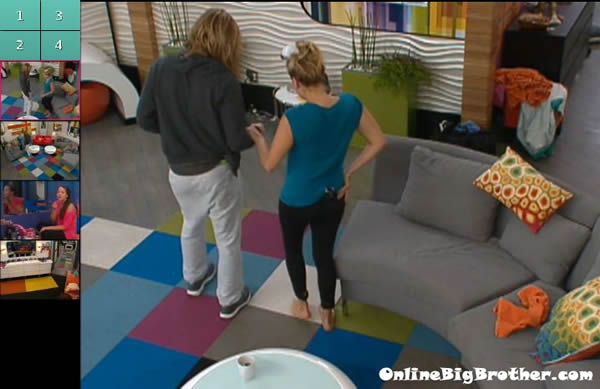 9am Wil was up and made breakfast and then heads back to bed. Danielle puts on her make-up and then heads into the kitchen to make breakfast. Ashley goes to the bathroom to shower and get ready for the day. Frank joins Danielle in the kitchen. Frank asks Danielle if it was better sleeping on the floor in the have-not room. Danielle says that it was way better. Frank says that probably not a lot of viewers know that he is out of his spirit-tard. Danielle tells him that he did good in it. Ashley asks about the spirit-tard. Frank says that last night they had him do one more spirit-tard diary room session. Big Brother cuts the feeds. Ashley starts asks him about when he got out of the spirit-tard. He starts to talk and then Big Brother cuts the feeds. When they come back Frank tells her that she got him in trouble again. He says I should have put you on the block. Just kidding Ash.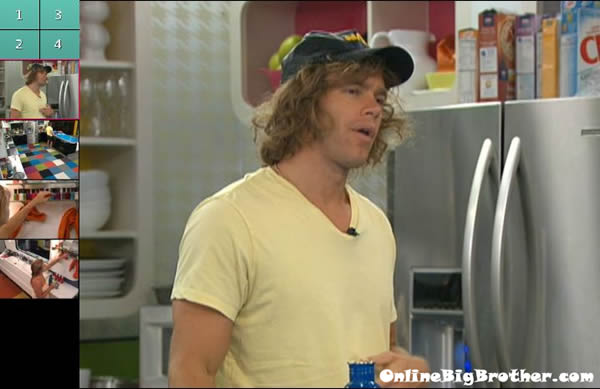 9:51am – 10:15am Big Brother Live Feeds LEAK – Big Brother then quickly switches the feeds to the backyard which is locked down and you can see the construction crew building the Power of Veto competition for today. Any guesses on what the competition will be?? Tell us what you think!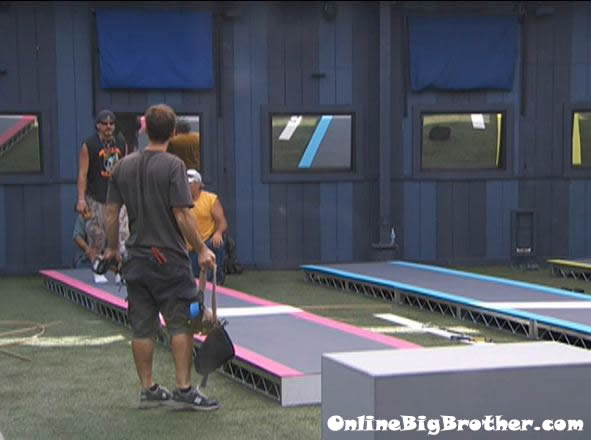 11am Joe makes up a pot of slop. Britney joins them and then talk about how uncomfortable the have-not beds are. Shane tries to eat the slop but stops part way through and says he can't finish it. Jenn and Boogie join them in the kitchen. They talk about random things, Joe asks Boogie questions about his restaurant. Joe tells them about how he left early from his restaurant and came by just after 10pm and all the lights were off. He says he fired the manager and told him if he wanted to go drink so bad now he can. Boogie says his line is well now you have all the free time in the world.
Share it YO!!
Tweet