Head of Household Winner – Memphis
Have nots – Kaysar, NicoleF, Christmas, David
Nominations – David & NicoleA
Power of Veto Players are – Memphis, David, NicoleA, NicoleF, Ian, Tyler
POV Host: Enzo
Power of Veto holder – Memphis
Power of Veto Ceremony – Memphis did not use the veto David and NicA remain on the block.
Safety Suite – Christmas wins. Ian is her Plus One
Live feeds —-> Grab your Live feeds here. Try it free.
Rank the houseguests —-> Big Brother 22 Ranking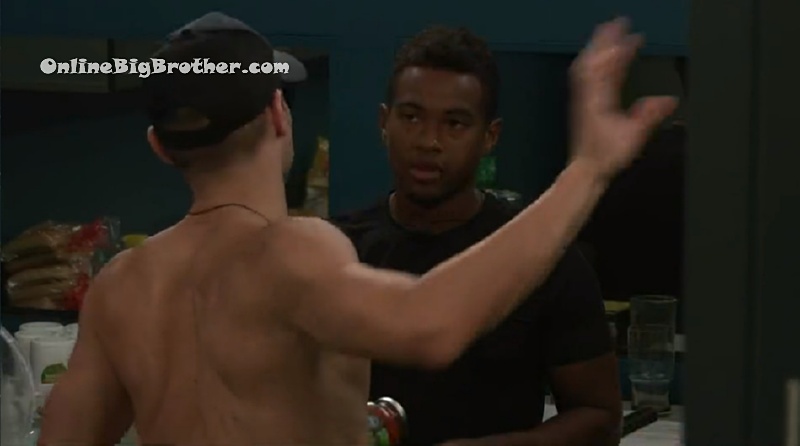 1:00 pm Enzo and David
Enzo – how are you feeling alright?
David – can I count on your vote
Enzo – Of course what are you talking about mother f***er We're in an alliance yo. You got Me, and Tyler right there.
Enzo – but we gotta work yo .. to keep you but we gotta work yo
Enzo – I don't know who she (NicA) is invested with
David – yeah
Enzo – I like her I do but oh my god
Enzo – me yo and Tyler gotta sit down and talk yo when we get a chance.
David – Agreed.. for real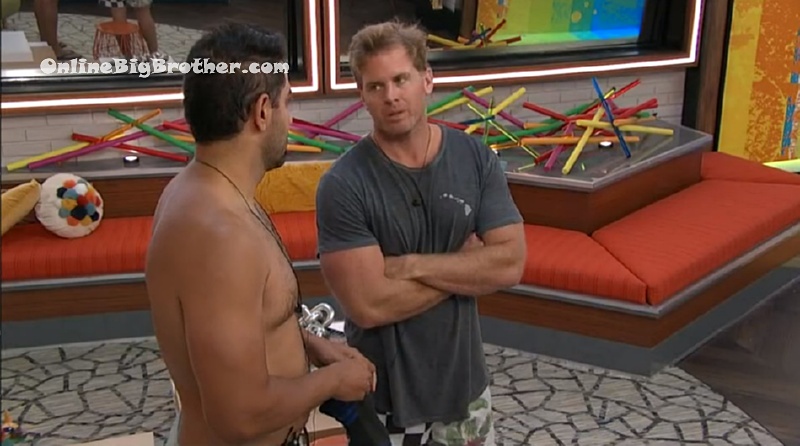 1:01 pm Kaysar and Memphis
Kaysar – Bro NicoleA is going home
Memphis – I don't think so
Kaysar – 100 percent
Memphis – I'll talk to Enzo. We'll see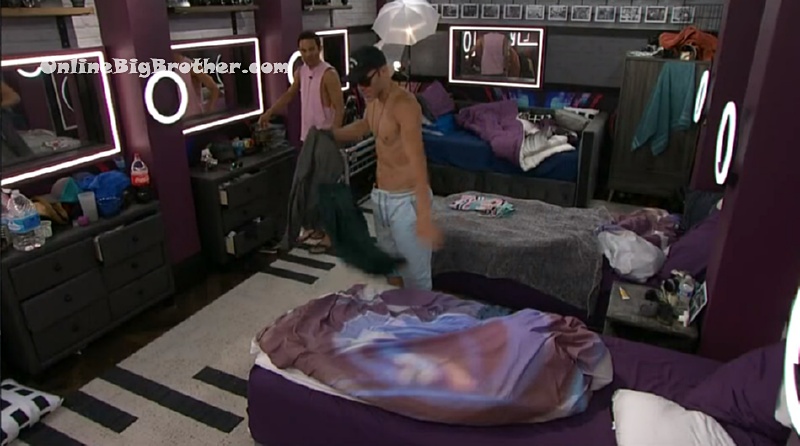 1:24 pm Enzo, Da'Vonne and Kevin
Kevin says that he thinks Memphis wants to keep NicoleA
Enzo doesn't know "yo" "I think he just doesn't care whatever you guys do do.. I'm going to ask him"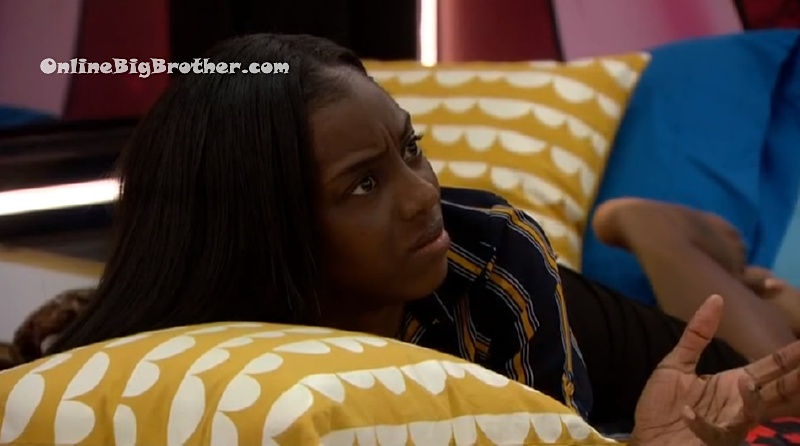 1:28 pm Da'Vonne and Kevin
Da'Vonne says Bayleigh might have f**ed her game.
Something about telling Dani a bit of information about Da'Vonne and seeing where it went. It went to Cody then back to Da'Vonne.
Da says Janelle called it an experiment.
Kevin says they have to worry about their three after this week.
Da'Vonne says Bayleigh is "set" "I have to worry about me"
Da asks him the first day he told her he wanted to play with guys "What happened"
Kevin says he's playing with guys he feels that Enzo, Tyler, and Cody are cool with him. "I feel like they're at least looking out for me" (ZOMG)
Da'Vonne says Enzo is the genuine person in "that backroom if not the house'
Kevin believes it says he has certified receipts
Da – nicA possible saving grace is if everyone thinks David is a boy's target. but he's not the HOH anymore his reign is over.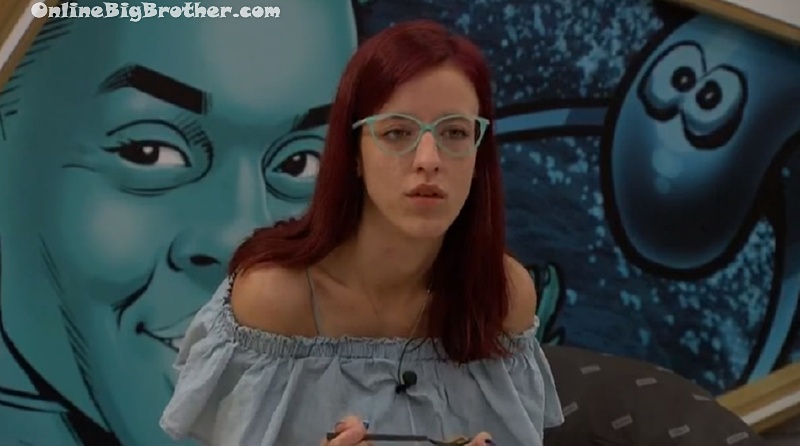 NicA joins them.
Kevin asks if NicA connected with Memphis to see if there was an "angle"
NicA – no
Da explains again that NicA's saving grace could be if the house thinks David is the HOH's target.
Kevin – I know you are close to David. you have to win ..
NicA – I know I'm going to do my rounds today. if you want me to be here to fight I'll fight
Kevin – I'm trying to talk to David to try and figure out what numbers he has.. I'm telling him hey if the house goes a certain way maybe I'll go with the majority. Maybe he'll tell me the votes he has.
NicA tells them she has a fire in her.
Kevin – who are you talking to today
NicA – everyone, person to person, and follow up tomorrow.
Da – if you can get franzel you can get ian they're a package deal
Kevin – or if you get Franzel and Cody you got Ian
Da – mmmmhhhhmmmmm mmmmhhhhmmmmm
NicA – I got this ..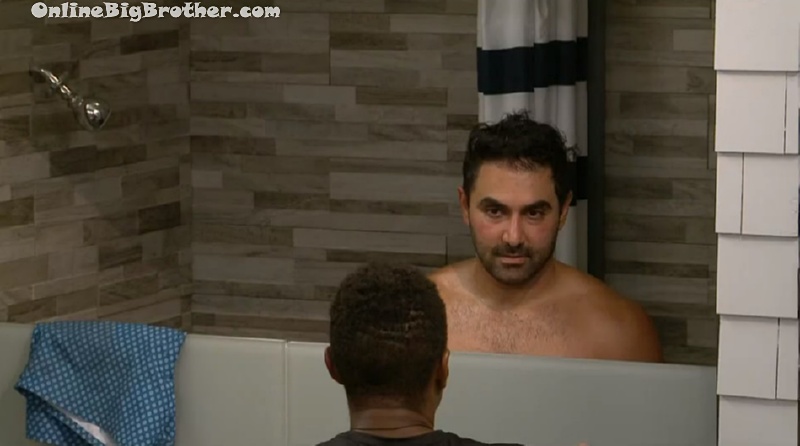 1:44 pm David and Kaysar
David promises if he wins HO Kaysar won't have to worry "I look up to you"
Kaysar – I don't know who you've made deals with. I have nothing against you.
David – more people like you than you think. Just stating that
Kaysar – I Like you. I've wanted to work with you since day one I just don't know where you stand that's the problem.
Kaysar – I wanted to work with you day one
David – I've never played this game I was scared.
Kaysar – Alright let's talk some more.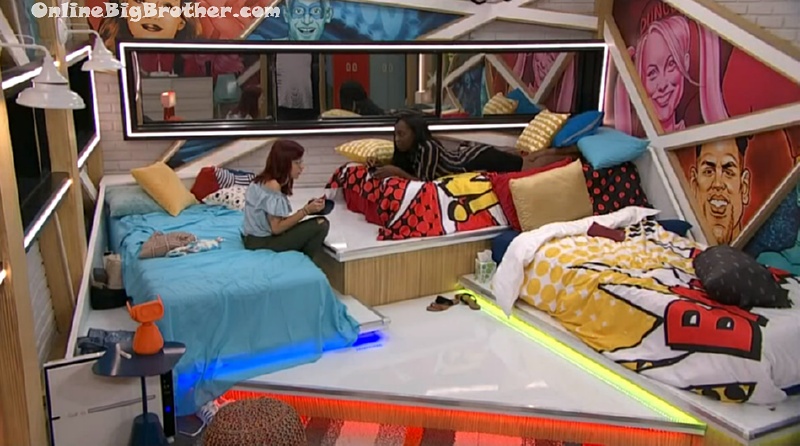 1:50 pm NicA Da'Vonne
NicA points out there are usually more people on the fence for eviction the fact they're not means to her there's a group working together.
Da'Vonne – I'm not part of it
NicA – that's very scary
NicA asks is David part of that alliance or is it a separate alliance that is saying they want to keep David.
Da'Vonne – if we save you this week we can pull them in
NicA – I told you my Core. I know my Core if and when I win HOH that will be proven.
NicA – Cody, Tyler, Dani, NicF, and maybe EnZo I think right there ..
Da'Vonne – I believe When it comes to Enzo I think they let him believe that he is part of it.
NicA – makes sense.
Da'Vonne – makes sense.
NicA – Cody, Tyler, Dani, NicF are locked in that's four right there. I would have to get everybody else.
NicA – it's going to be close
NicA – six votes would be a tie.
NicA – do you think you and bayleigh will vote together
Da'Vonne – I don't know what she will do
Da'Vonne says she wouldn't feel right voting out David "that's why I'm telling you it's important for you to get EVERYONE you know what I mean Because I want you here"
Da'Vonne – I can't do it.. I can't.. and you're not the only person that has talked to me about it. Me and Kaysar had a full-blown argument about it last night
NicA – I understand where you're coming friend David's your friend
Da'Vonne – he's not my friends that's the thing. It has nothing to do with my emotions or my feelings. It has everything to do with the fact there's never been an African American winner.
Da'Vonne – so that this is happening I can't..
NicA – I hear that .. I know
NicA – I hope the favor is returned down the line
Da'Vonne – that is what I was thinking of last night
NicA – that's all well and good I'm there for you I think that's phenomenal I'm right there with you believe you.
NicA – But if he's in that alliance and it's between you and me that's my concern.
Da'Vonne says she trusts Kaysar and after that conversation last night it made her think about it.
Nic – make sure its a decision that will help you in the game. You say you want an African American to win well maybe that winner should be you
Da'Vonne – yeah
NicA – how are you going to get there..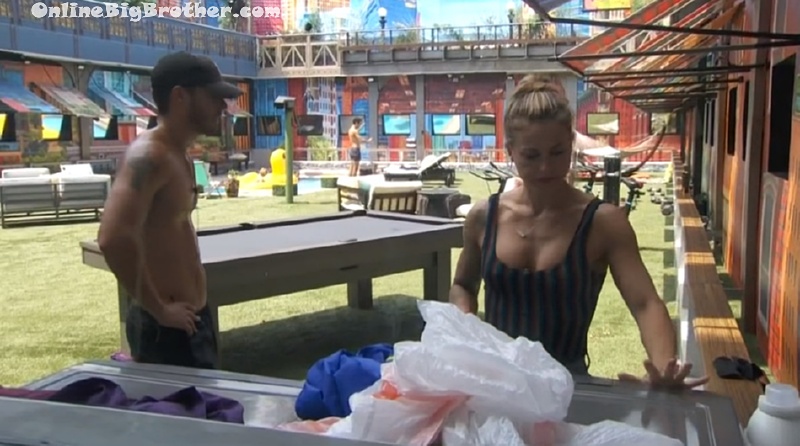 1:50 pm Talking about how annoying Janelle is.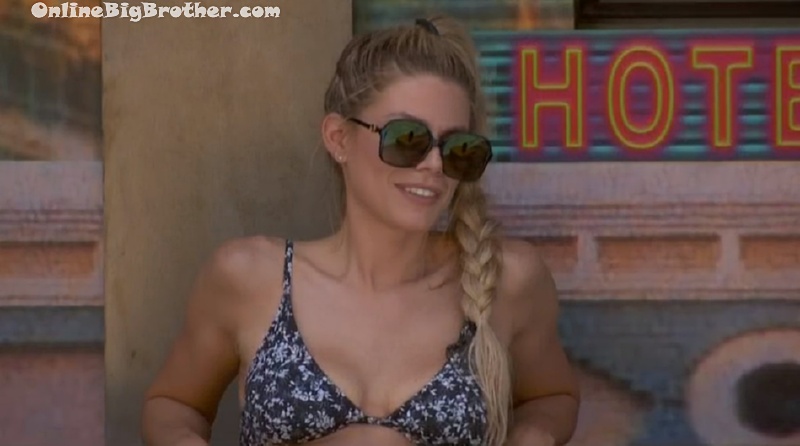 2:00 pm Dani and Cody
Cody – Da'Vonne isn't mad at you at all.
Dani tells him they have to make sure Da'Vonne doesn't think they are close.
Dani – I feel sorry for NicA.
Cody – it's not even her fault
Dani – I know she's so nice.. and she's so innocent. I don't know .. I feel really bad for people you can tell she really wanted to rewrite history in here and you can tell she's not getting the chance. She feels like she's letting people down. I feel really bad.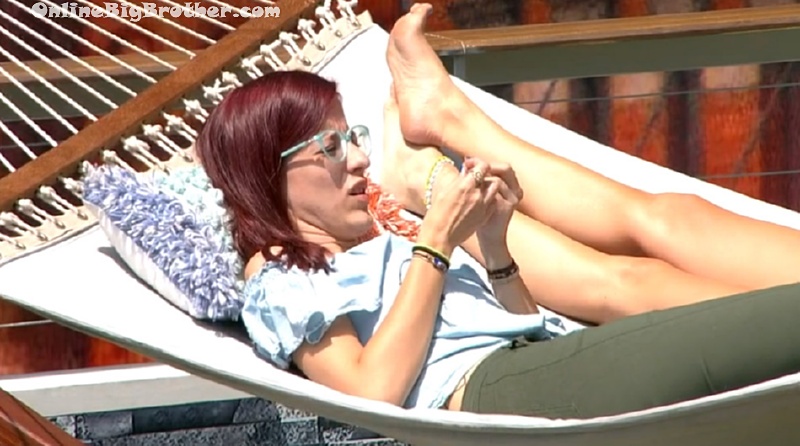 2:07 pm NicA and NicF
NicA – how are you feeling about everything
nicF – I have heard so many things I heard you and Janelle were talking about getting rid of me in the bedroom.
NicA – she said it yes
nicF – was she trying to get me backdoored this week
NicA – she was yes. (What a champ)
NicA – that is what she's told me. She has said it with everything that went down this week. I think she kinda set me up
NicF – for what I don't get it
NicA – hand to god I haven't said anything
nicA says she was really upset during nominations because she feels like she was "Setup"
NicA – She said stuff to me then went around told people that WE had a conversation
NicA – she pulled me in a room I didn't say sh1t
NicF says the source of the stories is Janelle "I'm so confused"
NicA – I don't want a fit but if you were to say something I have actual receipts to what she said.
NicA – I would blow her up
NicF says she doesn't like to blow people up she likes to keep things in her back pocket
NicA says Janelle gives her a constant "smoke screen makes me look like an a$$"
NicF – to trust somebody .. I feel really bad you are in this situation you are a really nice girl.
NicF – she doesn't have the number because she doesn't talk to people she doesn't care about people. She's just pulling in people she can pull
NicA says Janelle doesn't bother with her anymore now that Memphis has put her up (ZOMG.. )
NicF – why would she want you gone
NicA doesn't know what Janelle's plan is.
NicoleF says she was terrified she was going to go up today.
NicA – week 2 you're coming after me I'm embarrassed for you
NicF – Janelle likes to go after .. I'm considered a floater and have the best people left to battle. That's what she likes to do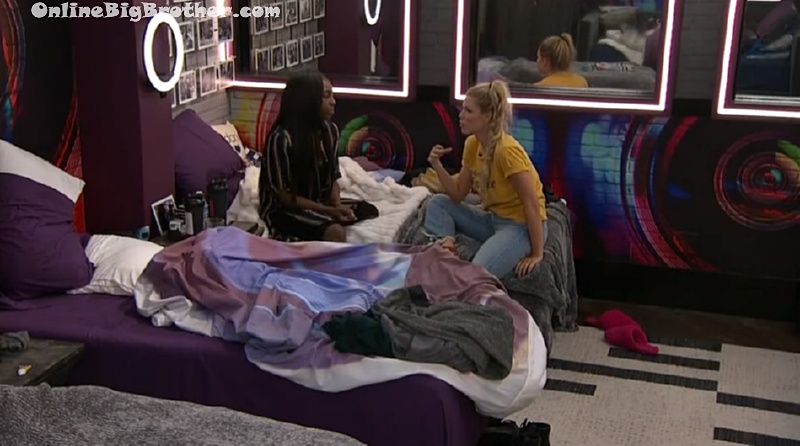 2:33 pm Da'Vonne and Dani
Da'Vonne wants to be able to have a conversation with Dani and not have it get back to Cody
Da'Vonne brings up Bayleigh telling Dani something and it getting back to Cody.
Dani says Bayeligh told her about the conversation and then told Cody it was nothing negative.
Dani – Girl I have no issue with you.
Dani goes on about Her name coming out of Janelle's mouth
Dani going on and on about Janelle. "why the hell is she talking about me period"
Da'Vonne says she heard that Dani approached Janelle to work with them.
Dani says she never tried to recruit Janelle she's already in an alliance their alliance. "on my family" (Dani has talked to janelle. )
(It's hard to follow these chain of events.)
Share it YO!!
Tweet