POV Holder:
Donny
Next POV
July 19th
POV Used
?
POV Ceremony
July 14th
HOH Winner 1:
 Nicole
HOH Winner 2:
 Derrick
Battle of the Block Winner
Donny/Amber
Next HOH/ Next BOB
July 17/July 18
Original Nominations:
Derrick's Noms (Caleb & Jocasta) Nicole's Noms (Donny & Amber)
Final Nominations:
Have Nots
Caleb, Amber, Devin, Hayden
POV Players
Derrick, Jocasta, Caleb, Christine, Devin, Donny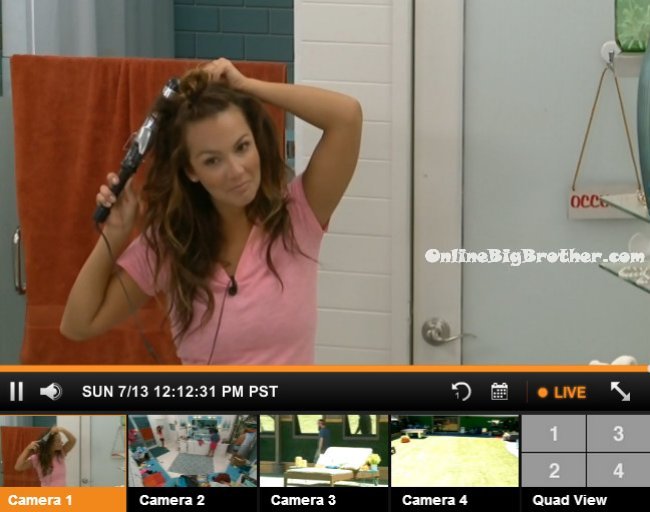 12:15pm In the bathroom – Hayden tells Brittany she looks really good without make-up! Brittany says thank you but I have some on. Hayden says well its not as much as you usually have on. Brittany says I will take any compliment I can get. Hayden heads back outside.
Hayden, Devin and Donny are sitting on the backyard couches. Hayden asks Donny so did Nicole like my gesture? Donny says she sure did. Donny says before you went back there I told her you were going to bring her a banana and then you got called in to the diary room and I said he might be awhile. Then you brought it out. Hayden says score one for me! Donny says hero! They talk about the havenot room. Hayden comments on how Caleb gave Amber both of his blankets. Devin says yeah I hope it works out for him. Hayden says yeah he likes her a lot. Devin says when Amber went up on the block he said I have to protect her. Okay dude I hope that works out for you. Amber joins them. Devin tells her that she was moaning this morning.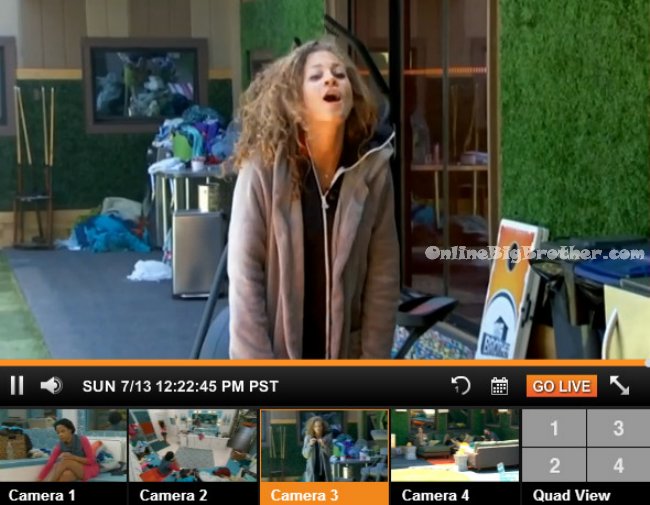 12:40pm – 12:55pm Devin asks Caleb if he was cold. Caleb says yeah. Nicole asks him did you give her your blanket? Devin says yeah he was n@ked. Caleb says yes. Nicole says holy we have some serious crap going on in here! They all laugh. Deivn says I can't wait for the person to propose to Nicole and she's going to say holy crap we've got some crap going on here! Nicole says that's a serious gesture giving Amber your blankets. Caleb talks about how he was asked to do survivor but says that he said no. He says not first. I just got out of the military. Hayden asks are you in the army? Caleb says yeah. Hayden says I have a lot of friends in the marines. You guys don't like each other do you? Caleb says no. Caleb says he was talking to a cook in the marines and he said they were 10 times better than we are. I was like and what do you do? You're a cook! Okay!? Caleb says there's really no difference between the army and the marines. Devin continues to ask Caleb questions about the army / marines.
Watch the ENTIRE SEASON of Big Brother 16 for ONLY $26.99 – TRY it For FREE!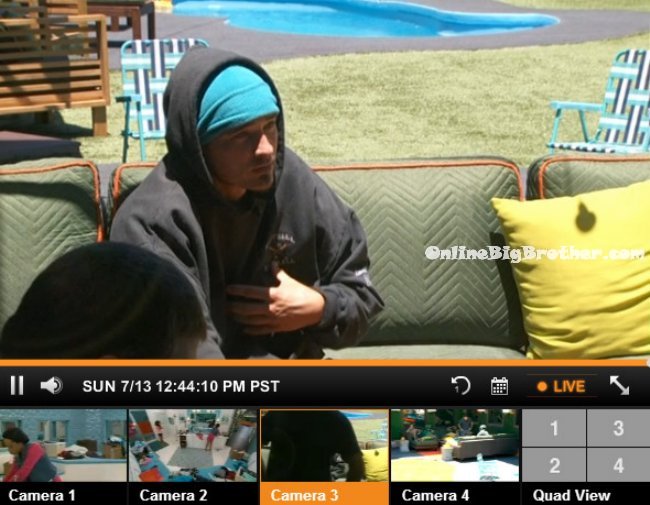 1pm In the storage room – Donny tells Derrick that his mission was a success. Derrick says I will talk to Victoria and talk to her. Then I will have two done. Derrick says Devin is trying to start stuff up with you again. He was out there saying that you were going to throw a surprise at us. The dude scares me. Donny says I talked to Nicole and she confirmed that Christine believed that Zach is Amanda's cousin. Derrick says I will talk to Victoria and then we will collectively talk about who the third person is. Then we can tell Zach. Donny wonders if we even need to tell Zach. Derrick says I think its better if we do because it helps us long term. If he finds out we were spreading rumors about him and didn't talk to him about it will look bad on us. Plus it will count as a fourth. Derrick asks Donny how Jocasta is doing? Donny says that she's better today.
1:20pm In the bathroom Amber continues to get ready for the day. Meanwhile in the kitchen Nicole, Victoria Hayden, Brittany and Derrick are in the kitchen eating.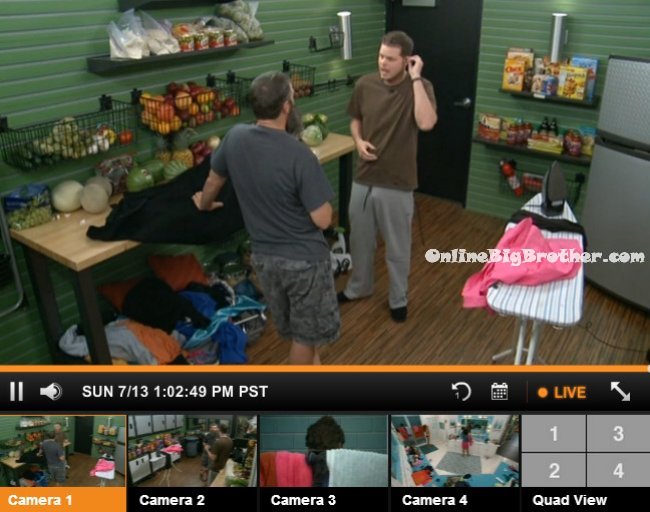 1:25pm – 1:50pm In the hall Derrick tells Nicole to come up to talk to him for a second. She says okay. Nicole heads up to the HOH room. Derrick says just a heads up Donny has been super nice to me. Nicole says he's been super super super nice to me too. He hugged me this morning. Derrick says I guess that's a good thing. Derrick says that he was talking to Devin was up here and he had a feeling Donny wasn't going to use the veto and roll the dice. No hard feelings if I go out. Nicole says that Devin said he is going to try and convince Donny not to use it. Nicole and Derrick say that Devin has to go. Nicole says I think I need to win HOH this next week for sure. Derrick says yeah you should. Derrick says if by chance Devin convinces Donny not to use it.. Nicole says Donny would be a huge target if he didn't use it. He already gave it to Jocasta and made her cry. Derrick says I really don't care if its Devin or Caleb that goes this week. But if Devin stays he is coming after us. He definitely has issue with you and I. Derrick says I just don't know why Donny would take the chance and not use it. It would be a crazy thing for Devin and Donny to rekindle their alliance. Nicole asks what kind of an alliance did they have if he put him up?! Derrick says if he decided not to use the veto, people would think he was up to someting. Derrick says I don't know if you've noticed but Caleb really isn't very good at this game. Nicole and Derrick agree that Caleb is nice. Nicole says that she's been hearing that Amber is coming after me from other girls. Derrick says I will tell you this Caleb is on team Nicole. Nicole asks oh really? I think you can trust him and once he's on your side he is golden. Derrick says I think he is on the side of getting rid of Amber. She showed no gratitude for him going on the block for her. Nicole says he gave her both his blankets. I would never let a guy do that! I almost cried. Nicole says when Caleb goes home he is going to be hurt by how much she doesn't like him. Derrick says I think Amber is crushing on Cody. They both dont think Cody is interested in Amber. Derrick asks what's your gut on the pov meeting? Nicole says I think Donny is going to use it. Derrick says I would put up Devin, you have my word on it. Devin not going home is the worst situation for us. Nicole says if Devin stays he and Donny better win HOH because everyone is coming after them. Nicole says I'm afraid of him but I'm not afraid of him. Derrick says I could never work with him. Caleb we can work with and he has other people that are his targets and he wouldn't come after us. Derrick says I wish we were closer to Donny. Nicole says I will try and talk to him … he is being so nice that its almost creepy. Like he's up to something. Nicole says if he doesn't use the veto then he is definitely up to something … like he is after more than just the half a million because it isn't good for his game.