| | | | |
| --- | --- | --- | --- |
| POV: | Angela | Next POV: | Aug 4th |
| POV Used | YES | POV Ceremony | Aug 6th |
| HOH: | Angela | Next HOH: | Aug 9nd |
| Noms: | ROCKS and Scottie Tyler Bayleigh | Have Nots | |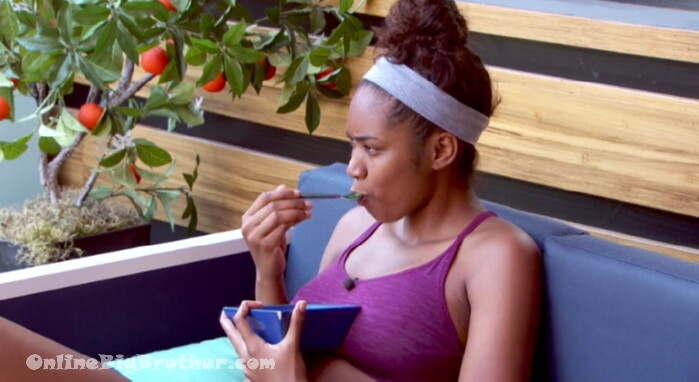 10:37am Sam and Bayleigh 
Sam is worried that cameras are going to capture her body or her doing something (Shower head?)
Sam – do anything that could be misconstrued ..
Bayleigh – neither am I.. honestly wish had had never signed up for this show
Bay – I had a really good reputation before this show and now it's ruined..
B – Allowing these people to get at me.. the things we talk about the things we do about the cussing that goes along in this house
Sam – I don't think your reputation has been ruined at all.. the people that have us are more caring and resptful than that.. they love you they are not out to get you
Bayleigh – that's not true Sam they cast me as very sassy aggressive black girl and that is what they want..
feeds cut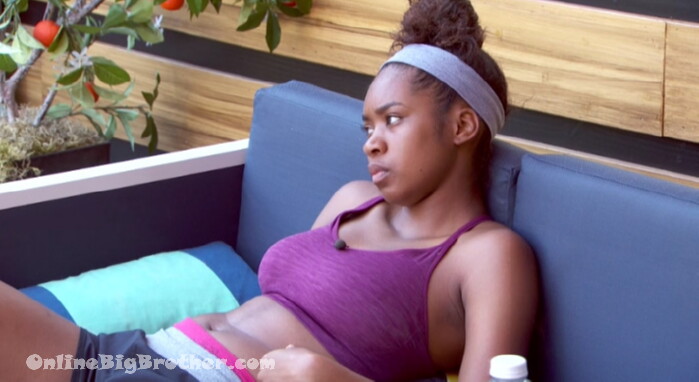 10:40am
Sam tells her she's killing it
Bay – how am I killing it Sam
Sam – keeping your composure not letting any of this change who you are
B – I literally wanted to throw something at Tyler this morning .. Good morning bay.. Why are being SO RUDE to me.. what did I do to you for you to be treating me like this..
Bay says she had a great day had her workout and he "comes in here and ruins it" (WOW)
B – I really don't think I'm going to have one on ones with people
Sam says she didn't either except for when she was a robot week 1
Sam says she really doesn't want to choose between Bay and Rockstar
Bay tells her she doesn't want Sam to have to Sam should get the Hacker to cancel her vote.
Bayleigh says Tyler yelled to the whole house that he thougth she was the hacker and he's voting her out so cancel him out.
Bayleihg says that's his plan.
Sam – Y'all and your f*ing plans are going to kill me
B – don't say y'all
Sam says she's going to maintain what she is doing and trust everything will work out
Bay – I mean.. why don't you start playing the game.
B – it just sucks these people are losing out on a really good friend.. I was cheering Tyler on so hard in the veto and now I'm the bad guy.. I'm the only one that hugged Angela afterwards..
Haleigh joins them..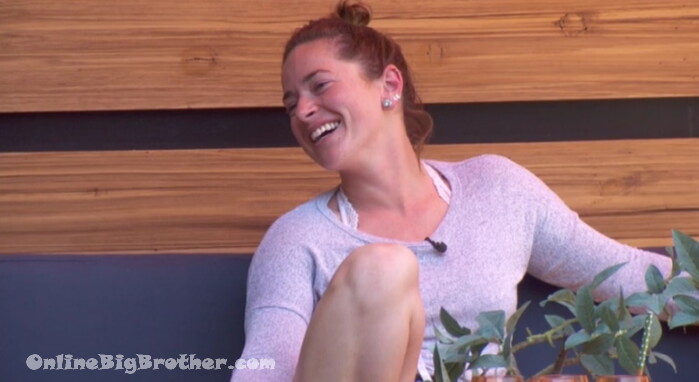 11:20am Bayleigh and Sam
Bayleigh – it just sucks because I know Swaggy has a whole bunch of girls..
he said before coming in here he had them calling him and sending him emails every day
Sam – I think he's just trying to make you jealous
Bay – all the girls that knew he was single was trying to get with him.. (LOL everyone wants Swaggy)
They talk about Sam quit smoking..
Bayleigh suggests she just smoke them all.
Sam – Bayleigh there's a duffel bag of cigarettes in here.. you want me to smoke 3 cartons..
Bay – you don't need to be smoking.. you're too young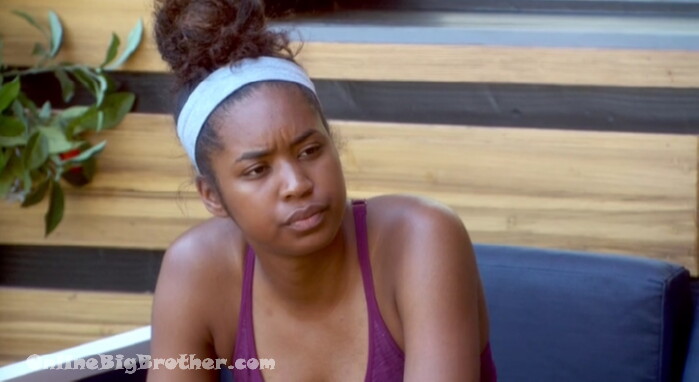 11:22am bay and Sam
Bayleigh says she regrets telling Rachel about her power app power.. "that is the biggest mistake I could have made.."
Bayleigh calls Rachel Evil
Sam – RAchel was sorta.. I think there was a lot more to Rachel. I feel for her.. the way she just spun out here I thin it was when you blow up a balloon and you don't tie it and let all the air out..
Sam brings up that Rachel might have got the crap app because she wouldn't stop singing so production couldn't use anything from her on the show.
Bayleigh goes on about having no opportunities after the
Bayleigh says she quit her job. Sam says she did to. bay says Sam can go back to her job, "You can go back to a welding job" Apparently Bayleigh can't.
Sam bring sup Bayleigh talking about going to dermatology school.
Bayleigh lists all the things you have to do to go to medical school and be a dermatologist.
Bayleigh now says being on this reality show will ruin her reputation and she won't be able to get into medical school.
Sam doesnt think so.
Bay – Sam, what world do you live in
bay – I don't want to be in this industry
Bayleigh says her family did not want her to go on this show

11:40am Rocks and Bayleigh
(Part of Rocks' punishment is to make a power shake then sprint in the backyard)
Bayleigh – you know I hate the sun but I'll do the last 5 with you…
Rock – god I f*ing hate this… wheres the water at.. thank you…
11:55am Tyler and Kaycee made ~31 pieces of chicken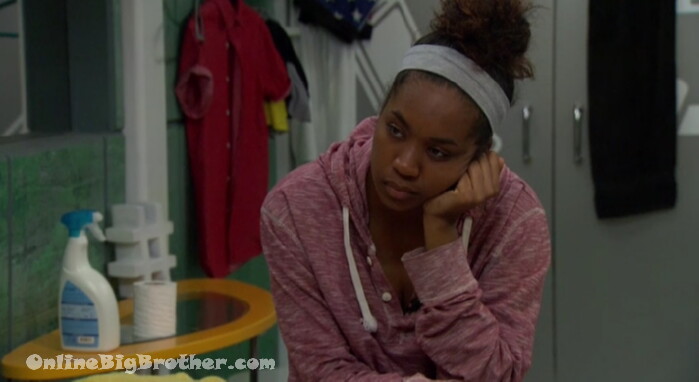 12:01pm Bay and ROCKS
Rocks going on about how much she doesn't like the other people in the house.
Bay – I had dreams of throwing things while people are tanning throw buckets of things on their heads..
Bay tells Rocks the odds are in her favour because Bay believes she is getting framed.
Bay – they don't care that IO'm not the hacker they just want me out because I have the power
Rocks – Shtty.. if I stay I'm going balls to the walls to win HOH because these motherf*ers are putting me on the block
bay says that's OK Rocks will never be anybody's target
Rocks – that's not an ok thing for me..
Rank the houseguests!
Easiest way to Rank the house guests use link below