POV Holder:
Jessie
Next POV
Aug 10th
POV Used
YES
POV Ceremony
Aug 12th
HOH Winner:
GM
Next HOH:
Aug 8th
MVP:
AMERICA
Original Nominations:
Candice, Jessie and Amanda (MVP Nom)
Current Nominations:
Candice, Spencer and Amanda (MVP Nom)
Last Evicted Houseguest
David, Nick, Jeremy, Kaitlin, Howard
Have Nots
no have nots this week
5:25pm Backyard Spencer and McCrae
They cannot understand why Helen's mom cannot speak English. Spencer says Helen is not south Korea they are north korean. Her father helped out America so they pulled him out. "They've been here for 40 years"
Amanda joins them "Look at my racoon face"
They get called inside the house it;s lockdown. Spencer comments that it means Amanda will get called into the spray tanner again.
5:28pm bedroom McCrae and Amanda
McCrae: "Riddle me this.. How is Elissa skin so sensitive that she cannot sleep in the same sheets as someone that has had lotion on but she can spray tan"
Amanda: 'Hey are you proud of me with Jessie"
MC: "Ya"
Amanda: "I'm acting like her best friend.. cause if me and Jessie aren't fighting there isn't any drama with me.. This morning when I made up with Jessie it pissed Aaryn off.. basically Jessie told Aaryn she doesn't want to work with Aaryn so she should just stay clear of her. "
Amanda: "Aaryn's response was OK if I win HOH I'm putting you up "
McCrae saying it's bullshit that people are saying Tan fat is better than white fat he believes it's all just made up by the tanning companies to get everyone to tan.
Amanda saying she's starting to realise that JUDD isn't a very good liar.
Andy joins them (Drink)
Tells them he was up in the HOH with Elissa/Gm and all Elissa was doing was giving GM backhanded compliments. Amanda: "That is so like Elissa.. back handed compliments"
5:43pm Storage room Andy, Spencer and McCrae are planning a joke on Elissa that involves the dental dam and her name tag.
Spencer: "How do you use these"
McCrae: 'Spread them and go to town"
Spencer: "If you need one of those things should be be doing what you're about to do"
You can re-watch ever second on the feeds using the flashback feature.. It's just like a DVR and is super easy to use. click this link for a Free Trial —> Subscribe to the Big Brother Live Feeds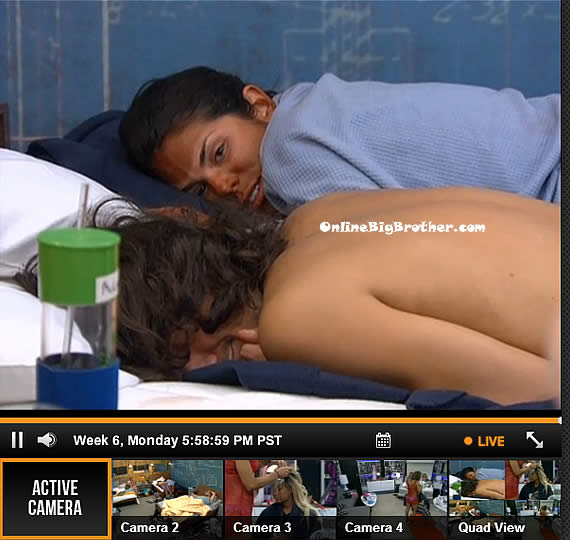 5:54pm Bedroom Spencer, Amanda and Andy
Amanda says she got "rape fear" after Howard told her those things last week. Spencer: "If he got a hold of you He probably could "
Amanda says she had to hide in the Diary room for 2 hours ands she asked production if they did thorough background checks .
They go through some of the things they added to their Big Brother Applications. Spencer says he went to rehab for smoking pot, Nobody seems to care in casting.
McCrae joins them lays beside Amanda. She mounts him and makes the motion like she's humping him. Andy: "Amanda is the man in the relationship"
They ask Andy when He knew he was gay. Andy says she always knew from a very young age. He always liked boys, all his celebrity crushes were boys he says for him he was born gay.
6:22pm HOH Gm getting her hair coloured by Elissa. Helen and Aaryn on the couch talking about hair, Make up etc etc
Aaryn tells them how Jeremy and Kaitlin were strategizing against Aaryn when she was in the bed right beside them. Aaryn tells them tthe poem Jeremy made up for Kaitlin. "Roses are red your eyes are green when I think about you it's just like a dream.. Something something unreal.."
Aaryn tells them that Jessie was saying the name of the game is to keep "Princess Elissa" and "Princess Amanda" happy. They all start bashing Jessie. Aaryn tells them Jessie is trying to get her to go against Elissa and Helen.
GM says a lot of guys probably f*** Jessie then "Bounce out" Just random bashing
Helen says it's expected that Amanda is mean spirited but she's really shocked at how Jessie can get. Helen brings up the fight in the backyard the one night between Amanda and Jessie. She thinks Jessie was mean spirited during that.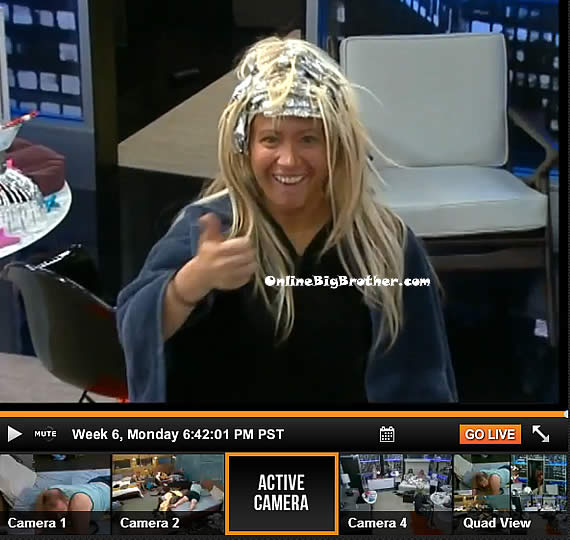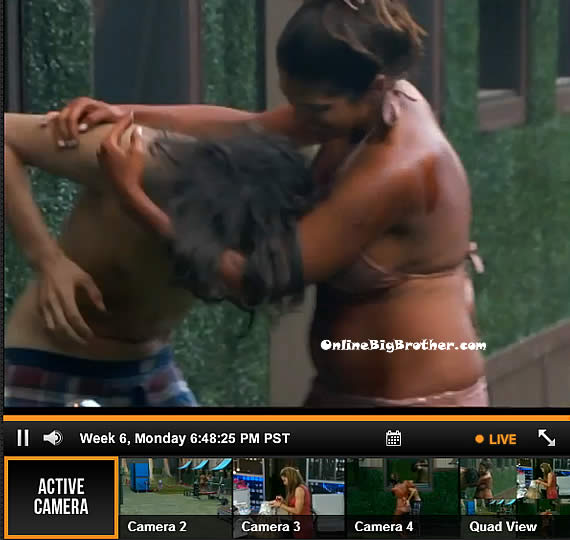 6:44pm Amanda gets music signalling another spray tan
Amanda tells them this is her last one She isn't allowed to shower for 6 hours.
After getting the the spray tan she grabs McCrae and rubs him on her body. McCrae's stomach is now orange.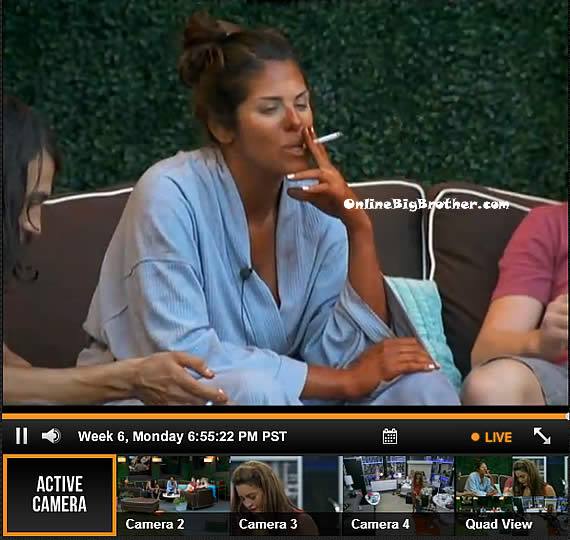 6:56pm Backyard JUDD, Anyd, MC, Amanda, Spencer
Dog talk. Amanda tells them that she can't leave her dog in the room when she's having s$x because he'll lick her a$$h*le.
Andy points out Candice has only been out of the bed for 45 minutes today. Andy says the last three people that have left the house have been virtually in hiding during their last week. Mentions Howard did a bit of last Minute scheming but Candice and Kaitlin where no where to be seen.
Amanda: 'JEssie says that's her method when she's on the block she just sleeps… It's a good idea… actually I don't think that is a good method"
JUDD: "I think different methods work with different people"
7:18pm Kitchen JUDD and Amanda JUDD asks her if Jessie is being weird. Amanda says no asks him why he's thinking she is. JUDD says Andy brought it up in the bathroom says she's been super quiet to him.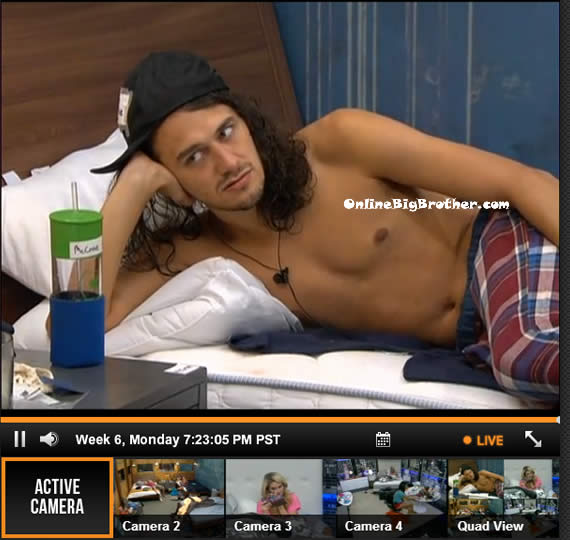 7:20pm Bedroom JUDD and McCrae
Briefly chat about the vote on Thursday they are confident Candice is going home.
JUDD says he might put up Jessie and Elissa or Jessie and Helen asks McCrae what he thinks. McCrae is worried if Helen and Elissa get broken up everyone will start targeting him and Amanda. McCrae says they'll have to see who gets HOH before they make plans.
Outdoor lockdown is over. Everyone heads outside. Andy is telling them he requested another spray tan for Amanda and they told him she is completed the spray tan task there will be no more spray tans.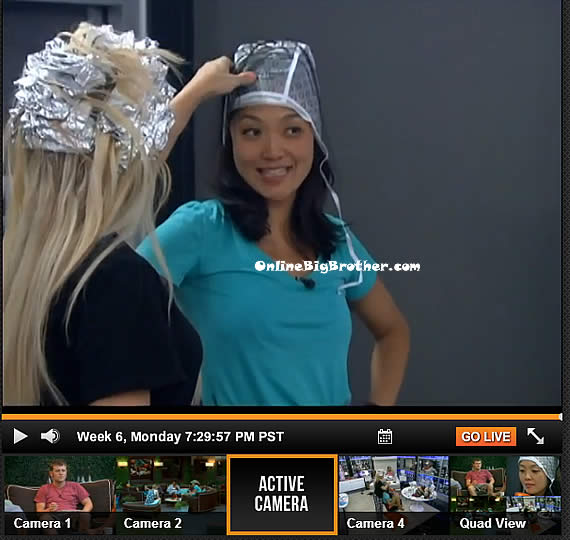 7:31pm GM, Aaryn, Elissa and HElen in the HOH Still doing their hair, Still talking about Jessie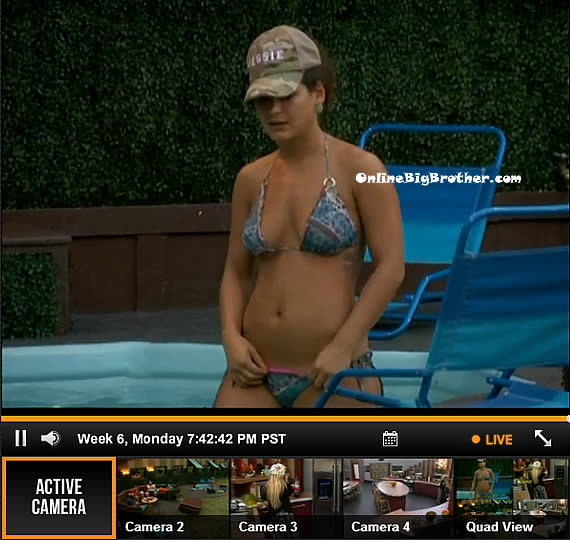 7:44pm Quiet on the feeds.