POV Holder:
Jessie
Next POV
Aug 10th
POV Used
YES
POV Ceremony
Aug 12th
HOH Winner:
GM
Next HOH:
Aug 8th
MVP:
AMERICA
Original Nominations:
Candice, Jessie and Amanda (MVP Nom)
Current Nominations:
Candice, Spencer and Amanda (MVP Nom)
Last Evicted Houseguest
David, Nick, Jeremy, Kaitlin, Howard
Have Nots
no have nots this week
10:23pm Jessie and JUDD backyard couch
Jessie is saying her social game is going better today.. she feels that she's been loose lips with Spencer's nam lately.. "I was grabbing at loose straws.. I feel that i've thrown spencer name out there so I was trying to clear things up before it got back to him"
She apologized to Spencer and everything is good with him.
Jessie says the one person she will put up for sure is Ginamarie because she put her up.
Spencer joins them. They start talking about their home states. Spencer says it takes him 6 hours to get to Dallas. Jessie didn't know Texas and Arkansas shared a border.
Andy joins them (Drink)
Andy says Helen lives 1.5 miles from him. Andy jokingly brings up Helen's "delusions of fame". He says Helen thinks people will be recognising her and him on the street and there will be go to events to sign autographs. He doesn't think they will become that famous.
10:33pm Bedroom Candice, Helen and Elissa
Friends chit chatting. They are asking Elissa how Rachel dealt with the boredom in the house. Candice tells them she cannot stay in a room with GM and Aaryn they make her want to barf. Cadnice says she really doesn't like Amanda but she can tolerate her. She cannot forget the things Aaryn and GM said to her.
Candice says she thinks McCrae is the MVP, "I just know it I know it.. He thinks she's bad for his team" Candice mentions that the Diary asks her a lot about his. Candice points out that McCrae isn't as smitten with Amanda anymore he's seen what she really is like and he doesn't want to be in the game with her for much longer. Candice thinks that JUDD, Spencer and McCrae are working together.
11:02pm Bedroom Jessie, Candice Elissa and Helen
Helen says "We got to figure out how to keep Candice" GM and Aaryn walk in to get some things. Elissa is going her gymnastic/yoga moves. Jessie give is a try doesn't have as much luck (See image below)
11:03pm backyard couch Spencer and McCrae
They agree double eviction is coming up and a big player is going to be taken out. Spencer says if he wins the HOH and it's double eviction he wants McCrae to find him out so they can figure out what to do.
McCrae: "there really is two options during Double eviction Me and Amanda and Elissa and Helen"
Spencer: "I don't know Dude.. Just come find me in the storage room or Cockpit if I win HOH"
McCrae says depending on who wins HOH next week could be tough for Spencer.
11:39pm HOH AManda, Aaryn and Andy
Amanda says Helen pulled her aside and told her she thinks JUDD is MVP again.
Andy: "Why does she think that this time"
Amanda: "Her friends"
Andy says Candice is campaigning against Spencer. Amanda asks if people are planning on voting out Spencer. Andy says the house is still voting out Candice and even if Helen and her friends decide to flip
Andy: 'JUDD, McCrae, Me and Aaryn are solid.. I don't see Helen flipping"
Amanda asks Andy if JUDD is MVP
Andy doesn't know he thinks they gave JUDD and Howard too much credit last week.
Amanda: 'I don't know… I think he is"
Gm blasts in.. says rumor has it Candice is trying to top GM's nomination speech.
Amanda mentions the first three weeks Aaryn was a "ball of c*ntieness…" "you and Kaitlin walking around everywhere you were a c*** ball with
Jessie 3 feet tagging behind"
11:49:40pm HOH Andy, Aaryn, JUDD and Amanda
Andy is telling them he will be voting out Candice but he likes her a lot so this will be a difficult eviction for him.
Ginamarie: "It was hard for me to vote out Jeremy and see my Fiance leave" (LOL GM calls nick her fiance)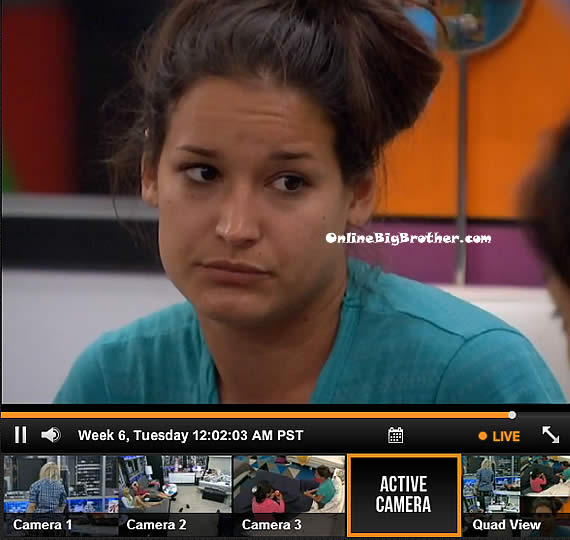 11:47pm Bedroom Elissa, Jessie and Helen
Jessie says she's done campaigning to get Amanda out.
J: "I don't fully trust her she's in a really big power position skilled with words and intelligent she's a strong person her social game is rock solid.. everyone talks to her tells her what's going on in the house."
Elissa asks her if the talk with Amanda Changed her mind or it was something else.
J: "what changed my mind today is not feeling like the timing is right. Just Just hope that I can trust her… Are you frustrated with me Elissa"
Elissa: "I'm not frustrated at all"
J: "I Want to do what y'all want to do and make decisions together"
Helen: "one of my worries is if Amanda leaves McCrae, JUDD, Andy and Spencer will form a guys alliance and the girls will need to band together"
Helen: 'The one thing with Amanda being here is she acts as a wedge between them all banding together"
Elissa is worried how close Aryn and JUDD have become
Jessie thinks they have a relationship but he would put her up
Elissa: "You think he would"
Jessie: "Ya"
Helen says the girls are divided but the guys are "Bros" you only need 4 votes in the jury to win the game. She worried fi the guys get to Jury they will have the power to pick the winner.
Helen :'For the next three weeks we have to win HOH or we lose this game.. those four boys and Ginamarie will collude and take us out"
Helen now saying it's season 12 all over again. She really pushing for them to put the boys up next week. (It's your standard Helen getting worked up in a frenzy of hate but now it's directed to all the guys in the house)
helen: 'I'm not as worried for Amanda as I am the boys"
Jessie agreeing with her. Jessie says if they are so worried about the guys why are they not voting out Spencer. Helen: "We don't have the votes"
Helen understands that Jessie wants Amanda gone but she has to understand the benefit of keeping Amanda, "There is some good for her being here"
Jessie says Candice is a time bomb she's going home this week she just hopes she doesn't start talking to people spreading out names.
Candice joins them.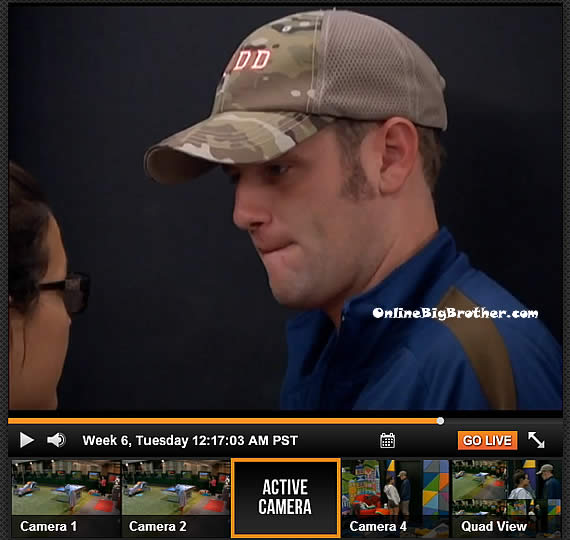 12:03AM Jessie and JUDD
JUDD: "Everything Cool"
Jessie: 'Ya..Everything is Cool we are just trying to manage Candice because she's a ticking time bomb. "
JUDD is worried Candice will blow up in her speech. Jessie: 'What would you do if you knew you were going home.. you would do whatever the f*** you want to "
JUDD: "Ya"
JUDD asks her if she told them it was too early to take out Amanda. Jessie says she told them nothing it was Helen that came to her and told her the timing was bad.
JUDD: "I thought she would"
A complete tan #BB15 pic.twitter.com/mUob0TG1Ft

— OnlineBigBrother.com (@bigbspoilers) August 6, 2013
12:28am Amanda finally gets to shower..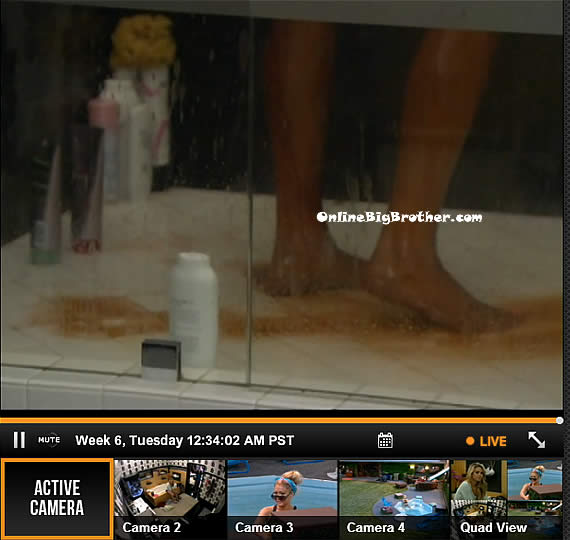 12:34am backyard couch Andy and McCrae
Andy says if he wins HOH he'll put up Jessie and maybe Ginamarie. The target would be Jessie.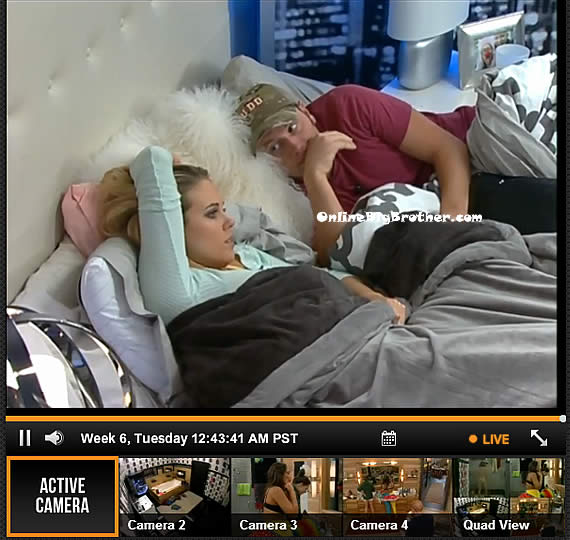 12:44AM Aaryn and JUDD
Aaryn says hanging out in the HOH with GM is like being in an insane asylum. "I'm afraid the sh!t she does is going to reflect onto me.. I'm around her all the time and I want to be away from her"
Aaryn: "Theres no where in this house you can go and be yourself.. Amanda and MCCrae have each other and that gives you an escape GM isn't a escape she's an insane asylum"
Aaryn: " Andy does nothing he gets no blood on his hands he goes back and forth between alliances he'll float to the end"
JUDD: "he finds stuff out right"
Aaryn: "I guess.. It's so hard to be with GM.. she's so vulgar she's like a child.."
The Nick shrine is really starting to freak Aaryn out GM is back to talking about Nick all the time.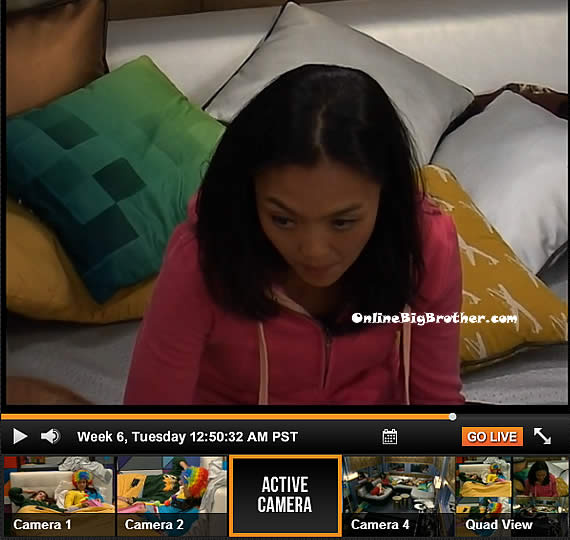 12:415AM Cockpit Helen and Andy
Helen says she's had conversation with "friends" She thinks the MVP is I McCrae or JUDD.
Andy asks her who she talked to.
Helen: "was conversations with friends.. I feel very strongly"
Helen says McCrae wants to win this game and Amanda is an albatross to him, "You know with all the drama".
Andy: "I think Amanda and McCrae can benefit us for a while .. we can really trust them"
Helen agrees
Andy says he feels bad about Jessie but is certain Jessie will flip on them.
Helen says people want Jessie out next week but she wants Spencer out.
Helen says they will be able to trust GM after this week once Candice goes.
Andy say she has Spencer and if Spencer gets HOH he won't put up them. Helen: 'Who will he put up"
Andy: "Don't know doesn't matter it's not us"
Helen: "it's important we go into Jury like we're the swing votes."
Helen says she loves the 4 guys and says JUDD is the most dangerous of those 4. Helen isn't as worried about McCrae and she thinks Amanda isn't coming after them.
Helen hates watching Candice and Amanda fight. Helen: 'I came on big brother not the jerry springer show"
Andy says going into the next week they are looking good nobody is coming after them.
Helen: 'I love Ginamaire.. she's not super strategic but you always know what she's thinking"
1:28AM HOH JUDD, Aaryn and McCrae
JUDD is saying he doesn't think GM was referring to Nick. He thinks it just sounded like that she was really meaning her ex fiance. Aaryn says her and GM legitimately talked about moving in together but now Aaryn doesn't want to she's scared to end up in a white padded room.